Who is Missi Pyle?
Missi Pyle is an American actress and singer, who's appeared in a wide variety of films, notably "Galaxy Quest", "Dodgeball: A True Underdog Story", and "Charlie and the Chocolate Factory". Alongside actress Shawnee Smith, she formed the country-rock band Smith & Pyle, and throughout her career, has made guest appearances in numerous TV shows, and been recognized for her comedic timing, as well as her dramatic and singing abilities.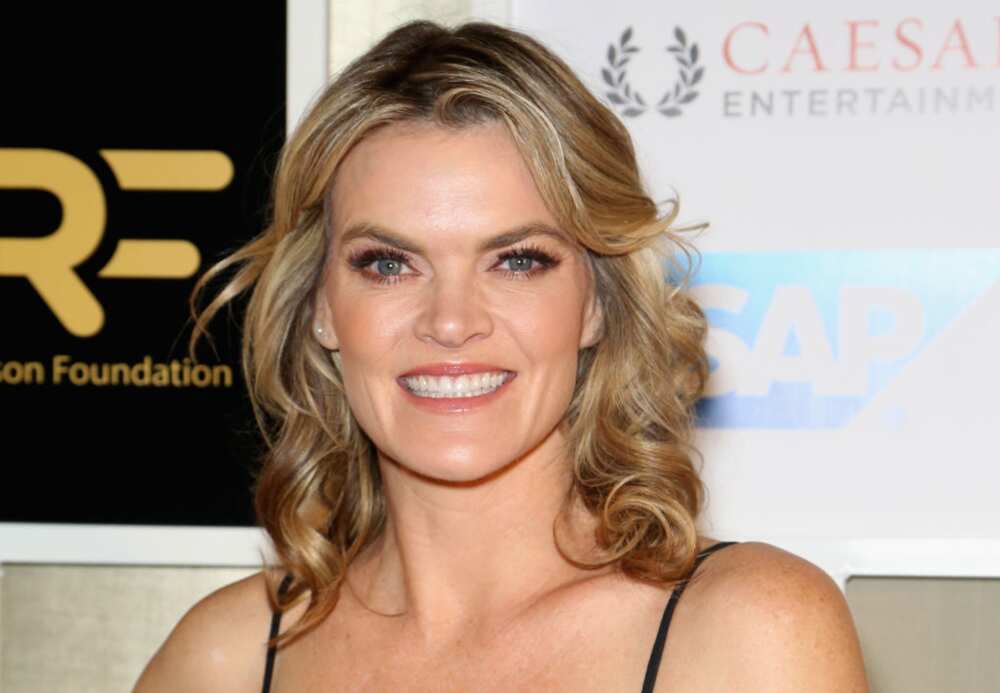 Early life and education
Missi Pyle was born Andrea Kay Pyle on 16 November 1972, in Houston, Texas. Her childhood was spread between Houston and Memphis, Tennessee; with Southern roots, she was instilled with a passion for storytelling from a young age. The desire to perform took her to the North Carolina School of the Arts in Winston-Salem, where she honed her skills and geared up for a career in the entertainment industry.
Acting career
Missi's entrance into the world of cinema was in the mid-1990s, making her debut in the 1996 film "The Cottonwood". In the following year, she played a waitress in the comedy-drama "As Good as It Gets", which starred Jack Nicholson.
However, it was her role as Laliari in the cult-classic sci-fi comedy "Galaxy Quest" in 1999 that catapulted her into the limelight. Playing a quirky alien that comes to earth, Missi held her own against stars such as Sigourney Weaver and Tim Allen, establishing herself as a comedy actress.
As the new millennium dawned, Missi's career trajectory took an upward turn. After appearing in movies such as "Bringing Down the House", "BachelorMan", and "Big Fish" in 2003, in 2004 she showcased her comedic chops as Fran Stalinovskovichdavidovitchsk in "Dodgeball: A True Underdog Story". Directed by Rawson Marshall Thurber, the movie also starred Ben Stiller and Christine Taylor, and quickly became a favorite for many due to its quirky humor, memorable quotes, and exaggerated take on the sport of dodgeball.
Yet, Missi's versatility is perhaps best exemplified by her second collaboration with iconic director Tim Burton in the 2005 adaptation of "Charlie and the Chocolate Factory". Stepping into the shoes of Mrs. Beauregarde, the overzealous and competitive mother of Violet Beauregarde, Missi's portrayal was a blend of humor and arrogance.
In the following years, Missi had roles in comedy films such as "Just My Luck" (2003), "Feast of Love" (2007), and the action adventure "Stormbreaker" (2006).
However, Missi's cinematic journey hasn't been limited to comedies or big-budget blockbusters. She's been equally compelling in more dramatic roles, in films such as "The Artist", which went on to win the Academy Award for Best Picture in 2012, featuring Missi in a supporting role.
In 2014, she took on a new genre, starring in the horror comedy "A Haunted House 2", and in the same year, she also played a supporting role in the thriller drama "Gone Girl", directed by David Fincher. Another notable role for Missi was in the Oscar-nominated comedy drama "Captain Fantastic" (2016), written and directed by Matt Ross, and which followed a family of eight who live together in a van.
More recently, Missi appeared in lower-budget films such as "Vicarious" (2018), "Ma" (2019), and "Deported" (2020). In 2023, she starred alongside Midori Francis and Jolene Purdy in the horror thriller "Unseen".
Missi's talent isn't confined to movies alone. With recurring roles in hit series such as "Boston Legal" (2006-2008), she's showcased a more dramatic side. Meanwhile, in "Two and a Half Men" and "The Sarah Silverman Program", Missi reverted to comedy, eliciting laughs with impeccable comedic timing.
One of her notable performances on the small screen was in the sci-fi series "Impulse" (2018-2019), based on the 2013 Steven Gould novel of the same name, which also serves as a spin-off to his earlier novel "Jumper", which was adapted into a 2008 film. The show revolves around Henrietta "Henry" Coles, a 16-year-old girl who discovers she has the ability to teleport which is often triggered by feelings of distress or danger. In the series, Missi played Cleo Coles, Henry's mother, receiving acclaim for her mature performance.
Over the years, she's also has made a number of guest appearances in shows including "Friends", "Heroes", and "Grey's Anatomy".
Oh and Missi Pyle is in this episode, too. She plays Miranda Bailey's attending in her flashback and she also played the gym teacher in Jumanji: Welcome to the Jungle, and Mrs. Beauregard in the Johnny Depp Charlie and the Chocolate Factory,

— peach (baldur's gate version) 🍑 (@quinn__zelles) November 24, 2021
As the entertainment industry evolved, Missi adapted with it, exploring newer platforms. She appeared in web series and took on roles in indie films, ensuring her art reached audiences across various mediums. One such project was "Internet Famous" (2016), a mockumentary-style comedy film released directly on iTunes.
Smith & Pyle
While acting kept Missi busy, she had another talent up her sleeve: music. In 2008, she teamed up with actress Shawnee Smith to form the country-rock duo Smith & Pyle. As an actress, Shawnee is best known for her roles in movies such as the "Saw" franchise, and TV shows such as "Becker". The duo met in 2007 while filming a sitcom pilot for ABC; they quickly discovered their shared love for country music, leading them to start a band together.
In 2008, Smith & Pyle released their debut album "It's OK to Be Happy" – produced by Chris Goss, the album showcased the duo's talent beyond their well-established acting careers. Songs from the album touched upon various themes, from love and relationships to personal journeys and introspection. The album also featured various guest musicians, including the Alice in Chains' vocalist Jerry Cantrell, Bobby Ferguson, and Bingo, among others.
Missi and Shawnee have also formed their own record label, Urban Prairie Records, under which they released their album. Further, they were in the talks about releasing their own television series, but these plans fell through.
In 2009, they married in a fake ceremony in West Hollywood, California, in support of marriage equality for queer people. The 'ceremony' was officiated by actor Hal Sparks, while Missi and Shawnee used rainbow colored hula hoops in place of wedding rings.
Following the release of their album, Smith & Pyle began performing across the US. Their live performances were characterized by an energetic vibe, and often included humorous anecdotes, reflecting their backgrounds in the world of film and television comedy. They continued playing until mid-2010. Smith & Pyle never officially disbanded, but they haven't played a live show or released any new music since then, but the two actresses remain close friends to this day.
Love life and relationships
Missi's love life, like many celebrities, has seen its share of ups and downs. She was married to Antonio Sacre, an author and storyteller, from 2000 to 2005. In 2008, she tied the knot with Casey Anderson, a naturalist and TV host. Their unique wedding featured Anderson's pet grizzly bear, Brutus, as the ring bearer. However, their marriage came to an end in 2012.
Since then, Missi has kept her personal life relatively private, focusing the media's attention on her professional achievements. She hasn't remarried, but is apparently in a long-term relationship with her boyfriend, Josh Ross (not to be confused with the namesake country singer).
Net worth
Missi Pyle's diverse career, spanning decades in film, television, and music, has certainly paid off. As of August 2023, her net worth is estimated to be more than $3 million, a culmination of her hard work in the entertainment industry, coupled with smart financial decisions.