• Anke Wesenberg, known professionally as Xenia Seeberg, is an actress and singer.
• She is best known for her role on the television series "Lexx" and has released several songs.
• She has a net worth of over $1 million earned through her success in acting and music.
• Xenia has also done modelling work and appeared in various publications.
• She is the lead singer of the band called Vertikals and has degrees in philosophy, Latin and theatre.
 
Who Is Xenia Seeberg?
Anke Wesenberg was born on 4 April 1967, in Geldern, then West Germany, and is an actress and singer, but best known for her work both on television and in films. She's been active in the industry since 1994, and is remembered particularly for her role in the television series "Lexx", in which she plays Xev Bellringer. She has also released several songs over the course of her career.
Wealth Built Through Various Endeavors
How rich is Xenia Seeberg? As of early-2018, sources inform us of a net worth that is over $1 million, earned through her success in acting and music. She has also done modelling work, and appeared in several popular publications during the peak of her fame. As she continues her endeavors, it is expected that her wealth will also continue to increase.
Movies and TV Shows – Acting Work
Xenia began her acting career in 1994, but was relatively unknown until three years later when she became a part of the film "Knockin' on Heaven's Door", which is a German film starring Til Schweiger and Moritz Bleibtrue, with the film's name derived from the Bob Dylan song of the same name; the film debuted at the 20th Moscow International Film Festival. Soon, she would gain more work which started to increase her net worth significantly – in the same year, she became a part of "Geliebte Schwestern" which is a German television series.
Her breakthrough role would come in 1998, when she was cast in the television series "Lexx", a science fiction series which follows a group of various individuals aboard the spaceship called Lexx. The group travels through two universes and encounters various planets throughout the show's run.  While a part of that series, Seeberg had other projects as well, including being a guest in an episode of another series entitled "Total Recall 2070". Her next big project would come in 2003 in "Beyond the Limits" which is a film directed by Olaf Ittenbach.
In 2005, she then became a part of the television series entitled "Der Clown", and would then go on to star in another German film entitled "80 Minutes", which was released direct to video in 2008. The following year, Xenia was cast to become a part of the Syfy film entitled "Annihilation Earth" which focuses on an energy scientist trying to determine the cause of a deadly explosion on a particle collider; the film was criticized for its ending in which humanity went into extinction. Since then, Xenia has not yet appeared in any other film project.
Xenia Seeberg – Instagram and Social Media
Despite being relatively inactive in mainstream films and television, Xenia has remained highly active on social media websites, particularly on Instagram and Facebook. She mainly posts pictures of her family and modelling work on Instagram, but she also does a lot of travelling as seen in her profiles. She also has a lot of fan pages on Facebook, but does have a public personal Facebook page too, which details that she does have acting work, but mainly concentrating on local theatre, film, television and radio.
She also does a lot of personal posts on Facebook and recently congratulated her son when he began competing in the reality television show "The Voice – Kids". Xenia also has a German personal website, which details a lot of her recent endeavors, mostly promoting her modelling and acting work.
My drawing of #xeniaseeberg as #xevbellringer #lexx pic.twitter.com/aLhP38QoZN

— Snake daemon (@dnnorth666) October 2, 2017
Seeberg and Sven Martinek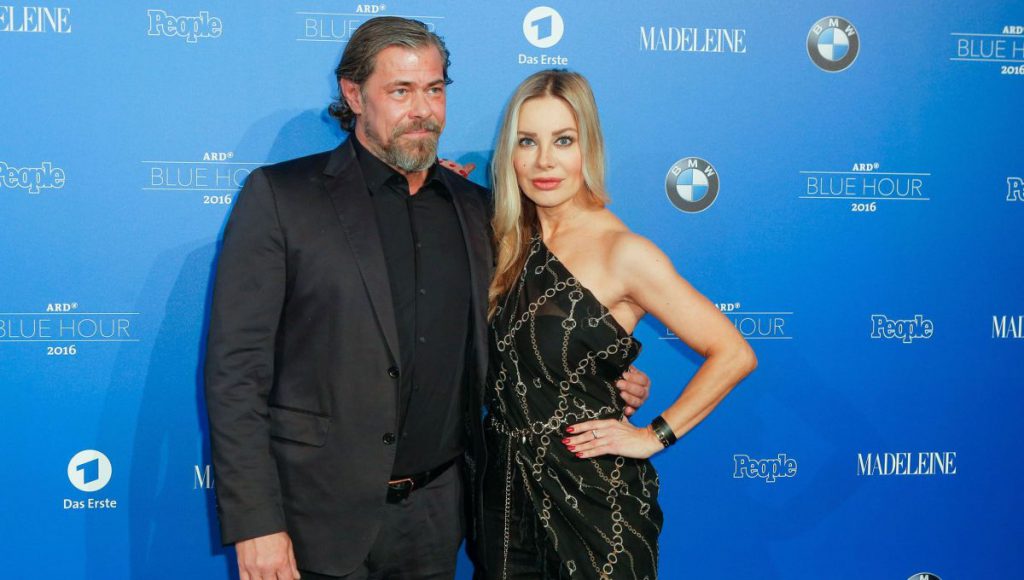 In 2003, Xenia married actor Sven Martinek who is best known for being the main character of the German television series "Der Clown, among many other German film and television projects throughout his career. After two years they had a son, however, their marriage ended in divorce in 2011, since when Xenia has officially been single.
Heartbeat – Singing Career
Seeberg debuted as a singer alongside her acting work in the 1990s, first signing with the EMI Electrola label in 1996. Her first single was entitled "Heartbeat", and she would go on to release several more singles. Her songs appeared on compilation albums during the 1990s, including "Dance Fever" and "Absolute Music 20". Her songs were also part of the dance music compilation album "Dancemania 4", which was also produced by EMI. She continues to sing, and is the lead singer of the band called Vertikals.
Publications and Life Outside the Spotlight
Xenia has also been involved in academic studies, having degrees in philosophy, Latin and theatre. She studied at the Lee Strasberg School, and speaks French and English as well as German. Her height is listed at 5 feet 8 inches tall or 173 centimeters. Due to her looks and body measurements, she was often the subject of numerous popular publications, and was formerly a part of the Maxim Hot 100 Women list, as well as appearing on the cover of the German edition of "Playboy".