Mexican actress Silvia Angelica Navarro Barba was born in Irapuato, Guanajuato, Mexico, on 14 September 1978, meaning that her zodiac sign is Virgo. She has 31 acting credits, and is perhaps still best known for portraying the main character Fernanda Elizalde Rivera in 145 episodes of the 2009 romantic series "Manana es para Siempre", which also starred Lucero and Fernando Colunga, and follows Eduardo who's returned to his hometown years seeking revenge after having been sent away,.
Silvia's currently shooting for the upcoming movies "El Mundo en Que Naci", "Papa o Mama" and "Familia Nacional".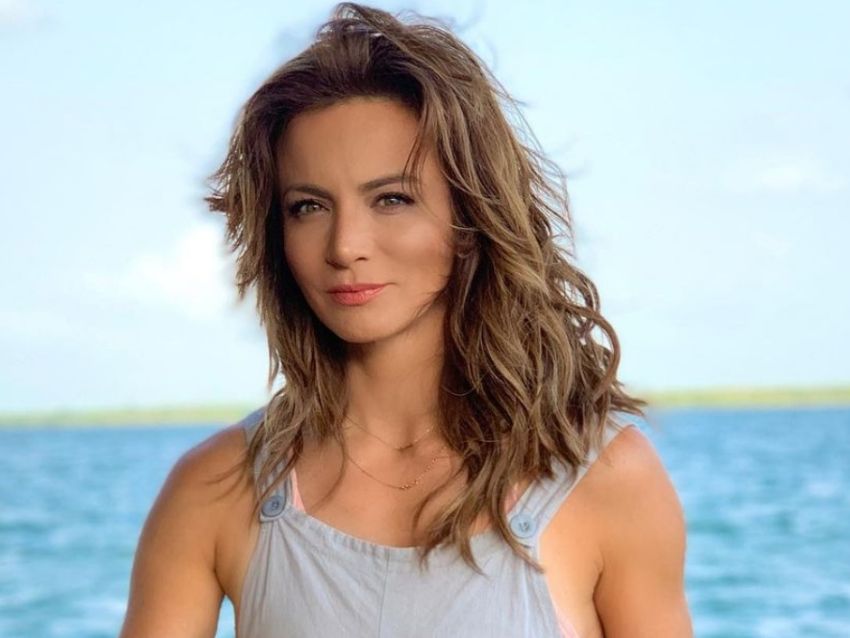 Education and early life
Silvia was raised in Irapuato alongside her brother Rene Navarro, by their father Jose Luis Navarro Tijeros and mother whose name hasn't been shared with the public; it's believed that Silvia's mother was a housewife, and her father the owner of a small business.
Silvia studied at TV Azteca's acting school Centro de Estudios y Formacion in Mexico City, and was 16 when she knew that she wanted to become a famous actress; she was into several other activities while growing up, as she enjoyed dancing and singing, as well as playing tennis.
Silvia matriculated in 1997 and then focused on acting rather than going after a college degree.
Roles in TV series
Silvia's debut TV series role was starring as Perla in all 229 episodes of the family adventure "Perla", which also starred Gina Romand and Leonardo Garcia Vale, and follows two people as they're overcoming all obstacles to be together.
In 1999, Silvia starred in all 120 episodes of the romantic drama "Catalina y Sebastian", and the year 2000 saw her play the lead character Laura Sanchez in all 125 episodes of the action family adventure "Bride's Avenue". In 2001 and 2002, she starred as Teresa Suarez in all 238 episodes of the romantic drama "When You Are Mine", which also starred Rodrigo Abed and Martha Cristiana, and follows two people who are in love, while their friends and family are against the relationship.
In 2004 and 2005, Silvia played the main character Maria Claudia in all 198 episodes of the romantic drama "La Heredera", and the year 2006 saw her star as Laura Ledesma in all 185 episodes of the family adventure "Montecristo".
In 2010 and 2011, she played the lead character Renata Monterrubio Alvarez in all 180 episodes of the romantic drama "Timeless Love", which starred Jose Ron and Julieta Rosen, and follows Renata who's being treated cruelly by her sister and mother, and has now fallen in love with Jeronimo.
In 2014 and 2015, Silvia starred as Ana Leal in all 177 episodes of the romantic comedy "Mi Corazon es Tuyo", which also starred Jorge Salinas and Mayrin Villanueva, and follows a woman who's just lost her house, and has begun working as a nanny of seven children; the series won a single award.
Silvia's since appeared in only three TV series: she played the main character Regina in all 62 episodes of the 2017 romantic drama "The Candidate", the lead character Raquel in all 103 episodes of the 2018 drama "Caer en Tentacion", and another lead character, Dolores 'Loli' Aguilar in all 104 episodes of the 2021 adventure comedy "Loli's Luck".
Roles in movies
Silvia's debut film role was starring in the 2002 short drama "Roband el Rock and Roll", and her following role came in 2005, when cast to voice a dragon in the 2005 animated family adventure "Dragones: Destino de Fuego".
Also in 2005, she played the lead character in the family fantasy "Esperanza", which also starred Gabriela Canudas and Juan Manuel Bernal, and was directed by Fina Torres; it follows two elderly people who've fallen in love. The remainder of the 2000s saw Silvia appear in the 2006 family adventure "Mujer Alabastrina", the 2008 romantic comedy "Amor Letra por Letra", and the 2009 fantasy "Cabeza de Buda".
In 2011, she starred as Blanca in the popular comedy "Red Lips", which also starred Paloma Arredondo and Anna Ciocchetti, and was written and directed by Rafa Lara; it follows Ricardo who's had an unexpected promotion at work, but all the excitement and pressure has left him with an erectile dysfunction.
📷 Silvia: "🍀 #TBT" #instagram #silvianavarro pic.twitter.com/938mklcBvy

— I ❤️ Silvia Navarro (@iheartsilvian) April 8, 2022
In 2014, Silvia portrayed Mama in the hit comedy "The Perfect Dictatorship", which also starred Alfonso Herrera and Damian Alcazar, and was written and directed by Luis Estrada. It follows a TV conglomerate which has taken bribe to enhance the image of a corrupt politician, and the film won one of its 16 award nominations.
Silvia's since appeared in only two movies: the 2020 family comedy "Dad Wanted", and the 2022 romantic family comedy "Hasta que la Suerte nos Separe".
Other credits
Silvia was featured in the 2009 documentary movie "Mujeres de la Revolucion Mexicana", and the 2010 documentary series "Revoluciuonarias: Elena Arizmendi"
She's recently made a guest appearance in the talk-show "Miembros al Aire".
Love life and boyfriend
Silvia doesn't usually speak about her love life in public, but we still know about five men whom she's been with. Sometime in the first half of the 2000s, she dated popular Mexican actor Sergio Basanez, and Mexican singer Leonardo de Lozanne.
From 2007 through 2010, she was in a relationship with Mexican actor Fernando Alonso, who's not to be confused with Spanish racing driver with the same name.
In 2010, Silvia spent a couple of months dating Mexican actor Jose Ron.
She began dating Mexican non-celebrity man Gerardo Casanova in 2012, and Silvia revealed on 17 February 2015 that she was pregnant; she gave birth to their son Leon on 7 September 2015. Silvia and Gerardo split in 2020.
She seems to be unattached as of August 2023, hasn't married and has a son with former boyfriend Gerardo Casanova.
Interesting facts and hobbies
More than 3.7 million people are following Silvia on Instagram today, and she's posted over 400 pictures and videos, with most showing her during her everyday life.
She loves to spend her spare time in nature, and most of her Instagram content features her climbing hills and mountains.
Silvia's passionate about travelling, and has been all around South America, while she's also visited several European countries and US states.
She's a philanthropist, and has donated money to several charities aiming to help orphans.
Silvia's taking good care of her health as she follows a strict diet and works out at the gym several times every week.
One of her favorite actresses is Kate del Castillo, and some of Silvia's favorite movies include "Trade", "No Good Dead" and "K-11".
Appearance and wealth
Silvia's age is 44. She has brown hair and eyes, is 5ft 5ins (1.65m) tall and weighs around 125lbs (56kgs).
Silvia's net worth's been estimated at over $10 million, as of August 2023.