In the world of gold rush, where fortunes are forged and dreams hang in the balance, it takes a unique blend of skills, grit, and adaptability to thrive. One man who embodies these qualities is Mitch Blaschke, a mechanic who has journeyed from the Hoffman crew to Schnabel's, leaving an enduring impression on the gold mining saga. His participation in the hit reality television show "Gold Rush," not only earned him a dedicated and sizable following but also ignited curiosity about his net worth and other endeavors.
"Gold Rush": The Reality TV Show that Struck Gold in Entertainment
In the realm of reality TV in which drama, adventure, and human resilience collide, "Gold Rush" stands as one of the most enduring and captivating series to have ever graced the small screen since it premiered in 2010. Airing on the Discovery Channel, this show features a diverse cast of miners, with each crew having its unique goals and challenges. They must navigate a treacherous path filled with obstacles, from securing the right mining claim to assembling the crew, necessary equipment, and dealing with the harsh realities of mining gold.
Mitch Blaschke in "Gold Rush"
Gold mining operations often rely on heavy equipment, and individuals with mechanical skills are in high demand. Mitch Blaschke's aptitude for working with machinery opened the door to his initial involvement in the gold mining industry.
A chance encounter
Mitch's journey into the glittering world of gold mining began several years ago, when he crossed paths with Todd Hoffman, a man with the gleam of gold in his eyes. It was a serendipitous encounter, as Todd needed his recently acquired mining equipment to be transported, and Mitch happened to be working at a local towing business, part of a bustling collision repair shop where Mitch had started working at the young age of 14, seeking the means to indulge in his hobby of kart racing. Little did he know, this decision not only kindled his budding mechanics career, but also set the stage for an extraordinary adventure.
He first met Jack, Todd's father, when Jack's truck was rear-ended and brought into the shop. Mitch took on the role of the driver, transporting Jack's legendary 400 to the airport. This act forged a connection with the two Hoffmans that would ultimately alter the course of his life. It was during this time that the idea of gold mining took root in Mitch's mind, as Todd and Jack unveiled their audacious plan to strike gold.
Mitch joined the cast of "Gold Rush" in season three. The popular reality TV series provided a platform for him to showcase his skills and determination. He worked with various mining crews, initially as the full-time mechanic for the Hoffman crew. By season five, he had joined Parker Schnabel's crew, and has been there ever since. He contributed his mechanical expertise to ensure the smooth operation of mining equipment critical to the extraction process. His dedication to the craft, as well as his ability to tackle mechanical challenges, made him a standout figure among the cast.
The bro-foremen
Mitch Blaschke and Brennan Ruault were appointed as co-foremen for Parker's mining crew. It was Mitch who suggested that the title sounded somewhat feeble and proposed they change it to "bro-foremen." These two individuals were known for injecting positive energy into the mining site – while most people would have eagerly embraced such a promotion, Mitch and Brennan appeared somewhat hesitant to shoulder this new responsibility. For Mitch, being named foreman meant he would be in the line of fire, a sentiment shared by Brennan. Nevertheless, they took solace in the fact that their boss, Parker Schnabel, had confidence in their abilities. Parker acknowledged the invaluable contributions of both men, even stating that he couldn't have achieved as much without their exceptional skills and dedication.
The seamless partnership stemmed from their compatible personalities. They had an unspoken understanding of each other's roles, often requiring no verbal communication to co-ordinate their actions effectively. They couldn't pinpoint the exact reason for their synergy, but they genuinely enjoyed their work at the mining site. Mitch once quipped that, at the end of the day, the dirt had to be moved, and they could either do it grumpily or have fun with it. Their relationship might be dubbed a "bromance" by many observers.
Mitch's evolving role as Parker's right-hand man
Mitch took on the mantle of being Parker's right-hand man, especially after his co-foreman quit. He wholeheartedly supported Brennan Ruault's decision to pursue what he believed was best for himself, even though it meant that his own workload and the accompanying pressure had virtually doubled. Mitch remarked that he kept so busy that the days seemed to fly by. In the past, locating him was as simple as finding a broken machinery, but with the mining operation's expansion, they were now spread out across a vast area. Tracking him down had become a challenge as he had to be present everywhere to ensure that everything ran smoothly.
Mitch's dedication to equipment maintenance
During the mining season, Gold Rush crews tackle an immense workload. An eight-hour workday simply doesn't yield the results they need. Consequently, Parker's team, including Mitch, rises at the crack of dawn, leaving their trailers, and don't call it a day until well after the sun has set.
Mitch's typical day commenced around seven in the morning, as he arrived at the office to devise a strategic plan ensuring that all equipment operated optimally to meet their daily production goals. To facilitate this, they maintained a board listing all their equipment and its current status, enabling him to identify and address any issues that might impede the mining process. He emphasized that machinery breakdowns were an ongoing challenge, necessitating his constant vigilance. Even in the dead of night, if a breakdown occurred, someone would knock on his door to summon him to the site for inspection and repair, provided the necessary parts were available. Any delay in the operation could result in a significant loss of potential gold production.
What's keeping Mitch Blaschke busy these days?
Mining season typically spans seven months of the year, running from March to October. During this time, the crew invests every ounce of their energy into their work to mine as much gold as they can. Once November arrives, the ground chills and water sources begin to freeze, rendering mining operations impractical. Consequently, the teams enjoy a well-deserved five-month break to rest their weary muscles and catch up on sleep. During this period, Mitch could devote ample time to his family, creating memories and celebrating milestones, as well as pursuing his racing-related passions.
Spending time with family
During the off-season, Mitch returns home to be with his family. In 2016, Mitch exchanged vows with his girlfriend Hailey, who regarded him as both her best friend and the love of her life. Their engagement occurred during a scenic drive that Hailey found to be the epitome of a perfect proposal. Their enduring bond had weathered the test of time, leading some to believe that Hailey had grown accustomed to Mitch's frequent absences due to his work at the mine. However, in reality, she counted down the days with enthusiasm until his return. Occasionally, she even made visits to the mining site.
Their daughter, Mae Lou Blaschke, was born in October 2019, marking a new chapter in Mitch and Hailey's life. Mitch openly credited his wife for making everything easier for him as a parent. Not long after her arrival, Mia, just a few weeks old, began to exhibit what her father affectionately termed the "Resting Mitch Face." Mia has this habit of giving a slightly quizzical look with tight lips, often leaving people to wonder if she was upset. Mitch shared a similar fate, as people frequently misinterpreted his facial expressions as signs of anger when he was simply deep in thought, playfully referring to this as his 'thinking face.'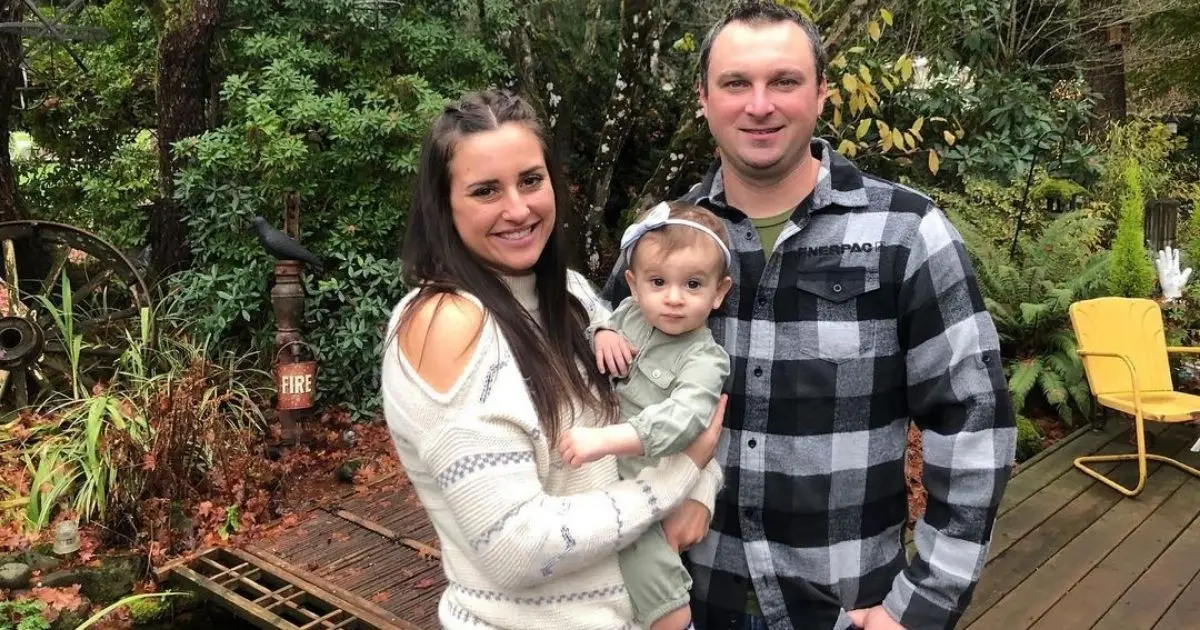 Their daughter has blossomed into a remarkably joyful toddler, a fact vividly portrayed in the abundant photos adorning Hailey's Instagram. With time, more facets of her personality have come to light, and her proud mother happily attests that Mae is a compassionate, playful, and vibrant soul. Hailey shared on her Instagram that she's expecting their second child, filling their hearts with excitement as they anticipate Mae becoming a big sister. This year, she and Mitch celebrated their seventh anniversary, a testament to their enduring love.
Although being away from his family was challenging, Mitch remained resolute, knowing that he was working tirelessly to provide a better life for them. Inside his trailer, he adorned the counters with countless photos of his wife and daughter, serving as a constant source of inspiration and strength, fueling his determination to persevere through the demands of his work.
Mitch's love for racing and hands-on projects
As a young kid, Mitch eagerly headed outside to operate the lawn mower. Sometimes, he would even mow the grass again only a day after he had done it, just to have the opportunity to drive the tractor around. This early fascination with engines and machinery laid the foundation for Mitch's unwavering passion for racing.
Mitch Blaschke shows off his happy place of horsepower.

Head off the claim with a new episode of #GoldRush: The Dirt Friday on @Discovery. pic.twitter.com/xmOJTXKld6

— Gold Rush (@Gold_Rush) February 2, 2022
When he wasn't out on the mine site, he devoted a significant amount of his time to his shop, where he immersed himself in working on cars and go-karts, an endeavor he found immensely enjoyable. Mitch credited his dad for instilling in him the basics of this craft. To this day, father and son continue to collaborate on various projects, including kart building whenever they have the opportunity.
Several years ago, he began tinkering with the body of a 1967 Nova. Over time, he worked on the vehicle to the point in when only the quarter panels and roof remained from the original car; everything else had undergone a remarkable transformation. His progress was meticulously documented on his social media pages. While it was undoubtedly a substantial project, he harbored hopes of taking it out on the track, and relishing the thrill of racing it.
Mitch's love for race cars was undeniable, although he observed that the more time he spent working on them, the less time he had for driving them. Nevertheless, he affirmed that it hardly mattered, as the sheer joy he derived from these projects was immeasurable. He remained deeply committed to his racing passion, eagerly participating in both kart and car racing whenever the opportunity arose.
In his shop, a variety of cars could be found, including a Chevrolet Camaro gifted to him by his wife as a Christmas present in 2018. Originally intended for drag racing, this prized possession still needed some fine-tuning before it could hit the track. In the meantime, he has another car that he can use for racing. In one of his 2022 Instagram posts, he was engrossed in reading a handbook on the Sports Car Club of America (SCCA) Road Racing General Competition Rules. Notably, his enthusiasm for motorsports extended to an enjoyable go-karting adventure with Parker Schnabel in Las Vegas in March 2023.
Bonding over cars
Mitch's daughter, Mia, expressed a keen interest in spending time in the shop, eager to explore and examine his ongoing projects, often climbing onto cars, which he found both exciting and cool. With her in the shop, eagerly watching or occasionally 'helping him out,' he acknowledged that it posed a challenge for him. However, he likened it to his experiences at the mine site, where adaptability was key. While his car projects held significant importance, spending quality time with his daughter took precedence.
He was enthusiastic about sharing his passion for motorsports with Mia, fostering her interest from a young age. He introduced her to the world of engines by giving her a ride on a lawn mower when she was barely a year old, and later took her to witness her first go-kart racing event. In a March 2023 Instagram post, Mia was already behind the handlebars of her own dirt bike, even though it still had training wheels.
Mitch on Cameo: Sharing personalized video messages and technical insights
Another endeavor likely keeping Mitch busy is his presence on Cameo, a video-sharing platform that allows celebrities to send personalized messages, including greetings to their fans. In early 2020, Mitch joined Cameo and offered his availability for fans seeking technical advice or discussions about race cars. He encouraged anyone interested in such topics to reach out and connect with him through the site.
Mitch Blaschke: Mining Gold and Fortune
From the rugged terrains of gold mining to the glitz of reality television, Mitch Blaschke's career path is nothing short of extraordinary. It's been paved with hard work, passion, and a remarkable talent, but just how lucrative has this been, and what is the net worth of this gold-mining maverick?
Beyond Gold Rush
His mechanical prowess, combined with unwavering dedication, played a pivotal role in his financial success, ultimately leading to his promotion as the foreman of Parker Schnabel's crew. Many have wondered about Mitch's earnings from his work at the mining site. Although the exact figures are not made public, it appears that Parker has provided some insight into his workers' income, as reportedly shared on Reddit.
Parker stated that most workers begin at $28 per hour in Canadian dollars, while the median wage hovers around $34 per hour. The workload is notably demanding, with individuals often putting in approximately 75 hours per week, with a breakdown of 40 hours at the base rate, totaling $1,120, and an additional 35 hours of overtime at $42 per hour, amounting to $1,470. This results in a weekly gross pay of around $2,590. Over a typical 25-week season, starting employees can gross around $65,000 before bonuses, translating to approximately $40,000 net income. While bonuses are a significant part of the compensation, specific amounts aren't disclosed. Crew members benefit from perks like housing and food coverage on-site, making it a financially rewarding opportunity.
It's also important to note that both Todd Hoffman and Parker Schnabel reportedly had arrangements with their employees in which crew members were typically compensated based on a share of the gold mined. These can vary from season to season and can be influenced by factors such as the success of the mining operation, the crew members' roles and responsibilities, and individual agreements. It's worth mentioning that the specifics of how profits are shared among the crew members can change over time and may not be fully disclosed in the show.
Mitch's primary source of income comes from his appearances on the hit TV series "Gold Rush." Reportedly, Mitch used to receive $25,000 per episode, but there are claims that this has increased to $100,000 per episode; however, some reports suggest that he was paid $100,000 per season. These figures remain unverified, leaving people to continue to speculate about his appearance fees.
The bottom line: Mitch Blaschke's net worth
As of 2023, Mitch Blaschke boasts an estimated net worth of $400,000. While "Gold Rush" remains a significant contributor to his wealth, his work as a foreman and mechanic has further bolstered his financial standing.
Mitch Blaschke's journey from a skilled mechanic to a reality star is a testament to the diverse opportunities that arise in the world of gold mining. His net worth reflects not only his success in this high-stakes industry, but also his ability to seize new prospects for financial growth.