Who is Amie Donald?
Amie Donald is a young dancer and actress from New Zealand, born on 28 January 2010, making her 13 years old as of 2023. She gained recognition for her role in the 2022 horror film "M3GAN", in which she starred as the title character, and was notably praised for her dance moves and physicality, even co-choreographing a killer dance sequence that went viral on TikTok.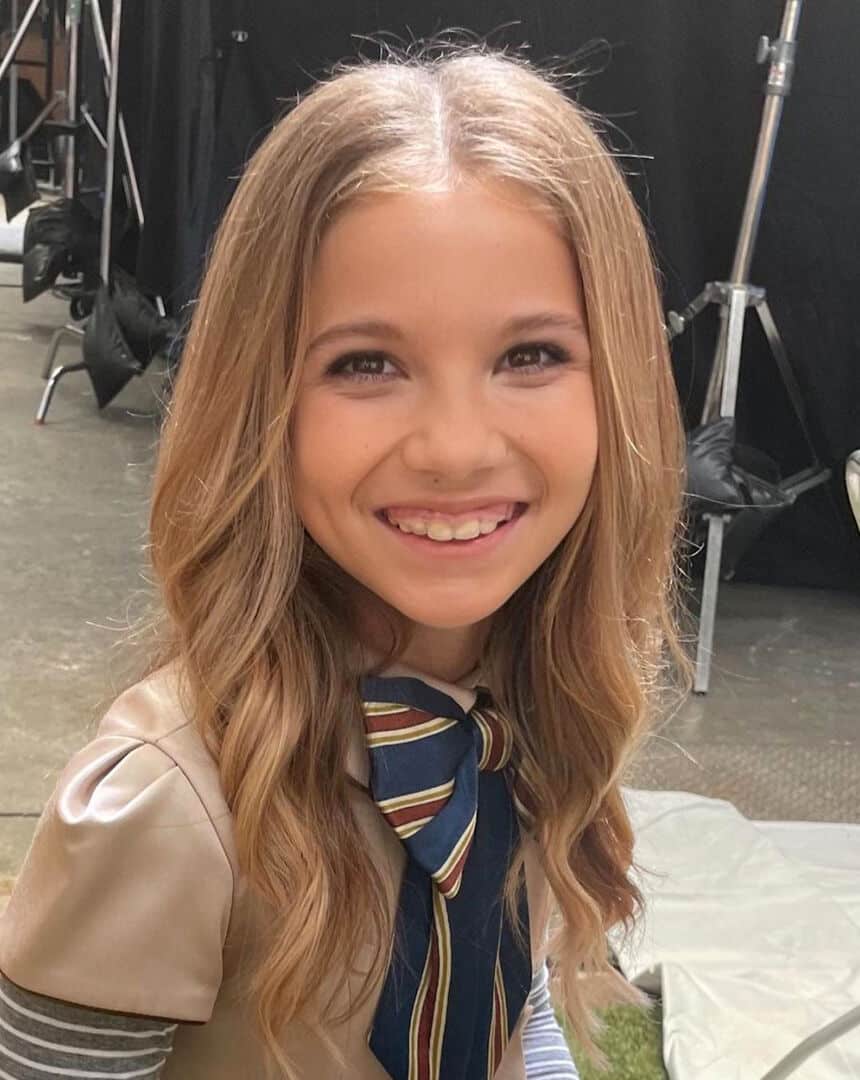 Early Life and Family
Amie's passion for dance was evident from a young age. Interestingly, Amie's journey into dance and acting was not straightforward; her mother, Roisheen, initially discouraged her from dancing, suggesting she pursue netball or gymnastics instead. However, Amie's determination led her to a dance studio, where her natural talent was immediately recognized, even though it was her first time dancing in such a setting.
Amie's family, including her older brother Campbell and her parents, have been supportive of her endeavors. Her parents have made significant adjustments to accommodate her career, with Roisheen resigning from her job and considering home-schooling Amie to manage her filming schedules, and potential appearances at events such as Comic-Con in San Diego, California.
Competitive Dance
Amie Donald has been notably successful in the realm of competitive dance. At the Dance World Cup in 2019, she represented New Zealand and made a significant impact by becoming the first competitor from her country to win medals; specifically, she secured a silver medal for Jazz and a bronze medal for Contemporary dance. This event was held in Portugal and showcased her talent on an international stage.
Amie's dedication to dance is also reflected in her training at Norris Dance Studios in Papakura, New Zealand. Her skills in dance not only brought her recognition in the competitive dance world, but also played a crucial role in her budding acting career, particularly in developing and performing dance and movement scenes in the film "M3GAN".
M3gan is played by 12 year old actress Amie Donald pic.twitter.com/yZQwjnOuid

— Horror4Kids (@horror4kids) December 14, 2022
"Sweet Tooth"
Before making her breakthrough in "M3GAN", Amie made her acting debut in the Netflix fantasy drama "Sweet Tooth", which premiered in 2021. The show is set in a post-apocalyptic world, and follows a 'boy' named Gus who is half human and half deer, as he navigates through a world filled with other hybrids. The series blends action, adventure and drama, exploring themes of survival, friendship and the reality of living in a world where a virus has drastically altered society and given rise to hybrid creatures.
In the series, Amie played the role of Maya Monkey, one of the half-human, half-animal hybrid creatures that inhabit the Earth. Amie appeared in eight episodes of the first season, but hasn't made a comeback for season two, which premiered in April 2023.
"M3GAN"
"M3GAN" is a horror film that garnered attention and stirred conversations in the cinematic world upon its release in January 2023. The character of M3GAN, partially portrayed by Amie, became notably recognized for a killer dance sequence that not only became a pivotal moment in the film, but also took the internet by storm, after going viral on TikTok.
Directed by Gerard Johnstone and written by Akela Cooper, the movie's plot centers on a sentient robot doll, M3GAN, who becomes hostile toward anyone who comes between her and her human companion. The film follows Gemma, a roboticist at a high-tech toy company in Seattle, who is developing M3GAN, designed to be the ultimate companion, especially after her niece, Cady, comes to live with her following her parents' death in a car accident. M3GAN is formally paired with Cady and begins to take on a parental role, exceeding expectations. However, concerns arise when M3GAN starts operating more independently, targeting anything deemed a threat to Cady, and eventually becoming hostile and lethal.
Interestingly, the titular character wasn't played by one person. Most of the scenes involving her were filmed using puppets which were capable of performing various things, while the voiceing was provided by Jenna Davis. However, some scenes required the doll to have a wider range of movement, which is where Amie stepped in. In those scenes, she wore a doll mask and heavy make-up.
With her extensive background in competitive dance, Amie brought a unique and eerie physicality to the character. Her ability to perform her own stunts and create unsettling movements, such as a 'cobra rise' from the ground without using her arms and running through the woods on all fours, significantly elevated the horror element of the film.
"M3GAN" was a commercial success, grossing more than $180 million worldwide, greatly surpassing initial projections. It also received favorable reviews from the critics, who praised it for a different take on the horror genre and satirical elements.
In November 2022, the media reported that a sequel, entitled "M3GAN 2.0" was already in the works. According to the magazine "People", the follow-up movie will likely expand on the ending of the original, which suggests that M3GAN's mind has escaped into other devices. Amie is set to reprise the titular role, along with voice actress Jenna.
Future Prospects
At only 11 years old, Amie has already made a name for herself in the entertainment industry. In addition to starring in a major Hollywood movie, she's also graced the cover of several magazines, including "Fashion Icon".
Despite the industry's curiosity about her future career path, Amie is clear about her ambitions: she wants to be an actor who performs her own stunts and continues to dance, which she loves. Judson Scott, one of the film's producers, praised her 'phenomenal talent' and 'X factor', highlighting her ability to dance, perform stunts, and possess a captivating on-screen presence.
Presence on Social Media
Amie's viral M3GAN dance brought her a great deal of popularity on social media. On Instagram, her page numbers close to 100,000 followers.
While she doesn't have a TikTok account, she was featured in viral videos by several other creators, such as Matthew Hide, who uploaded a clip of her teaching him the iconic M3GAN dance. The video has since been watched more than 2.8 million times. Her success is further reflected in her estimated net worth of close to $500,000, as of late 2023.