Who is Scott Glenn?
Scott is an American actor, probably best known for his roles in "The Right Stuff" (1983) and "Daredevil" (2015-2018), in addition to many other projects on which he has worked in his career.
Happy 84th Birthday Scott Glenn!
"One reason I became an actor is my basic unwillingness to live one life." pic.twitter.com/ERjMSXpB7U

— Marshall Julius (@MarshallJulius) January 26, 2023
Wiki: Age, Childhood, and Education
Theodore Scott Glenn was born on 26 January 1939, in Pittsburgh, Pennsylvania USA; he boasts Irish and Native American roots. His early life was marked by frequent illness, including a year-long bout with scarlet fever. Remarkably, through rigorous training, Glenn not only conquered his health issues but also overcame a limp.
He attended Pittsburgh High School, and after matriculation enrolled at the College of William & Mary, where he majored in English.
Scott Glenn's journey included a stint in the US Marine Corps for three years, following which he briefly worked as a news and sports reporter at the Kenosha News in Wisconsin for seven months in 1963. His aspirations to become an author led him to writing, but he struggled with dialogue; to master this skill, he embarked on acting classes.
He made his Broadway debut in "The Impossible Years" in 1965, and joined George Morrison's acting class. To support his studies, he directed student plays and participated in La MaMa Experimental Theatre Club productions. In 1968, Glenn became a part of The Actors Studio.
Career Beginnings
Scott Glenn's on-screen journey commenced in 1965 with minor roles. He appeared in "The Patty Duke Show", portraying characters Harry and a Waiter across two episodes. In 1966, he featured as Hal Currin in the TV series "Hawk". Moving to 1967, he took on the role of Roddy in an episode of "N.Y.P.D." entitled "The Pink Gumdrop".
In 1969, he appeared uncredited as Calvin Brenner in an episode of "The Edge of Night" entitled "#1.3490".
In the early 1970s, Scott Glenn transitioned to films. In 1970, he played Tad Jacks in "The Baby Maker", starring alongside Barbara Hershey and Sam Groom. The film centers on a young woman's decision to become a surrogate mother.
In 1971, Glenn portrayed Long John in "Angels Hard as They Come", featuring a group of bikers clashing with a small-town sheriff.
The following year, he took on the role of Bill Lester in "She Came to the Valley", a Western film also featuring Ronee Blakley and Dean Stockwell.
In 1973, Scott Glenn played Jimbang in "Hex", a horror-western film with Keith Carradine in the lead, revolving around a supernatural curse in a small town.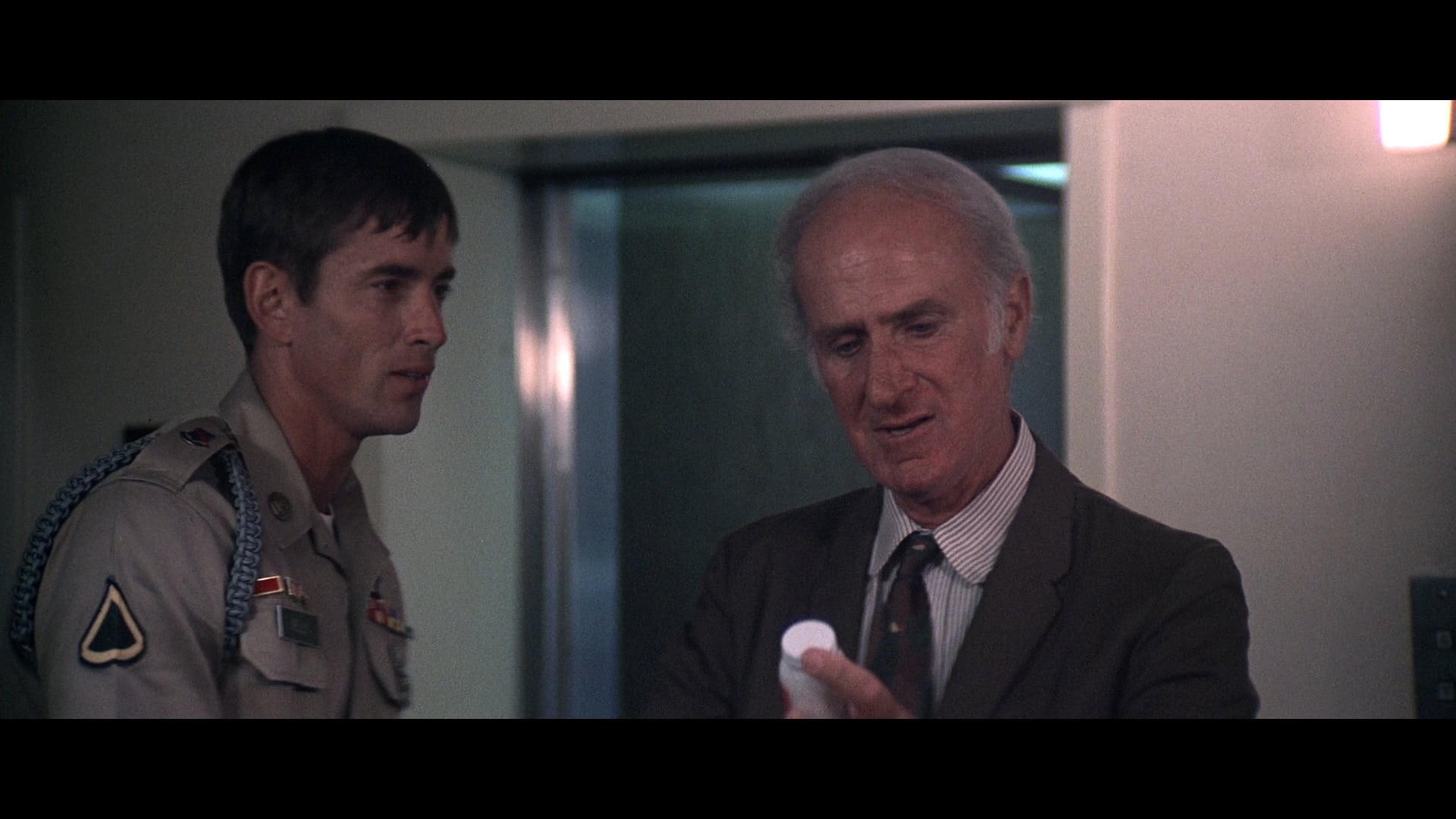 Scott Glenn's career in film continued to flourish. In 1975, he appeared in "Nashville" as Pfc. Glenn Kelly. The film featured a star-studded cast, including Lily Tomlin, Keith Carradine, and Shelley Duvall. "Nashville" is a satirical drama that explores the lives of various individuals in the country music scene.
In 1980, Glenn played Wes Hightower in "Urban Cowboy", alongside John Travolta and Debra Winger. The film is a romantic drama set in the world of urban cowboy culture in Texas.
One of his standout roles came in 1983, when he portrayed Alan Shepard in "The Right Stuff". This historical drama featured an ensemble that included Ed Harris, Sam Shepard, and Dennis Quaid. It chronicles the early days of the US space program, focusing on the lives of the original Mercury Seven astronauts.
In 1984, he played Joe Wade in "The River". The film starred Mel Gibson and Sissy Spacek, and revolved around a farming family facing hardships.
In 1987, Glenn appeared in two notable films – first, he portrayed Verne Miller in "Gangland: The Verne Miller Story", a crime drama, and then starred as Creasy in "Man on Fire", a thriller film.
In 1989, he took on the role of Mac Sam in "Miss Firecracker", a comedy-drama featuring Holly Hunter and Tim Robbins. In 1991, he played Jack Crawford in "The Silence of the Lambs", a thriller film featuring Jodie Foster and Anthony Hopkins.  revolvings around an FBI agent's pursuit of a serial killer with the help of a brilliant but insane incarcerated serial killer.
In the same year, he portrayed H.D. Dalton in "My Heroes Have Always Been Cowboys", and also appeared as John "Axe" Adcox in "Backdraft" (1991) and performed stunts in the film. This action-drama starred Kurt Russell and William Baldwin, and delved into the lives of firefighters in Chicago.
Throughout the 1990s, Scott Glenn had several notable film roles: in 1993, he played Dan Vaughn in "Extreme Justice", which starred Lou Diamond Phillips and features Glenn as a cop dealing with issues of morality and justice within the police force.
The same year, he portrayed Stephen Broderick in "Slaughter of the Innocents", a thriller involving a serial killer's son.
In 1997, Glenn appeared as Agent Bill Burton in "Absolute Power", a crime thriller featuring Clint Eastwood as a master thief who witnesses a murder involving the U.S. President. Before the '90s came to a close, Scott Glenn made an appearance in the film "The Virgin Suicides" (1999), in which he portrayed Father Moody. The movie, directed by Sofia Coppola, explores the lives of five sisters in a strict household and the mystery surrounding their lives.
The 2000s
In the early 2000s, Scott Glenn continued his acting career with several notable roles:
in 2001, he played Roger in "Training Day", the crime thriller starring Denzel Washington as a corrupt detective.
He also appeared in "Buffalo Soldiers" (2001) as 1SG Robert E. Lee, a dark comedy set in West Germany during the Cold War, with Joaquin Phoenix in a leading role.
In 2006, Glenn portrayed Sinatra in "Journey to the End of the Night", and the following year played Steve Gruwell in "Freedom Writers" (2007), a drama film starring Hilary Swank.
Additionally, in "The Bourne Ultimatum" (2007), Glenn took on the role of Ezra Kramer, the Director of the CIA, with Matt Damon as the lead actor in the popular spy thriller franchise.
In 2008, he portrayed Robert Torrelson in "Nights in Rodanthe", a romantic drama starring Richard Gere and Diane Lane. The film follows two people who find love during a hurricane.
In "W." (2008), Glenn played US Secretary of Defense Donald Rumsfeld in this biographical drama directed by Oliver Stone, featuring Josh Brolin as President George W. Bush.
2010s and Later Work
Two years later, he appeared in "Secretariat" as Christopher Chenery. The film, starring Diane Lane and John Malkovich, is based on the true story of the legendary racehorse Secretariat and the woman who owned and trained him.
Then he was seen in "Sucker Punch" (2011), Glenn in multiple roles as The Wise Man, The General, and The Bus Driver. The film, directed by Zack Snyder, features Emily Browning and Abbie Cornish in lead roles and tells the story of a young girl's quest for freedom and escape from a mental institution.
He continued to make notable film appearances. In "Magic Valley" (2011), he portrayed Ed Halfner in the drama that follows interconnected lives in a small Idaho town.
Then, in "The Paperboy" (2012), Glenn played W.W. James. The movie, starring Zac Efron and Nicole Kidman, is a crime drama set in the South during the 1960s, revolving around a journalist investigating a death row inmate's case.
Additionally, he reprised his role as Ezra Kramer, Director of the CIA, in "The Bourne Legacy" (2012). The film continues the Bourne franchise, with Jeremy Renner as the lead character, Aaron Cross, and explores the consequences of the events in the previous films.
Scott Glenn continued his successful career into the second half of the 2010s with the following roles:
In 2014, he played Eugene Van Wingerdt/Francis Allen Visser in "The Barber". This thriller film revolves around a small-town barber with a dark secret. The following year, Glenn portrayed Sully in "Into the Grizzly Maze" starring James Marsden and Thomas Jane in a survival thriller set in the Alaskan wilderness, where two estranged brothers must face a rogue grizzly bear.
In addition to film roles, Scott Glenn also showed his talents in TV roles in the second half of the '2010s. In the TV series "The Leftovers", spanning from 2014 to 2017, he portrayed Kevin Garvey Sr. This drama series explores the aftermath of a global event during which a significant portion of the population mysteriously disappears. Starring alongside Justin Theroux and Carrie Coon, Glenn's character, Kevin Garvey Sr., plays a pivotal role in the search for meaning in this post-apocalyptic world.
Moving to the Marvel universe, in "Marvel's Daredevil" (2015–2016), Glenn assumed the role of Stick in five episodes. His character, Stick, is a blind martial arts master who mentors the main character, Matt Murdock (Daredevil). Starring Charlie Cox as Daredevil, the series delves into the life of a vigilante in Hell's Kitchen, New York City.
In "The Defenders" (2017), a miniseries that unites Marvel's iconic heroes, Glenn appeared in six episodes. Alongside stars such as Charlie Cox (Daredevil), Krysten Ritter (Jessica Jones), Mike Colter (Luke Cage), and Finn Jones (Iron Fist), he contributed to the team's efforts to save New York City from a looming threat.
Shifting gears to the horror genre, Scott Glenn featured in "Castle Rock" (2018). This psychological horror series, based on Stephen King's works, stars André Holland and Melanie Lynskey. Glenn portrayed Alan Pangborn in eight episodes, a character familiar to King's readers, dealing with the town's supernatural and mysterious events in the fictional town of Castle Rock.
Most recently, Glenn took on the role of Red Murff in the film "The Hill". Directed by Jeff Celentano, the movie tells the impressive true-life story of Rickey Hill's improbable journey to play Major League Baseball. The film stars Colin Ford, Dennis Quaid, and Joelle Carter.
Net Worth
According to authoritative sources, Scott Glenn's net worth is estimated at close to $4 million as of mid-2023.
Personal Life, Married, Wife, Children
Scott Glenn has been married to Carol Schwartz since 1968. The couple has two children together.
Appearance and Body Measurements
Scott Glenn has brown eyes and gray hair. He stands at a height of 6ft (1.83m), while he weighs approximately 220lbs (100kgs). His vital statistics are 40-13-33.