Who was Larry King?
The iconic American television and radio host Larry King, has left an indelible mark on the world of media and journalism. With a career spanning more than six decades, his distinctive interviewing style, genuine curiosity and the warmth he exuded on screen made him a beloved figure, endearing him to millions of viewers around the globe. His passing marked the end of an era; Larry King will always be remembered for his contributions to journalism and his impact on the world of broadcasting.
In this article, we'll take a closer look at Larry King's remarkable career, his personal life, his family, and the circumstances surrounding his passing.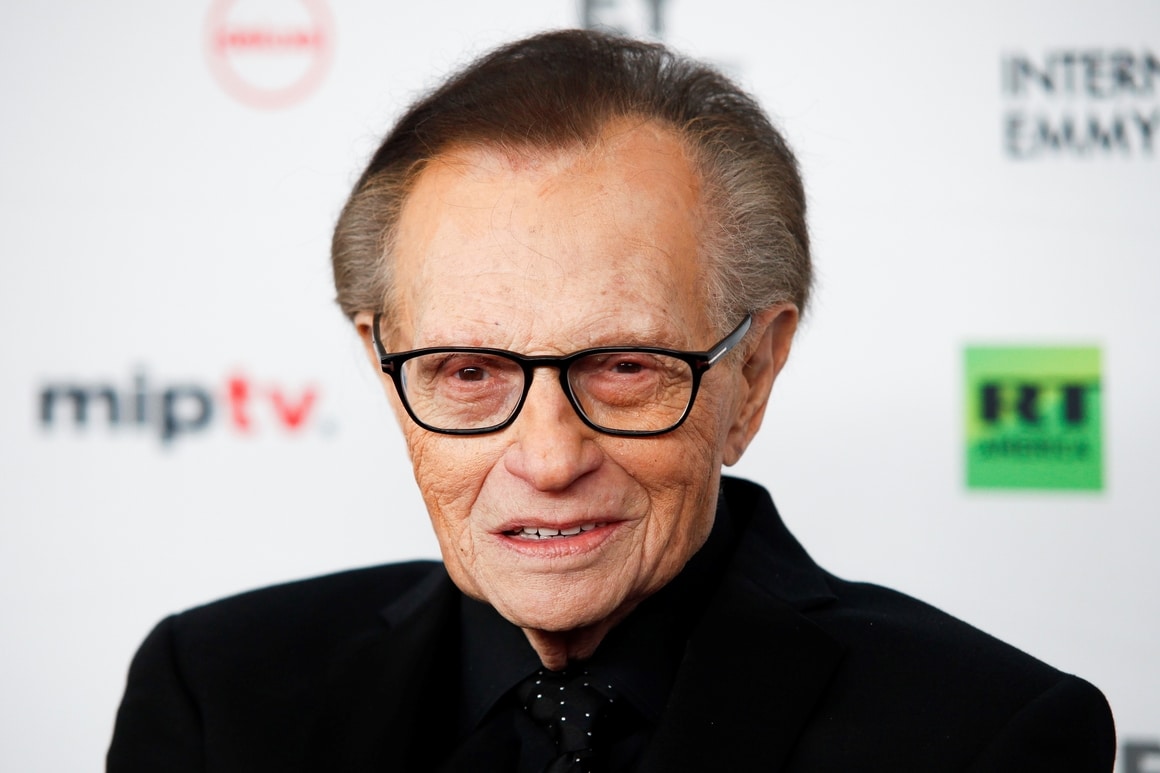 Early life, family, and education
Born Lawrence Harvey Zeiger under the zodiac sign of Scorpio on 19 November 1939, in Brooklyn, New York City USA, he held American nationality, although his parents were immigrants from what is now Belarus, who came to the US in the early '30s. His father, Aaron Zeiger and his mother Jennie were Orthodox Jews, both born in the Russian Empire. Besides Larry, they had one more son, Marty. When Larry was nine years old, Aaron died of a heart attack, and so Larry, his mother and Marty were forced onto government welfare.
Larry attended Lafayette High School, and upon matriculating in 1957, he didn't go to college but began working to help his mother. However, from an early age, Larry dreamed of working in radio broadcasting.
Career beginnings
Larry eventually went to Miami, Florida where he had his first job in radio. Larry King's first job was at WAHR (now WMBM) as a disc jockey, and his first broadcast was aired on 1 May 1957. His work here was characterized by his eclectic music selections, and warm, engaging voice. Larry's talent and charisma soon caught the attention of local radio executives, leading to a series of opportunities that would shape his career. At the time, Larry was paid $50 a week.
Then, he began doing interviews for WIOD's mid-morning show at Pumpernik's Restaurant in Miami Beach, interviewing virtually anyone who walked in. This program was instrumental in Larry's development as an interviewer, as it allowed him to delve into various topics and converse with a wide range of guests.
The first man Larry ever interviewed was a waiter in a restaurant, then when it came to celebrities, his first guest was a famous singer, Bobby Darin.
1961 'Miami Undercover – Larry King'

January 23, 1961—We have sad news to pass along this morning. Per Larry King's family, the legendary talk show host has passed away this morning at the age of 87. To honor Mr. King we're revisiting one of his first television roles as a radio station DJ in the 1961 Crime drama 'Miami Undercover,' which starred Lee Bowman & Middleweight Champion Boxer Rocky Graziano. Here's the clip from the pilot episode of 'Miami Undercover' where Larry King doesn't last long…..RIP Larry King…

Posted by Back to the 60's Pop Culture on Saturday, January 23, 2021
Subsequently, after the general manager told him that his surname was too difficult to remember, Larry acquired the name 'Larry King', and legally changed his name two years later. He moved to WPST-TV Chanel (now WPLG), a small Miami radio station, where he hosted a night-time show called "Miami Undercover".
In one of his interviews, Larry said that his time in Miami was a formative period, and the lessons he learned there shaped his approach to broadcasting for decades to come.
The Larry King Show
In 1978, he launched his nationally syndicated radio program, "The Larry King Show", which would go on to become a massive success. His conversational yet probing style of interviewing was a departure from the confrontational approach of many of his contemporaries. Larry had a unique ability to make his guests feel at ease, persuading them to open up and share their stories in a way that captivated audiences.
The show was known for its unique call-in format – listeners from across the US could phone in and ask questions or share their opinions with Larry and his guests. This interactive approach was a departure from traditional radio talk shows, and contributed to the show's success.
Larry was known for his open-ended and non-confrontational style of questioning, often beginning interviews with a simple, 'Tell me about yourself', allowing guests to share their stories in their own words. This approach created a relaxed and conversational atmosphere.
After 16 years on the air, "The Larry King Show" came to an end in 1994, when Larry decided to shift his focus to his Cable News Network (CNN) television program, "Larry King Live". However, the show's legacy continued to influence the world of talk-back radio.
Larry King Live
Larry's transition to television was a natural progression, and in 1985, he debuted his iconic CNN show "Larry King Live". Over 25 years, he conducted over 60,000 interviews with a diverse array of guests, including world leaders, celebrities from all industries, and everyday people with extraordinary stories. His signature suspenders and gravelly voice became synonymous with the show, making him a household name.
"Larry King Live" had a significant international audience, and was eventually broadcast in more than 200 countries, making it one of the most widely watched talk shows in the world – Larry King's reputation as a skilled interviewer transcended borders.
"Instead of goodbye, how about so long?"

Watch Larry King sign off from "Larry King Live" on CNN for the last time. https://t.co/p4NwxAfrFq pic.twitter.com/fxQPqzlzLU

— CNN (@CNN) January 23, 2021
The show played a role in shaping public opinion on various important issues and events, such as the Gulf War, the O.J. Simpson trial, and the 9/11 terrorist attacks. Larry's interviews provided a platform for in-depth discussions on these and many other topics.
Larry interviewed a wide array of prominent figures, from politicians such as Presidents Bill Clinton and Ronald Reagan, to celebrities such as Marlon Brando, Oprah Winfrey, and Michael Jackson. His versatility in engaging with guests from different walks of life was one of his trademarks.
Larry's signature suspenders became synonymous with his image – he began wearing them on the show after losing a substantial amount of weight and needing to keep his pants up; they soon became a fashion statement, and part of his brand.
He hosted his final episode of "Larry King Live" on 16 December 2010, signaling the end of an era.
Love life, relationships, and family
While Larry King was known for his public persona, he had a rich and complex personal life. He was married eight times to seven different women, and his marital life was often the subject of tabloid headlines.
His first wife was his high-school sweetheart Freda Miller – the two married in 1957, aged 19, however, Freda's parents annulled their marriage. In the early '60s, Larry was in a brief marriage with Anette Kaye, who gave birth to his first son, Larry Junior, born in November 1961 – however, he was in his 30s when he met his famous father for the first time.
Larry married his third wife, Playboy Bunny Alene Akins in 1961, and adopted her son, Andy. However, the couple divorced in 1962. In the following year, Larry married Mary Francis Sutphin, but this marriage also ended in divorce.
In 1969, Larry remarried Alene, she gave birth to Larry's first daughter, Chaia, but they divorced again in 1972. Four years later, Larry married Sharon Lepore, his fifth wife, and their marriage lasted until 1983.
In 1989, Larry met Julie Alexander, a businesswoman – he proposed to her on their first date, they married in October that year, separated in 1990, and divorced in 1992. Three years later, Larry became engaged to Deanna Lund, an actress, however, the two broke off their engagement.
In 1997, Larry married Shawn Southwick, an actress and singer, with whom he had two children, Chance and Cannon. The couple filed for divorce in 2010 but reconciled, filed for divorce again in August 2019, and at the time of Larry's death, were going through divorce proceedings.
Through all these relationships, marriage and divorce, there is no suggestion of animosity, but neither are there publicly known s for the separations – likely it was his career that got in the way.
Passing of a Legend
On 23 January 2021, the world mourned the loss of Larry King, who passed away at the age of 87. His death was attributed to complications from COVID-19, however, his widow Shawn, in her interview, said that Larry had recovered from the Coronavirus. According to People magazine, the death certificate said that 'unrelated' sepsis infection was the immediate cause of death.
Following Larry's death, his fellow journalists, celebrities, and fans paid tribute, recognizing his enormous contribution to the world of journalism, through his engaging personality.
Legacy, Net Worth
Larry King's legacy is undeniable. He was a masterful interviewer who set the gold standard for conducting engaging and informative interviews. His ability to connect with people from all walks of life and his genuine curiosity about the human experience were his trademarks. Larry King's work paved the way for many journalists and talk show hosts who followed in his footsteps.
According to sources, in tearly 2021, Larry King's net worth was estimated at over $50 million.