Who was Flor Silvestre?
The late Mexican actress and singer Guillermina Jimenez Chabolla, was born under the zodiac sign Leo in Salamanca, Guanajuato, Mexico, on 16 August 1930. She was one of the most popular Mexican singers, and was also known for the wide range of movies in which she appeared; Flor had 72 acting credits and is perhaps remembered best for starring as Dolores 'Lolita' Vargas in the 1960 action adventure movie "¡Viva la Soldadera!", which also starred Carlos Rivas and Armando Silvestre, and was written and directed by Miguel Contreras Torres. It follows two young adults who've fallen in love.
Flor was 90 when she died of natural causes on 25 November 2020, on her estate in Villanueva, Mexico.
Education and early life
Flor was raised in Salamanca alongside her two older and four younger siblings, by their mother Maria de Jesus Chabolla Pena who was a housewife and died aged 87 on 5 September 1993, and father Jesus Jimenez Cervantes who was a butcher, and the owner of his own meat shop.
Flor began singing at a very early age and her parents supported her interest in music; she was mostly into mariachi music and was a fan of Mexican singers Lucha Reyes and Jorge Negrete. Flor became passionate about acting at the age of nine, and singing and acting led her to become involved in local festivals, school plays and Christmas pageants.
After completing her elementary education in Salamanca in 1944, Flor moved with her family to Mexico City, and began attending secretarial classes at the Escuela Bancaria Comercial Milton; she matriculated in 1948, and then focused on singing and acting over enrolling at college.
Roles in movies
Flor spent her career in the film industry focused on appearing in movies, and had only a single TV series role, portraying a supporting character in four episodes of the 1957 drama "Secreto de Familia".
Flor's debut film role was playing Cantante in the 1950 musical comedy "Te Besare en la Boca", and some of her following roles were in the 1950 comedy "Primero Soy Mexicano", the 1951 musical comedy "El Tigre Enmascarado", and the 1952 western "El Lobo Solitario". In 1956, she starred as Cantaralia Barroso in the romantic drama "La Doncella de Piedra", co-starring Victor Manuel Mendoza and Elsa Aguirre, and was written and directed by Miguel M. Delgado – it follows a Mexican woman who's fallen in love. Some of her roles in the remainder of the '50s were in the horror mystery western "El Jinete sin Cabeza" and the action adventure "La Justicia del Gavilan Vengador" both in 1957, and the 1959 comedy "Mi Mujer Necesita Marido".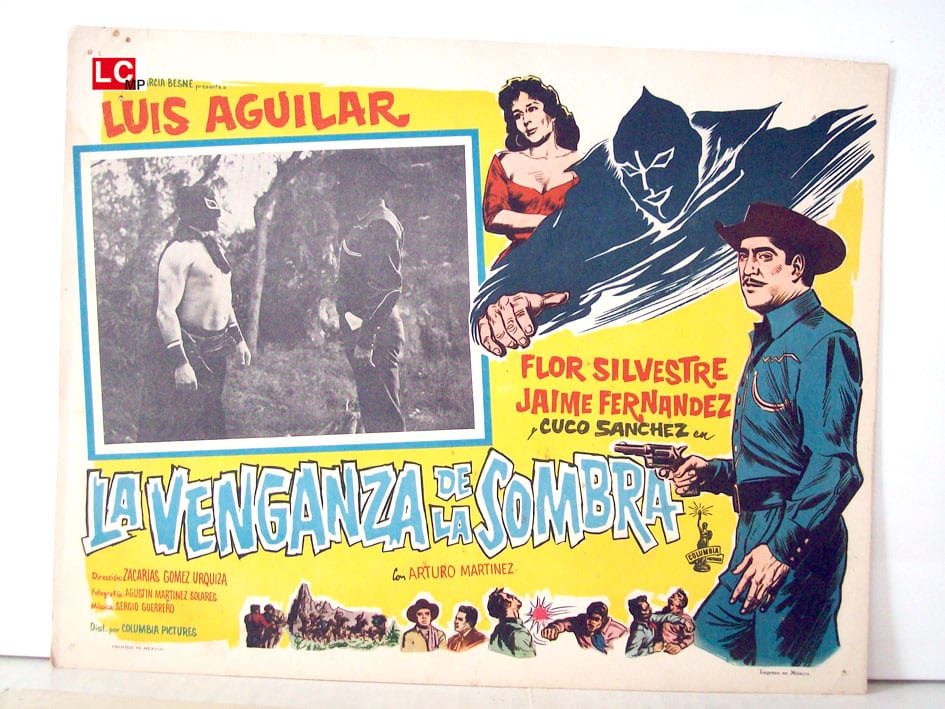 In 1962, she played one of the lead characters Anita in the crime adventure "La Venganza de la Sombra", which also starred Jaime Fernandez and Luis Aguilar, and was written and directed by Zacaria Gomez Urquiza. It follows The Shadow and Zorro Escarlata who are after the men who murdered their friend. Flor appeared in a couple of other popular movies in the '60s, such as the 1965 comedy "Escuela Para Solteras", the 1966 western "Juan Colorado", and the 1970 action adventure comedy "Vuelve el Ojo de Vidrio".
In 1974, she played Soledad, Amante de Pancho Villa in the biographical action "La Muerte de Pancho Villa", which starred Jaime Fernandez and Antonio Aguilar, and was directed by Mario Fernandez. It follows the role of Pancho Villa in the Mexican Revolution; the movie was nominated for only a single award.
Flor had only a couple of other film roles prior to her retirement from acting, with her three final having been in 1980 in the horror mystery western "Sabor a Sangre" and the western "Persecucion y Muerte de Benjamin Argumedo", and the 1991 romantic action "Triste Recuerdo".
Other credits
Flor appeared in a couple of school plays, including "Mala noche… no!" and "Don Francisco Presenta".
Awards and nominations
Flor won three awards: a 1979 Asociacion Nacional de Actors (ANDA) Virginia Fabregas Medal, a 2001 ANDA Eduardo Arozamena Medal, and a 2013 Mexican Cinema Journalists Special Silver Goddess Award for Premio por su Trayectoria.
Music career
Flor's music was highly popular in Mexico and other Latin countries, but not as much in the US.
She released around 30 studio albums, her debut "Flor Silvestre" in 1959, followed by her second "Flor Silvestre con el Marhiachi Mexico" in 1963, her third "Flor Silvestre con el Mariachi Mexico, vol. 2" in 1964, and her fourth "La Sentimental Flor Silvestre" in 1964.
She attracted quite a lot of attention with her album "Flor Silvestre, vol. 6", released in 1967, and the following year saw her release volumes seven and eight.
Flor's 11th album "Flor Silvestre y las Canciones de sus Trios Favoritos" was released in 1970, and even though she went on to release new albums nearly every year, Flor became less popular following the end of the '60s, and thus focused more on her career in the film industry.
Her final three albums were the 1991 "Flor Silvestre con Tambora", the 1993 "Me Regalo Contigo", and the 2010 "Soledad: Canto a mi Amado".
Love life and marriages
Flor was married thrice. Her first husband was Mexican non-celebrity Andres Nieto Villafranco; they exchanged vows on 18 September 1945,but divorced five years later. They had a daughter, Dalia Ines Nieto Jimenez together, and she's today a successful Mexican singer and actress.
Flor's second husband was Mexican announcer and presenter Francisco Rubiales Calvo, they married in 1953, divorced in 1959, and had two children together, daughter Marcela Rubiales who's a singer and actress, and son Francisco Rubiales who's a translator. Francisco died aged 64 on 22 June 1978.
Flor's third husband was Mexican actor and singer Antonio Aguilar, and he was the love of her life; they met in 1950 but only began dating in 1957, married on 29 October 1959, and remained together until his death on 19 June 2007; they had two sons together, Jose 'Pepe' Aguilar and Antonio 'Tono' Aguilar, both of whom are popular actors and singers.
There are no other men whom Flor had perhaps been with, that the public knows about; she was unattached at the time of her passing, had been married thrice and had five children.
Falleció la Actriz y Cantante Flor Silvestre

El cansancio detuvo su corazón rodeada de sus hijos y sus nietos. Flor Silvestre descansará al lado de quién fuera su gran amor Antonio Aguilar. Murió a los 90 años de edad, en Zacatecas, en su Rancho El Soyate. pic.twitter.com/1csCrqi196

— Tabasco al minuto (@Tabalminutomx) November 25, 2020
Hobbies and other interests
Flor was diagnosed with lung cancer, but responded well to the surgery which she underwent on 28 February 2012.
Many popular singers have stated that they admired Flor, including Lila Downs, Alicia Juarez and Maria de Lourdes.
She's still the only ranchera singer (amongst both men and women) to have had a career that lasted for over 70 years.
Flor portrayed both twins – Felisa and Elisa – in the 1965 movie "Escuela para Solteras".
She starred in seven to 10 movies a year at the peak of her career.
Flor was rated a great cook, and her favorite dish to make was Bacalao a la Vizcaina.
Her favorite singer was Julio Iglesias.
Appearance and net worth
Flor would've been 93 today. She had brown hair and eyes, weighed around 130lbs (60kgs) and was 5ft 6ins (1.68m) tall.
Flor's net worth at the time of her passing, was estimated at over $10 million.