• Born as James King Aurness on the 26th May 1923 in Minneapolis, Minnesota USA
• Attended high school, but couldn't join the navy because of his height
• Hitchhiked to Hollywood and made his acting debut in 1947
• Played the role of Matt Dillon in "Gunsmoke" from 1955-1975
• Awarded a Star on the Hollywood Walk of Fame for his contribution to television

Known for movies
Short Info
| | |
| --- | --- |
| Date Of Birth | May 26, 1923 |
| Died | June 3, 2011, Los Angeles, California, United States |
| Spouse | Janet Surtees, Virginia Chapman |
| Mark | Towering height |
| Fact | He was a lifelong supporter of the Republican party. |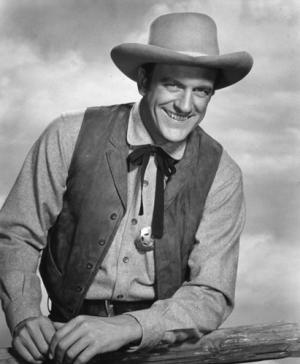 Early Life and Education
Born as James King Aurness on the 26th May 1923 in Minneapolis, Minnesota USA to Rolf Cirkler Aurness and Ruth Duesler. James is of Norwegian and German ancestry; his last name, originally Aurness was changed when he became an actor – his grandfather, Peter Aurness, emigrated from Norway in 1887. He wasn't alone growing up, as he had a younger brother, Peter, who also became a famous actor. Raised as Methodists, James was taught to earn a living from an early age. While in high school he was a courier for a jewelry wholesaler. This however affected his high school performance in a negative way, but eventually he managed to earn a diploma in 1942.
He joined the army in 1943 but his desires were quenched once he discovered that at 6 feet and 7 inches he was too tall to be a fighter pilot. He was sent to Fort Snelling Minnesota in March 1943, becoming a rifleman, and in the Battle of Anzio he was severely wounded in his right leg,  as a result of which he was transferred to the US Army 91st General Hospital in Clinton, Iowa. He couldn't return to battle because of the severity of the wounds, and was honorably discharged on the 29th January 1945, but not before receiving the Bronze Star and the Purple Heart, and several other decorations, including the European-African-Middle Eastern Campaign Medal with three bronze battle stars.
Hitchhiking to Hollywood
Before becoming an actor, James worked as a radio announcer for WLOL in his native Minneapolis. However, two years later, James decided to leave his post and try to succeed as an actor, and believe it or not, he hitchhiked to Hollywood where he signed with RKO Pictures.
Acting Debut and the Role of Matt Dillon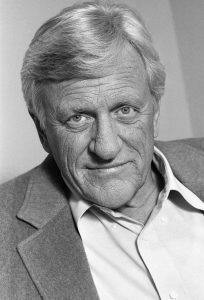 James soon made his acting debut in the film "Farmer's Daughter" in 1947, and continued with minor film roles such as Ray in "Roses Are Red" the same year, "The Man from Texas" in 1948 and "Wagon Master" in 1950. Two years later he appeared next to John Wayne in the crime-drama film "Big Jim McLain", and the next year also starred next to John Wayne in the romantic war-drama film "Hondo". In 1955 he was chosen for the part of Matt Dillon in the TV western series "Gunsmoke", a character that he subsequently portrayed for 20 years in 635 episodes of the Golden Globe Award-nominated series, as well as a three times nominee for the Primetime Emmy Award. The particular role became the hallmark of his career, and he was awarded a Star on the Hollywood Walk of Fame for his contribution to television. He repeated the role of Matt Dillon in the television films "Gunsmoke: Return to Dodge" in 1987, "Gunsmoke" The Last Apache" in 1990, "Gunsmoke: To the Last Man" (1992), "Gunsmoke: The Long Ride" (1993), and "Gunsmoke: One Man's Justice" in 1994, which was his last screen appearance.
Career After "Gunsmoke"
Once the original TV series ended in 1975, James started searching for new acting engagements, and soon after was chosen for the part of Zeb Macahan in another western series "How the West Was Won" (1976-1979), and from 1981 to 1982 portrayed Detective Jim McClain in the TV series "McClain's Law". He also portrayed Jim Bowie in the television film "The Alamo: Thirteen Days to Glory" in 1987, and Thomas Dunson in another television film "Red River" (1988).
The Real Marshal
Because of his popularity as a TV Marshal, James was named an Honorary US Marshal, and was given the Marshal's badge and a salute on the 20th June 2003 by the Los Angeles mayor, the 15 City Council members and the City Attorney. James added another recognition to his career that lasted over 45 years.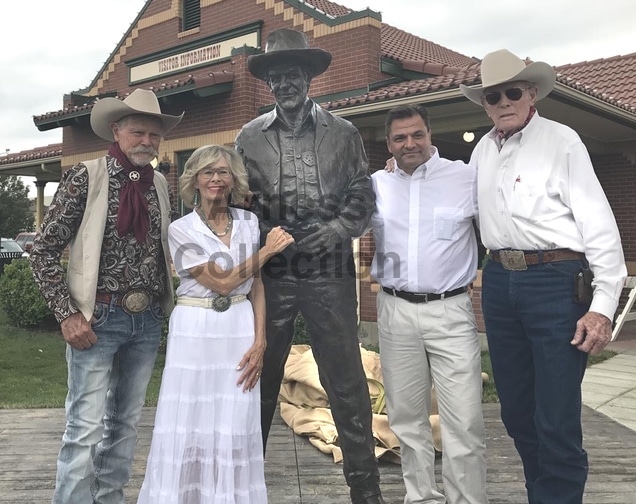 Well, his successful career as an actor certainly contributed to his overall net worth. Let's see into it. According to authoritative sources, James' net worth in 2011 was estimated at $10 million. He never wanted to expose his private life to the public world, and he let his career speak for himself.
Life After Retirement and Death
Following his retirement in 1994, James left the public eye, but in 2001 he published an autobiography entitled "James Arness: An Autobiography". James led a quiet life until his death in 2011 at his home in Brentwood, Los Angeles California USA. He passed away of natural causes at 88 years old. His remains were buried at the Forest Lawn Memorial Park in Glendale, California.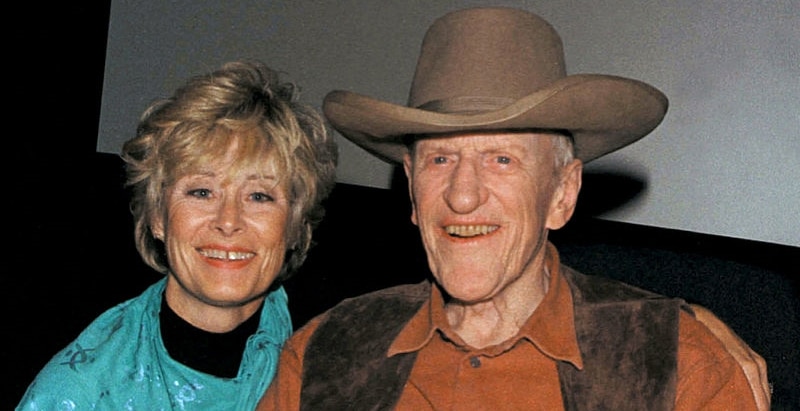 Relationships and Family Life
At the time of his death, James was married to his second wife, Janet Surtees; the couple married in 1978. Before Janet, James was married to Virginia Chapman from 1948 until 1963; the couple had three children, Rolf, Craig, and Jenny Lee, who died of suicide in 1975. He also became the adoptive father to Virginia's son Craig.
General Info
| | |
| --- | --- |
| Full Name | James Arness |
| Date Of Birth | May 26, 1923 |
| Died | June 3, 2011, Los Angeles, California, United States |
| Height | 2.01 m |
| Weight | 235 lbs |
| Profession | Television producer, Soldier, Actor |
| Education | Beloit College, Washburn High School, John Burrows Grade School |
| Nationality | American |
Family
| | |
| --- | --- |
| Spouse | Janet Surtees, Virginia Chapman |
| Children | Rolf Aurness, Jenny Lee Aurness, Craig Aurness |
| Parents | Rolf Cirkler Aurness, Ruth Aurness |
| Siblings | Peter Graves |
Accomplishments
| | |
| --- | --- |
| Awards | Bronze Star Medal, Purple Heart |
| Nominations | Primetime Emmy Award for Outstanding Continued Performance by an Actor in a Leading Role in a Series, TV Land Favorite Crimestopper Award, Primetime Emmy Award for Best Continuing Performance by an Actor in a Leading Role - Dramatic or Comedy Series, Primetime Emmy Award for Best Continuing Performa... |
| Movies | The Thing from Another World, Hondo, Big Jim McLain, Gunsmoke: Return to Dodge, The Farmer's Daughter, Island in the Sky, The Sea Chase, Gun the Man Down, Wagon Master, The Alamo: 13 Days to Glory, Roses Are Red, Carbine Williams, Gunsmoke : The Long Ride, The People Against O'Hara, Battleground, Ho... |
| TV Shows | McClain's Law, How the West Was Won, Gunsmoke |
Social profile links
Marks
| # | Marks / Signs |
| --- | --- |
| 1 | The role of Matt Dillon on Gunsmoke (1955). |
| 2 | Towering height |
| 3 | Commanding voice |
Quotes
| # | Quote |
| --- | --- |
| 1 | With Gunsmoke (1955), we had an outstanding quality of writing. The show had been on radio for three years, so they were able to fine-tune the characters. What made us different from other westerns was the fact that Gunsmoke wasn't just action and a lot of shooting; they were character-study shows. They're interesting to watch all these years later. |
| 2 | I have met many other actors who were great also, but there was something about him that was so special He was just off in a class by himself somehow. It was a real privilege really to be around the man and to know him. I was with his company for three years, and it was just a special time. - On John Wayne |
| 3 | I had the pleasure of knowing Ronald Reagan before he became Governor of California. He was a truly great human being and we usually spent our time together reminiscing about mutual friends. He will be missed by all who knew him and by a nation that will mourn with us. (2004) |
| 4 | "If they were man and wife, it would make a lot of difference. The people upstairs decided it was better to leave the show as it was, which I totally agreed with." - on why his Gunsmoke character, Marshal Dillon, never married Miss Kitty. |
Facts
| # | Fact |
| --- | --- |
| 1 | He and Kelsey Grammer both hold the record for playing the same character the longest (20 years). However, since the length of TV seasons was longer between 1955-75, it results in 635 episodes as Matt Dillon on Gunsmoke (1955) for Arness and only 467 as Frasier Crane (on Cheers (1982) and Frasier (1993)) for Grammer. |
| 2 | Had to dye his naturally blond hair for the role of Matt Dillon, since dark hair was considered more masculine. |
| 3 | Was in the 3rd Infantry Division at the time as Audie Murphy. Murphy was in the 15th Infantry Regiment and Arness was in the 7th Infantry Regiment. Both regiments landed at Sicily and Anzio. Arness was wounded at Anzio and sent back to the US for treatment and discharge. |
| 4 | His ex-wife, Virginia Chapman, died on July 29, 1977, at age 56. |
| 5 | Had many times sailed with Buddy Ebsen. |
| 6 | After his last role Gunsmoke: One Man's Justice (1994), he retired from acting at age 71. |
| 7 | He and his brother Peter Graves never acted onscreen together; however, Graves did direct Arness in Gunsmoke: Which Dr. (1966). |
| 8 | He was most widely known to be a very quiet and private man. |
| 9 | Was a Boy Scout. |
| 10 | Began his career as a contract player for Batjac Productions--John Wayne's production company--in 1952. |
| 11 | In 1968 he donated his 1,400-acre ranch in northern Los Angeles County to the Brandis Institute. |
| 12 | Before he was a successful actor, he was a radio announcer in Minneapolis, Minnesota. |
| 13 | His acting mentor was the late John Wayne. |
| 14 | He passed away on June 3, 2011, just one week after he celebrated his 88th birthday. |
| 15 | His best friend and younger brother Peter Graves, died on March 14, 2010, just four days before his 84th birthday. |
| 16 | Despite the fact that he was friends with Robert Fuller and James Drury, he did not appear on any episodes of other series, because Warner Bros. would not lend its contract players to competitors. |
| 17 | Was the only actor to appear in all 635 episodes of Gunsmoke (1955). |
| 18 | One of Harry Morgan's sons was the friend of one of his children. One of Morgan's sons spent the night at his ranch. |
| 19 | Best remembered by the public for his starring role as Marshal Matt Dillon on Gunsmoke (1955). |
| 20 | Acting mentors and friend of Buck Taylor and Amy Stoch. |
| 21 | He is interred at Forest Lawn Memorial Park in Glendale, California. |
| 22 | He was said to be somewhat self-conscious about his stature and quite happy when they took measures to obscure his towering height while filming "Gunsmoke". |
| 23 | He had a lifelong affiliation with the Methodist church. |
| 24 | He was a lifelong supporter of the Republican party. |
| 25 | He was the son of Rolf Aurness and Ruth Duesler who divorced in the 1940s. |
| 26 | He attended public schools and graduated from West High School in Minneapolis, Minnesota in 1942. He studied for a year at Beloit College in Wisconsin before he was drafted into the United States Army during World War II as an infantryman. During the invasion of Anzio, Italy in 1944, his right leg was shattered by machine-gun fire, resulting in his losing part of his foot. He was hospitalized for a year and underwent surgeries to correct his leg, which left a limp. He was awarded the Bronze Star and Purple Heart for his services. His injury made it difficult for him to walk for extended stretches. When shooting movies or TV shows, any scenes that required extensive walking would be shot early in the morning, before his feet and knees started giving out. |
| 27 | He married Virginia Chapman and adopted her son, Craig, by a previous marriage. They had daughter, Jenny Arness and son, Rolf Arness. |
| 28 | He was a longtime resident of the Brentwood area of Los Angeles, California with his second wife, Janet Surtees. |
| 29 | He is survived by his wife, Janet Surtees of Brentwood, Los Angeles, California; son, Rolf Arness; stepson, Jim Surtees; six grandchildren, and a great grandchild. His adopted son, Craig, died in 2004 and his daughter Jenny died in 1975. |
| 30 | Fought in the US Army during World War II, taking part in the landing at Anzio, Italy, where he was wounded. He received the Bronze Star; the Purple Heart; the European-African-Middle Eastern Campaign Medal with three bronze campaign stars; the World War II Victory Medal and the Combat Infantryman Badge. |
| 31 | Although they never married, he had a long-term relationship and lived with actress Thordis Brandt. |
| 32 | He never played the lead male role in a theatrical movie, only on the various televised incarnations of "Gunsmoke". In his theatrical films, he usually acted along tall leading men such as John Wayne, Robert Ryan and Jeff Chandler. |
| 33 | Confirmed in a 2001 interview that he is completely retired from acting because he no longer has the stamina for it. |
| 34 | Made four movies with his close friend John Wayne during the 1950s. He was also originally cast in Rock Hudson's role opposite Wayne in The Undefeated (1969). Wayne personally recommended Arness for the lead role in Gunsmoke (1955), and filmed an introduction for the first episode. |
| 35 | Did not attend the premiere of The Thing from Another World (1951) because he found his role as the Thing embarrassing. He often remarked that he felt his make up as "The Thing" made him look like a giant carrot. |
| 36 | Attended Beloit College. |
| 37 | His status as a Republican disappointed Lady Bird Johnson, who was a fan of Gunsmoke (1955). |
| 38 | Father of Jenny Lee Arness (born May 23, 1950) and Rolf Aurness (born February 18, 1952), with Virginia Chapman. He also adopted her son from her first marriage, Craig (born 1946). |
| 39 | Very, very often during his career, this huge actor was surrounded by co-stars standing on apple boxes or had to perform standing in a ditch just so he could be in a shot. |
| 40 | Member of Beta Theta Pi Fraternity |
| 41 | Was rightly touted as the tallest leading man in Hollywood, although this title has since been taken by other stars, mainly basketball players turned "actors." |
| 42 | Held the record for the longest continuous role portrayed by a single actor (20 years) on prime-time television (for Marshal Matt Dillon on the CBS western Gunsmoke (1955)), until Kelsey Grammer (Dr. Frasier Crane on Cheers (1982) and Frasier (1993)) tied the record in 2004 (at 20 years). |
| 43 | On Friday, June 20th, 2003, Arness was honored at Los Angeles City Hall by the mayor, the 15 City Council members and the City Attorney with a resolution honoring his life's work as an actor and 60-year resident of Los Angeles. The colorful resolution included a depiction of a U.S. Marshal's badge and a salute to his work as Matt Dillon on Gunsmoke (1955) and its over-20-year duration as TV's longest-running drama series. It also recalled his heroism during World War II and thanked him for "leaving us with one of the most telling and realistic portraits ever created of the brave, tall man in the saddle who tames a western town as he searches for justice and peace." Arness called it "the most wonderful day in his life" and says the resolution is now framed and in a prominent place in his home. He received a standing ovation that morning. |
| 44 | Inducted (as a cast member of Gunsmoke (1955)) into the Hall of Great Western Performers of the National Cowboy and Western Heritage Museum in 1981. |
| 45 | According to an article on TV westerns in Time magazine (March 30, 1959), Arness stood 6' 7", weighed 235 lbs, and had chest-waist-hips measurements of 48-36-36. However, Arness usually gave his own height as 6' 6" in interviews. |
| 46 | His daughter and actress, Jenny Lee Arness, committed suicide on Monday, May 12th, 1975. |
| 47 | Became U.S. Marshal Matt Dillon on Gunsmoke (1955) after John Wayne suggested Arness to play it. (Wayne himself, contrary to legend, was never offered the role.). |
| 48 | Honorary United States Marshal, "in recognition of his unique contribution to the image and traditions of the U.S. Marshal's Service". |
Pictures
Movies
Actor
| Title | Year | Status | Character |
| --- | --- | --- | --- |
| Gunsmoke: One Man's Justice | 1994 | TV Movie | Matt Dillon |
| Gunsmoke: The Long Ride | 1993 | TV Movie | Matt Dillon |
| Gunsmoke: To the Last Man | 1992 | TV Movie | Matt Dillon |
| Gunsmoke: The Last Apache | 1990 | TV Movie | Matt Dillon |
| Red River | 1988 | TV Movie | Thomas Dunson |
| Gunsmoke: Return to Dodge | 1987 | TV Movie | Matt Dillon |
| The Alamo: Thirteen Days to Glory | 1987 | TV Movie | Jim Bowie |
| McClain's Law | 1981-1982 | TV Series | Det. Jim McClain |
| How the West Was Won | 1976-1979 | TV Series | Zeb Macahan |
| The Macahans | 1976 | TV Movie | Zeb Macahan |
| Gunsmoke | 1955-1975 | TV Series | Matt Dillon |
| Alias Jesse James | 1959 | | Marshal Matt Dillon (uncredited) |
| Gun the Man Down | 1956 | | Rem Anderson |
| The First Traveling Saleslady | 1956 | | Joel Kingdom |
| Front Row Center | 1956 | TV Series | Hemp Brown |
| Flame of the Islands | 1956 | | Kelly Rand |
| The Sea Chase | 1955 | | Schlieter |
| Many Rivers to Cross | 1955 | | Esau Hamilton |
| William Tell | 1955 | TV Movie | William Tell |
| Lux Video Theatre | 1954 | TV Series | Chuck Scott |
| Her Twelve Men | 1954 | | Ralph Munsey |
| Them! | 1954 | | Robert Graham |
| Hondo | 1953 | | Lennie - Army Indian Scout |
| The Veils of Bagdad | 1953 | | Targut (as Jim Arness) |
| Island in the Sky | 1953 | | Mac McMullen |
| The Lone Hand | 1953 | | Gus Varden (as Jim Arness) |
| Horizons West | 1952 | | Tiny McGilligan |
| Hellgate | 1952 | | George Redfield |
| Big Jim McLain | 1952 | | Mal Baxter |
| The Girl in White | 1952 | | Matt |
| Carbine Williams | 1952 | | Leon Williams |
| The People Against O'Hara | 1951 | | John Fordman 'Johnny' O'Hara |
| Iron Man | 1951 | | Alex Mallick (as Jim Arness) |
| Cavalry Scout | 1951 | | Barth |
| The Thing from Another World | 1951 | | 'The Thing' |
| Belle Le Grand | 1951 | | Belle Admirer Mine Guard at Fire (uncredited) |
| Double Crossbones | 1951 | | Bullock (uncredited) |
| Two Lost Worlds | 1951 | | Kirk Hamilton (as Jim Aurness) |
| Wyoming Mail | 1950 | | Russell |
| Sierra | 1950 | | Little Sam (as Jim Arness) |
| In a Lonely Place | 1950 | | Young detective (uncredited) |
| The Lone Ranger | 1950 | TV Series | Deputy Bud Titus |
| Wagon Master | 1950 | | Floyd Clegg |
| Stars in My Crown | 1950 | | Rolfe Isbell (uncredited) |
| Battleground | 1949 | | Garby (as Jim Arness) |
| Man from Texas | 1948 | | Minor Role (uncredited) |
| Roses Are Red | 1947 | | Ray (as James Aurness) |
| The Farmer's Daughter | 1947 | | Peter Holstrom (as James Aurness) |
Producer
| Title | Year | Status | Character |
| --- | --- | --- | --- |
| Gunsmoke: One Man's Justice | 1994 | TV Movie executive producer | |
| Gunsmoke: The Long Ride | 1993 | TV Movie executive producer | |
| Gunsmoke | | TV Series associate producer - 54 episodes, 1959 - 1964 executive producer - 1 episode, 1964 | |
Miscellaneous
| Title | Year | Status | Character |
| --- | --- | --- | --- |
| Gunsmoke: To the Last Man | 1992 | TV Movie consultant | |
| Gunsmoke: The Last Apache | 1990 | TV Movie consultant | |
Self
| Title | Year | Status | Character |
| --- | --- | --- | --- |
| Comanche Stallion: The Myth | | Short pre-production | Himself - Narrator |
| Pioneers of Television | 2011 | TV Mini-Series documentary | Himself / Marshal Matt Dillon from Gunsmoke |
| Television: The First Fifty Years | 1999 | Video documentary | Himself - Interviewee |
| John Wayne Standing Tall | 1989 | TV Movie | Himself - Host |
| All-Star Party for 'Dutch' Reagan | 1985 | TV Special | Himself |
| Monsters, Madmen & Machines: 25 Years of Science Fiction | 1984 | TV Movie documentary | |
| The 1st TV Academy Hall of Fame | 1984 | | Himself - Presenter |
| CBS: On the Air | 1978 | TV Mini-Series documentary | Himself |
| Zenith Presents: A Salute to Television's 25th Anniversary | 1972 | TV Special | Himself |
| This Is Your Life | 1971 | TV Series | Himself |
| Chevrolet Golden Anniversary | 1961 | TV Special | Himself - - Host |
| The 13th Annual Primetime Emmy Awards | 1961 | TV Special | Himself - Presenter |
| The Red Skelton Chevy Special | 1959 | TV Movie | Himself |
| Wide Wide World | 1958 | TV Series documentary | Himself |
| The Red Skelton Hour | 1958 | TV Series | Himself |
| The Ed Sullivan Show | 1958 | TV Series | Himself |
| The Johnny Carson Show | 1955 | TV Series | Himself |
Archive Footage
| Title | Year | Status | Character |
| --- | --- | --- | --- |
| The Sixties | 2014 | TV Mini-Series documentary | Marshal Matt Dillon - Gunsmoke |
| The O'Reilly Factor | 2014 | TV Series | Himself |
| 18th Annual Screen Actors Guild Awards | 2012 | TV Special | Himself - In Memoriam |
| The 63rd Primetime Emmy Awards | 2011 | TV Special | Himself - In Memoriam |
| War Stories with Oliver North | 2006 | TV Series documentary | Himself |
| Budd Boetticher: A Man Can Do That | 2005 | TV Movie documentary | Tiny McGilligan |
| Watch the Skies!: Science Fiction, the 1950s and Us | 2005 | TV Movie documentary | Robert Graham in 'Them' |
| Presidential Blooper Reel | 1981 | Video short | Himself |
| The Horror Show | 1979 | TV Movie documentary | |
| TV: The Fabulous Fifties | 1978 | TV Movie | Himself / Marshal Matt Dillon |
| Hollywood and the Stars | 1964 | TV Series | The Thing |
Awards
Won Awards
| Year | Award | Ceremony | Nomination | Movie |
| --- | --- | --- | --- | --- |
| 1986 | Golden Boot | Golden Boot Awards | | |
| 1976 | Bronze Wrangler | Western Heritage Awards | Fictional Television Drama | The Macahans (1976) |
| 1972 | Bronze Wrangler | Western Heritage Awards | Fictional Television Drama | Gunsmoke (1955) |
| 1967 | Bronze Wrangler | Western Heritage Awards | Fictional Television Drama | Gunsmoke (1955) |
| 1960 | Star on the Walk of Fame | Walk of Fame | Television | On 8 February 1960. At 1751 Vine Street. |
Nominated Awards
| Year | Award | Ceremony | Nomination | Movie |
| --- | --- | --- | --- | --- |
| 2005 | TV Land Award | TV Land Awards | Favorite Crimestopper | Gunsmoke (1955) |
| 1959 | Primetime Emmy | Primetime Emmy Awards | Best Actor in a Leading Role (Continuing Character) in a Dramatic Series | Gunsmoke (1955) |
| 1958 | Primetime Emmy | Primetime Emmy Awards | Best Continuing Performance by an Actor in a Leading Role in a Dramatic or Comedy Series | Gunsmoke (1955) |
| 1957 | Primetime Emmy | Primetime Emmy Awards | Best Continuing Performance by an Actor in a Dramatic Series | Gunsmoke (1955) |
Source:
IMDb
,
Wikipedia