• Charlotte Lewis is a retired actress best known for her role in the 1986 film "Golden Child", opposite Eddie Murphy.
• She is of Chilean-Iraqi and Irish-English descent, and was raised by her mother in North London.
• Charlotte launched her career at 11 years old, and rose to prominence with roles in "Pirates" and "The Golden Child".
• She has been in high-profile relationships with various actors and musicians, and is the mother to a son, born in 2004.
• In 2010, Charlotte sued Roman Polanski for alleged sexual abuse when she was 16 years old.

Known for movies
Short Info
| | |
| --- | --- |
| Fact | Was childhood friends with British filmmaker Jon Jacobs. Their friendship led to them working together on the film Hey DJ (2003). |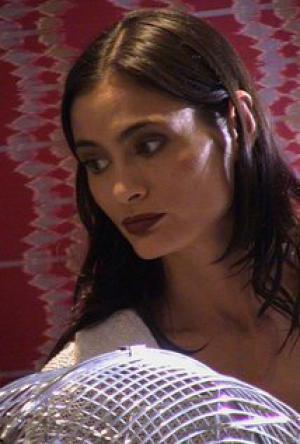 Who is Charlotte Lewis?
Charlotte Lewis was born on the 7th August 1967, in Kensington, London England, and is a retired actress, best known to the world for having starred opposite Eddie Murphy in the film "Golden Child" (1986), and as Maria Dolores in the film "Pirates", also in 1986, among many other roles she secured in her career.
Where is Charlotte Lewis After the Split with Eddie Murphy?
While Charlotte and Eddie worked on "The Golden Child", the two became quite fond of each other, which, according to some reports grew into a romantic relationship; however, the two continued with their respective lives after the shooting of the film was over. Charlotte has been away from the public scene since the 2010 lawsuit against Polanski; she lives in Hampstead, northwest of London. However, she most recently made a comeback to the entertainment industry with the role of Angie Malone in the film "Lost Angelas", which is currently in post-production and is yet to receive a release date.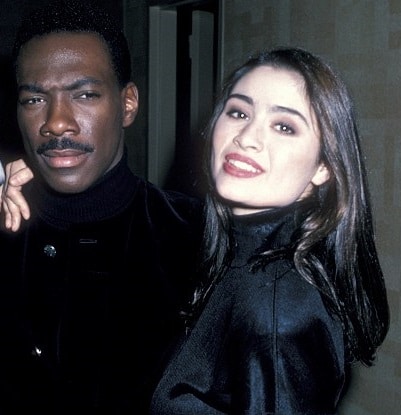 Charlotte Lewis Bio: Early Life and Education
Charlotte, of Chilean-Iraqi descent from her father's side, and Irish-English from her mother's, actually never met her biological father and was raised by her mother. She went to Bishop Douglass School, located in Finchley, North London.
Career Beginnings
From an early age, Charlotte became drawn to acting, and launched her career at a tender age of 11, portraying Samantha in the TV series "Grange Hill" in 1978. She then waited six years for her next role, but it paid-off, as it was her breakthrough role.
https://www.instagram.com/p/BJwp_YLhNCL/?taken-by=officialcharlottelewis
Rise to Prominence
Charlotte was cast as Maria-Dolores in the adventure comedy film "Pirates" in 1986, directed by Roman Polanski, and starring Walter Matthau, Cris Campion and Damien Thomas, and the same year portrayed Kee Nang in the highly-acclaimed comedy action adventure film "The Golden Child", co-starring Eddie Murphy and Charles Dance. The film became a hit, both critically and commercially, launching young Charlotte to prominence. Before the '80s ended, she starred in several other films, such as "Dial: Help" in 1988, and "Tripwire" in 1989.
https://www.instagram.com/p/BUOXsNrhaVR/?taken-by=officialcharlottelewis
Continual Success
Charlotte continued her career with a television role in the crime-drama series "Broken Bridges" (1990-1991), while in 1992 she returned to the big screen in the thriller drama film "Storyville", co-starring James Spader, Joanne Whalley, and Jason Robards. Charlotte enjoyed success throughout the '90s, starring in such films as the action film "Men of War" (1994), next to Dolph Lundgren, then the horror thriller "Embrace of the Vampire" in 1995, while in 1996 she starred in the thriller film "The Glass Cage", and finished the decade with the role of Jill in the comedy-drama film "Every Dog Has Its Day" in 1999. During the '90s, she didn't just rely on her acting skills, but on her looks as well as she was named one of the "9 Best Bodies For the 1990s" by SHAPE magazine. Since 2003 and the last role of Tai in the film "Henry X", Charlotte has retired from acting and the public scene on the whole.
Do You Know How Rich Charlotte Lewis Is?
Although she retired from acting, she left a mark on the Hollywood scene of the '80s and '90s, which has only befitted her net worth. While her career lasted she featured in over 30 film and TV titles, all of which in some way contributed to her wealth. The most successful project on which she worked was certainly "The Golden Child", which grossed around $80 million at the box office, with just a $25 million budget. So, have you ever wondered how rich Charlotte Lewis is, as of mid- 2018? According to authoritative sources, it has been estimated that Charlotte's net worth is as high as $2 million. Quite decent don't you think?
https://www.instagram.com/p/BienOVVnf-7/?taken-by=officialcharlottelewis
Do You Know About Charlotte's Personal Life, Affairs, Relationship, Children, Marriage?
Charlotte has been rather open about her romantic life; while her career lasted, Charlotte was involved in a number of high-profile relationships, however, none lasted more than a few months. She has dated such actors as Jim Carrey, Charlie Sheen and Warren Beatty, while she was also in a relationship with Eric Clapton and Mikhail Baryshnikov. She is a mother to a son born in 2004, however, the identity of the boy's father is unknown to the media. She has returned to London to live.
Affair with Roman Polanski and Lawsuit
Several years away from the public, Charlotte stunned the world in 2010 when she and her lawyer filed a lawsuit against the renowned director Roman Polanski. She claimed that Polanski sexually abused her when she was only 16 years old. According to her, she wanted to be involved romantically with Polanski later in life, and the two met occasionally, forming a tryst, but Polanski was never that much into her. How the case ended is unrecorded.
Facts
| # | Fact |
| --- | --- |
| 1 | Gave birth to a son and living in London, England. [August 2004] |
| 2 | Announced at a press conference at her attorney, Gloria Allred's office that she was sexually assaulted by Roman Polanski in his Paris apartment in 1984 when she was 16 [May 15, 2010]. |
| 3 | Exotic beauty comes from her Irish mother and Iraqi-Chilean father. |
| 4 | Was childhood friends with British filmmaker Jon Jacobs. Their friendship led to them working together on the film Hey DJ (2003). |
| 5 | Selected as one of the "9 Best Bodies For the 1990s" by SHAPE magazine. |
Pictures
Movies
Actress
| Title | Year | Status | Character |
| --- | --- | --- | --- |
| Lost Angelas | 2017 | post-production | Angie Malone |
| Hey DJ | 2003 | | Tai |
| Henry X | 2003 | | Mrs. Morgan |
| Every Dog Has Its Day | 1999 | | Jill |
| Highlander: The Raven | 1999 | TV Series | Jade |
| Mutual Needs | 1997 | | Louise Collier |
| Renegade | 1996 | TV Series | Kate |
| Viper | 1996 | TV Series | Evangeline Raines |
| Navajo Blues | 1996 | | Elizabeth Wyako |
| The Glass Cage | 1996 | | Jacqueline |
| Red Shoe Diaries 6: How I Met My Husband | 1996 | Video | The Woman (segment "Midnight Bells") |
| Decoy | 1995 | | Katya |
| Embrace of the Vampire | 1995 | | Sarah |
| Seinfeld | 1995 | TV Series | Nina |
| Men of War | 1994 | | Loki |
| Lipstick Camera | 1994 | | Roberta Dailey |
| Excessive Force | 1993 | | Anna Gilmour |
| Red Shoe Diaries | 1993 | TV Series | Claire |
| Storyville | 1992 | | Lee Tran |
| Sketch Artist | 1992 | TV Movie | Leese |
| Healing Hurts | 1991 | | |
| Broken Badges | 1990-1991 | TV Series | Priscilla Mather |
| Bare Essentials | 1991 | TV Movie | Tarita the Native Girl |
| Stranger in the House | 1990 | | |
| The Legend of the Emerald Princess | 1989 | Short | Emerald Princess |
| Tripwire | 1989 | | Trudy |
| Minaccia d'amore | 1988 | | Jenny Cooper |
| Crime Story | 1988 | TV Series | Mai Lan |
| The Golden Child | 1986 | | Kee Nang |
| Pirates | 1986 | | María-Dolores de la Jenya de la Calde |
| Grange Hill | 1978 | TV Series | Samantha |
Thanks
| Title | Year | Status | Character |
| --- | --- | --- | --- |
| Venus & the Sun | 2010 | Short special thanks | |
Self
| Title | Year | Status | Character |
| --- | --- | --- | --- |
| The Word | 1994 | TV Series | Herself |
| Hollywood Women | 1993 | TV Mini-Series documentary | Herself |
| MTV Video Music Awards 1993 | 1993 | TV Special | Herself |
Archive Footage
| Title | Year | Status | Character |
| --- | --- | --- | --- |
| An Unsafe Place: Making 'Men of War' | 2016 | Video documentary short | Loki |
Source:
IMDb
,
Wikipedia