Patrick Wayne is an American-born retired actor, who is one of the sons of the late movie star, John Wayne. He's appeared in over 40 movies and TV shows, and worked together with his father in 11 films.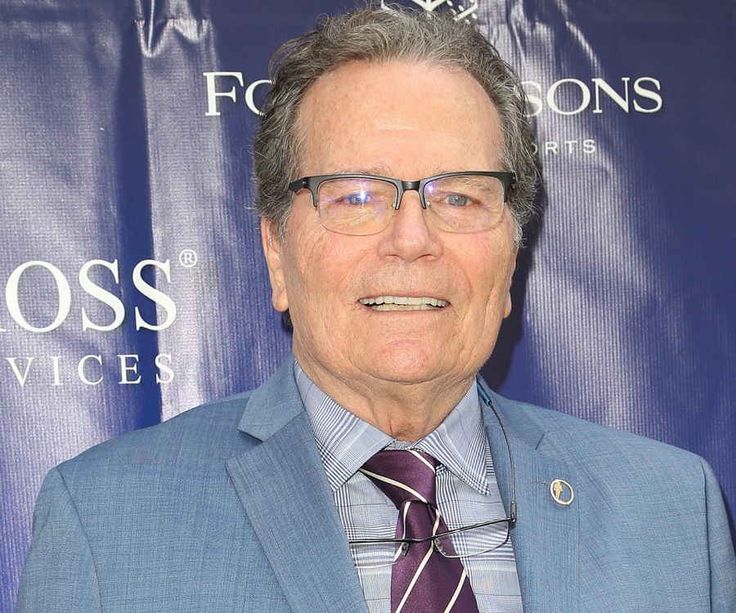 Age, Early Life, and Education Background
Wayne was born Patrick John Morrison under the Cancer zodiac sign on 15 July 1939, in Los Angeles, California, so is 84 years old as of 2023. He is the son of the late American actor, John Wayne aka Duke Wayne, born Marion Morrison, who appeared in numerous films including "Rio Bravo," "El Dorado," and "True Grit", and his first wife, Josephine A. Saenz, the daughter of the Panamanian businessman and politician, Dr. Jose Saenz, who served as the Consul General of Panama to the USA.
Patrick's oldest brother is the late film producer and actor, Michael Wayne, who is perhaps best remembered for "McLintock!" and "Big Jake", whereas his older sister is "The Quiet Man" actress, the late Mary Antonia Wayne LaCava, aka Toni Wayne. Moreover, Patrick is the older brother of the late actress, Melinda Wayne. He's the older half-brother of the "Big Jake" and "Man Hunt" actor, Ethan Wayne, the actress, Aissa Wayne, who is known for her appearances in "The Alamo," "McLintock!" and "Donovan's Reef," and the actress, Marisa Wayne. Ethan, Aissa and Marisa are from Patrick's father's third marriage to the Peruvian actress, Pilar Pallete.
Patrick attended a local high school in Los Angeles. Subsequently, he enrolled at Loyola Marymount University, where he joined the Alpha Delta Gamma (ADG) social fraternity, and graduated in 1961. His older brother, Michael Wayne, had graduated from the same institution five years before he began his studies there.
Hobbies and Interests
Patrick has been a huge supporter of cancer research since his father died of stomach cancer. In April 2003, he became board chairman of the John Wayne Cancer Institute.
Wayne is very keen on traveling, and has toured many international destinations. In 2015, he visited his grandparents' native country, Spain, to receive the Almería International Film Festival
Award for his significant contribution to cinema.
Career
Wayne was 11 years old when he made his film debut with an uncredited role in John Wayne and Maureen O'Hara-stared romantic Western, "Rio Grande", directed by John Ford. Wayne was cast in various other John Ford-directed films, including the 1952 romantic comedy "The Quiet Man," which also starred his father, the 1955 Cinemascope Technicolor biopic drama "The Long Gray Line", and the 1956 epic Western "The Searchers," which increased his fame significantly. In the mid-50s, Wayne worked as a Props Assistant in the disaster thriller film "The High and the Mighty," which starred his father, John. In 1960, Patrick appeared in his father's historical war film "The Alamo," in which he portrayed Captain James Butler Bonham. 1963 saw Wayne co-star alongside Jack Kruschen, Stefanie Powers and Chill Wills in the Western comedy "McLintock!", and three years later, he starred as James Anderson in "Shenandoah," which was set during America's Civil War.
Patrick starred with his father again in the 1971 Western action-adventure "Big Jake," and his next noteworthy appearances were in the 1973 Filipino-American sci-fi horror, "Beyond Atlantis," the 1974 drama "The Bears and I," and the 1976 Western "Mustang Country." Wayne starred in the fantasy adventure "Sinbad and the Eye of the Tiger" in 1977, the in the '80s, he appeared in at least five films, which included the 1985 comedy-Western, "Rustlers' Rhapsody." His last film appearance was in 1997's "Deep Cover."
TV Appearances
Some of Wayne's early TV appearances were in single episodes of the situation comedy "Mr. Adams and Eve" in 1958, and the CBS "Have Gun – Will Travel" in 1960. In 1966 and 1967, Wayne appeared in 17 episodes of the Western sitcom "The Rounders," which follows two cowboys who live in the fictitious J.L. Ranch situated in Texas. From 1979 to 1986 he portrayed various characters in seven episodes of the romantic comedy-drama "The Love Boat."
In 1980, Wayne was selected to host "The Monte Carlo Show," which was taped live in Monte Carlo, Monaco, and showcased talents from around the globe. He went on to make brief appearances in various acclaimed crime dramas, including the ABC's "Charlie's Angels" in 1981 and CBS's "Murder, She Wrote" in 1987. In 1990, Wayne portrayed Captain Nils Lindstrom in various episodes of "All My Children."
From September to December 1990, Wayne hosted the TV game show "Tic-Tac-Dough," which is based on the game tic-tac-toe. In 1995, he appeared in an episode of the action-crime drama "Kung Fu: The Legend Continues." His last TV appearance was in the episode "Pumped Up" of the CBS crime drama "Silk Stalkings" (1997).
Awards
Patrick's performance in "The Searchers" brought him a Golden Globe Award for Most Promising Male Newcomer in 1958. In 1998, he received a Golden Boot Award, and two years later, he was awarded the Jules Verne Lifetime Achievement Award. Moreover, Wayne is a recipient of the Almería International Film Festival Award (2015) and Western Heritage's Hall of Great Western Performers.
Personal Life
Wayne has married twice – on 11 December 1965, he walked the aisle with his longtime girlfriend, Margaret Ann 'Peggy' Hunt. Their union lasted for 13 years  to 1 September 1978, and they welcomed three children: two sons named Anthony and Michael Wayne, and a daughter named Melanie Wayne. On 8 May 1999, Patrick married Misha Anderson, whom he met at a mutual friend's child's wedding at Sherwood Country Club. At the time, Misha was almost half his age.
Wayne previously dated several women, including the retired American actress Tuesday Weld (1959), the "Scarface" actress Marcia Wolf (1980-1984), and the actress Zetta Whitlow (1989 and 1990). Wayne is very much alive and seemingly in good health. He currently resides in Arizona.
Height, Weight, and Physical Appearance
Patrick is of Caucasian ethnicity, and has a set of brown eyes and hair of the same color. He's 6ft 2ins (1.88m) tall, and weighs around 185lbs (84kgs).
Net Worth
Wayne has worked with many popular Hollywood actors, including his father John, which has made him a household name. He probably inherited a good sum from his dad, who was worth around $50 million at the time of his death. Wayne is worth approximately $12 million as of 2023.