If you're a motor car lover you've probably heard of Scot McMillan
Scot McMillan Jr. is a hot rod builder who became well known through his role in Discovery Channel's reality television series, "Misfit Garage". The show features a group of custom car builders and mechanics who modify and restore classic motorcycles and vehicles. It became a hit and then vanished. Will it return and what is Scot up to now? Continue reading as we fill you in …
Scot's early life
Born in 1983, Scot grew up surrounded by motor cars that his father, a master fabricator and his uncle, a mechanical engineer worked on and raced, so he learnt the craft of vehicle restoration from a very young age. Scot's dream of having his own garage came into being when he birthed Scot Rod's in his father's garage. While still in his senior year at Crowly High School in Fort Worth, Texas, Scot sold his first build with the help of his friend, Aaron Kaufman.
Once he'd graduated from the University of Texas, Arlington, Scot and Aaron founded a shop called PT Performance in a workshop space Scot's uncle had offered him. The two friends built about 50 cars, but in 2002 Scot wasn't able to raise credit to start a new shop, so he opted to join the US Marine Corps. His military career came to an end when he was wounded by a mortar while serving in Iraq.
Scot returned home in 2006 and his passion for building cars was fired up once again. In 2011, with Jeff Dunlap, he co-founded Scot Rods Garage, an automotive restoration, custom hot rod and parts centre in Fort Worth, Texas. As they state on their website, 'CORRECT IS THE ONLY OPTION! isn't just our motto it's a way of life!!'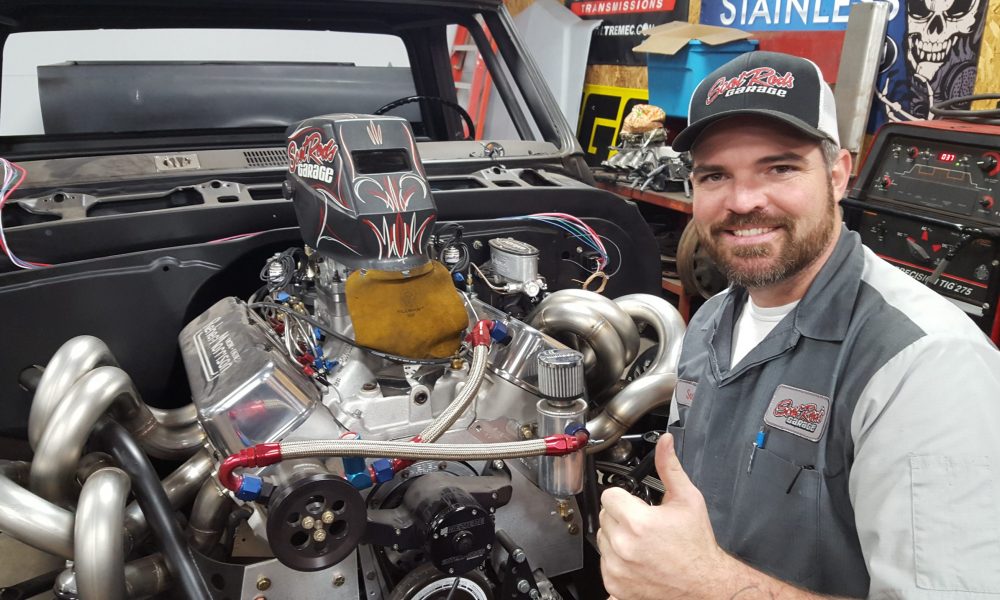 "Fast 'N Loud"
Scot joined the Gas Monkey Garage mechanics in the reality TV series "Fast 'N Loud" when it launched in June 2012. The originator of the TV show, Richard Rawlings had previously had a variety of jobs and is a true entrepreneur. He built the Gas Monkey empire, eventually consisting of the well-known garage, restaurants, energy drink, merchandise, etc, his strategy being for his brand to gain more popularity, and wanting to create a show to appeal to families, not just something a car fanatic would be drawn to.
Richard opened Gas Monkey Garage in 2004 with Aaron Kaufman as his chief mechanic and fabricator. They traveled the country in search of old classic cars to restore. It took Richard eight years to persuade Discovery Channel to flight "Fast 'N Loud", which launched on 6th June 2012.
The first episode, "Model A Madness" featured a genuine antique 1931 Ford Model A. The car was restored in just nine days, creating an instant sensation. The show consistently delivered a quick turnaround time in flipping cars which influenced its fast-motion and contributed to its growing popularity.
Scot appeared in nine episodes, but left in 2012 before the end of the first season.  Richard was a producer in four episodes between 2015 and 2019. Aaron left the show in 2017 and went on to feature in the new TV series, "Shifting Gears with Aaron Kaufman"which petered out after a run of only two seasons.
On "The Joe Rogan Experience" on 15th December 2020, Richard confirmed that "Fast 'N Loud" had finally reached the finish line.
How did "Misfit Garage" come about?
Conflict was common in The Gas Monkey workshop, and so were disagreements and arguments with Richard, which ended up with some of the staff being fired or simply hitting the road. Scot and Thomas Weeks joined two mechanics who had been given the boot from "Fast 'N Loud", Tom Smith and Jordan Butler, and together they all started a new company, Fired Up Garage. With the prime intention to compete with "Fast 'N Loud", the spin-off series, "Misfit Garage" was born.
Also produced by Pilgrim Studios, "Misfit Garage", was debuted by Discovery Channel on 13th October 2014. Scot appeared from the first season onwards and became an instant fan favorite due to his sense of humor, easy going personality, and last but not least, his most impressive skills in the motor vehicle industry. The series features the company's day-to-day operations as they go about their work supercharging engines, building and rebuilding muscle vehicles, overhauling and restoring oldies, adding shiney paint jobs to a quality that eclipses their original state.
Same shop. New time! #MisfitGarage pic.twitter.com/ixnNpFQ9g0

— Misfit Garage (@misfitgarage) July 8, 2016
"Misfit Garage" was also broadcast in the UK, Canada, The Netherlands and Australia, but reached the highest popularity polls in the US.
Richard Rawlings was an executive producer in two episodes of  "Misfit Garage" in 2014, and also appeared in three episodes in 2016, indicating still some co-operation with his former employees..
Throughout all this time and during his appearances in both TV shows, Scot fulfilled his passion for custom building hot rods, and worked day and night to keep Scot Rods thriving, but in 2018, after featuring in 14 episodes, he left "Misfit Garage" to focus on his own business.
The last episode of "Misfit Garage", Episode 8 of Season 6, went on air on 8th August 2018. To date, the series hasn't been renewed, although no formal announcement of it being cancelled has been made. It was rumored that it would return for its 7th Season in April 2020, but to the dismay of its numerous fans, that never happened, despite a petition pleading for its comeback.
Scot McMillan's personal life and net worth
Scot never mentions his personal life on his social media pages, videos or interviews, and has managed to keep his family completely out of the spotlights. What we do know is that he is married to Nikki McMillan and they have two sons, Scot III and Cole. Scot enjoys shooting, stock car racing and remote control cars.
Scot doesn't have any personal social media pages, but on Scot Rod's Garage's profile you can check out photos and reels of the vehicles being fabricated and restored on Facebook, Instagram and their YouTube channel.
According to reliable sources, after earning up to $17,000 for each released episode and income through his business, Scot's net worth is close to $600,000.
What's Scot up to now?
Scot is still doing what he loves best, and revs it up with SRG Racing (Scot Rod's Garage Racing), when he and some of his team members provide hot performances on Texan drag strips and race tracks.
At the beginning of the year Scot posted on Facebook: 'We look forward to what 2023 will bring us. We have new employees and a great customer base. We are excited to finish up some awesome projects that have been here with us. We will have 7 builds finished this year. So join us on our journey in 2023 and enjoy watching us build some cool trucks, restomods, pro touring cars and trucks.'
In May 2023, he raced his 1973 GMC at the Texas Motor Speedway. Also in May, a square body GMC Sierra built by Scot Rods achieved 2nd place at the C10 Nationals – America's major truck event.
From 19th to 20th May 2023, Scot burned some rubber showing off his Chevy Malibu's speed and spinning power at the Holley LS Fest drag racing Burn Out Contest, featuring vehicles powered by the GM LS engine.
Scot is certainly still firing on all cylinders, and isn't likely to slow down at any stage soon. Keep an eye on Scot Rod's pages and upcoming events and you never know, Scot might still return to our TV screens, but for now, you'll find him happily at work in his garage.