If you're looking for unconventional but entertaining YouTube content, then Life Uncontained is the perfect channel for you to tune in to. After leaving their lives in Florida to move to Texas, Spenser and Mackenzie have been showing their more than one million subscribers how it is to build a home out of a shipping container from the ground up, including the highs and lows they've had to face along the journey.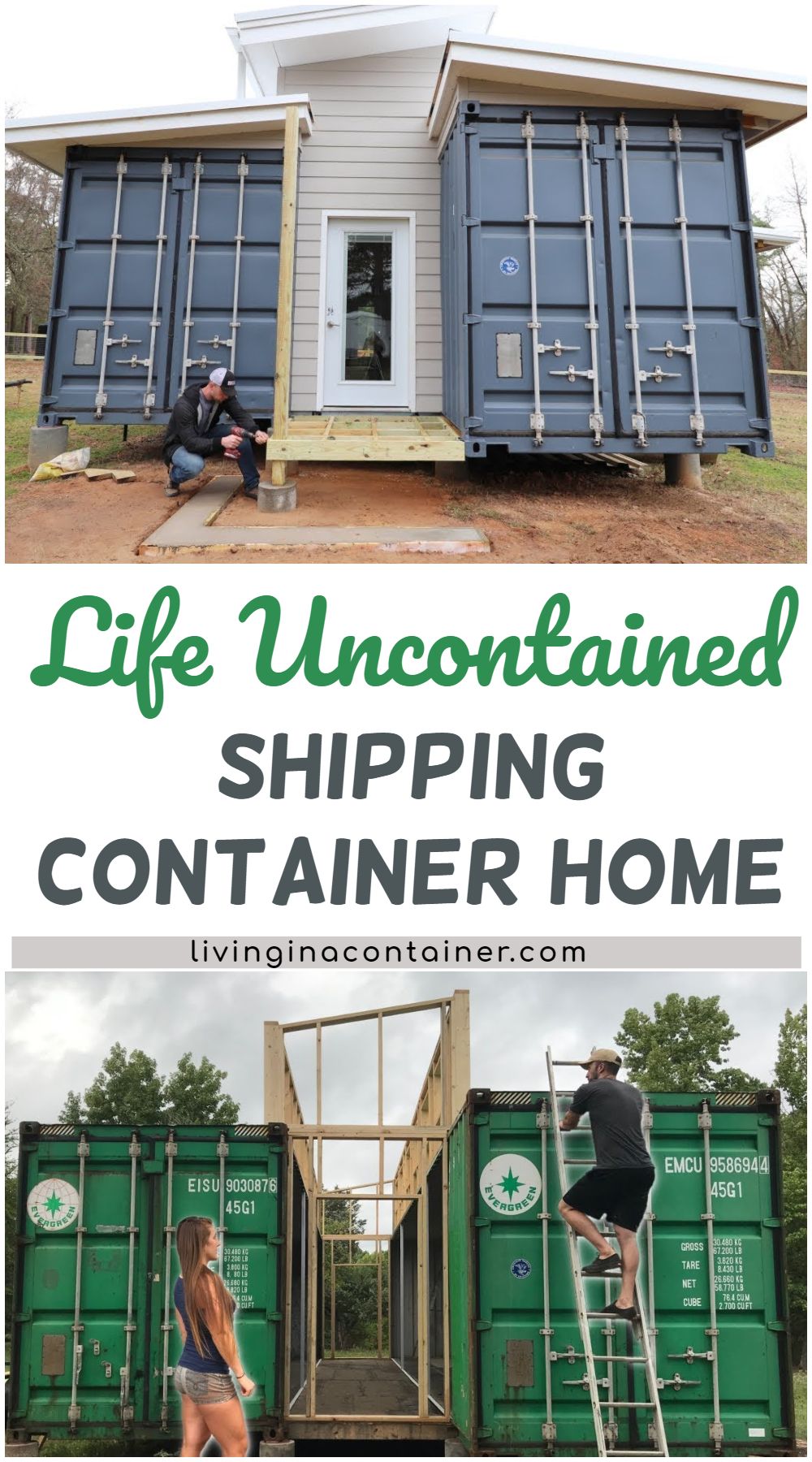 While pursuing a life off the grid is undoubtedly the biggest and most risky adventure of Spenser and Mackenzie, it's inevitable for their fans to wonder how their lives are, beyond their YouTube channel, how they've financed their journey so far, and what their plans for their future are.
Are you also curious about who is behind Life Uncontained? Then stay here to find out all about them!
Who Are Mackenzie and Spenser?
The life of Mackenzie and Spenser from Life Uncontained has changed a lot in recent years, after the couple left their comfortable lives in Florida for the apparently greener pastures of Texas. Their plan of building a home out of a shipping container didn't look simple, but acquiring a lifestyle free of mortgages and other debt forever seemed a worthy risk that they were more than ready to spend most of their life savings on.
The first Life Uncontained video was posted in March 2018, but Mackenzie and Spenser didn't expect their channel to change their lives. Their expectations with their online growth didn't go beyond hitting the 5,000 subscribers mark in one year, without anticipating that by 2020, their content would be followed by over a million people on YouTube alone.
Thanks to their charisma, hard-working attitude, connection to their followers, and hands-on approach to finishing every project in an efficient and environmentally friendly way, there's no denying that Life Uncontained deserves its popularity.
The fact that Life Uncontained is comprised of family-friendly content is also a factor which plays a role in their success, as subscribers can't get enough of Spenser and Mackenzie's adventures with their children and pets, the expansion of their home and their relentless efforts to make their initial off-grid adventure become long-lasting, and compelling for everyone to see, making their videos very likable and easy to follow.
How Rich Are They?
According to online estimations, Mackenzie and Spenser from Life Uncontained have an estimated net worth of $900,000. Nonetheless, it's worth looking deeper into the factors leading to this estimation to get a better idea of the couple's financial situation.
For starters, it's unclear how much they paid for their Texas property, but knowing how in 2018 the couple had to sell their Florida house and cars as a first step into their then-new off-grid life, it's safe to assume they might have spent a huge part of their savings on it. As well, building their new house by themselves and acquiring the things which came with it was surely a financial strain.
Regarding their funding methods, Mackenzie and Spenser's video content contributes greatly to their income. On one hand, their popularity online makes it highly possible for them to receive earnings for their YouTube views, added to their earnings from sponsorships of brands and companies they've received from time to time.
On the other hand, Life Uncontained is partially on the platform Patreon, allowing them to offer exclusive content to the most dedicated part of their audience in exchange for a paid subscription.
All in all, no one can attest to what Mackenzie and Spenser's fortune exactly is, but it's safe to say that they have funded their off-grid adventure in the best way possible.
When Mackenzie and Spenser of the popular YouTube series "Life Uncontained," picked a shower head for the off-grid shipping container home they've been building for 4 years, they chose High Sierra!https://t.co/J802jKMmi4 pic.twitter.com/vLHlRgz3nH

— High Sierra Showerheads (@BetterShowers) March 31, 2022
How Many Kids Do They Have?
In the process of sharing their path to build a new off grid life, Mackenzie and Spenser have also shared important life milestones with their online audiences. On one hand, people who have been following Life Uncontained from the beginning, have got to see the couple's daughter Beau grow at the same time they were building their home.
While the earliest videos in their channel didn't feature the baby Beau a lot, she slowly made appearances in Mackenzie and Spenser's videos as their home became more accommodating for children. Later, in August 2021, the couple welcomed their son Cam into their family, for whom they built a separate nursery during the months before his birth. As Mackenzie and Spenser affirmed in a video from January of that year, they had always wanted to have children who were close in age, making Cam's birth a dream come true for more than one reason.
Besides becoming a family of four, Mackenzie, Spenser and their children have been taking care of several pets on their nature-surrounded Texas property.
Why Do They Live Off-Grid?
Living an adventure off the grid is not something that people choose that easily, that's why it's completely understandable for others to question Mackenzie and Spenser's reasons for doing so.
As they revealed in a Life Uncontained video from March 2018, the initial idea to chase an alternate lifestyle came from a road trip to Alaska that Mackenzie and Spenser went on in 2016. Before that, they'd mistakenly assumed that chasing a life away from the city was impossible, or a post-retirement dream at its best.
The idea of living off the grid and away from the struggles of a common life remained at the back of their minds after that trip, but other issues such as the rise of the value of properties and other financial struggles were what definitely led them to sell their Florida house and leave their stable jobs. The idea of building a house out of a shipping container came from Spenser, and from then on they planned further details such as turning a barn into a solar power provider.
As affirmed by Spenser and Mackenzie, they were aware that their journey was a risky one, but it was all worth it to make their dream come true.
Do They Have Modern Appliances?
While Mackenzie, Spenser, and their kids live in a home far from the norm, that doesn't mean that they have given up modern commodities and amenities.
As the pair has shown in several videos of Life Uncontained, they've worked hard to make their shipping container home comfortable and as similar as a modern home could be, especially on the inside. That's why Mackenzie and Spenser's home not only has important services such as plumbing and electricity, but also an internet connection and appliances such as a TV and refrigerators.
The source of energy of their house comes from a solar-power provider workhouse that they installed themselves during the earliest stages of their project, when not even their shipping containers were located on their property. Having a self-built energy source proved to be a great choice, as it made the further phases of their home-building process much easier.
Installing an internet connection in such a hardly accessible location, as that of their home took longer for the family. In the beginning, Mackenzie and Spenser's source of internet connection was through a third-party internet provider that collected data from other phone companies, but it was somewhat difficult to make it work without manually searching for the signal with the router's antennas.
They lasted over two years with that provider before finally installing a wired ethernet service at home in December 2020, taking a step further into making their life easier without sacrificing their dreamed off-the-grid lifestyle.
Plans For The Future
More than half a decade has passed since Mackenzie and Spenser changed their family's lives forever after moving to the mountains in Texas, but their journey is still not over.
After making the finishing touches to their shipping container house in 2022, the Life Uncontained couple started the building of a guest home on the same property. This new project has gone smoother than their first one, especially given all the tools and knowledge they had previously acquired while building their off-the-grid home.
Later in early 2023, Mackenzie and Spenser revealed they'd purchased a property in the Texans mountains, where they plan to build a cabin using sustainable and efficient processes. The build of this new house is a welcome turn of events for long-time fans of Life Uncontained, who want to see what other adventures and ideas the family has up their sleeve.
All in all, the path of Mackenzie and Spenser to an alternative lifestyle has been full of challenges, but their will to keep on and complete their life dream is what keeps them motivated.