Abbie Cornish
The Australian performer and actress Abbie Cornish was born on 7th August 1982, in Lochinvar, New South Wales. Since her first acting role in 1997 at just 15 years old, Abbie's notable projects include "Three Billboards Outside Ebbing, Missouri", "RoboCop", and "Sucker Punch".
Abbie grew up in a two-parent household with four siblings. Her younger sister, Isabelle is a fellow actress known for her recurring roles in "Home and Away" and "Inhumans". The former Cornish family home was a beautiful 170-acre farm; however, they relocated to Newcastle, NSW for work-related reasons.
Abbie's passion for the arts stems from her teenage years, when she began watching foreign and independent films.
Career
At just 13 years old, Abbie reached the finals of a Dolly Magazine competition, and began modelling professionally shortly afterwards. Her first acting role was in 1998, playing Simone Summers in "Wildside", a gritty crime drama series shown on the Australian Broadcast Corporation; her portrayal of the adolescent won her an Australian Film Institute Young Actor's Award, and led to more opportunities such as her first feature film role in "The Monkey's Mask".
Although the latter fared poorly at the box office and was described as "routine straight-to-video material" by critics, Abbie was luckier with her next project, a recurring role in the children's series "Outriders", which lasted 26 episodes. From 2001 to 2003, she also played Penne in the darkly humorous and satirical "Life Support".
2004 was the year of Abbie's breakthrough as she played Heidi in the romantic drama "Somersault", which just happens to be Cate Shortland's feature directing debut. The critically-acclaimed movie won every single feature film award at the 2004 Australian Film Institute Awards ceremony, with Abbie herself taking home four accolades for her poignant performance of a confused, promiscuous, and at times petulant teenager. (The Miami Film Festival's Breakthrough Award, as well as three Best Actress awards at the Inside Film, Film Critics' Circle of Australia, and Australian Film Institute ceremonies).
Despite "Somersault" being a commercial failure and making an almost $2 million loss, critics raved over the movie, which Abbie followed up with a role as Brianie in the short film "Everything Goes". In 2006, she co-starred opposite Heath Ledger in the romantic drama "Candy", and apart from taking home a Film Critics Circle of Australia award for Best Actress in a Lead Role, was also nominated for Best Actress at the Inside Film Awards and Australian Film Institute Awards.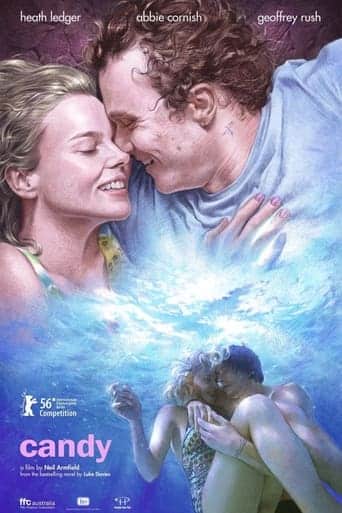 The Neil Armfield movie had three acts: Heaven, Earth, and Hell. In the first act, Candy began dating a bohemian arts student named Dan (played by Heath) and tried heroin, soon becoming addicted and stealing from her family members to fund the habit. Next, the couple became married and turned to prostituting themselves for drugs, while Candy delivered a stillborn baby at 23 weeks after failing to go clean. The movie ended on a depressingly low note, but stayed true to its source material, the Luke Davies novel "Candy: A Novel of Love and Addiction".
Over the next few years, Abbie had starring roles in "Stop-Loss", "Elizabeth: The Golden Age", and "A Good Year". Her outstanding performance as Fanny Brawne in "Bright Star", the 2009 film about poet John Keats, garnered her widespread recognition and ten awards nominations, and led to her being cast in the Bradley Cooper and Robert De Niro movie "Limitless". Abbie also narrated and played one of the protagonists in "Sucker Punch".
Satirical crime comedies, historical romances, and touching independent movies were just some of the films Abbie did over the next few years. In 2014, she was cast as Clara Murphy in the "RoboCop" reboot, and delivered a solid performance as the protagonist's concerned wife. The following year, she was cast as Agent Katherine Cowles in the Afonso Poyart mystery thriller "Solace", which boasted a star-studded ensemble including Colin Farrell, Anthony Hopkins and Jeffrey Dean Morgan.
In 2017, the blonde won a Screen Actors Guild Award for Outstanding Performance by a Cast in a Motion Picture thanks to her portrayal of Anne Willoughby in "Three Billboards", the heart-wrenching story of a vengeful mother determined to uncover the truth of her daughter's rape and murder in the dreary fictional town of Ebbing, Missouri.
ComingSoon is excited to debut a clip from Samuel Goldwyn Films' Dakota, which stars Abbie Cornish, Lola Sultan, and Patrick Muldoon.

The adventure film releases on video on demand and digital on May 20, 2022. pic.twitter.com/oJVxkRJg0C

— ComingSoon.net (@comingsoonnet) May 16, 2022
Most recently, Abbie has finished filming for "Dakota" and "Detained", which are both in post-production stages. Due to the ongoing Hollywood strike, it's unlikely that a release date for the movies will be set anytime soon.
Unbeknownst to many, Abbie is also a singer-songwriter, and rapper under the stage name MC Dusk. From 18 to 22, she formed part of the Australian hip-hop group Blades, and in 2015, she was the opening act for rapper Nas on his Australian tour. Her discography includes the EP "Key of the Sun", and singles "MVP", "Evolve" and "Way Back Home".
Personal Life
Like many celebrities, Abbie is committed to a cruelty-free diet and lifestyle. In 2006, she became an ambassador for Voiceless, an Australian animal rights group which included her in its 2012 national advertising campaign.
From late 2006 to early 2010, Abbie dated actor Ryan Phillippe shortly after he separated from Reese Witherspoon; Ryan wasted no time in making his relationship with Abbie public, despite not being officially divorced until October 2007. Almost immediately after Abbie and Ryan split, he began dating model Alexis Knapp, who became pregnant during the course of their four-month relationship. Nevertheless, the "Candy" star maintained a dignified silence, and has never badmouthed Ryan in public.
Abbie has since moved on with mixed martial artist Adel Kyokushin Altamimi, to whom she announced her engagement on Valentine's Day 2019 with a sweet Instagram snap of their intertwined hands. Naturally, many of the actress's Hollywood peers congratulated the good-looking couple.
Although we can't confirm the rumors of Abbie and Adel breaking up, it's true that the actress hasn't posted him on her Instagram for several months. Adel is equally discreet when it comes to the relationship, so the pair have either broken up or are quietly planning their wedding.
Abbie is 5ft 8in (173cm) tall and weighs 130lbs (59kgs). The rapper has an estimated net worth of $8 million, and counting.