Known for movies
Short Info
| | |
| --- | --- |
| Net Worth | approximately $150 million |
| Date Of Birth | October 26, 1973 |
| Mark | Often references musicals and Broadway musical numbers |
| Fact | Good friends with Seth Meyers. |
| Payments | Earned $50,000 per episode from Family Guy (1999) |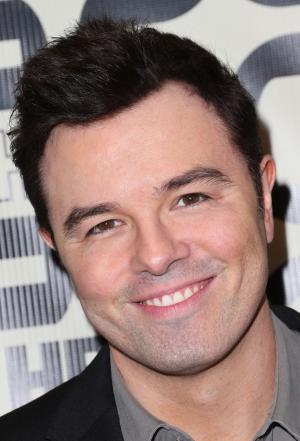 Who is Seth MacFarlane?
Seth Woodbury MacFarlane was born on 26 October 1973, in Kent, Connecticut USA, and is a voice actor, actor, animator, singer, and filmmaker, best known for being the creator of the television series "Family Guy". He also wrote and starred in the films "Ted", "Ted 2" and "A Million Ways to Die in the West".
Early Life and Education
At a young age, Seth developed a strong interest in illustration, and began drawing various popular cartoon characters. A few years later, he decided he wanted to pursue a career in animation, and started publishing a weekly comic strip for the local newspaper, "The Kent Good Times Dispatch". While attending high school, he experimented with animation, and his parents supported his endeavors. After matriculating, he enrolled at the Rhode Island School of Design (RISD) to study film, video and animation, earning his bachelor's degree. He originally wanted to work for Disney, but changed his mind after graduating, and initially produced a series of independent films with RISD, and also performed stand-up comedy. He created a thesis film entitled "The Life of Larry", which would become his inspiration for "Family Guy" – his film was submitted to the animation studio Hanna-Barbera, which hired Seth after graduation.
Animation and Comedy Career
MacFarlane initially worked as an animator and writer for the "Cartoon Cartoons" series. Some of the popular projects he worked on included "Johnny Bravo", "Dexter's Laboratory", "I Am Weasel" and "Cow and Chicken" – he credits "Johnny Bravo" for helping develop his own style. While working for the company, he started to do freelance work too, and later left the company to pursue projects that he felt was more of his style. Fox gave him a very low budget to produce a pilot leading to a crude animated film, which led to the creation of "Family Guy" – the show would make him the youngest television executive producer of the time.
We're back Dec. 30th! pic.twitter.com/Io5UNQhKKE

— Seth MacFarlane (@SethMacFarlane) November 14, 2018
The show proved highly successful, leading him to other ventures. He created a second adult animated series entitled "American Dad!", and developed a spin-off to "Family Guy" entitled "The Cleveland Show", and later worked on a new sci-fi series entitled "The Orville" which he also starred in.
He ventured into production work, and is responsible for producing shows such as "The Winner", "Cosmos: A Spacetime Odyssey" and the live-action sitcom "Dads", starring Seth Green. He also worked on the animated series "Bordertown", and the live-action series "Blunt Talk", which follows an English newscaster moving to Los Angeles.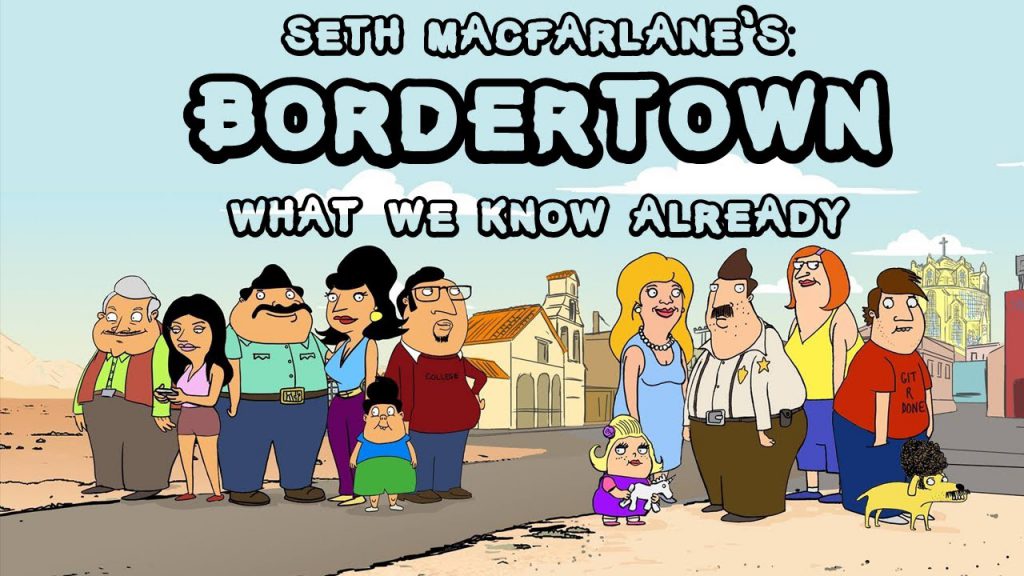 Film Work and Other Projects
In 2012, Seth worked on his directorial film debut with the release of "Ted", which tells the story of John Bennett played by Mark Wahlberg, and his talking teddy bear Ted. Ted tries to keep John and his girlfriend played by Mila Kunis from moving on with their lives. The film received favorable reviews and was a box office success, becoming the highest grossing original R-rated comedy of all time internationally, and which led to the sequel entitled "Ted 2" released in 2015. He also wrote and co-starred in the film "A Million Ways to Die in the West", which is about a cowardly sheep farmer finding courage from a mysterious woman. However, the film received negative reviews.
Seth also ventured into musical projects after signing a deal with Universal Republic Records. His debut studio album was entitled "Music Is Better Than Words" which earned a Grammy Award nomination. He then released a Christmas album entitled "Holiday for Swing", in collaboration with Sara Bareilles and Norah Jones. He released two more albums after that, including "No One Ever Tells You" which got a lot of positive reviews. His fourth album "In Full Swing" was released in 2017, and one of his songs "Have You Met Miss Jones?" received two Grammy Award nominations.
Personal Life
For his personal life, it is known that MacFarlane dated actress Emilia Clark for six months in 2012, and after their break up they still remained friends. Emilia is best known for her work in the television series "Game of Thrones" which MacFarlane is a fan of. He is apparently still single. He mentioned in an interview that he faces issues when it comes to relationships. His mother passed away from cancer and the death was acknowledged on "Larry King Live". He's had a string of controversies coming his way, mainly lawsuits regarding copyright infringement, though most of them have either been dropped or settled.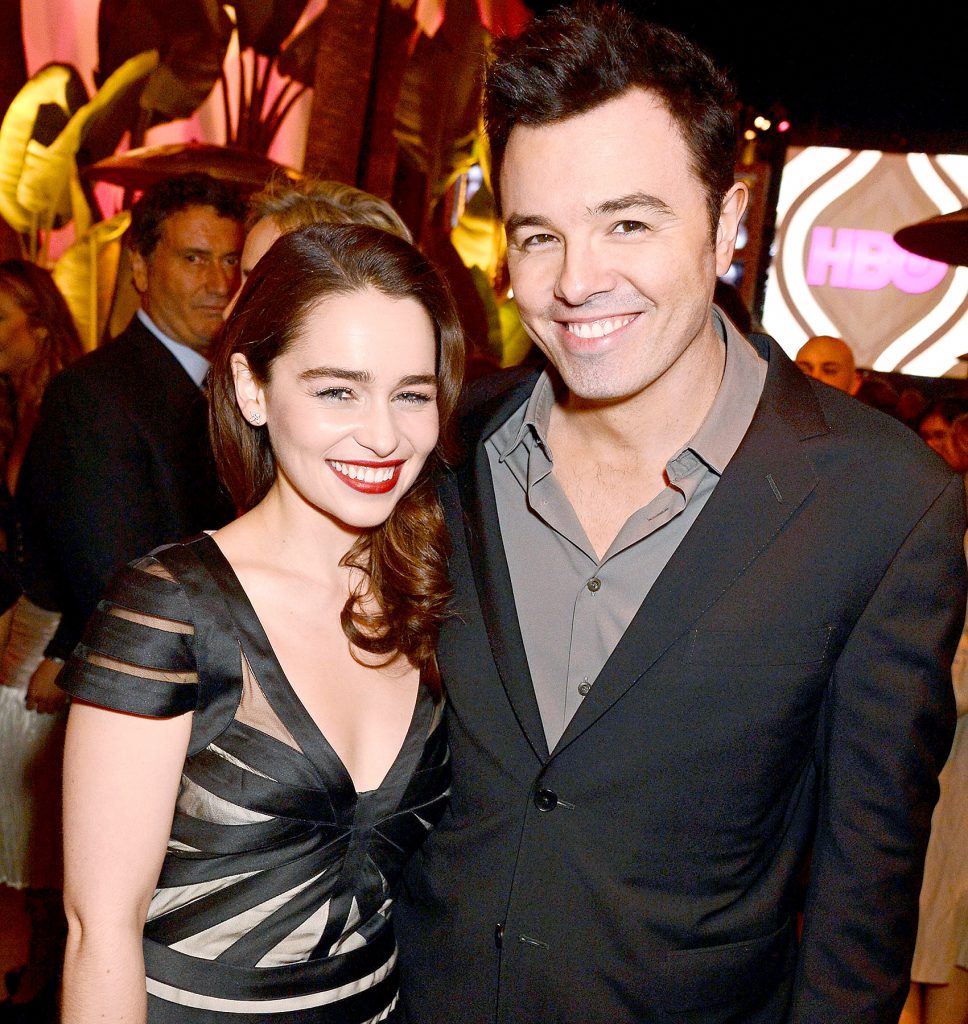 The Wealth of Seth MacFarlane
How rich is Seth MacFarlane? As of late-2018, sources inform us of a net worth that is at $200 million, earned through a successful career in comedy. He is considered one of the richest comedians in the world, just behind names such as Ellen DeGeneres. As he continues his career, it is expected that his wealth will also continue to increase.
General Info
| | |
| --- | --- |
| Full Name | Seth MacFarlane |
| Net Worth | approximately $150 million |
| Date Of Birth | October 26, 1973 |
| Height | 1.78 m |
| Profession | Screenwriter, Television producer, Presenter, Lyricist, Comedian, Cartoonist, Film producer, Film director, Actor, Composer, Television Director |
| Education | Kent School, Rhode Island School of Design |
| Nationality | American |
Family
| | |
| --- | --- |
| Parents | Ronald Milton MacFarlane, Ann Perry Sager |
| Siblings | Rachael MacFarlane |
Accomplishments
| | |
| --- | --- |
| Awards | Primetime Emmy Award for Outstanding Voice-Over Performance, MTV Movie Award for Best On-Screen Duo, Primetime Emmy Award for Outstanding Original Music And Lyrics, Primetime Emmy Award for Outstanding Character Voice-Over Performance, PGA Producer of the Year Award in Non-Fiction Television, Writer... |
| Nominations | Academy Award for Best Original Song, MTV Movie Award for Best Fight, Primetime Emmy Award for Outstanding Comedy Series, Grammy Award for Best Traditional Pop Vocal Album, MTV Movie Award for Best Shirtless Performance, Primetime Emmy Award for Outstanding Animated Program, MTV Movie Award for Best... |
| Movies | Ted, A Million Ways to Die in the West, Ted 2, Sing, Hellboy II: The Golden Army, Tooth Fairy, The Life of Larry, Stewie Griffin: The Untold Story, The Drawn Together Movie: The Movie!, Movie 43, Logan Lucky, Larry & Steve, Comedy Central Roast of David Hasselhoff, Family Guy Presents: Seth & Alex's... |
| TV Shows | Family Guy, American Dad!, The Cleveland Show, Cosmos: A Spacetime Odyssey, Seth MacFarlane's Cavalcade of Cartoon Comedy, Orville, Robot Chicken, The Pitts, 3 South |
Social profile links
Marks
| # | Marks / Signs |
| --- | --- |
| 1 | His shows follow the customs of the traditional sitcom, but with a twist |
| 2 | Endless pop-culture references |
| 3 | Extremely dark and grotesque gags |
| 4 | Animates characters with large, jutting heads |
| 5 | The voices of Peter, Brian, Quagmire, Tom Tucker, and Stewie Griffin on Family Guy (1999) |
| 6 | Frequently makes references to popular TV shows from the '70s and '80s |
| 7 | His shows often tend to break the fourth wall |
| 8 | Always hires Walter Murphy to write the theme music to his shows |
| 9 | Frequently mocks Neo-Conservatives |
| 10 | Frequently makes the foil of the main character an animal, usually the family pet. |
| 11 | New England based humor |
| 12 | Frequently uses cutaways |
| 13 | Often references musicals and Broadway musical numbers |
Salary
Quotes
| # | Quote |
| --- | --- |
| 1 | The success of The Simpsons (1989) really opened doors. It showed that if you were working in animation you didn't necessarily have to be working in kids' television. |
| 2 | With any half-hour comedy, it kind of takes on its own life and finds itself. |
| 3 | When you are in a room and your job is to write jokes 10 hours a day, your mind starts going to strange places. |
| 4 | The good thing about Broadway is that you don't have to worry about an airdate. It gets done when it gets done. |
| 5 | The only problem is time. |
| 6 | [on Amour (2012)] The last time Austria and Germany got together and co-produced something it was Hitler. |
| 7 | The only way it [criticism] gets to me is that it demonstrates a deterioration of the power of restrained, critical, rational thought that was once more ubiquitous in our society. In the sixties and seventies there was such a high regard in this country for the achievements of human beings in science, in technology, in space exploration. And in some ways we've turned into this wimpy, astrology-loving, angel-loving, pseudo-scientific culture that no longer has that ability. We've gotten lazy in our willingness to use our brains. |
Facts
| # | Fact |
| --- | --- |
| 1 | Shares birthdays with Hillary Clinton. |
| 2 | Good friends with Seth Meyers. |
| 3 | Is one of the featured singers on the Barbra Streisand duets album, "Encores." On the album's notes, she refers to MacFarlane as "one of the most versatile and multi-talented people" she has met. |
| 4 | Good friends with Alan Silvestri. |
| 5 | Good friends with Bill Nye. |
| 6 | Participated In the 2007-2008 Writers Guild of America Strike. |
| 7 | Idolized Garry Shandling. Considers The Larry Sanders Show (1992) to be the greatest single-camera comedy of all time. |
| 8 | Loves Black Mirror (2011). |
| 9 | Endorsed Bernie Sanders in the 2016 presidential election of the United States. |
| 10 | Once said his favorite movie is The Sound of Music (1965). |
| 11 | Good friends with Amy Schumer. |
| 12 | The International Astronomers Union (IAU) has renamed asteroid 1999-UL46 to "70713 SethMcFarlane", citing his role as a founding member of the Board of Advisors to the Science and Entertainment Exchange, a Los Angeles branch office of the National Academy of Sciences. |
| 13 | Favorite western film is The Man Who Shot Liberty Valance (1962). Prefers western movies from the '40s and '50s as opposed to spaghetti westerns, which he finds to be too drab. |
| 14 | Good friends with Charlize Theron. |
| 15 | Favorite western TV series is Gunsmoke (1955). |
| 16 | Does not like The Godfather (1972). |
| 17 | Good friends with Matt Groening. |
| 18 | Loves The Sopranos (1999). |
| 19 | Good friends with Neil deGrasse Tyson. |
| 20 | Has a baritone singing range. |
| 21 | His favorite episode of "All in the Family" is All in the Family: Sammy's Visit (1972). |
| 22 | Met Kara Vallow at Hanna-Barbera Studios, where he worked as a writer for Johnny Bravo (1997). |
| 23 | He found out about his Oscar nomination for Ted (2012) while announcing the 85th Academy Award nominations with Emma Stone. After the press applauded for him, MacFarlane joked "That's cool, I got nominated. I get to go to the Oscars now" because he had already been commissioned to host the ceremony. |
| 24 | Good friends with Mike Judge. |
| 25 | Distant cousin of Ashley Judd. Both are descendants of William Brewster, who came over to America on the Mayflower. |
| 26 | Was inspired by All in the Family (1971) to write for television. Norman Lear was his mentor. |
| 27 | Favorite comedy movie Caddyshack (1980). |
| 28 | One of his favorite movies is Airplane! (1980). |
| 29 | Loves Real Time with Bill Maher (2003). |
| 30 | Enjoys Home Movies (1999). |
| 31 | Is a big fan of Woody Allen. |
| 32 | Considers The Jerk (1979) to be the funniest movie ever made. |
| 33 | His father, Ron MacFarlane, narrated the hour-long Christmas episode of Family Guy: Road to the North Pole (2010). |
| 34 | Dedicated the Season 9 premiere of Family Guy: And Then There Were Fewer (2010), to his mother, Perry Ann, who died of cancer. |
| 35 | Is an accomplished crooner, a talent he ably demonstrated as a guest on The Tonight Show with Jay Leno (1992) singing "You're the Cream in My Coffee" backed by Rickey Minor and the Tonight Show Band (5 August 2010). |
| 36 | Family Guy (1999) and American Dad! (2005) both premiered after the Super Bowl, but The Cleveland Show (2009) premiered after The Simpsons (1989). |
| 37 | Took part in the 2009 season of BBC Proms Concerts in London singing in the BBC Proms: Prom 22: A Celebration of Classic MGM Film Musicals (2009) with Kim Criswell, Sarah Fox, Sir Thomas Allen and Curtis Stigers on Saturday 1 August. |
| 38 | With the cancellation of King of the Hill (1997) and the debut of The Cleveland Show (2009) on Fox, MacFarlane is now the co-creator and producer of three of the four animated shows that comprise Fox's "Animation Domination" on Sunday nights. (Family Guy (1999), American Dad! (2005) and The Cleveland Show (2009).) The fourth of course being The Simpsons (1989). |
| 39 | He is a distant cousin of former Star Trek: The Next Generation (1987) actress Denise Crosby. |
| 40 | He considered working for the Walt Disney Company after graduating from the Rhode Island School of Design, but decided against it due to criticism from religious welfare groups. Instead he worked for Hanna-Barbara after the studio received his thesis film, The Life of Larry (1995), which was sent to them by Seth's professor at the RISD. It was accepted into the "What A Cartoon!" shorts program spearheaded by Fred Seibert. It was produced at the studio as a seven-minute short under the title "Larry and Steve". McFarlane performed several of the voice acting roles, some of which he eventually used in Family Guy (1999) for patriarch Peter Griffin and Brian, the family dog. |
| 41 | Was voted as the "Smartest Man on TV" by Entertainment Weekly, the magazine that initially criticized Family Guy (1999), but had recently been more receptive to the show. |
| 42 | He's a fan and personal friend of Keith Olbermann. |
| 43 | Is best friends with Butch Hartman, creator of The Fairly OddParents (2001) and Danny Phantom (2004). |
| 44 | Graduate of Kent School, the same high school which Ted Danson, Treat Williams, Peter Farrelly and Sebastian Siegel attended. |
| 45 | He constantly references the movie Back to the Future (1985) and its sequels in both Family Guy (1999) and American Dad! (2005). |
| 46 | Was supposed to board the first plane which crashed into the Twin Towers on September 11th, but he missed his flight due to his travel agent giving him the wrong departure time. |
| 47 | Lives in Los Angeles. |
| 48 | Is a devoted supporter of the Democratic Party, and is known for mercilessly mocking and lambasting conservatives and their policies through his shows. Ironically, his shows air on the FOX network, which is largely a Republican-supporting channel. |
| 49 | Is an avid fan of "Star Wars" and "Star Trek". His favorite film in the "Star Wars" saga is Star Wars: Episode V - The Empire Strikes Back (1980) and his favorite TV series in the "Star Trek" franchise is Star Trek: The Next Generation (1987). |
| 50 | Loves golf. |
| 51 | Through his maternal grandmother, he is a descendant of Mayflower passengers William Brewster, and his wife, Mary. |
| 52 | Once lived in Wrentham, Massachusetts. |
| 53 | He has English, Scottish, and Irish ancestry. |
| 54 | Is a skilled pianist |
| 55 | Was given voice training by a 90-year-old couple who also trained Frank Sinatra. |
| 56 | Based his Stewie Griffin voice from Rex Harrison's portrayal of Henry Higgins in My Fair Lady (1964). |
| 57 | Big Rex Harrison fan |
| 58 | Based the voice of Peter Griffin mostly from a loud mouthed security guard that worked on the campus where he attended college. |
| 59 | The name of his production company, Fuzzy Door, comes from the name of his apartment when he attended Rhode Island School of Design ("RISD"). The door to the house was covered in fur. |
| 60 | Brother of Rachael MacFarlane and brother-in-law of her husband, Spencer Laudiero. Uncle of their one daughter. |
Pictures
Movies
Writer
| Title | Year | Status | Character |
| --- | --- | --- | --- |
| Orville | | TV Series created by - 1 episode, 2017 written by - 1 episode, 2017 pre-production | |
| Family Guy | | TV Series created by - 280 episodes, 1999 - 2017 developed by - 278 episodes, 1999 - 2016 written by - 4 episodes, 1999 - 2005 | |
| American Dad! | | TV Series created by - 220 episodes, 2005 - 2016 written by - 2 episodes, 2005 | |
| 2016 Breakthrough Prize Ceremony | 2015 | TV Movie special material by | |
| Ted 2 | 2015 | based on characters created by / written by | |
| Breakthrough Prize 2014 | 2014 | TV Movie special material by | |
| A Million Ways to Die in the West | 2014 | written by | |
| The Cleveland Show | | TV Series created by - 89 episodes, 2009 - 2013 written by - 1 episode, 2009 | |
| The 85th Annual Academy Awards | 2013 | TV Special special material written by | |
| Family Guy: Back to the Multiverse | 2012 | Video Game creator | |
| Family Guy: 200 Episodes Later | 2012 | TV Movie documentary creator / creator / creator | |
| Ted | 2012 | screenplay by / story by | |
| Seth MacFarlane: Swingin' in Concert | 2011 | TV Movie written by | |
| Cavalcade of Cartoon Comedy | | TV Series creator - 22 episodes, 2008 - 2010 story - 22 episodes, 2008 - 2010 teleplay - 22 episodes, 2008 - 2010 screenplay - 1 episode, 2009 | |
| Seth & Alex's Almost Live Comedy Show | 2009 | TV Short written by | |
| The Negotiating Table | 2008 | Short writer | |
| The Family Guy 100th Episode Celebration | 2007 | TV Movie creator / creator | |
| Family Guy | 2006 | Video Game creator | |
| Stewie Griffin: The Untold Story | 2005 | Video creator / creator | |
| American Dad: The New CIA | 2005 | Short | |
| Ace Ventura: Pet Detective | 1999 | TV Series 1 episode | |
| Zoomates | 1998 | Short creator / writer | |
| Dexter's Laboratory | 1998 | TV Series writer - 4 episodes | |
| Johnny Bravo | | TV Series written by - 5 episodes, 1997 teleplay - 2 episodes, 1997 teleplay by - 1 episode, 1997 | |
| I Am Weasel | 1997 | TV Series written by - 2 episodes | |
| Cow and Chicken | 1997 | TV Series story by - 3 episodes | |
| The Cartoon Cartoon Show | 1997 | TV Series written by - 1 episode | |
| What a Cartoon: Larry & Steve | 1996 | Short written and created by | |
| Jungle Cubs | | TV Series 1 episode, 1996 written by - 1 episode, 1996 | |
| The Life of Larry | 1995 | Short written by | |
Producer
| Title | Year | Status | Character |
| --- | --- | --- | --- |
| This Changes Everything | 2015 | Documentary executive producer | |
| Ted 2 | 2015 | producer | |
| Dads | 2013-2014 | TV Series executive producer - 19 episodes | |
| Cosmos: A Spacetime Odyssey | 2014 | TV Mini-Series documentary executive producer - 13 episodes | |
| A Million Ways to Die in the West | 2014 | producer | |
| The Cleveland Show | 2009-2013 | TV Series executive producer - 89 episodes | |
| Ted | 2012 | producer | |
| Seth MacFarlane: Swingin' in Concert | 2011 | TV Movie executive producer | |
| Cavalcade of Cartoon Comedy | 2009 | TV Series producer - 1 episode | |
| The Family Guy 100th Episode Celebration | 2007 | TV Movie executive producer | |
| The Winner | 2007 | TV Series executive producer - 6 episodes | |
| Stewie Griffin: The Untold Story | 2005 | Video executive producer | |
| American Dad: The New CIA | 2005 | Short executive producer | |
| The Pitts | 2003 | TV Series consulting producer - 7 episodes | |
| The Life of Larry | 1995 | Short producer | |
| Orville | 2017 | TV Series executive producer - 1 episode pre-production | |
| Family Guy | 1999-2017 | TV Series executive producer - 281 episodes | |
| American Dad! | 2005-2016 | TV Series executive producer - 221 episodes | |
| Blunt Talk | 2015-2016 | TV Series executive producer - 20 episodes | |
| Bordertown | 2016 | TV Series executive producer - 13 episodes | |
Actor
| Title | Year | Status | Character |
| --- | --- | --- | --- |
| Logan Lucky | 2017 | post-production | Max Chilblain |
| Orville | 2017 | TV Series pre-production | Ed |
| Star Wars: Detours | 2016 | TV Series post-production | Emperor Palpatine (2012) (voice) |
| Family Guy | 1999-2017 | TV Series | Peter Griffin Stewie Griffin Brian Griffin ... |
| American Dad! | 2005-2016 | TV Series | Stan Smith Roger the Alien Greg Corbin ... |
| Sing | 2016 | | Mike (voice) |
| Bordertown | 2016 | TV Series | Peter Griffin |
| Ted 2 | 2015 | | Ted (voice) |
| Robot Chicken | 2005-2014 | TV Series | Lion-O Santa Claus Narrator ... |
| A Million Ways to Die in the West | 2014 | | Albert |
| Family Guy: The Quest for Stuff | 2014 | Video Game | Peter Griffin Stewie Griffin Brian Griffin ... (voice) |
| Cosmos: A Spacetime Odyssey | 2014 | TV Mini-Series documentary | Giordano Bruno |
| Futurama | 2013 | TV Series | Seymour - speaking |
| The Simpsons | 2013 | TV Series | Ben |
| Movie 43 | 2013 | | Seth MacFarlane (segment "The Pitch") |
| Jimmy Kimmel Live! | 2012 | TV Series | Ted |
| Family Guy: Back to the Multiverse | 2012 | Video Game | Brian Griffin Stewie Griffin Peter Griffin ... (voice) |
| Ted | 2012 | | Ted (voice) |
| The Cleveland Show | 2009-2012 | TV Series | Tim the Bear Additional Voices Peter Griffin ... |
| Lovin' Lakin | 2012 | TV Mini-Series | Seth MacFarlane |
| Robot Chicken: Star Wars Episode III | 2010 | TV Movie | Emperor Palpatine (voice) |
| Phineas and Ferb | 2010 | TV Series | Jeff McGarland - TV Executive |
| Flashforward | 2009-2010 | TV Series | Agent Jake Curdy / FBI Agent |
| The Drawn Together Movie: The Movie! | 2010 | | Intelligent Smart Robotic Animated Eraser Lady (voice) |
| Cavalcade of Cartoon Comedy | 2008-2010 | TV Series | Dog Scottsman Wile E. Coyote ... |
| Tooth Fairy | 2010/I | | Ziggy |
| Late Show with David Letterman | 2006-2009 | TV Series | Stewie Griffin - Top Ten List Presenter Peter Griffin - Top Ten List Presenter |
| Bones | 2009 | TV Series | Stewie Griffin |
| Futurama: Into the Wild Green Yonder | 2009 | Video | Mars Vegas Singer (singing voice) |
| Hellboy II: The Golden Army | 2008 | | Johann (voice) |
| The Negotiating Table | 2008 | Short | Alan Richdale (voice) |
| Yin! Yang! Yo! | 2008 | TV Series | The Manotaur |
| Robot Chicken: Star Wars | 2007 | TV Short | Emperor Palpatine (voice) |
| Family Guy: Up Late with Stewie & Brian | 2007 | Video short | Stewie Griffin |
| Help Me Help You | 2007 | TV Series | Seth |
| MADtv | 2006 | TV Series | Seth MacFarlane / Peter Griffin |
| The War at Home | 2006 | TV Series | Hillary's Date |
| Family Guy | 2006 | Video Game | Stewie Griffin Peter Griffin Brian Griffin ... (voice) |
| Life Is Short | 2006 | Short | Dr. Ned |
| Stewie Griffin: The Untold Story | 2005 | Video | Stewie Griffin Peter Griffin Brian Griffin ... (voice) |
| American Dad: The New CIA | 2005 | Short | Stan Smith Roger the Alien (voice) |
| Star Trek: Enterprise | 2004-2005 | TV Series | Ensign Rivers / Engineer |
| Crank Yankers | 2003-2005 | TV Series | Dick Rogers Arthur Johnson |
| Complete Savages | 2004 | TV Series | TV Announcer |
| Johnny Bravo | 2004 | TV Series | Scott / Bird Foreman / Mr. Magician |
| Gilmore Girls | 2002-2003 | TV Series | Folk Singer / Bob Merriam / Zach |
| Aqua Teen Hunger Force | 2003 | TV Series | Wayne the Brain |
| The Pitts | 2003 | TV Series | Radio Voice |
| Will & Grace | 2003 | TV Series | Pencil Sharpener |
| 3-South | 2002 | TV Series | Max |
| The Cartoon Cartoon Show | 1997 | TV Series | Larry / Steve / Old Man / ... |
| What a Cartoon: Larry & Steve | 1996 | Short | Larry / Steve / Old Man / ... (voice) |
| The Life of Larry | 1995 | Short | Seth MacFarlane Larry Cummings Steve ... (voice) |
Animation Department
| Title | Year | Status | Character |
| --- | --- | --- | --- |
| Family Guy | | TV Series original character designer - 280 episodes, 1999 - 2017 animator - 1 episode background designer - 1 episode cel painter - 1 episode character designer - 1 episode | |
| American Dad! | 2005-2016 | TV Series original character designer - 220 episodes | |
| The Cleveland Show | 2009-2013 | TV Series original character designer - 89 episodes | |
| Cavalcade of Cartoon Comedy | 2008-2010 | TV Series character designer - 24 episodes | |
| The Cartoon Cartoon Show | | TV Series animator - 1 episode, 1997 character designer - 1 episode, 1997 | |
| What a Cartoon: Larry & Steve | 1996 | Short animator - uncredited / character designer - uncredited | |
| The Life of Larry | 1995 | Short animator / background artist / cel painter | |
Soundtrack
| Title | Year | Status | Character |
| --- | --- | --- | --- |
| The Tonight Show Starring Jimmy Fallon | 2015-2016 | TV Series performer - 2 episodes | |
| The Late Late Show with James Corden | 2016 | TV Series performer - 1 episode | |
| Sing | 2016 | performer: "My Way" | |
| American Dad! | | TV Series performer - 16 episodes, 2005 - 2016 writer - 1 episode, 2005 | |
| Family Guy | | TV Series performer - 37 episodes, 1999 - 2016 lyrics - 2 episodes, 2002 - 2010 music - 1 episode, 2010 writer - 1 episode, 2005 | |
| The Late Show with Stephen Colbert | 2015 | TV Series performer - 1 episode | |
| Today | 2015 | TV Series performer - 1 episode | |
| BBC Proms | 2015 | TV Series performer - 1 episode | |
| Ted 2 | 2015 | lyrics: "Mean Ol' Moon" | |
| The Graham Norton Show | | TV Series lyrics - 1 episode, 2015 music - 1 episode, 2015 performer - 1 episode, 2015 | |
| Christmas in Rockefeller Center | 2014 | TV Special performer: "A Marshmallow World", "Baby, It's Cold Outside" | |
| The View | 2014 | TV Series performer - 1 episode | |
| Live with Kelly and Michael | 2014 | TV Series performer - 1 episode | |
| Good Morning America | 2014 | TV Series performer - 1 episode | |
| A Million Ways to Die in the West | 2014 | lyrics: "If You've Only Got a Moustache", "A Million Ways To Die" | |
| The Tonight Show with Jay Leno | | TV Series performer - 3 episodes, 2010 - 2014 lyrics - 1 episode, 2013 | |
| The Simpsons | 2013 | TV Series performer - 1 episode | |
| The 85th Annual Academy Awards | 2013 | TV Special lyrics: "We Saw Your Boobs", "Be Our Guest", "Everybody Needs a Best Friend", "Here's to the Losers" / performer: "We Saw Your Boobs", "The Way You Look Tonight", "High Hopes", "Be Our Guest", "Here's to the Losers" | |
| Saturday Night Live | 2012 | TV Series performer - 1 episode | |
| BBC Proms | 2012 | TV Series performer - 1 episode | |
| Ted | 2012 | lyrics: "Everybody Needs a Best Friend", "Thunder Buddies" / music: "Thunder Buddies" | |
| Seth MacFarlane: Swingin' in Concert | 2011 | TV Movie performer: "The Night They Invented Champaign", "It's Anybody's Spring", "Two Sleepy People", "Anytime, Anywhere", "Music Is Better Than Words", "You're the Cream in My Coffee", "Something Good", "Love Won't Let You Get Away", "It's Easy to Remember", "You and I", "The Sadder But Wiser Girl" | |
| Jimmy Kimmel Live! | 2011 | TV Series performer - 1 episode | |
| Conan | 2011 | TV Series performer - 1 episode | |
| BBC Swingin' Christmas | 2010 | TV Movie performer: "Ain't That a Kick in the Head?", "A Nightingale Sang in Berkeley Square", "Baby, It's Cold Outside", "For You, For Me, For Evermore", "What Are You Doing New Year's Eve?", "White Christmas" | |
| Robot Chicken: Star Wars Episode III | 2010 | TV Movie performer: "Turkey in the Straw" | |
| The Cleveland Show | 2010 | TV Series performer - 1 episode | |
| Seth & Alex's Almost Live Comedy Show | 2009 | TV Short performer: "Family Guy Theme Song", "Edelweiss", "Cal Johnson Theme Song", "Shipoopi", "Rocket Man", "Surfin' Bird" - uncredited / writer: "Family Guy Theme Song", "Cal Johnson Theme Song" - uncredited | |
| BBC Proms | 2009 | TV Series performer - 1 episode | |
| Cavalcade of Cartoon Comedy | 2009 | TV Series performer - 1 episode | |
| Futurama: Into the Wild Green Yonder | 2009 | Video performer: "That Was Then And This is Too" | |
| The 59th Primetime Emmy Awards | 2007 | TV Special performer: "You Can Find It on TV" | |
| Talkshow with Spike Feresten | 2007 | TV Series performer - 1 episode | |
| Stewie Griffin: The Untold Story | 2005 | Video performer: "I Have Confidence" | |
| Johnny Bravo | | TV Series performer - 1 episode, 2004 lyrics - 1 episode, 1997 | |
Art Department
| Title | Year | Status | Character |
| --- | --- | --- | --- |
| Family Guy | | TV Series original character designer - 4 episodes, 1999 - 2014 storyboard artist - 1 episode | |
| American Dad! | 2005-2010 | TV Series original character designer - 2 episodes | |
| Dexter's Laboratory | 1997-2003 | TV Series storyboard artist - 43 episodes | |
| Johnny Bravo | | TV Series storyboard artist - 24 episodes, 1997 - 2001 storyboard clean-up artist - 1 episode, 1997 storyboard - 1 episode, 1997 | |
| I Am Weasel | 1997 | TV Series storyboard artist - 13 episodes | |
| Cow and Chicken | 1997 | TV Series storyboard artist - 1 episode | |
| The Cartoon Cartoon Show | 1997 | TV Series storyboard artist - 1 episode | |
Director
| Title | Year | Status | Character |
| --- | --- | --- | --- |
| Orville | 2017 | TV Series 1 episode pre-production | |
| Ted 2 | 2015 | | |
| A Million Ways to Die in the West | 2014 | | |
| Ted | 2012 | | |
| The Cleveland Show | 2009 | TV Series 1 episode | |
| Cavalcade of Cartoon Comedy | 2009 | TV Series 1 episode | |
| American Dad: The New CIA | 2005 | Short | |
| American Dad! | 2005 | TV Series 1 episode | |
| Family Guy | 1999 | TV Series 1 episode | |
| The Cartoon Cartoon Show | 1997 | TV Series 1 episode | |
| What a Cartoon: Larry & Steve | 1996 | Short | |
| The Life of Larry | 1995 | Short uncredited | |
Music Department
| Title | Year | Status | Character |
| --- | --- | --- | --- |
| Ted 2 | 2015 | songs: lyrics | |
| A Million Ways to Die in the West | 2014 | songs: lyrics | |
| The 85th Annual Academy Awards | 2013 | TV Special song: lyrics by - uncredited | |
| Ted | 2012 | songs: lyrics | |
| The Cleveland Show | 2009 | TV Series theme song - 1 episode | |
| Family Guy | | TV Series singer - 5 episodes, 2000 - 2009 song - 1 episode, 2002 | |
| American Dad! | 2005 | TV Series singer - 1 episode | |
Art Director
| Title | Year | Status | Character |
| --- | --- | --- | --- |
| Family Guy | 1999 | TV Series 1 episode | |
| The Life of Larry | 1995 | Short | |
Editor
| Title | Year | Status | Character |
| --- | --- | --- | --- |
| Family Guy | 1999 | TV Series 1 episode | |
| The Life of Larry | 1995 | Short uncredited | |
Miscellaneous
| Title | Year | Status | Character |
| --- | --- | --- | --- |
| Live from Lincoln Center | 2015 | TV Series creative consultant - 1 episode | |
Thanks
| Title | Year | Status | Character |
| --- | --- | --- | --- |
| TV's Funniest Animated Stars: A Paley Center for Media Special | 2015 | TV Movie documentary Special Thanks: to all those who gave of their time and talent for this special | |
| Star Stuff: The Story of Carl Sagan | 2015 | Short the producers wish to thank | |
| Family Guy: 200 Episodes Later | 2012 | TV Movie documentary special thanks: to the cast | |
| Battle for the Crown | 2007 | Documentary very special thanks | |
| Knight of the Living Dead | 2005 | Video special thanks | |
Self
| Title | Year | Status | Character |
| --- | --- | --- | --- |
| The 59th Primetime Emmy Awards | 2007 | TV Special | Stewie Griffin Brian Griffin (voice) |
| Guys Choice | 2007 | TV Movie | Himself |
| Spike TV VGA Video Game Awards | 2006 | TV Special | Himself |
| Take Alex to Work Day | 2006 | Video documentary short | |
| Icons | 2006 | TV Series | Himself |
| Total Request Live | 2006 | TV Series | Himself |
| World Domination: The 'Family Guy' Phenomenon | 2005 | Video documentary short | Himself |
| The 57th Annual Primetime Emmy Awards | 2005 | TV Special | Peter Griffin (voice) |
| Too Late with Adam Carolla | 2005 | TV Series | Himself |
| Dinner for Five | 2005 | TV Series | Himself |
| Late Show with David Letterman | 2005 | TV Series | Himself |
| 100 Greatest Cartoons | 2005 | TV Special documentary | Himself |
| Score! The Music of 'Family Guy' | 2005 | Video short | Himself |
| Choose or Lose Presents: The Best Place to Start | 2004 | TV Movie documentary | Himself |
| MTV Video Music Awards 2003 | 2003 | TV Special | Stewie Griffin (voice) |
| The Tonight Show Starring Jimmy Fallon | 2014-2016 | TV Series | Himself / Himself - Performer |
| The Late Late Show with James Corden | 2015-2016 | TV Series | Himself - Guest - Music Guest / Himself |
| Red, White and Bootsy | 2016 | TV Movie | Himself |
| AFI Life Achievement Award: A Tribute to John Williams | 2016 | TV Movie | Himself |
| TV Land Icon Awards 2016 | 2016 | TV Movie | Himself - Presenter |
| 2016 MTV Movie Awards | 2016 | TV Special | Himself - Nominee |
| The 58th Annual Grammy Awards | 2016 | TV Movie | Himself - Presenter |
| The Talk | 2016 | TV Series | Himself - Guest |
| The Cowboy | 2016 | TV Series documentary | Himself |
| Real Time with Bill Maher | 2009-2016 | TV Series | Himself / Himself - Guest |
| Live from Lincoln Center | 2015 | TV Series | Himself - Host / Performer |
| TV's Funniest Animated Stars: A Paley Center for Media Special | 2015 | TV Movie documentary | Himself - Creator of Family Guy |
| Sinatra 100: An All-Star Grammy Concert | 2015 | TV Movie | Himself - Performer |
| 2016 Breakthrough Prize Ceremony | 2015 | TV Movie | Himself - Host |
| StarTalk | 2015 | TV Series | Himself |
| The British Academy Britannia Awards | 2015 | TV Movie | Himself - Presenter |
| The View | 2014-2015 | TV Series | Himself / Himself - Musical Guest |
| The Late Show with Stephen Colbert | 2015 | TV Series | Himself - Musical Guest |
| Access Hollywood | 2015 | TV Series | Himself |
| Today | 2014-2015 | TV Series | Himself - Musical Guest / Himself - Guest / Himself |
| The Noite com Danilo Gentili | 2015 | TV Series | Himself |
| Jimmy Kimmel Live! | 2005-2015 | TV Series | Himself |
| BBC Proms | 2015 | TV Series | Himself - Vocalist |
| Extra | 2012-2015 | TV Series | Himself |
| Late Night with Seth Meyers | 2015 | TV Series | Himself |
| The Daily Show | 2012-2015 | TV Series | Himself |
| Entertainment Tonight | 2009-2015 | TV Series | Himself / Himself - Album, Holiday for Swing |
| The Graham Norton Show | 2014-2015 | TV Series | Himself - Guest |
| The 5th Annual Critics' Choice Television Awards | 2015 | TV Special | Himself |
| NBC's New Year's Eve with Carson Daly | 2014 | TV Movie | Himself - Performer |
| Christmas in Rockefeller Center | 2014 | TV Special | Himself - Performer |
| Live with Kelly and Michael | 2012-2014 | TV Series | Himself - Musical Guest / Himself - Guest |
| Good Morning America | 2013-2014 | TV Series | Himself |
| Breakthrough Prize 2014 | 2014 | TV Movie | Himself - Host |
| CollegeHumor Originals | 2012-2014 | TV Series | Himself |
| E! News | 2014 | TV Series | Himself |
| Unscripted | 2014 | TV Series | Himself |
| Ellen: The Ellen DeGeneres Show | 2014 | TV Series | Himself |
| 2014 MTV Movie Awards | 2014 | TV Special | Himself - Presenter |
| Inside Edition | 2014 | TV Series documentary | Himself |
| The Tonight Show with Jay Leno | 2010-2014 | TV Series | Himself / Himself - Guest |
| Guys Choice Awards 2013 | 2013 | TV Special | Himself |
| Resistance Is Futile: Assimilating Star Trek -The Next Generation | 2013 | Documentary | Himself |
| Star Trek: The Next Generation - Inside the Writer's Room | 2013 | Documentary | Himself |
| Star Trek: The Next Generation - Regeneration: Engaging the Borg | 2013 | Documentary | Himself |
| Starring Adam West | 2013 | Documentary | Himself |
| E! Live from the Red Carpet | 2013 | TV Series | Himself |
| The 85th Annual Academy Awards | 2013 | TV Special | Himself - Host / Performer: We Saw Your Boobs / The Way You Look Tonight / ... |
| The Barbara Walters Summer Special | 2012 | TV Series | Himself |
| Conan | 2011-2012 | TV Series | Himself - Guest |
| The Late Late Show with Craig Ferguson | 2005-2012 | TV Series | Himself / Himself - Guest |
| Making It So: Continuing Star Trek - The Next Generation | 2012 | Video documentary | Himself |
| Family Guy: 200 Episodes Later | 2012 | TV Movie documentary | Himself |
| Shark Tank | 2012 | TV Series | Himself - Helper: No Fly Cone |
| Iconoclasts | 2012 | TV Series documentary | Himself |
| The 64th Primetime Emmy Awards | 2012 | TV Special | Himself - Presenter: Outstanding Host for a Reality or Reality-Competition Program |
| Saturday Night Live | 2012 | TV Series | Himself - Host / Ryan Lochte / Various |
| BBC Proms | 2012 | TV Series | Himself - Soloist |
| Sunday Brunch | 2012 | TV Series | Himself - Guest |
| Larry King Now | 2012 | TV Series | Himself - Guest |
| Comic Con 2012 Live | 2012 | TV Movie | Himself |
| CBS This Morning | 2012 | TV Series | Himself - Guest |
| Late Night with Jimmy Fallon | 2012 | TV Series | Himself - Guest |
| CBS News Sunday Morning | 2012 | TV Series documentary | Himself - Guest |
| Guys Choice Awards 2012 | 2012 | TV Special | Himself |
| Piers Morgan Tonight | 2011-2012 | TV Series | Himself |
| FOX 25th Anniversary Special | 2012 | TV Movie | Himself |
| Talk Nerdy to Me | 2011 | TV Movie | Himself |
| Rove LA | 2011 | TV Series | Himself |
| Seth MacFarlane: Swingin' in Concert | 2011 | TV Movie | Himself |
| Comedy Central Roast of Charlie Sheen | 2011 | TV Special | Himself - Roastmaster |
| Comedy Central Roast of Donald Trump | 2011 | TV Movie | Himself - Roast Master |
| Trek Nation | 2010 | Documentary | Himself |
| BBC Swingin' Christmas | 2010 | TV Movie | Himself - Performer |
| Breakfast | 2010 | TV Series | Himself - Singer and Animator |
| Stand Up to Cancer | 2010 | TV Special | Himself |
| The 62nd Primetime Emmy Awards | 2010 | TV Special | Stewie Griffin (voice) |
| Comedy Central Roast of David Hasselhoff | 2010 | TV Special | Himself - Roastmaster |
| Teen Choice Awards 2010 | 2010 | TV Special | Himself |
| Larry King Live | 2007-2010 | TV Series | Himself |
| Comic-Con 2010 Live | 2010 | TV Movie documentary | Himself |
| Family Guy: The Top 20 Characters | 2010 | TV Movie | Himself |
| 2010 Writers Guild Awards | 2010 | TV Special | Himself - Host |
| The Jace Hall Show | 2008-2010 | TV Series | Himself |
| The Simpsons 20th Anniversary Special: In 3-D! On Ice! | 2010 | TV Special documentary | Himself |
| 2009 Creative Arts Emmy Awards | 2009 | TV Special | Himself |
| Seth & Alex's Almost Live Comedy Show | 2009 | TV Short | Himself Peter Griffin Brian Griffin ... (voice) |
| The Tonight Show with Conan O'Brien | 2009 | TV Series | Himself |
| The 61st Primetime Emmy Awards | 2009 | TV Special | Himself - Nominated: Outstanding Comedy Series |
| The 2009 Primetime Creative Arts Emmy Awards | 2009 | TV Special | Himself - Presenter: Outstanding Sound Mixing for a Comedy or Drama Series (One Hour) / Outstanding Sound Mixing for a Miniseries or a Movie / Outstanding Sound Mixing for a Comedy or Drama Series (Half-Hour) And Animation / ... |
| Inside the Actors Studio | 2009 | TV Series | Himself |
| Kevin Pollak's Chat Show | 2009 | TV Series | Himself |
| BBC Proms | 2009 | TV Series | Himself |
| Comic-Con '09 Live | 2009 | TV Movie | Himself |
| Howard Stern on Demand | 2009 | TV Series | Himself |
| Family Guy: Creating the Chaos | 2009 | TV Movie documentary | Himself |
| Family Guy: The Story So Far... | 2009 | TV Movie documentary | Himself |
| ABC News Nightline | 2009 | TV Series | Himself |
| Talkshow with Spike Feresten | 2007-2009 | TV Series | Himself |
| Late Night with Conan O'Brien | 2007-2008 | TV Series | Himself |
| Hellboy: In Service of the Demon | 2008 | Video documentary | Himself |
| Last Call with Carson Daly | 2008 | TV Series | Himself |
| MADtv | 2008 | TV Series | Himself |
| Comic-Con '08 Live | 2008 | TV Movie | Himself |
| Spike Guys Choice | 2008 | TV Movie | Himself |
| TV's All-Time Funniest: A Paley Center for Media Special | 2008 | TV Special | Himself |
| TMZ on TV | 2008 | TV Series | Himself |
| A Conversation with George | 2008 | Video short | Himself |
| The Family Guy 100th Episode Celebration | 2007 | TV Movie | Himself Peter Griffin Brian Griffin ... |
| Toys, Toys Galore | 2007 | Video documentary short | Himself |
Archive Footage
| Title | Year | Status | Character |
| --- | --- | --- | --- |
| Who Is Donald Trump? | 2015 | TV Movie documentary | Himself |
| Extra | 2015 | TV Series | Himself |
| Entertainment Tonight | 2014-2015 | TV Series | Himself |
| The Drunken Peasants | 2014 | TV Series | Himself |
| The Graham Norton Show | 2014 | TV Series | Himself - Guest |
| Chelsea Lately | 2012-2014 | TV Series | Albert in 'A Million Ways to Die in the West' / Ted in 'Ted' |
| The Channel 101 Experience | 2012 | Documentary | Peter Griffin (uncredited) |
| 5 Second Movies | 2011 | TV Series | Roger the Alien |
| Family Guy: Ground Breaking Gags | 2011 | TV Movie documentary | Peter Griffin Brian Griffin Stewie Griffin ... (uncredited) |
Awards
Won Awards
| Year | Award | Ceremony | Nomination | Movie |
| --- | --- | --- | --- | --- |
| 2016 | Primetime Emmy | Primetime Emmy Awards | Outstanding Character Voice-Over Performance | Family Guy (1999) |
| 2016 | OFTA Television Award | Online Film & Television Association | Best Voice-Over Performance in a Animated Program | Family Guy (1999) |
| 2016 | Animation Writers Caucus Animation Award | Writers Guild of America, USA | | |
| 2015 | Louis XIII Genius Award | Critics Choice Television Awards | | |
| 2015 | Peabody Award | Peabody Awards | Documentary and Education | Cosmos: A Spacetime Odyssey (2014) |
| 2015 | PGA Award | PGA Awards | Outstanding Producer of Non-Fiction Television | Cosmos: A Spacetime Odyssey (2014) |
| 2013 | ASCAP Award | ASCAP Film and Television Music Awards | Top Box Office Films | Ted (2012) |
| 2013 | ASCAP Award | ASCAP Film and Television Music Awards | Top Television Series | American Dad! (2005) |
| 2013 | ASCAP Award | ASCAP Film and Television Music Awards | Top Television Series | The Cleveland Show (2009) |
| 2013 | ASCAP Award | ASCAP Film and Television Music Awards | Top Television Series | Family Guy (1999) |
| 2013 | Jupiter Award | Jupiter Award | Best International Film | Ted (2012) |
| 2013 | MTV Movie Award | MTV Movie Awards | Best On-Screen Duo | Ted (2012) |
| 2013 | OFTA Film Award | Online Film & Television Association | Best Voice-Over Performance | Ted (2012) |
| 2008 | OFTA Television Award | Online Film & Television Association | Best Voice-Over Performance | Family Guy (1999) |
| 2007 | OFTA Television Award | Online Film & Television Association | Best Voice-Over Performance | Family Guy (1999) |
| 2006 | Annie | Annie Awards | Best Voice Acting in an Animated Television Production | Family Guy (1999) |
| 2005 | OFTA Television Award | Online Film & Television Association | Best Voice-Over Performance | Family Guy (1999) |
| 2002 | Primetime Emmy | Primetime Emmy Awards | Outstanding Music and Lyrics | Family Guy (1999) |
| 2000 | Primetime Emmy | Primetime Emmy Awards | Outstanding Voice-Over Performance | Family Guy (1999) |
Nominated Awards
| Year | Award | Ceremony | Nomination | Movie |
| --- | --- | --- | --- | --- |
| 2016 | Grammy | Grammy Awards | Best Traditional Pop Vocal Album | For the album "No One Ever Tells You." |
| 2016 | MTV Movie Award | MTV Movie Awards | Best Virtual Performance | Ted 2 (2015) |
| 2015 | Primetime Emmy | Primetime Emmy Awards | Outstanding Character Voice-Over Performance | Family Guy (1999) |
| 2015 | Razzie Award | Razzie Awards | Worst Actor | A Million Ways to Die in the West (2014) |
| 2015 | Razzie Award | Razzie Awards | Worst Director | A Million Ways to Die in the West (2014) |
| 2015 | Razzie Award | Razzie Awards | Worst Screen Combo | A Million Ways to Die in the West (2014) |
| 2014 | Primetime Emmy | Primetime Emmy Awards | Outstanding Character Voice-Over Performance | Family Guy (1999) |
| 2014 | Primetime Emmy | Primetime Emmy Awards | Outstanding Documentary or Nonfiction Series | Cosmos: A Spacetime Odyssey (2014) |
| 2014 | IDA Award | International Documentary Association | Best Limited Series | Cosmos: A Spacetime Odyssey (2014) |
| 2013 | Oscar | Academy Awards, USA | Best Achievement in Music Written for Motion Pictures, Original Song | Ted (2012) |
| 2013 | Primetime Emmy | Primetime Emmy Awards | Outstanding Special Class Programs | The Oscars (2013) |
| 2013 | Primetime Emmy | Primetime Emmy Awards | Outstanding Voice-Over Performance | Family Guy (1999) |
| 2013 | CinEuphoria | CinEuphoria Awards | Best Duo - International Competition | Ted (2012) |
| 2013 | GFCA Award | Georgia Film Critics Association (GFCA) | Best Original Song | Ted (2012) |
| 2013 | Gold Derby Award | Gold Derby Awards | Original Song | Ted (2012) |
| 2013 | MTV Movie Award | MTV Movie Awards | Best Shirtless Performance | Ted (2012) |
| 2013 | MTV Movie Award | MTV Movie Awards | Best Fight | Ted (2012) |
| 2013 | MTV Movie Award | MTV Movie Awards | Best WTF Moment | Ted (2012) |
| 2013 | OFTA Film Award | Online Film & Television Association | Best Feature Debut | Ted (2012) |
| 2013 | OFTA Film Award | Online Film & Television Association | Best Music, Original Song | Ted (2012) |
| 2012 | Primetime Emmy | Primetime Emmy Awards | Outstanding Animated Program | American Dad! (2005) |
| 2012 | Grammy | Grammy Awards | Best Song Written Specifically for a Motion Picture or for Television | Family Guy (1999) |
| 2012 | Grammy | Grammy Awards | Best Traditional Pop Vocal Album | For the album "Music Is Better Than Words." |
| 2012 | PFCS Award | Phoenix Film Critics Society Awards | Breakthrough Performance Behind the Camera | Ted (2012) |
| 2012 | Teen Choice Award | Teen Choice Awards | Choice Movie Voice | Ted (2012) |
| 2012 | Teen Choice Award | Teen Choice Awards | Film - Choice Chemistry | Ted (2012) |
| 2012 | Teen Choice Award | Teen Choice Awards | Choice Movie: Fight | Ted (2012) |
| 2011 | Primetime Emmy | Primetime Emmy Awards | Outstanding Original Music and Lyrics | Family Guy (1999) |
| 2011 | Primetime Emmy | Primetime Emmy Awards | Outstanding Animated Program | The Cleveland Show (2009) |
| 2011 | Teen Choice Award | Teen Choice Awards | Choice TV: Villain | Family Guy (1999) |
| 2010 | Primetime Emmy | Primetime Emmy Awards | Outstanding Original Music and Lyrics | Family Guy (1999) |
| 2010 | BAFTA TV Award | BAFTA Awards | Best International | Family Guy (1999) |
| 2010 | OFTA Television Award | Online Film & Television Association | Best Male Performance in a Fiction Program | Family Guy (1999) |
| 2009 | Primetime Emmy | Primetime Emmy Awards | Outstanding Voice-Over Performance | Family Guy (1999) |
| 2009 | Primetime Emmy | Primetime Emmy Awards | Outstanding Animated Program (For Programming Less Than One Hour) | American Dad! (2005) |
| 2009 | Primetime Emmy | Primetime Emmy Awards | Outstanding Comedy Series | Family Guy (1999) |
| 2009 | Annie | Annie Awards | Best Voice Acting in an Animated Television Production or Short Form | Family Guy (1999) |
| 2009 | OFTA Television Award | Online Film & Television Association | Best Voice-Over Performance | Family Guy (1999) |
| 2008 | Primetime Emmy | Primetime Emmy Awards | Outstanding Animated Program (For Programming One Hour or More) | Family Guy (1999) |
| 2008 | BAFTA TV Award | BAFTA Awards | Best International | Family Guy (1999) |
| 2006 | Primetime Emmy | Primetime Emmy Awards | Outstanding Animated Program (For Programming Less Than One Hour) | Family Guy (1999) |
| 2006 | Grammy | Grammy Awards | Best Comedy Album | |
| 2006 | OFTA Television Award | Online Film & Television Association | Best Voice-Over Performance | Family Guy (1999) |
| 2005 | Primetime Emmy | Primetime Emmy Awards | Outstanding Animated Program (For Programming Less Than One Hour) | Family Guy (1999) |
| 2005 | Teen Choice Award | Teen Choice Awards | Choice TV Actor: Comedy | Family Guy (1999) |
| 2005 | Teen Choice Award | Teen Choice Awards | Choice TV Chemistry | Family Guy (1999) |
| 2005 | Teen Choice Award | Teen Choice Awards | Choice TV Sidekick | Family Guy (1999) |
| 2000 | Primetime Emmy | Primetime Emmy Awards | Outstanding Animated Program (For Programming One Hour or Less) | Family Guy (1999) |
| 1999 | Annie | Annie Awards | Outstanding Individual Achievement for Music in an Animated Television Production | Family Guy (1999) |
Source:
IMDb
,
Wikipedia