• Jackie Braasch is a street racer and Justin Shearer's new girlfriend
• She has a family of professional racers, and she fell in love with cars and races from a young age
• She owns the Spitzer Dragster and competes in the Rocket Brand Race Fuel Bracket Series and Super Pro
• Her rise to fame is due to her relationship with Justin Shearer, though she had already achieved success as a racer
• She has an estimated net worth of over $1 million and Justin Shearer has an estimated net worth of $2 million

Known for movies

Who is Jackie Braasch?
Jackie Braasch is a street racer, who competes in the Car Chix association, one of the most prominent street car racing organizations for women. However, she is perhaps better known to the world as the new girlfriend of the popular street car racer, Justin Shearer, a.k.a Big Chief. Unfortunately, her birth date and place remain unknown to the media.

Early Life, Family, and Education
Jackie has grown up in a family of professional race car drivers; her father was always in a garage working on cars, tuning them up for his races, and young Jackie would often help him. This made her fall in love with cars and races, and it was only a matter of time when she would join the Junior Dragster Division for children. Ever since then, Jackie has been spending most of her days on the track or in the garage.
Career Beginnings
As Jackie was growing up, her love for racing only intensified, and she started pursuing racing professionally. Jackie is the owner of the Spitzer Dragster and competes in the Rocket Brand Race Fuel Bracket Series and Super Pro. Gradually her skills improved, and Jackie won several championships, ultimately becoming the Car Chix girl for May of 2015.
Rise to Prominence
Although Jackie has become a quite successful street car racer and has won a number of prestigious championships, her fame apparently comes from her relationship with another street car racer, Big Chief, real name Justin Shearer. Justin, married since 2006 and with two children, was bedazzled by Jackie upon their first meeting, and the couple started their relationship, despite Big Chief's marriage. Because of this relationship, Jackie started gaining attention, mostly negative, since she was criticised for starting a relationship with a married man, but her success and glory as a racer brought a number of positive critiques for her too. Actually she was already a star, but linking with Big Chief has changed her status somewhat.
Jackie Braasch Net Worth
Are any of you wondering how rich Jackie Braasch is, as of mid- 2018? Jackie started racing when she was only eight years old, and since then has been involved in the racing world, both on tracks and in the garage. Authoritative sources now estimate that Jackie's net worth is over $1 million, partly earned from prize money, as well as her mechanical expertise.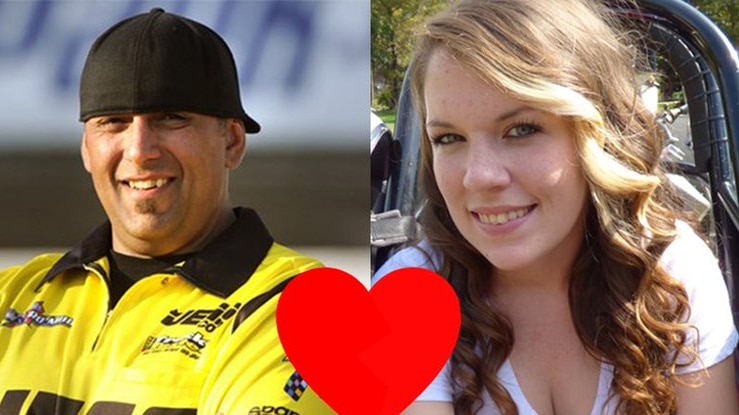 Jackie Braasch Boyfriend, Big Chief
Now that we have covered all major information about Jackie, let's now share a few details about her boyfriend, Justin Shearer, better known as Big Chief.
Justin was born on the 9th December 1980. in Louisville, Kentucky USA, and is a street car racer best known to the world for appearing in the reality TV show "Street Outlaws", aired on the Discovery Channel since 2013. He spent his early years in his hometown, but when he turned 12 he moved to Oklahoma City. There is no information about his parents, siblings, and education, however, it is known that Justin has been interested in racing from an early age, and once in Oklahoma City, he started winning races, firstly in lower competitions, and then as a professional. Aside from racing, Big Chief also works in the garage called Midwestern Street Cars, on a variety of cars, improving their performance and looks as well. Most recently, he finished working on a twin turbo GTO. Big Chief's wealth is estimated at $2 million, as of mid- 2018.
Movies
Camera Department
| Title | Year | Status | Character |
| --- | --- | --- | --- |
| Sensitive Skin | 2016 | Video lighting - as Big Chief Quarterback | |
| Pornstars Try Nuru | 2016 | Video lighting - as Big Chief Quarterback | |
| Curiosity Killed the Cat | 2016 | Video lighting - as Big Chief Quarterback | |
| Family Fantasies | 2016 | Video lighting | |
| Public Interest | 2015 | Video lighting - as BIg Chief Quarterback | |
| Natural Remedy | 2015 | Video lighting | |
| Milk Maids | 2015 | Video lighting | |
| Interracial Rubdowns | 2015 | Video lighting | |
| Magic Mike XXXL: A Hardcore Parody | 2015 | Video grip | |
| Nuru in the Family | 2015 | Video lighting | |
| Rack City Titty | 2014 | Video lighting technician - as Big Chief Quarterback | |
| Nine 1/2 Weeks: An Erotic XXX Parody | 2014 | Video grip | |
| Asa Gets Wicked | 2014 | Video grip - as Big Chief Quarterback | |
| In Heat | 2013 | Video lighting grip | |
| T&A | 2013 | Video gaffer | |
| Devil on a Chain | 2013 | Video gaffer | |
| Wet | 2013 | Video lighting technician - as Big Chief Quarter Black | |
| Breaking Bad XXX | 2012 | Video grip | |
| Official the Hangover Parody | 2012 | Video gaffer | |
| Here Comes the Bride | 2012 | Video electrician | |
| Teen Ravers | 2012 | Video lighting grip - as Big Chief Quarter Black | |
| Official Sons of Anarchy Parody | 2011 | Video lighting - as Big Chief | |
| Inside Story | 2010 | Video grip | |
| BATFXXX: Dark Night Parody | 2010 | Video grip electric - as Big Chief Quarterback | |
| Bonny & Clide | 2010 | Video grip electric - as Big Chief Quarterback | |
| Not Really.. The Dukes of Hazzard: A Hardcore Parody | 2010 | Video best boy - as Big Chief | |
| The Delinquents | 2010 | Video lighting technician - as Big Chief Quarter Black | |
| The Jeffersons: A XXX Parody | 2009 | Video grip - as Chief Quarterblack | |
Producer
| Title | Year | Status | Character |
| --- | --- | --- | --- |
| My Roomate's a Lesbian | 2011 | Video producer - as Big Chief Quarter Black | |
| All About Kagney Linn Karter | 2011 | Video producer | |
| Big Tit Soccer Mom Orgy | 2011 | Video producer | |
| Official Vagina Monologues Parody | 2011 | Video producer | |
| The Real Housewives of the San Fernando Valley | 2011 | Video producer | |
| Official to Catch a Predator Parody 2 | 2011 | Video producer - as Big Chief Quarter Black | |
| Teachers Fucking Students | 2011 | Video producer | |
| Is Your Mother Home? | 2011 | Video producer | |
| Bachelorette Orgy | 2011 | Video producer | |
| Stripper Diaries 2 | 2011 | Video producer | |
Actor
| Title | Year | Status | Character |
| --- | --- | --- | --- |
| Wanted | 2015 | Video | Apache (Non-sex role) (as Big Chief Quarterback) |
| Underworld | 2013 | Video | EMT #2 |
| Beyond Fucked: A Zombie Odyssey | 2013 | Video | Zombie / Extra |
| Measure X | 2013 | Video | Boom Operator (uncredited) |
| Breaking Bad XXX | 2012 | Video | Porn Crew |
| Official the Hangover Parody | 2012 | Video | The Bodyguard |
| Official to Catch a Predator Parody 2 | 2011 | Video | Boom Operator (uncredited) |
| Popporn: The Guide to Making Fuck | 2009 | Video | |
Miscellaneous
| Title | Year | Status | Character |
| --- | --- | --- | --- |
| Physical Therapy | 2016 | Video production assistant - as Big Chief Quarterback | |
| Aftermath | 2014 | Video production assistant | |
| Star Kissed | 2013 | Video production assistant | |
| Underworld | 2013 | Video production assistant | |
| Official Next Friday Parody | 2012 | Video production assistant | |
| Harder | 2011 | Video production assistant - as Big Chief Quarter Black | |
| Hard Days Work | 2010 | Video production assistant - as Big Chief 1/4 Black | |
| Official Californication Parody | 2010 | Video production assistant - as Big Chief Quarter Black | |
Sound Department
| Title | Year | Status | Character |
| --- | --- | --- | --- |
| Devil Inside | 2016 | Video boom operator | |
| Measure X | 2013 | Video sound - as Big Chief Quarter Black | |
| Official to Catch a Predator Parody 2 | 2011 | Video sound - uncredited | |
| The Jeffersons: A XXX Parody | 2009 | Video boom operator - as Chief Quarterblack | |
Production Manager
| Title | Year | Status | Character |
| --- | --- | --- | --- |
| Official Revenge of the Nerds Parody | 2011 | Video production manager - as Big Chief Quarter Black | |
Self
| Title | Year | Status | Character |
| --- | --- | --- | --- |
| Best in Sex: 2016 AVN Awards | 2016 | TV Special | Himself |
Source:
IMDb
,
Wikipedia