Summary of Ashley Force:
• Former drag racer, part of John Force Racing
• Net worth estimated to be over $3 million
• Grew up with two sisters who are drag racers and an older half-sister
• Won several honors during her career, including Rookie of the Year Award and first female to compete in a national series TF/FC final round
• Married in 2008 to parts manager of Castrol GTX Funny Car team, Daniel Hood
 
Who is Ashley Force?
Ashley Force was born on 29 November 1982, in Yorba Linda, California USA, and is a former drag racer, best known for being a part of John Force Racing. She is the daughter of 16 time NHRA national champion John Force.
Raceday with my sisters!❤️ @BrittanyForce @courtneyforce pic.twitter.com/bpilhMRxdf

— Ashley Force Hood (@ForceHood) May 6, 2018
The Net Worth of Ashley Force
How rich is Ashley Force? As of mid-2018, sources inform us of a net worth that is over $3 million, mostly earned through a successful career in drag racing. She's won several honors throughout her career, and as she continues her endeavors, it is expected that her wealth will also continue to increase.
Early Life and Education
Ashley grew up with two sisters – Courtney and Brittany – who would also go on to start careers as drag racers. Ashley also has an older half-sister from her father's previous relationship. She attended Esperanza High School located in Anaheim, California, and during her time there, she was a cheerleader. After matriculating, she enrolled at California State University, Fullerton and completed a degree in communications with a focus on television and video. However, shortly afterwards, she began focusing on being a professional drag racer.
Drag Racing Career
In 2004, Force became a Top Alcohol Dragster Rookie, winning three of the five final races of the season, even sharing the winners' circle with her father in one event. In 2007 she moved to the professional ranks, and joined her father's team John Force Racing. She drove a Castrol-sponsored Mustang, and they made NHRA history when she along with her father became the first father-daughter to race each other; she won the race and would advance to the semifinals. She also became the first female to compete in a national series TF/FC final round, although she was defeated. Despite that, her achievements earned her the Rookie of the Year Award.
During the next year, she reached the final round of three separate competitions, and though she lost two of those final races, she became the first female racer to lead the NHRA Funny Car point standings. Her final opponent for the third competition was her father who was racing for his 1000th round win of his career; she would go on to win that competition and set the second quickest speed of the weekend at 4.837 seconds.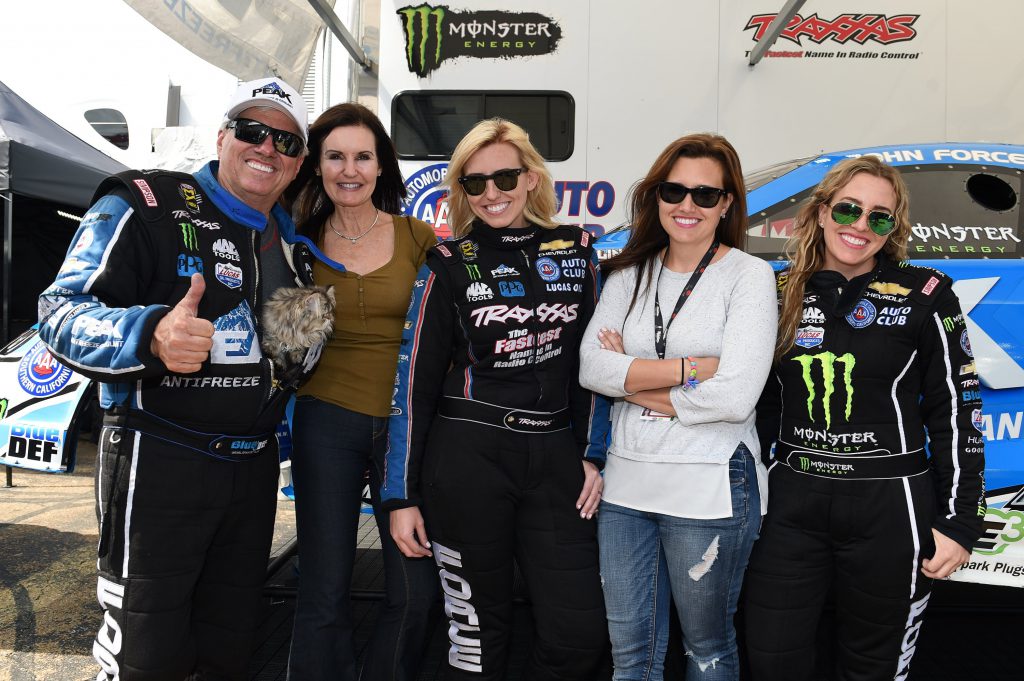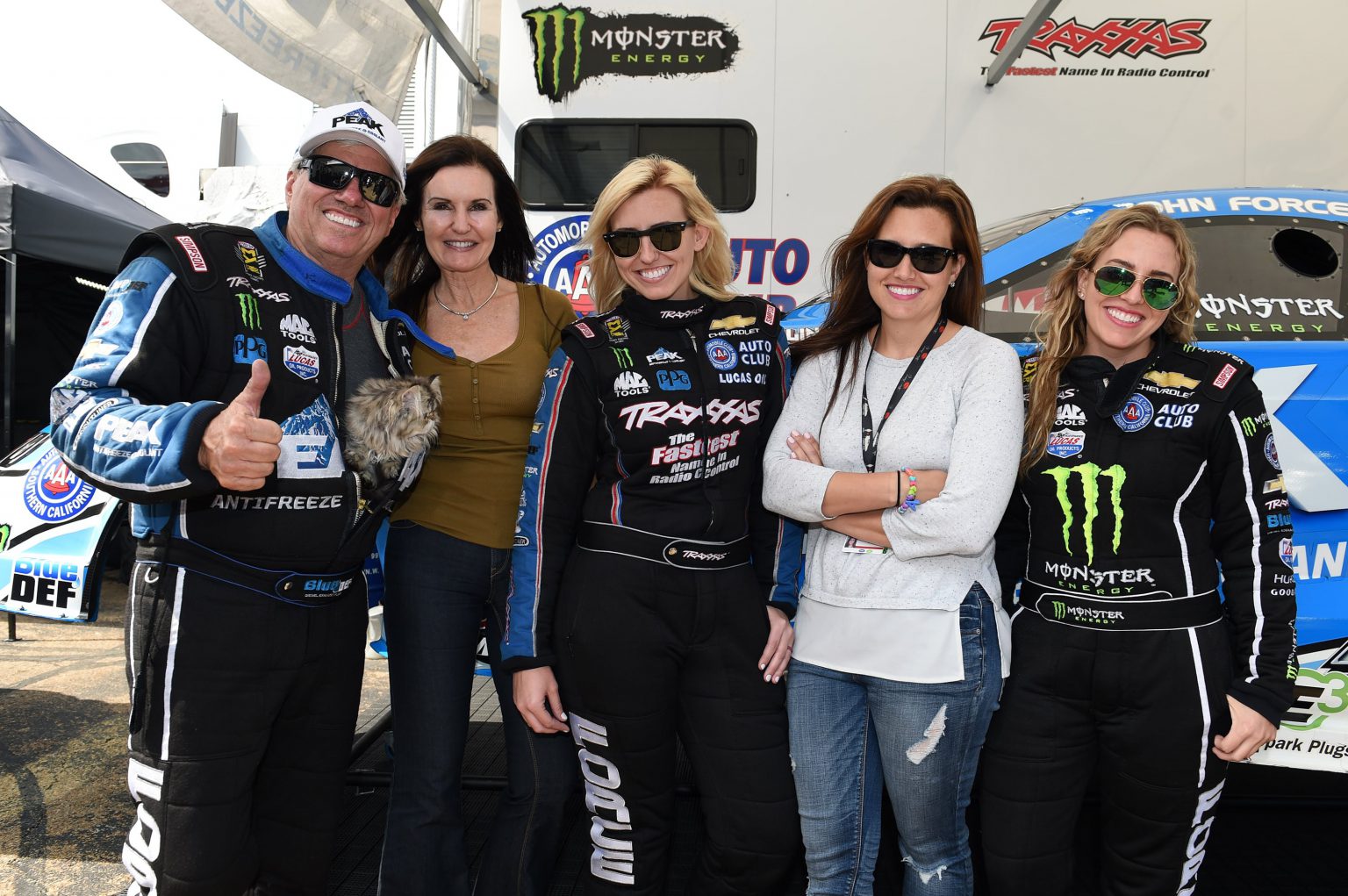 Later Career
In 2009, Ashley had the second win of her career and would go on to become a part of the US nationals, being the first female driver to win at Indianapolis and also the first female driver to win in two different classes. She also gained her fourth and fifth career number one qualifying wins that year. Two years later, she become the President of John Force entertainment which focused on media products and projects, then announced that she would go on hiatus that season as she was expecting a child, so her father drove her GTX Ford for the season.
Her sisters also started racing at this point, and Courtney would become the fourth driver of the John Force team driving a Traxxas Ford Mustang. In 2012, she then became the President for John Force Entertainment, and despite not racing actively for the past few years, has declared that her racing career is not over. She eventually announced that she would be retiring from competitive racing. However, in 2014, she did a test drive for John Force Racing to allow her to renew her NHRA Funny Car license. The renewal will allow her to be a test or reserve driver if necessary.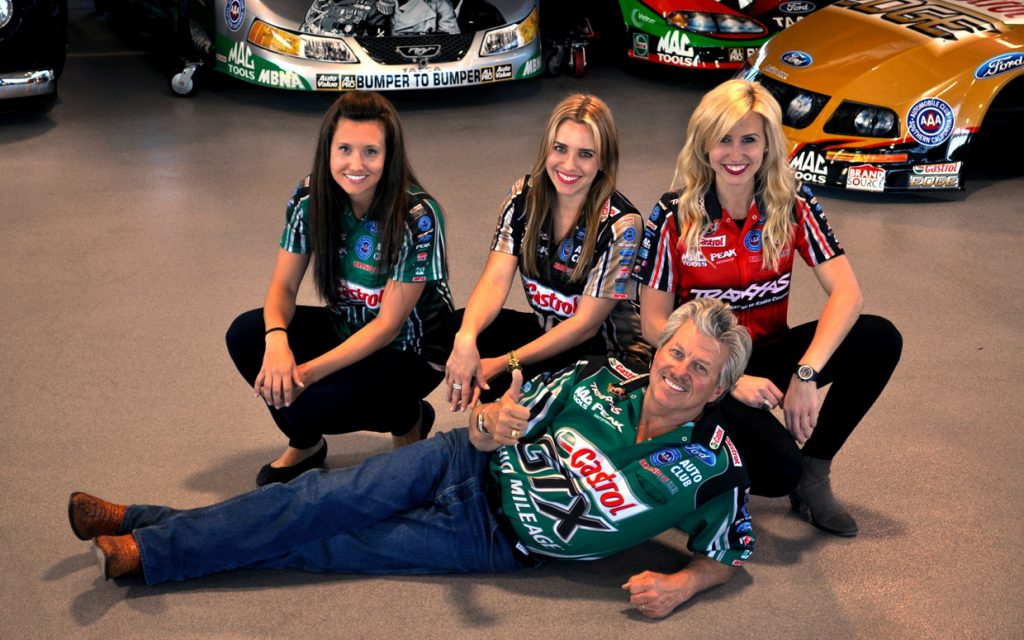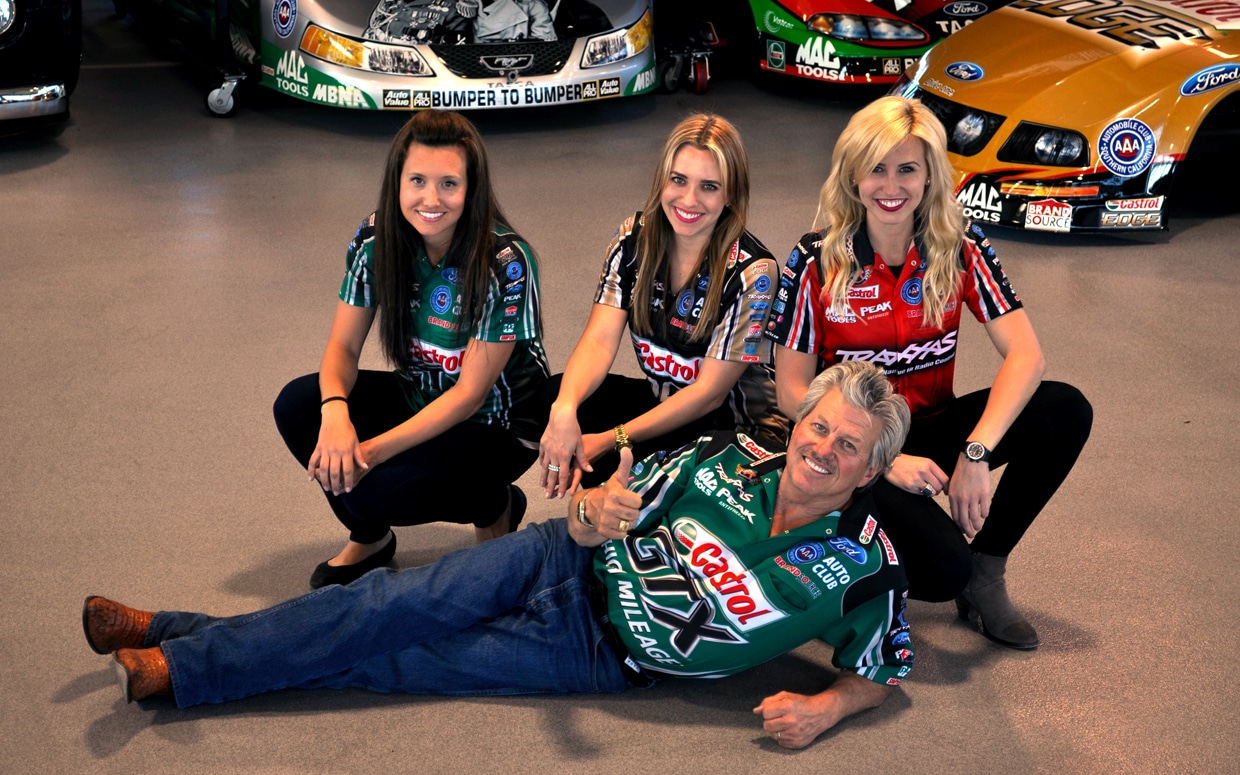 Marriage and Personal Life
For her personal life, it is known that Ashley married parts manager of the Castrol GTX Funny Car team, Daniel Hood in 2008 at Lake Tahoe, so Ashley decided that she wanted to be called Ashley Force Hood. They had their first child in 2011, and the couple are also owners of two American Bobtail cats which were featured on the show "Cats 101". Bobtails are an uncommon breed of domestic cat known, unsurprisingly for its bobbed tail.
Happy birthday to my hubby Daniel who is racing in Epping, New Hampshire today! We ❤️ you!? @DanielHoodJFR pic.twitter.com/0i0h210VQl

— Ashley Force Hood (@ForceHood) July 8, 2018
In 2007 Ashley was voted as Hottest Athlete in a poll conducted by AOL Sports. She alongside her family has also been featured in the reality television show entitled "Driving Force" – the series ran for two seasons with 24 episodes.
Is Ashley Force on Social Media?
Similar to numerous athletes and sports personalities, Ashley is active on social media through the website Twitter, which details that she is now a videographer and editor. She uses her social media accounts to promote her sisters' racing careers, and also posts many pictures of her family.