Giannina Maradona's life has always been surrounded by football legends. She is the daughter of Diego Maradona, and was previously married to Argentine professional soccer player Sergio Aguero; most of her fame comes from these two associations. Outside of her relationships, she's very active on social media, with over a million followers on Instagram alone.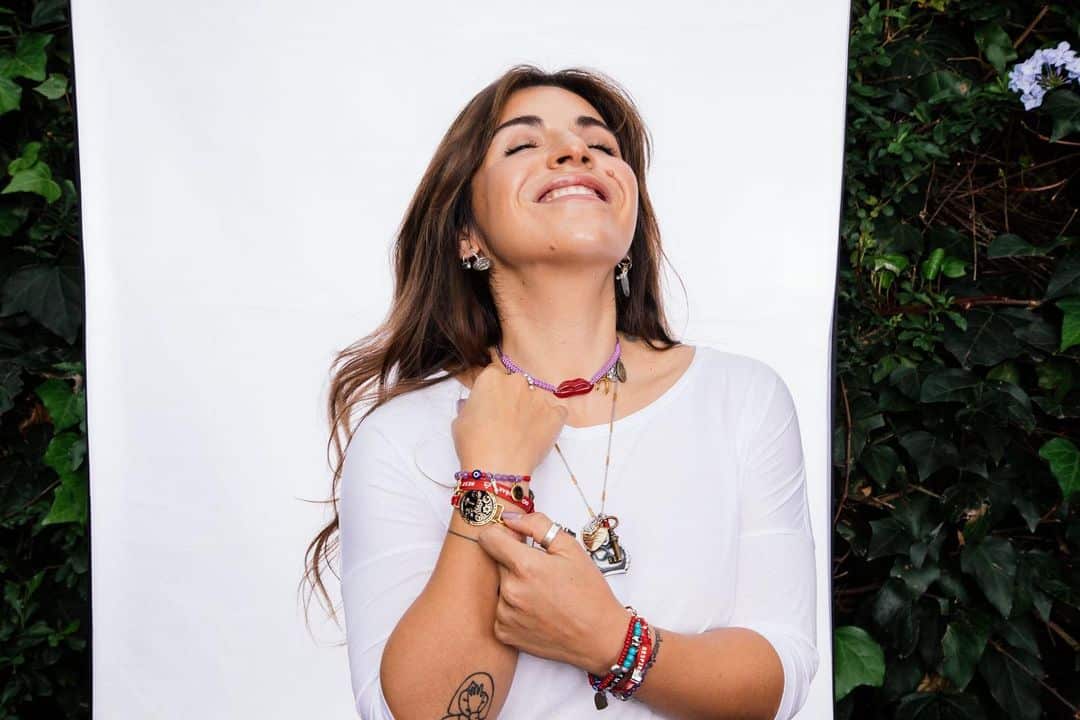 Early Life
Despite being the daughter of a famous soccer player, Giannina's life was mostly out of the spotlight until her adulthood. She was born on 16 May 1989, in Buenos Aires, Argentina, and is 34 years old as of 2023. She was the second child from Diego's first marriage to Claudia Villafane – her parents were married for 15 years before deciding on a divorce. According to her older sister, divorce was the best way to keep their relationship on good terms, indicating that it may have soured to the point of no return. There were also cases of infidelity, with Diego admitting later on that he had another child. There was also a long-documented history of drug problems with the football player.
Giannina's sister and mother pursued careers in the entertainment industry – her mother worked as a theater producer, while her sister sought out acting. Despite her parents' separation, she remained close to both of them, and her father's connections to sport would lead her to meet many professional players, including her future husband.
Giannina Maradona's Father – Diego Maradona
Diego Maradona is considered one of the greatest footballers, soccer players of all time, making a name for himself with his stellar playmaking abilities. Many journalists and fans noted his ability to pass, control the ball, and dribble, which made him a menace to opposing teams. One of his secrets was his short stature, which gave him the ability to move around the field flexibly. Being a playmaker, he was able to elevate his teammates and create opportunities for them, increasing the overall power of the team. Throughout his career, he was called El Pibe de Oro, or the Golden Boy.
Not only was her father skilled on the field, he also set the precedent for professional football during his time. He set the world record transfer fee during the 1980s, a record he would break again when he moved to Napoli. He led his teams to numerous wins, creating a prestigious international career. Some of his accolades include playing in four FIFA World Cups, a 1986 World Cup win in Mexico, and even being given the honor of Goal of the(previous) Century in 2002.
In his later years, he became a coach for the Argentinian national team, and would coach several other groups before retiring. He passed away in 2020, in his home at 60 years old. During his life, he'd been plagued by numerous health problems, especially obesity in his later years. He frequented the hospital in the months leading to his death.
Giannina Maradona's Marriage
Giannina met Sergio Aguero in 2008, and the two started dating shortly afterwards. Their relationship was heavily covered by the media, especially since they were often seen in public during events. The two had a child a year later and were married shortly after, but which lasted for just four years. According to reports, Sergio was said to be unfaithful and had an extramarital affair with Argentinian music personality Karina Tejeda. While there was no confirmation of this relationship during their marriage, Giannina and Sergio went through a divorce, and Sergio began dating Tejeda 'officially' shortly after.
Top Facts About Giannina Maradona, Sergio Aguero's Ex-Wife https://t.co/T6RO2ltJSh #Diego_Maradona #Giannina_Maradona | SportMob pic.twitter.com/hUb75DmIIl

— SportMob (@SportMobApp) December 20, 2020
Giannina Maradona's Former Spouse – Sergio Aguero
Sergio Aguero is considered one of the best strikers of his generation, and one of the best players to be part of the English Premier League (EPL). He was mostly known for his time playing as a striker for Manchester City, where he holds the record for all-time top goalscorer. He also holds the record for most hat-tricks in the EPL at 12.
Like many professional footballers, Sergio started playing young and showcased his talents early on. He was the youngest player to become a part of the Argentine Primera Division at 15 years old, breaking the record of Diego Maradona. He won numerous awards early on, and then signed with Manchester City in 2011.
During his five years at Manchester City, he helped them win five league titles, including one during his debut season. He earned the EPL goal-scorer award five times during his career. At an international level, he competed with the Argentina under-20 team, and also represented Argentina during the gold medal win at the 2008 Olympics. He retired from playing professionally in 2021.
Aguero started a relationship with Karina Tejeda immediately after his divorce from Maradona, confirming that he did have an affair while married. The two were together for four years before calling off the relationship. In 2018, he was linked to Instagram model Zoe Cristofoli after the two were spotted in a nightclub together, and the following year he started dating "Real Housewives of Cheshire" star Taylor Ward, but the two were only together briefly. He then started a relationship with model Sofia Calzetti, with her being his first public relationship since ending things with Tejeda. The two are still together as of 2023.
Where is Giannina Maradona Now
Since her divorce with Sergio, there haven't been any reports of new relationships on Giannina's part. She constantly posts on social media, often paying tribute to her late father. Her son has begun pursuing a professional football career, and she sometimes posts about his games. Many have noted how her son is the spitting image of a younger Diego Maradona.
In 2023, the daughters of Diego Maradona made headlines when they made public statements accusing all the medical professionals involved in Diego's care of pre-meditating his death. The lawsuit has been filed, and they will go to trial early in 2024. According to them, the way their father died was an injustice, and there was obvious negligence in his treatment. She expressed her dissatisfaction and the pain she felt from losing her father, even more than 1000 days after his death.