• Kortni Jeane is an American fashion designer
• She created a swimwear collection for people of all sizes
• She started sewing at an early age and attended the Fashion Institute of Design & Merchandising
• She has achieved a net worth of $8 million
• She is active on Instagram, Facebook, and Twitter, with 250,000, 80,000, and 5,000 followers respectively.
 
Who is Kortni Jeane?
Kortni Jeane is an American fashion designer who achieved stardom by creating a swimwear collection intended for people struggling with their weight – from being overweight to skinny, and also has a children's line. She has named her swimwear collection mix n' match, and since its creation, Kortni has become quite popular.
So, do you want to find out more about Kortni Jeane, from her childhood years to most recent career endeavors, including her personal life as well? If yes, then stay with us for a while, as we introduce you to this prominent fashion designer.
Kortni Jeane Wiki: Age, Childhood, and Education
Born Kortni Jeane Niccoli on the 24th June 1992, in Provo, Utah USA, unfortunately, she hasn't revealed much about her childhood, including the names of her parents, and whether she has any siblings or not. Nevertheless, she has shared with the media that she became interested in sewing from an early age, having her mother teach her the technique. She fell in love with the art, and as she got older her skills only improved, while in high school she joined the sewing class. She first thought that she would never end up sewing swimsuits, but over time things changed. Following her high school matriculation, Kortni worked for a year before she enrolled at the Fashion Institute of Design & Merchandising, where she focused on further improving her skills.
Career Beginnings
She first started sewing swimsuits for herself, but soon her friends and family began asking for her services. Her business was steadily growing, and she started getting orders for swimsuits from complete strangers. After a few months, she had to start a manufacturing business, since she couldn't handle all the orders by herself. Her family and friends encouraged her, and as a result her first big step forward was an Etsy store. In no time she had hundreds of orders, and she also started advertising on Instagram, making a final push towards making a successful business. She was becoming even more successful, and so started her own website, as the Etsy store was no longer enough.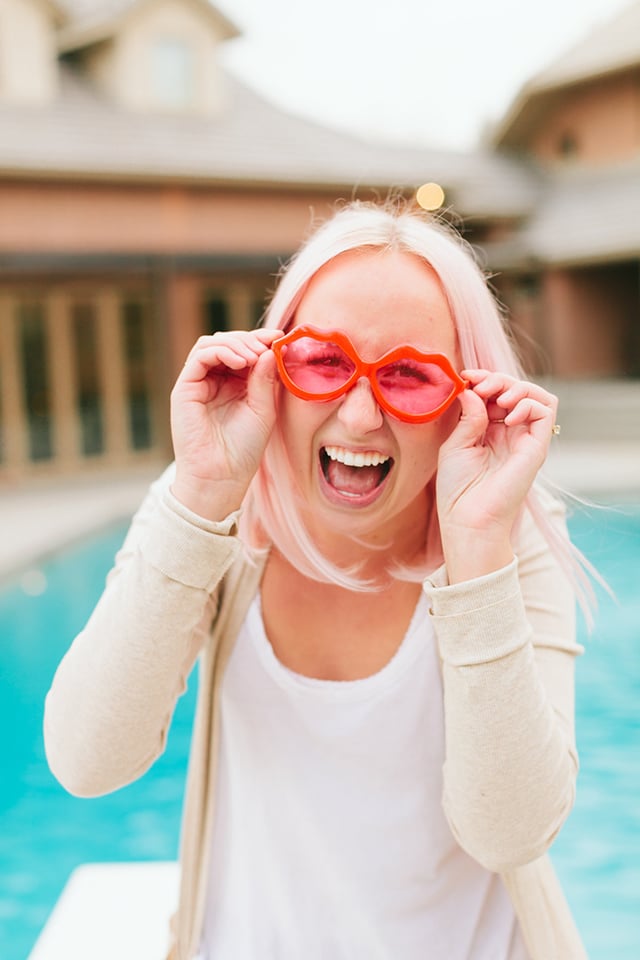 Rise to Prominence
Kortni's business was now expanding fast, and in 2014 she officially launched her own swimsuit line, mix n' match, intended for everyone, from children to 80-year-olds. The uniqueness of her clothing line is that it can fit every body, and the fact that she always has new models in stores. Once the old swimsuits are sold, they aren't in the manufacturing business anymore, and new ones are created constantly. This has enabled her rapid growth, and sales are through the roof, with numbers increasing all the time.
Kortni Jeane Net Worth
Since launching her career, Kortni has become very successful, which has steadily increased her wealth. So, have you ever wondered how rich Kortni Jeane is, as of mid- 2019? According to authoritative sources, it has been estimated that Jeane's net worth is as high as $8 million, which is quite impressive, don't you agree? Undoubtedly, her wealth will increase in the upcoming years, assuming that she successfully continues her career.
I'm not usually a shorts fan but these bad boys changed my mind! Summer, I'm ready for you! pic.twitter.com/mo6KnF8KQz

— Kortni Jeane (@KortniJeane) June 18, 2019
Kortni Jeane Personal Life, Dating, Boyfriend
What do you know about Kortni's personal life? Well, this fashion designer hasn't been very open when it comes to sharing private details, as she likes to keep all intimate details hidden from the public eyes. Hopefully, she starts sharing details from her personal life with the fans, and until that happens, we can only tell you that Kortni is single, doesn't have kids, and is focused entirely on her rising career.
Kortni Jeane Internet Fame
Over the years, Kortni has used social media platforms to promote her career and has reached out to hundreds of thousands of people through social networks. She has built a decent fan following on Instagram and Facebook, though she can also be found on Twitter. Her official Instagram page has close to 250,000 followers, with whom she has shared her newest creations, and pictures of happy customers, among numerous other posts. She is also quite active on Facebook, on which she has close to 80,000 followers, on which she also promotes her work. You can find Kortni on Twitter as well, but the community on this network is rather small, with just 5,000 loyal fans.
So, if you aren't already a fan of this prominent fashion designer, then this is a perfect opportunity for you to become one, just skip over to her official pages, and see what she is up to next.