Bonnie Rotten's entry into the adult industry was nothing short of meteoric. She blazed onto the scene as an electrifying performer, originally making her mark as a fetish model and exotic dancer. Her journey only briefly hit a pause when she tied the knot with the popular motorcycle builder, Jesse James. This union thrust her into the spotlight of mainstream media, especially following her attempts on divorcing him twice which played out as a public spectacle online, and captured the headlines on numerous entertainment and gossip online sites.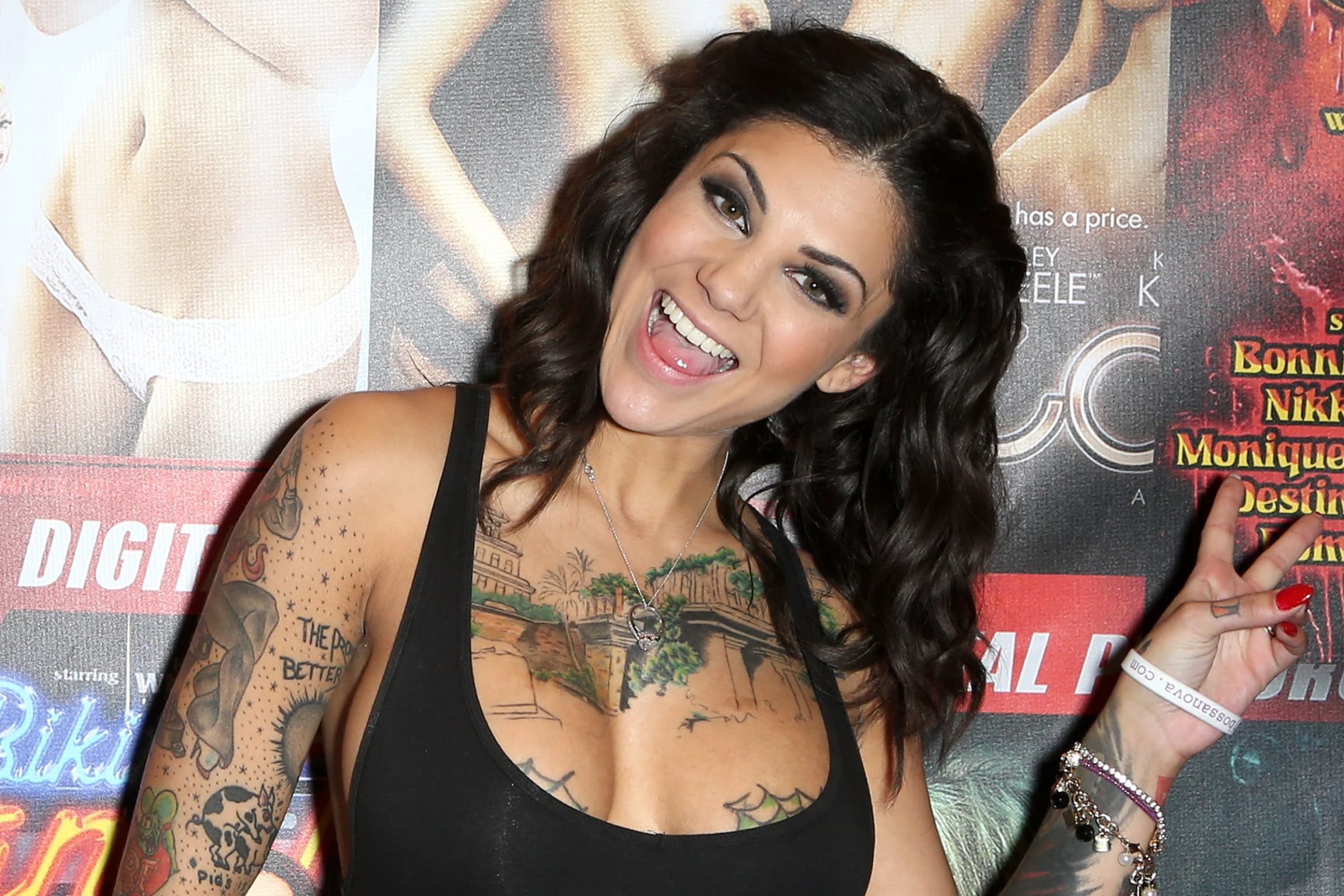 Get to know Jesse James' fifth wife, Bonnie Rotten
Growing up in Ohio
Born on 9 May 1993 in Cincinnati, Ohio, Alaina Antoinette Hicks popularly known by her stage name Bonnie Rotten, is of European descent, and was raised in a Jewish household by her grandparents. She claimed that she was exposed to her sexuality early in life, and lost her virginity at 12 years old to a boy who was a year older than her. Her constant curiosity about the art of sex led her to have multiple sexual encounters with the opposite sex by the time she was 16 years old, without knowing that it was setting the foundation of what she would pursue as her future career.
"The pretty girl with problems"
Her first job was at a shoe store in an Ohio mall, but she harbored bigger dreams. Bonnie was well aware of her strikingly pleasing face and attractive physique, often earning her the title of "the pretty girl" in her neighborhood while growing up. Some judgmental individuals in her hometown even assumed she was a troubled pretty girl due to her tattoos. Little did they know, she was simply enjoying life in an unconventional way and felt entirely comfortable in her own skin.
A photoshoot started it all
Bonnie embarked on a journey that included car shows, and at the age of 18, she found herself in Los Angeles as the winner of a photoshoot contest, attending a horror convention. One of her goals was to seize the opportunity to connect with influential figures in the entertainment industry, which ultimately led her to meet editors from Hustler Magazine. The renowned magazine, founded in Ohio, had long been a dream for Bonnie—to grace its pages someday. However, when she approached them, the magazine editors explained that they typically featured individuals who had already been part of the adult film industry. Bonnie responded, 'I told them that wasn't something I was interested in.'
Undeterred, she explored other avenues, which eventually took her to Las Vegas, where she attended the annual AVN Awards, it was there that she crossed paths with her future agent, who played a crucial role in guiding her into the world of adult entertainment—an industry she initially believed wasn't for her. In addition to her foray into adult films, Bonnie also ventured into the realms of fetish modeling and exotic dancing, drawing from her expertise in pole dancing. During her time in Las Vegas, she engaged in conversations with several industry professionals to gain deeper insights into the field she was planning to enter. Armed with this newfound knowledge, she returned to her home state of Ohio to solidify her plans.
Family supported her career choice
Her family and close friends were no longer surprised by her foray into adult entertainment, as they'd accepted that Bonnie had always been a free spirit, adorned with tattoos. If she hadn't pursued a career in the adult film industry, she might have pursued a degree in customizing chassis and metal fabrication, eventually fulfilling her dream of opening her own auto shop specializing in Ducatis and classic muscle cars. They were well aware that her choices were unconventional for a young woman, and would raise eyebrows in their genteel society back home.
Bonnie had grown accustomed to negative comments about her tattoos, and paid little attention to others' opinions, as long as she had the unwavering support of her loved ones. Her family, in particular, was extremely supportive of her career, to the extent that she made it a point to diligently send movie posters and cover photos to her grandmother. 'They just know that whatever I do, I'm going to treat it as a career. And I'm going to do it to better myself; I'm not doing it for a party.' It didn't mean she didn't enjoy partying, because she did immensely, but she never lost sight of the fact that it was her chosen career. The alluring porn star was aware that she would face criticism for her career choice, but firmly believed that there were more people who appreciated her for who she was.
The impact of tattoos on her career
One distinguishing factor that set Bonnie apart from many adult film actresses was her extensive collection of tattoos, which initially presented a challenge to her budding career in the adult film industry. Upon her return to Los Angeles, she reached out to her contacts, which eventually led to her initial work with independent film production companies. While these opportunities were promising, the pace of her progress was slower than she would have preferred. It became evident that most major production houses hesitated to cast women with tattoos, and she was informed that her inked appearance limited her casting options.
In the world of the adult film industry, smaller and independent filmmakers often produced what they referred to as "alternative porn films," featuring performers with unique individualities, including tattoos, goth, punk, or rave aesthetics. During this period, Bonnie decided to accept work in alternative pornography, as there were virtually no offers at all from the larger film studios.
Her hard work paid off
Despite her reluctance to be marked as the "Alt girl," Bonnie's relentless dedication bore fruit when she received well-deserved recognition for her exceptional work. Even the adult film industry boasts its own prestigious awards, akin to the Oscars and Grammys. Each January, the AVN Award ceremonies take center stage in Las Vegas, Nevada. Among these accolades, one of the most coveted was the Female Performer of the Year, and in 2014, Bonnie clinched this prestigious title. Her win was not just celebrated; it was historic, marking the first time that an alternative porn star had claimed the honor. When she received the award, Bonnie was overwhelmed with emotion, as she had been repeatedly told that her tattoo-covered body would be a barrier to achieving success in the adult film industry.
Made a leap through her persistence
Bonnie faced considerable challenges in the industry due to her distinctive tattoos, which led her to avoid certain 'alt porn' projects after initially trying them. She was determined to carve out a different path, even though it promised to be a challenging one. However, Bonnie was acutely aware of her exceptional talent in one area she cherished above all else—acting. She had always seen herself as a sexual athlete, longing for a platform where she could explore her sexuality without fear of judgment.
When she'd been given an opportunity to talk to an adult film executive she was asked what she wanted to do. Her immediate answer was to do a gang bang-themed movie. The executive said that they don't do that with their production company, but she insisted, and after much discussion, she persevered. She even prepared well for it by having her breasts enhanced. When the movie was released she didn't only gain more fans but good reviews as well. Her aim was to break down walls that restricted people from getting opportunities such as making people get past her tattoos because she performed well. Some entertainment writers even hailed her as the next Jenna Jameson.
Model: Bonnie Rotten / Twitter: @thebonnierotten
IG: https://t.co/CfEWNQIB4S FB: https://t.co/OClWYgwSqO SC: https://t.co/DfXgd7JePW FC: https://t.co/Wq1X5jArWd Homepage: https://t.co/ONscwbtU3o pic.twitter.com/4iCcEqVH6n

— PlaceforModels (@PlaceforModels) June 29, 2019
Known as the 'Squirt Queen'
In the adult film industry, aside from being beautiful and willing to do whatever was asked of the actors, producers wanted other sex-related talents including squirting. Apparently, Bonnie could do it as well which set her apart from her peers. She could fire it across the room, and porn enthusiasts were astounded. Bonnie said that she had done that a few times before she became an adult film actress because of her skilled partner. However, she couldn't replicate that on will, but after having a few lessons on muscle control from another professional porn star, Veronica Avluv, she could do it with the right partner and environment. However, there were times that she didn't know that she'd accomplished it until her co-actor from the movie, "Evil Angel," told her that when the floodgates opened, it came out like a water hose.
In April 2014, she also was named the Squirtwoman for Elegant Angel, which she considered a great honor, finding it cool to be part of Elegant Angel's signature models. The production house was one of the pioneers in gonzo pornography, which meant more close-ups than wide shots and it became a trend. It produced a movie that sort of documented her unusual talent of squirting during sex and how she became "squirtwoman."
As a movie director
Bonnie had many plans and ambitions in her adult film career. Her mind was always full of ideas and concepts that she wanted to unleash her creativity but at the back of the camera. She fulfilled the dream of being a director by releasing the movie entitled, "To the Core." Directing was harder than acting, but she shared that she was satisfied with the result as it was artistic and hardcore at the same time. It was followed by close to 20 more movies including "Cape Fear XXX," "Sisters of Anarchy," "Slutty Bikini Girls," and "Bonnie Rotten's Erotica" before she finally retired from directing movies.
She quit the porn industry and made some startling revelations
It was only later that Bonnie confessed to feeling deeply miserable, despite the success she had achieved as an adult film actress. Behind the veneer of achievement, she concealed a great deal of pain. Bonnie's primary focus had been to endure the ordeal while making it as bearable as possible, all the way until her contractual obligations were fulfilled. Contrary to what fans might have believed about her being in control of her career, the reality was quite the opposite.
During this period, her manager was the sole companion in her life, and her movements were severely restricted, making it difficult to establish connections with the community. Bonnie's schedule was consistently packed with nationwide dance bookings, leaving her with little room for personal growth. In one candid interview, she confessed, 'I felt like I was used, unappreciated, and not living to my full potential for years.' She had been living under the control of others, and the isolating nature of the adult film industry had made it challenging for her to discern the true nature of the information presented to her, which could often be manipulated.
Eventually, Bonnie decided to part ways with her manager, and quit the adult film industry, which marked a significant improvement in her overall well-being. Some may have interpreted her advice to aspiring porn stars as competitiveness when she urged them not to pursue a career in the industry. In reality, during her contract days, she was counting down the moments and seeking avenues to break free. She had initially believed that she could maintain control over her life, only to discover that she was, in essence, living in a cage.
Motherhood changed her life
A significant turning point in Bonnie's life occurred when she crossed paths with Dennis DeSantis, a former owner of an adult film production company. Their connection deepened, leading to their marriage in 2014. Two years later, they welcomed a daughter into their lives, although they chose not to reveal her name, to safeguard her privacy. Despite their initial joy at becoming parents, their marriage proved to be short-lived, as they filed for divorce in 2016.
Bonnie delighted in sharing photos of herself with her daughter on her social media pages. While her profile name on Instagram remained unchanged, she made the decision to remove all her previous posts before July 2020, and limit comments on her page. No official explanations were provided, leading fans to speculate that these actions were taken to distance herself from references to her prior career and relationships.
When Bonnie Rotten met Jesse James
Bonnie unknowingly gave up her privacy when she entered into a relationship with Jesse James, the renowned motorcycle builder and reality TV star. Jesse's actions and decisions had always been newsworthy, especially in the eyes of entertainment editors. While his expertise in fabrication and welding was undeniable, his decisions on his love life left many perplexed. His history of multiple divorces, primarily due to infidelity, had raised eyebrows. Bonnie, however, claimed to have fallen in love with him almost instantly when they first met.
Their love story culminated in a low-key backyard wedding in Texas, attended by close friends and family, with Bonnie's seven-year-old daughter also present. For Jesse, it marked his fifth marriage, while Bonnie was experiencing her second. The joyous occasion was celebrated by all, and Jesse commemorated it by posting their first photo as a married couple, including Bonnie's daughter, with the caption, '1 Corinthians 16:14. Let all that you do be done in love.'
Fast forward to 1 December 2022, when a popular online entertainment news site broke the news that a pregnant Bonnie Rotten had filed for divorce, citing her husband's infidelity. Just days before filing, she publicly vented her frustrations about his behavior on her social media page. By this point, Jesse had garnered a reputation as a womanizer, so while the news didn't come as a complete shock, it still became juicy gossip. Bonnie revealed that she'd discovered Jesse was still following his ex- and other women on his Instagram page, and she couldn't accept such behavior, especially during her pregnancy. She also accused Jesse of trying to isolate her from everyone. She even posted a sonogram picture on her page, insinuating that Jesse was hooking up with other women while she was carrying their child.
Social media platforms buzzed with the latest scandal, and Jesse expressed his outrage by posting, 'No smoking gun, No salacious texts, No other woman coming forward??? What the Hell??' However, the very next day, it was reported that Bonnie had called off her initial attempt to divorce him, suggesting they had managed to resolve their issues.
Yet, it didn't take long for Bonnie to file for divorce once again a few days later, as she discovered Jesse had been sending messages to another woman; however, she filed a non-suit again to halt the divorce proceedings. Fans on social media speculated that Bonnie might be facing emotional and mental challenges, possibly exacerbated by her pregnancy. Some believed her heightened sensitivity and paranoia were contributing factors. The situation escalated when Jesse called her a derogatory term during their discussion, further straining their relationship.
Eventually, the couple managed to overcome their issues and apologized to one another. Bonnie penned a lengthy post about the ordeal, expressing her regrets for airing their private matters in public. She admitted her shock that people still had an interest in her life, especially since she had left L.A. and her previous life behind many years ago. Bonnie hadn't anticipated that reporters would capture screenshots of her public rants, even though she deleted them half an hour after posting. She emphasized that the situation had been blown out of proportion, and reaffirmed her love for her husband.
As of the time of this writing, the couple is back together, caring for their newborn baby, born on June 25, 2023. They celebrated their first anniversary by sharing their joy on their Instagram accounts. Bonnie uploaded a wedding photo with the caption, '1 year ago today I married the man of my dreams,' while Jesse posted a series of photos and wrote, 'Our marriage and love bent but never broke.' One can but wonder……