"Just a Few Acres Farm," managed by the dynamic duo of Peter and Hilarie Larson, stands a beloved YouTube channel, as their content revolves around the captivating narrative of their 45-acre seventh-generation family farm located in scenic Lansing, New York State. This digital haven is far from your typical farming vlog; it's a treasure trove of DIY instructional videos that encompass ingenious small farming tips, tricks, and sustainable farming methods. The channel's popularity has sprung from the Larsons' distinctive approach to content creation, seamlessly blending humor and warmth into each educational video, making them engaging for both seasoned farmers and newcomers to the field.
Meet the Larsons
Running a farm no matter how small it is, and producing content out of it for YouTube can be exhausting. Get to know the dedicated and hardworking people behind it.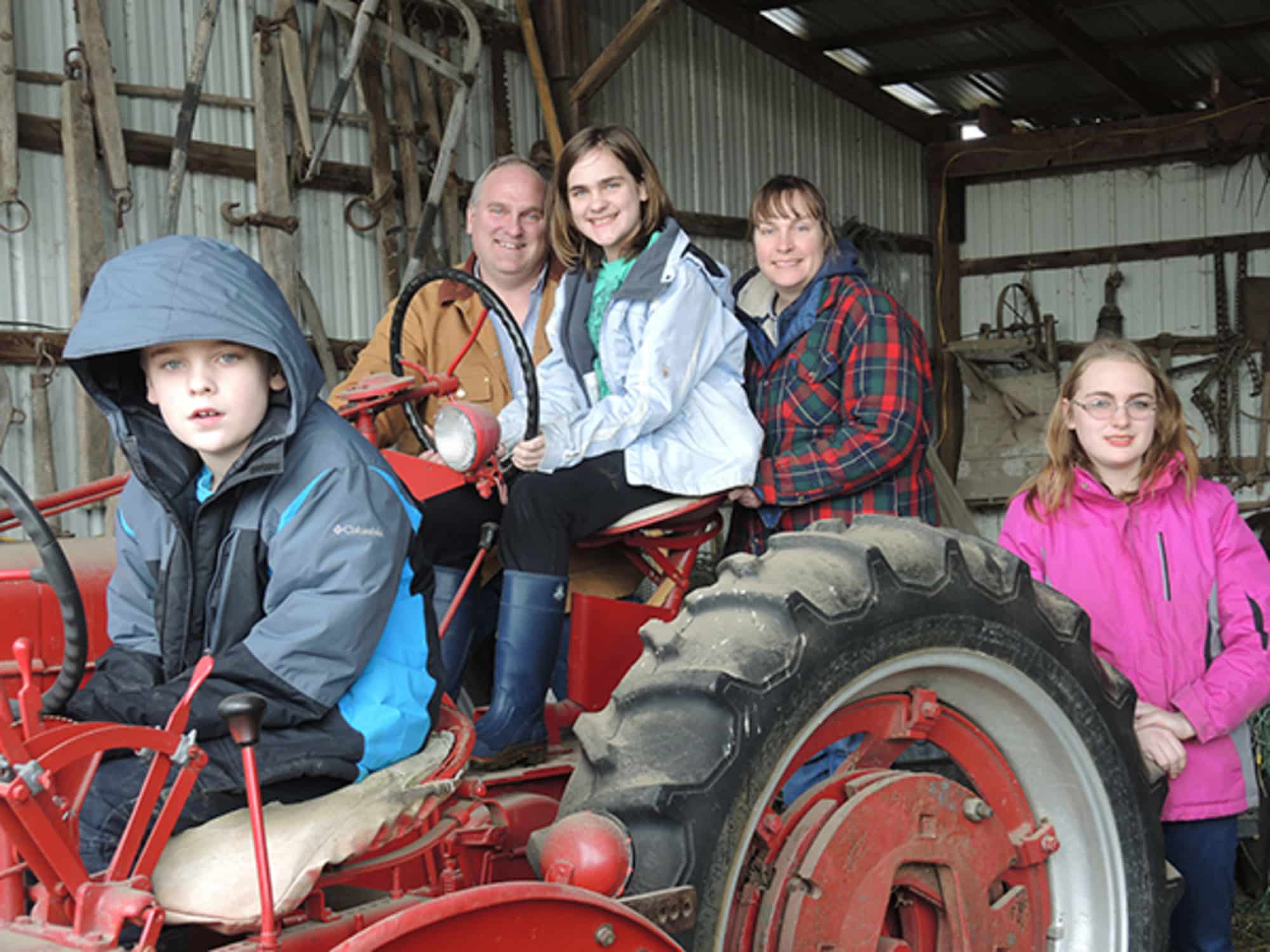 Peter Larson, from architect to farmer
One-half of the dynamic duo behind "Just a Few Acres Farm" has deep farming roots. Peter Larson was born and raised on his grandfather's cattle farm in Lansing, NY. His early experiences on the family farm instilled a love for agriculture, and his connection to the land was further strengthened by spending time with his grandfather, who owned the original 45-acre farm dating back to 1804. Eventually, he inherited the family farm in 1977, after his grandfather died.
His journey took an intriguing turn when he went to Syracuse University in New York State, and graduated with a bachelor's degree in Architecture. Instead of committing to further enhancing the family farm, he pursued a career in designing buildings, with an architectural firm specializing in education design, specifically colleges and grade schools. He worked his way up, and at 31 years old, became part owner of the firm. He felt at that time that he was quite privileged, as it happened to him just nine years after graduating from college.
Peter honed his skills in design, making it a lucrative pursuit for the family's finances. At that time, he never anticipated that these skills would later become invaluable in transforming the farm, and documenting its journey for public sharing. As a principal partner, Peter already had the freedom to select the projects he wanted to work on, and determine his own hours, but something was troubling him, and his anxiety was growing. After pondering over it for five years, he came to the conclusion that something had already changed within him. Initially, he asked for a leave of absence, but later on, bid his co-workers goodbye after working with them for 17 years. His family's rich history in Lansing set the stage for Peter's eventual return to farming.
Hilarie Larson, from nurse to farmer's wife
Hilarie Larson, Peter's life and business partner, embarked on a distinctive path of her own. Her early years were spent in Wappingers Falls, nestled along the banks of the Hudson River. Her father was a teacher, while her mother was employed at IBM. At the tender age of four, her parents went their separate ways, and her mother found love once more, leading Hilarie to reside with her new family. Hilarie earned her associate degree from Dutchess Community College, then continued her pursuit of knowledge, graduating with a Bachelor's Degree in Nursing from the State University of New York Health Science Center in Syracuse.
Hilarie carved her niche in the healthcare industry for a significant period, then like her husband, she quit her job to concentrate on supporting Peter on the farm, and looking after their growing family.
Renovating the 1860s farmhouse
When Peter and Hilarie tied the knot, they were both residing and working in Syracuse. However, Peter soon realized that he needed to return to Lansing, and tend to the property his grandfather had bequeathed to him. The farmhouse, which his great-great-grandfather had begun building in 1860 and completed by 1870, had fallen into disrepair and was rotting. Nevertheless, with some extensive renovations, it could be made habitable once more. During this time, the couple acquired a trailer home, placing it on the property as they embarked on the farmhouse's transformation.
Peter meticulously planned the renovations, and opted to undertake much of the work himself. Although he possessed skills in architectural design, he had no prior experience in construction. Nevertheless, he courageously embraced the challenge, but also hired sub-contractors for those areas in the house that were beyond his capabilities. His father also helped in cutting down oak trees so that the wood could be used for the flooring of the house. They bid farewell to their Syracuse apartment, and redirected the monthly rent they had allocated for it toward covering the ongoing renovation expenses. It took Peter four years of dedication and hard work to somehow complete the renovation, finally allowing them to move into their cherished home. However, the renovations in the property as a whole continued for 14 years, as he added more structural buildings along with expanding the main house as his family was growing.
The family comes first
Peter met Hilarie through a mutual friend, a former college roommate who had been encouraging him for quite some time to meet her. They got married in 1995 after two years of dating, and a year later, they moved back to Peter's family farm. By 2002, their eldest child was born, and soon after, two more children completed their family. Peter and Hilarie's personal and professional lives are closely intertwined with family values at the core, and their three children – Cora, Grace, and Henry – play active roles. These children not only bear witness to the farm's transformation but also actively participate in its daily operations, instilling a sense of responsibility and a love for the land in the next generation.
Just a Few Acres Farm, the diversified livestock farm
After Peter's grandfather passed away, the farm took a different path. Driven by dreams of pursuing a college degree and later a career in architecture, he leased the land to neighboring farmers. The farmhouse property, which once echoed with a rich farming heritage, lay dormant. It took time, determination and the unwavering support of his wife, but Peter eventually returned to his roots. After renovating the family farmhouse, saving diligently, quitting his architectural job, and reclaiming the lease, he breathed new life into the land. Among the well-cared animals they raise are:
Cornish Cross Chickens
Nestled on lush pastures, these chickens yield flavorsome and nourishing poultry that graces dinner tables. The birds are raised with care, their season running from April to October each year. They are housed in open-bottomed pens that offer safety and comfort. What sets them apart is their daily migration to fresh ground, not only granting them the luxury of feasting on bugs and grass, but also contributing to the land's fertility through their natural fertilization.
Their farm is home to seven distinct heritage breeds of laying hens, comfortably housed on portable hay-wagons where they diligently lay eggs, safe from any potential predators.
Broad-Breasted White Turkeys
The Larsons raise turkeys with meticulous timing to ensure that they're available during the fall and winter holidays. Similar to their chickens, these turkeys also graze on fresh pastures, but relocate to new areas weekly. They take shelter at night in what they fondly refer to as a "mobile turkey ark," while during the day, they're in a well-protected, spacious area enclosed by portable fencing.
Ireland's Dexter Cattle Beef
Peter and Hilarie's commitment to quality extends to their exceptional Dexter cattle. These ADCA-registered, 100% grass-fed animals originally hailed from Ireland, produce beef that's richly marbled with a deep red hue, and an exquisite taste that's unparalleled. Like their other animals, Dexter Cattle graze on fresh patches of grass daily during the warmer months. During winter, they feast on the excess pasture growth from earlier months, ensuring their well-being, and maintaining high-quality beef.
Gloucestershire Old Spot pigs
On the farm, the pigs roam freely in pastures bordering the forest's edge. They have selected these specific areas for their abundance of plants, which offer the pigs a diverse and flavorful diet, contributing to their overall well-being. The couple firmly believes that contented pigs result in the finest pork, and the Gloucestershire Old Spot pigs are no exception.
Pete at Just A Few Acres Farm shares his three tips for growing a small group of #pigs efficiently. To accomplish providing feed on demand he got a Big Wheel Feeder… watch: https://t.co/vk7MQ37d6j

— Osborne Industries (@OsborneInd) May 7, 2020
Sustainable farming practices
The Larson family is a firm believer in using sustainable farming practices in managing their livestock. They embrace rotational grazing, composting, and organic fertilization with open arms. To them, the well-being of their animals, through these natural and sustainable methods, is the secret ingredient behind the exceptional taste and nutritional value of their meats. This dedication to sustainable farming ensures that every product that bears their name is of the highest quality.
Dispelling myths about their farm
While Peter and Hilarie are passionate about sharing their wealth of knowledge about small-scale farming, there are a few misconceptions they'd like to clear up. First and foremost, they want to emphasize that their farm does not offer educational tours or accommodate visitors; it's a sanctuary for their animals and a place of dedicated work, rather than a public attraction. Additionally, they don't sell farm products or live animals through any online marketplaces. Instead, they have a direct-to-consumer approach. If you're interested in their high-quality products, you won't find them in an online store. What you will discover, however, is a selection of branded merchandise in their online shop. This includes clothing, footwear, gear, and drinkware – perfect for those who want to wear their support for "Just a Few Acres Farm" with pride.
From Farmers to YouTube Sensations
"Just a Few Acres Farm" has made a remarkable splash in the digital world, thanks to their captivating and informative DIY YouTube channel, aptly named after their farm. Launched in 2019, this channel has grown to a staggering community of over 400,000 subscribers, and boasts an impressive tally of more than 100 million views of their videos. It's a thriving platform that bridges the gap between them and a global audience, allowing them to fervently share their love for farming and the art of building.
Diverse and interesting content
The Larsons have wielded this platform with finesse, uploading a treasure trove of videos spanning a wide variety of topics. Their content delves into the intricacies of livestock husbandry, sustainable farming practices, and tutorials on transforming small family farms into robust, resilient enterprises in the face of the competitive "bigger is better" farming industry. They generously offer insights into building techniques, shrewd buying and selling strategies, the art of mastering both new and vintage equipment, and the invaluable wisdom of launching a farm without the burden of debt. Each video is a testament to their boundless creativity, and their remarkable expertise in farming, marketing, and construction.
Interactive engagement
What truly sets their YouTube channel apart is Peter's active engagement with their audience. Through spirited Q&A sessions, he ensures that viewers have a direct line to them, allowing questions to be fielded and answered. This interactive approach has fostered a dedicated and engaged community of fans who feel a real connection to the Larsons. In fact, their commitment to their audience is so strong that they even dedicated an entire video to Hilarie, addressing the curiosity of fans who wondered why she remained relatively quiet on the channel. This video offered a glimpse into her unique experiences as a farmer's wife, further strengthening the bond with their viewers.
Most Popular Videos in "Just a Few Acres Farm"
The channel aims to share the realities of small farm life, and the authenticity of each video resonated with most of its viewers. Here are the top three most popular videos from their channel:
"Processing a Giant Pig", with over 3.5 million views
Uploaded in December 2020, this video showcases Peter Larson's process of handling a colossal pig weighing over 800lbs, about 300kgs. The video takes viewers through the entire journey, demonstrating the act of humane processing, which includes skinning, gutting, cleaning and hanging up the pig using an array of tools and techniques. While the actual killing is not shown, the viewers can hear what's happening. Peter's approach to keeping the process on the farm to spare the pig the stress of transport to a slaughterhouse resonated deeply with viewers. Many expressed admiration for his profound respect for his animals.
"Bull Battle!"  with 3.3 million views
Posted in October 2021, this video comes as no surprise to be a fan favorite. It captures the farm's two resident bulls, Ordin and Titus, engaging in an epic battle for supremacy. Peter humorously dubbed it their "annual bull battle," as he prepared them for the return of his Dexter cattle herd after their separation during the breeding season. The battle rages on for hours, and Peter lets the two bulls duke it out. In the end, Titus emerges victorious, while Ordin is left sulking away from the herd. The video also showcased Peter's remarkable ability to communicate with his cows, as they obediently follow his instructions, adding an entertaining and astonishing twist to the story.
"One Bad Day for the Piglets" with 3.3 million views
In January 2022, Peter documented the challenges of raising piglets in frigid weather, ensuring they stay well-fed and warm. The video with its apt title, portrays the trials of this particular day. The males are separated from their sisters and mother for castration, leading to stress among the pigs, including a boisterous mother who can't stop making noise until her piglets are safely returned to the pen. While the video doesn't show the castration process itself, Peter directs those interested to an older video, in which the entire procedure is shown in detail.
These videos not only provide a glimpse into the daily life of a small farm, but also showcase Peter's humane and respectful approach to animal care, making them both captivating and educational for their ever-growing audience.
Financial Harvest: The Larsons' Net Worth and Earnings
Peter and Hilarie Larson's financial journey revolves around two primary sources of income, rooted in their ever-expanding empire, "Just a Few Acres Farm." Their YouTube channel has proven to be a fertile ground for revenue, increasing through advertisements and sponsored content. The more subscribers and more views their channel received each week would mean more income. Additionally, their merchandise line, featuring a range of apparel, tools and accessories, is readily available through their official website.
Their assets, such as the Lansing property graced with a newly renovated farmhouse and supplementary structures, along with a suite of modern farming equipment, all contribute to their financial portfolio. It's the fruit of their relentless dedication to both the farming craft and content creation. Recent assessments, sourced from credible authorities, place their net worth at a remarkable $5 million. This substantial financial achievement stands as a testament to their tireless labor and relentless commitment to their dual passions of farming, and sharing their journey with the world.
The success of "Just a Few Acres Farm" is a story of collective effort, but it was the unwavering commitment of Peter that's served as its guiding force. He embarked on a mission to transform the legacy his grandfather left him into something truly extraordinary, doing so with a steadfast dedication to sustainable practices. In the end, Peter's vision and tireless effort has culminated in the realization of his family's dream—to produce wholesome, healthy food for their community, while concurrently sharing invaluable insights into sustainable farming methods through their captivating YouTube channel.