• Katheryn Winnick is a Canadian born actress of Ukrainian descent, born in 1977.
• She holds a 2nd degree black belt in karate and a 3rd degree black belt in Taekwondo.
• She is best known for her roles in "Bones" (2010-2011) and "Vikings" (2013-present).
• She has won awards and nominations, including a 2012 Beverly Hills Film Festival Award for Best Actress and several Canadian Screen Awards.
• She is active across social media sites and has her own website.

Known for movies
Short Info
| | |
| --- | --- |
| Date Of Birth | December 17, 1977 |
| Fact | Opened her first martial arts studio at the age of sixteen, Win Kai Martial Arts, which quickly expanded to three successful branches in New York and Toronto. |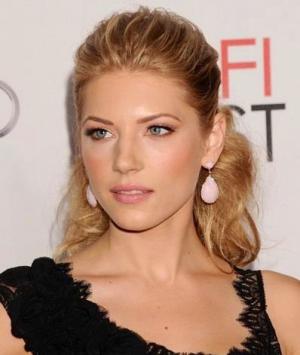 Who is Katheryn Winnick?
Katerena Anna Vinitska was born on the 17th December 1977 in Etobicoke, Ontario Canada, of Ukrainian ancestry, and better known by her stage name. Katheryn Winnick, is an actress who is probably best recognized for starring in the role of Hannah Burley in the TV series "Bones" (2010-2011) and as Lagertha in the hit TV series "Vikings" (2013-present). Her career has been active since 1999.
— Katheryn Winnick (@KatherynWinnick) March 3, 2018
Early Life and Education
Regarding her early life, Katheryn was raised alongside her three siblings in Etobicoke by her father, Roman Winnicki, and her mother, Lesya Winnicki; her brother is Markjan Winnick, who is also involved in the entertainment industry as an actor. As she hails from a Ukrainian family, so her first language is Ukrainian, and she did not speak English until the age of eight. To talk about her education, upon graduation from York University, Toronto, she moved to New York to study acting at William Esper Studio, then moved to Los Angeles, California to pursue a career as a professional actress.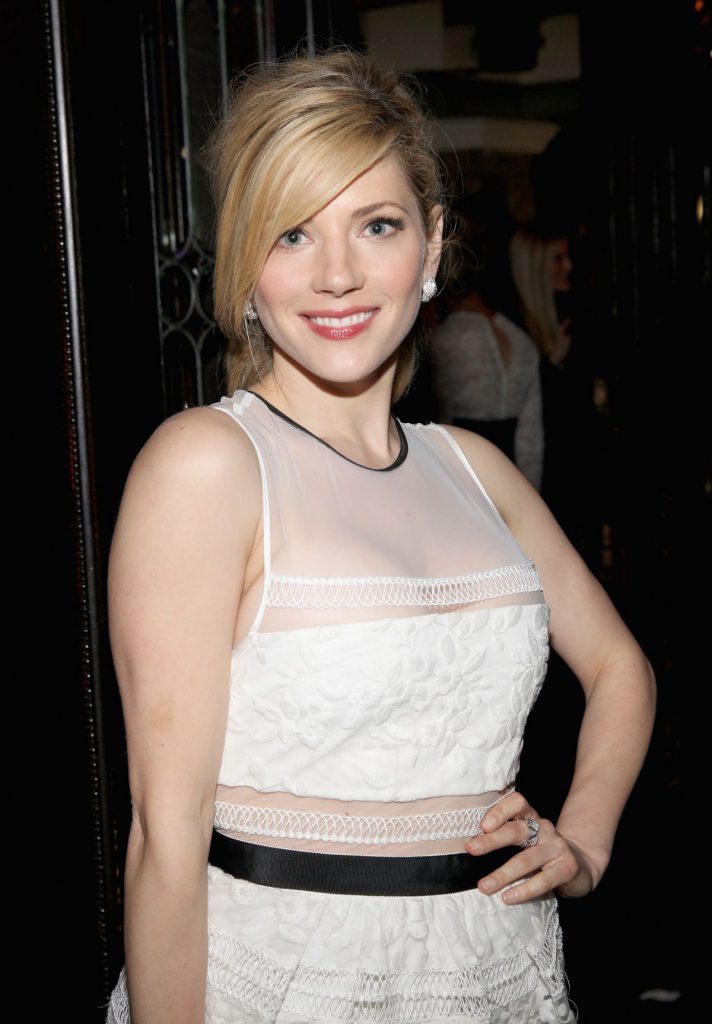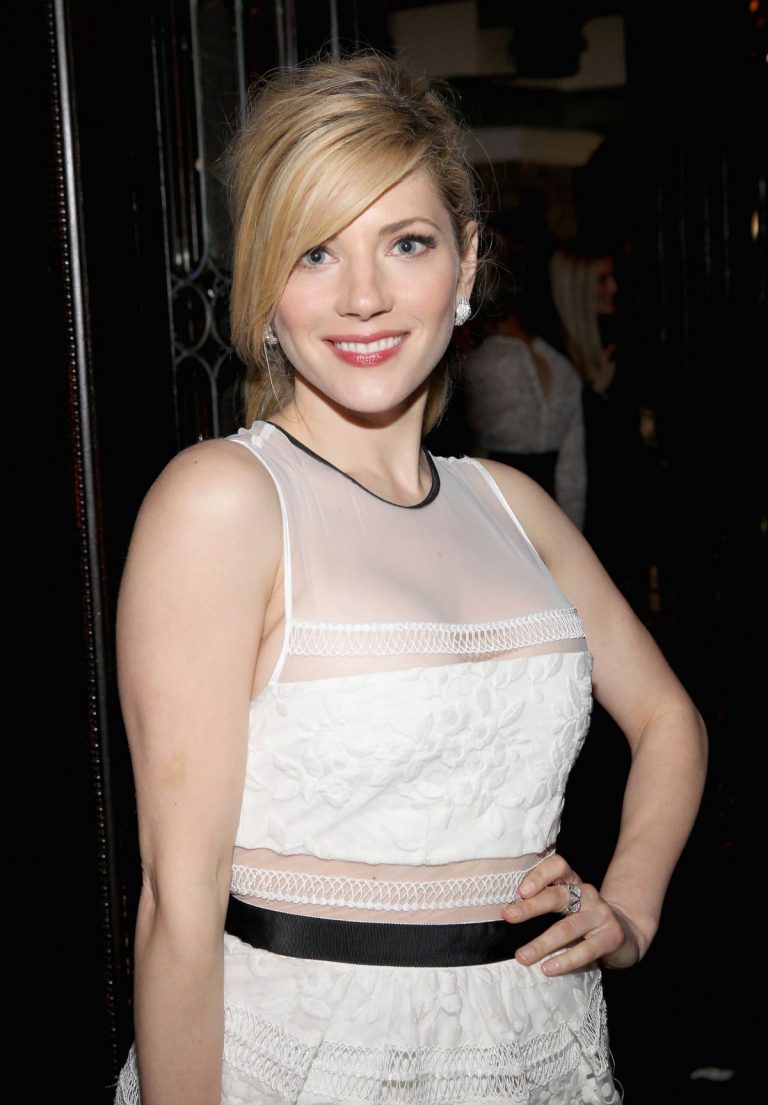 Martial Arts
As a seven-year-old girl, Katheryn started training in martial arts, and obtained her first black belt at the age of 13. Thanks to her skills and talents, she managed to open her own martial arts school, called Win Kai Martial Arts, when she was 17 years old, which later expanded. She currently holds a second-degree black belt in Karate as well as a third-degree black belt in Taekwondo.
Career Beginnings
Prior to becoming an actress, Katheryn worked as a licensed bodyguard as well as a teacher of martial arts, who trained actors on film sets. Soon she caught the attention of producers and directors due to her beauty and charisma, and her acting career started when she appeared in support role in an episode of the TV series "Faktor PSI" in 1999, after which she was chosen to portray Holly Benson in the TV series "Student Bodies" between 1999 and 2000. In the following year, Katheryn made her debut film appearance in the role of Jennifer in the title "Biohazardous", which led her to further develop her talents.
Rise to Fame
Katheryn's breakthrough came in 2002, when she played Marcia in the film "Smoking Herb", starred in the role of Liz in Ari Kirschenbaum's film "Fabled", and as Tiffany in the film "TwoWeeks Notice", along with Sandra Bullock and Hugh Grant. Afterwards, she guest-starred in several TV series, such as "Oz", "Wild Card" and "10-8: Officers On Duty", all in 2003, which was followed by her portrayal of Jenna Whooly in the 2004 film entitled "Satan's Little Helper".
Her next major role came two years later, when she featured as Melissa in the film "Failure To Launch", starring alongside Sarah Jessica Parker and Matthew McConaughey. Parallel with all of these appearances, she also guest-starred in such TV series as "CSI: Miami" (2004), "Criminal Minds" (2006) and "Law & Order" (2008), among many others. By the end of the decade, she was also cast as Lou Salome in the 2007 film "When Nietzsche Wept", played Tabitha in the film "Amusement" (2008) and landed the role of Sveta in the film entitled "Cold Souls" in 2009. During the next year, Katheryn was chosen to play Hannah Burley in the TV series "Bones", which lasted for a season, and appeared as July in the film "Night And Day" (2010), adding a considerable amount to her net worth.
The 2010s and "Vikings"
Katheryn's first major role in the new decade came in 2011, when she was cast as Fiona Wagner in the 2011 film "Choose", after which she landed the role of Ivana in the film entitled "A Glimpse Inside The Mind Of Charles Swan III" (2012), directed by Roman Coppola, featured as Samantha Thomas in the short film "Children Of The Air" (2012), and portrayed Lola in the film "The Art Of The Steal" in 2013.
During the same year, she gained enormous popularity all over the world as she started portraying Lagertha, the wife of the famous Viking Ragnar Lodbrok and one of the most important figures in Viking history, in the TV series "Vikings" (2013-present), which airs on the History Channel.
My #Vikings family. ? pic.twitter.com/KfdDbKFe0A

— Katheryn Winnick (@KatherynWinnick) January 23, 2018
Recent Projects
To speak further about her acting career, Katheryn guest-starred as Frankie Wells in an episode of the TV series "Person Of Interest" in 2015, played Laurie in the 2017 film "The Dark Tower" and also did a voice over for the video game "Call Of Duty: WWII" in the same year.
Most recently, she started filming the TV series "Wu Assassins", and it's been announced that she will featured in two film titles – "Speed Kills" and "Polar". So, her net worth will be certainly increase in the forthcoming years.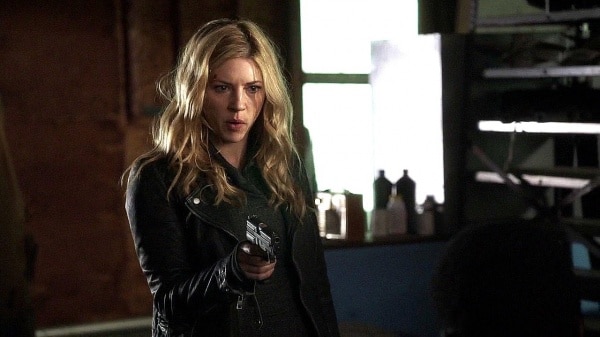 Awards and Nominations
Thanks to her accomplishments in the world of acting, Katheryn has won several significant awards, and nominations. She won the 2012 Beverly Hills Film Festival in the category of Best Actress for her appearance in "Children Of The Air", while her portrayal of Lagertha in the TV series "Vikings" earned her nominations for such awards as Canadian Screen Award, Golden Maple Awards, Women's Image Network Awards and Critics' Choice Television Award.
Katheryn Winnick Net Worth
Her career started in 1999 and since then, she has been an active member of the entertainment industry, primarily known as a professional actress. So, if you ever wondered how rich Katheryn Winnick is, it has been estimated by authoritative sources that the size of her net worth is over $1 million, accumulated through her successful career as an actress and martial arts teacher.
Does Katheryn Winnick have a Husband?
When it comes to speak about her personal life, there is no information about it in the media, as she obviously keeps it to herself, and as far as is known, she is currently single and does not have a husband. There are rumors that she dated Nick Loeb, but Katheryn denied it and stated that they were just good friends.
Appearance and Vital Statistics
Speaking about her appearance, Katheryn is apparently a beautiful young lady with an amazing body. She is 5 feet 6 inches (168 cms) tall and her weight is reputed to be around 121 lbs (55 kgs), while her vital statistics are 34-24-34. She has long blonde hair and blue eyes.
Social Media Presence
In addition to her involvement in the entertainment industry, Katheryn is in her spare time very active across many of the most popular social media sites, including her official Instagram account, on which she has more than 2.2 million followers, as well as her official Twitter account. Moreover, she has also launched her own website, where you can find more information about her upcoming projects.
General Info
| | |
| --- | --- |
| Full Name | Katheryn Winnick |
| Date Of Birth | December 17, 1977 |
| Height | 1.68 m |
| Profession | Martial Artist, Bodyguard, Actor |
| Education | William Esper Studio |
| Nationality | Canadian |
Family
| | |
| --- | --- |
| Parents | Lesia Winnicki, Roman Winnicki |
| Siblings | Markjan Winnick, Daria Winnick, Adam Winnick |
Accomplishments
| | |
| --- | --- |
| Nominations | Critics' Choice Television Award for Best Supporting Actress in a Drama Series, Gotham Independent Film Award for Best Ensemble Performance, Canadian Screen Awards - Shaw Media Award for Best Performance by an Actress in a Continuing Leading Dramatic Role |
| Movies | Love & Other Drugs, Killers, Cold Souls, Failure to Launch, Kiss Me Again, A Glimpse Inside the Mind of Charles Swan III, Stand Up Guys, Amusement, The Art of the Steal, Geostorm, Hellraiser: Hellworld, Satan's Little Helper, Radio Free Albemuth, Two Weeks Notice, What Alice Found, Going the Distanc... |
| TV Shows | Vikings, Student Bodies, The It Factor |
Social profile links
Quotes
| # | Quote |
| --- | --- |
| 1 | I was told this is a male-dominated network and the male demographic is stronger than female. This is a show about Vikings and you are just the wife. I remember thinking that was not the way I was going to play it. |
| 2 | I grew up being a bit of a tomboy, a big-time tomboy. |
| 3 | My first car was a Chevy Cavalier. My dad somehow convinced me that it was a hot sports car because it was red. |
| 4 | I grew up in a martial arts gym surrounded by men and boys, and I pretty much call myself a tomboy. |
| 5 | I started training in martial arts when I was 7 years old. I got my first black belt at 13. |
| 6 | When I was growing up, there were times I had to compete against boys in tae kwon do, and I'd show them right away that I wasn't someone to mess with. |
| 7 | I'm a 3rd degree black belt in Tae Kwon Do and 2nd degree in karate, and I'm a licensed bodyguard. |
| 8 | I started my own martial arts school at 16. And by the time I was 21, I had three different schools. |
| 9 | The Norse way of speaking, no one really knew what the Vikings sounded liked, they were Norsemen. The accent is really a combination of a Scandinavian accent, maybe with a Swedish accent and an old way of speaking. |
Facts
| # | Fact |
| --- | --- |
| 1 | Katheryn's last name of 'Winnick' means 'winemaker' when expressed in Ukrainian. |
| 2 | Her brother Markjan Winnick is also an actor. |
| 3 | Was handpicked from thousands of aspiring young actors to be featured in the initial season of Bravo's popular documentary TV series, The It Factor (2002). |
| 4 | Chosen by Vanity Fair to appear in the magazine's high-profile and highly-selective "Vanities" section (September 2009). |
| 5 | Opened her first martial arts studio at the age of sixteen, Win Kai Martial Arts, which quickly expanded to three successful branches in New York and Toronto. |
| 6 | Holds a 3rd-Degree Black Belt in Tae Kwon Do, a 2nd-Degree Black Belt in Karate, and is a licensed bodyguard. |
| 7 | Her brother Adam is a Canadian soldier fighting in Afghanistan. |
| 8 | Got kicked out of summer camp for "reckless behavior" when she was 14. |
| 9 | Won silver medals at the Canadian National Tae Kwon Do finals. |
| 10 | Studied acting at New York's William Esper Studio. |
Pictures
Movies
Actress
| Title | Year | Status | Character |
| --- | --- | --- | --- |
| Geostorm | 2017 | post-production | Olivia |
| The Dark Tower | 2017 | post-production | Laurie Chambers |
| Vikings | 2013-2017 | TV Series | Lagertha |
| Stripped | 2016/I | Short | Margaret Dupre |
| Person of Interest | 2015 | TV Series | Frankie Wells |
| Vikings: Athelstan's Journal | 2015 | TV Series | Lagertha |
| The Art of the Steal | 2013 | | Lola |
| Transporter: The Series | 2012 | TV Series | Darcy Daniels |
| A Glimpse Inside the Mind of Charles Swan III | 2012 | | Ivana |
| Stand Up Guys | 2012 | | Oxana |
| Children of the Air | 2012 | Short | Samantha Thomas |
| Nikita | 2011 | TV Series | Kelly |
| The Glades | 2011 | TV Series | Valerie Dorman |
| Bat $#*! Crazy | 2011 | | Girlfriend |
| Bones | 2010-2011 | TV Series | Hannah Burley |
| Choose | 2011/II | | Fiona Wagner |
| Night and Day | 2010 | | July |
| Love & Other Drugs | 2010 | | 'Lisa' |
| Radio Free Albemuth | 2010 | | Rachel Brady |
| The Gates | 2010 | TV Series | Kat Russo |
| Killers | 2010 | | Vivian |
| Tranced | 2010 | | Cleo |
| Law & Order: Criminal Intent | 2002-2009 | TV Series | Carrie Conlon / Karyn Barrett |
| Cold Souls | 2009 | | Sveta |
| CSI: Crime Scene Investigation | 2009 | TV Series | Maureen Martin |
| Amusement | 2008 | | Tabitha |
| Law & Order | 2008 | TV Series | Sarah Shipley |
| Law Dogs | 2007 | TV Movie | Lisa Bennett |
| When Nietzsche Wept | 2007 | | Lou Salome |
| House M.D. | 2007 | TV Series | Eve |
| Tipping Point | 2007 | TV Movie | Nina Patterson |
| Kiss Me Again | 2006 | | Chalice |
| Criminal Minds | 2006 | TV Series | Maggie Lowe |
| Failure to Launch | 2006 | | Melissa |
| Cloud 9 | 2006 | | Olga |
| 13 Graves | 2006 | TV Movie | Amy |
| CSI: NY | 2005 | TV Series | Lisa Kay |
| Hellraiser: Hellworld | 2005 | Video | Chelsea |
| Trump Unauthorized | 2005 | TV Movie | Ivana Trump |
| Our Time Is Up | 2004 | Short | Waif |
| Going the Distance | 2004 | | Trish |
| CSI: Miami | 2004 | TV Series | Nicole Harjo |
| Satan's Little Helper | 2004 | | Jenna Whooly |
| 50 First Dates | 2004 | | Young Woman |
| 10-8: Officers on Duty | 2003 | TV Series | Lucy Johnson |
| Wild Card | 2003 | TV Series | Kendall |
| 1-800-Missing | 2003 | TV Series | Julie Snyner |
| Oz | 2003 | TV Series | Liesel Robson |
| What Alice Found | 2003 | | Julie |
| Two Weeks Notice | 2002 | | Tiffany |
| Daddy's Little Girl | 2002 | Short | |
| Fabled | 2002 | | Liz |
| Tracker | 2002 | TV Series | Laura |
| Smoking Herb | 2002 | | Marcia |
| Screech Owls | 2001 | TV Series | Brianna Styles |
| Biohazardous | 2001 | | Jennifer |
| Relic Hunter | 2000 | TV Series | Roselyn |
| Student Bodies | 1999-2000 | TV Series | Holly Benson |
| PSI Factor: Chronicles of the Paranormal | 1999 | TV Series | Suzie |
Soundtrack
| Title | Year | Status | Character |
| --- | --- | --- | --- |
| A Glimpse Inside the Mind of Charles Swan III | 2012 | performer: "Águas de Março" | |
Miscellaneous
| Title | Year | Status | Character |
| --- | --- | --- | --- |
| Ticket to Hellworld: A Behind-the-Scenes Look | 2005 | Video short behind-the-scenes footage | |
Self
| Title | Year | Status | Character |
| --- | --- | --- | --- |
| The Red Booth | 2017 | TV Series | Herself - Guest |
| WGN Morning News | 2016 | TV Series | Herself |
| IMDb at San Diego Comic-Con | 2016 | TV Series | Herself |
| Vikings: Season 3 - Guide to the Gods | 2015 | Video documentary short | Herself |
| Vikings: Season 4 - Guide to the Gods | 2015 | Video documentary short | Herself |
| BELLOmag Presents: A Conversation with Katheryn Winnick | 2015 | TV Movie | Herself - Guest |
| Today | 2015 | TV Series | Herself |
| Last Call with Carson Daly | 2015 | TV Series | Herself - Guest |
| Connecticut Style | 2015 | TV Series | Herself |
| Sidewalks Entertainment | 2015 | TV Series | Herself - Guest |
| IMDb: What to Watch | 2015 | TV Series documentary | Herself |
| Rachael Ray | 2014 | TV Series | Herself |
| Vikings: Birth of the Vikings | 2013 | Video documentary short | Herself |
| The Late Late Show with Craig Ferguson | 2013 | TV Series | Herself - Guest |
| MSN Exclusives | 2012 | TV Series | Herself (2013) |
| Ticket to Hellworld: A Behind-the-Scenes Look | 2005 | Video short | Herself |
| The It Factor | 2002 | TV Series | Herself |
Archive Footage
| Title | Year | Status | Character |
| --- | --- | --- | --- |
| Vikings: Athelstan's Journal | 2015 | TV Series | Lagertha |
Awards
Won Awards
| Year | Award | Ceremony | Nomination | Movie |
| --- | --- | --- | --- | --- |
| 2012 | Best Female Performance | Beverly Hills Film Festival | Best Actress | Children of the Air (2012) |
| 2002 | Short Film Award | New York International Independent Film & Video Festival | Best Actress | Daddy's Little Girl (2002) |
Nominated Awards
| Year | Award | Ceremony | Nomination | Movie |
| --- | --- | --- | --- | --- |
| 2015 | Critics' Choice TV Award | Critics Choice Television Awards | Best Supporting Actress in a Drama Series | Vikings (2013) |
| 2015 | Golden Maple Awards | Golden Maple Awards | Best Actress in a TV Series Broadcasted in the US | Vikings (2013) |
| 2015 | WIN Award | Women's Image Network Awards | Actress Drama Series | Vikings (2013) |
| 2014 | Canadian Screen Award | Canadian Screen Awards, CA | Best Performance by an Actress in a Continuing Leading Dramatic Role | Vikings (2013) |
| 2014 | Canadian Screen Award | Gemini Awards | Best Performance by an Actress in a Continuing Leading Dramatic Role | Vikings (2013) |
| 2014 | WIN Award | Women's Image Network Awards | Actress Drama Series | Vikings (2013) |
| 2009 | Gotham Independent Film Award | Gotham Awards | Best Ensemble Performance | Cold Souls (2009) |
Source:
IMDb
,
Wikipedia