Frida Gusatvsson Wiki
This enigmatic starlet has taken the entertainment industry by storm, capturing hearts around the world with her acting talent and signature looks. Frida Gustavsson, with her blonde hair, piercing blue/grey eyes, and towering height of 6ft 1in (1.85m), walked the catwalk for various popular fashion brands, and then showed her acting skills playing Freydis Eriksdotter in the series "Vikings: Valhalla", making her character one of the favorite Viking warriors.
Let us tell you more about her journey from fashion to acting, how she overcame her divorce, and what's new in her life.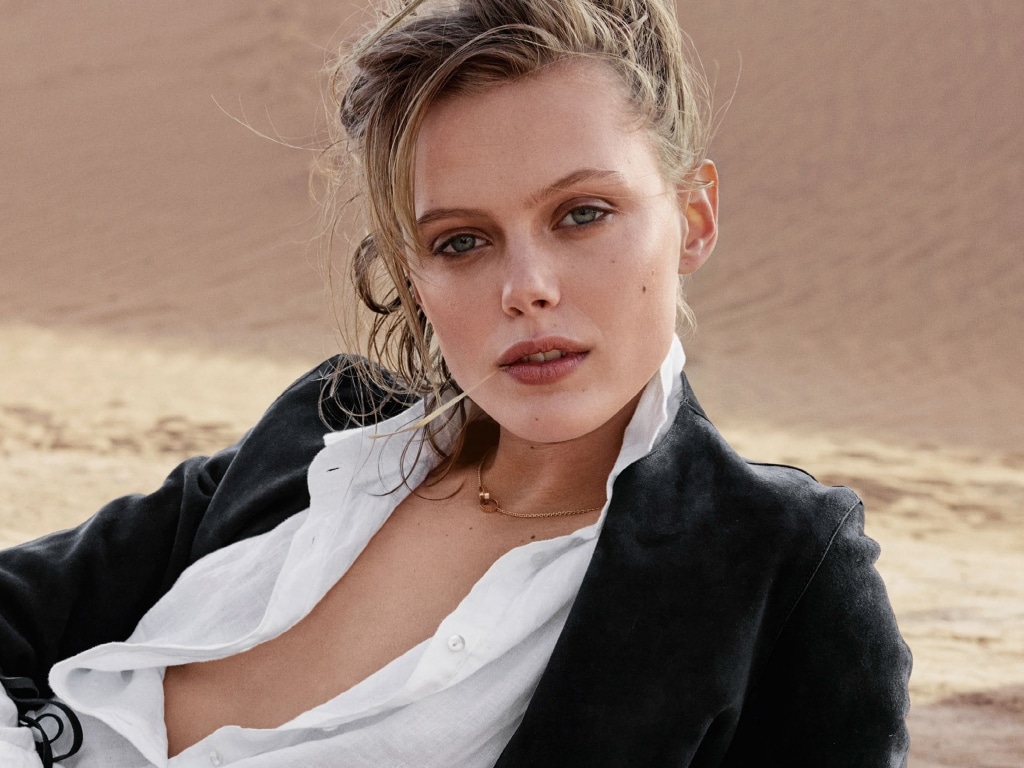 Early life, family, and education
Born under the zodiac sign of Gemini on 6 June 1993, Frida recently celebrated her 30th birthday. A native of Stockholm, Sweden, she was raised by her parents, a teacher, and a salesman. She hasn't shared their names, and Frida  hasn't spoken about siblings, thus many believe that she's an only child.
As a young girl, Frida was into sports; she was a hurdler and runner, and long jumper, and dreamed of competing in the Olympics. However, when she was 14 years old, Frida had a knee injury that prevented her from achieving her goal.
When it comes to her educational background, she attended Saint Martins Gymnasium, and upon matriculating in 2011, she didn't go to college but pursued her modeling career.
Modeling career
Frida was discovered while she was walking through IKEA with her parents; she was 12 years old. Her modeling career began locally, and in 2008, she signed with Donna Models, a modeling agency from Tokyo, Japan. She briefly worked there before returning to Sweden and signing for Stockhomsgruppen. In the spring 2010 season, Frida was one of the most requested models, including featuring on the cover of the German Vogue magazine.
In 2011, she received the Elle Sweden's Model of the Year award, and was featured in magazines such as Numero, Elle, W, and Vogue in Japan, Italy, the US and UK.
In 2012, her modeling career blossomed after Frida opened the Valentino Haute Couture Fall show in Paris, France. Since then, Frida has walked the catwalk for Marc Jacobs, Louis Vuitton, Dolce & Gabbana, and Christian Dior, among many others.
In the following year, Frida became the face of Maybelline, an American cosmetics, skin-care, and perfume company. She was also seen in advertising campaigns for H&M, Prada, Jill Stuart, and Tiger of Sweden, just to name a few.
Since she always had an interest in acting, sometime in 2014, Frida auditioned for the role of Rey in the movie "Star Wars: The Force Awakens", and although she didn't get the part, this didn't sway her; Frida was determined to quit modeling and pursue a career as an actress.
Acting career
Frida made her acting debut in an episode of the Sweden TV series "Nar Karusellerna Sover" in 199, and wanted to continue appearing in front of the cameras. She then landed the role of Jenna Svensson in the 2015 TV mini-series "Arne Dahl: Efterskalv", an action crime drama that was hit in Sweden.
Four years later, Frida made her big-screen debut as Ninni in the romantic drama "Swoon", starring opposite Albin Grenholm in this story about forbidden love, betrayal and rivalry, which was nominated for the Silver Melies Award for Best European Fantastic Feature Film.
Frida was next seen as Vuxna Thea in the series "Dröm", and later in 2019, she made an appearance as Ma in "The Witcher", a popular action drama starring Henry Cavill and Freya Allan. Frida played the mother of Geralt of Rivia, Henry's character, and was Frida's debut in the American production show.
In the following year, Frida was seen as Alex in the series "De Utvalda", followed by her role as Vibeke in the biographic sports drama "Tigers" about the young football star, Martin Bengtsson, which had 10 award nominations and six wins. From 2020 through 2022, Frida had a recurring role as Clara in the series "Partisan".
"The Gods know the truth. Revenge is my destiny."

Frida Gustavsson is Freydís Eiríksdóttir. pic.twitter.com/AATZDfvTxF

— Vikings Valhalla (@NetflixValhalla) February 16, 2022
Next, she landed her most notable role as Freydis in "Vikings: Valhalla", also starring Sam Corlett, Paddy Hogan, and Leo Suter, and was seen in 15 episodes through 2022 and '23. The series follows the story of the legendary adventures of the most famous Vikings, and how these men and women fought for survival in the evolving world. It had 14 award nominations, including one for Primetime Emmy, and three wins. The show was well-rated by the audience (7.3/10), and fans can't wait for the announced third season.
Concurrently, Frida was seen starring as Tesla Dubcek in the 2022 fantasy horror "Dampyr", which was nominated for the David di Donatello Award – Best Visual Effects. While waiting for the third season of "Vikings: Valhalla", Frida's fans will see her as Emma in the movie "Unblinded", set to be released soon.
Love life, divorce, and relationships
Frida was married to Sweden photographer, Hjalmar Rechlin. The two met at one of the shooting sessions, and soon began a relationship. They exchanged their wedding vows on 30 May 2015, and the wedding ceremony was held at the Katarina Church, in Stockholm. Frida and Hjalmar divorced two years later, but she hasn't spoken about the reason for their separation.
In late 2017, Frida met her future second husband, also a model and actor, Marcel Engdahl. After five years of dating, the couple tied the knot in September 2022. As of August 2023, the couple lives in their residence in Stockholm.
How rich is Frida Gustavsson? Wealth, Net Worth
In one of her interviews, Frida said that her role as Freydis in "Vikings: Valhalla" changed her life. She gained fame and recognition not just because of her appearance, but because she showed the world that she is more than just a pretty face.
Frida occasionally works as a model, and most recently, she walked for the 2020 Jean Paul Gaultier Haute Couture Spring Show. Thanks to her modeling and acting career, Frida has made a good living for herself – according to sources, as of August 2023, she has a net worth estimated to be over $5 million.