Just a simple reminder that article is created and owned only by biographytribune.com. Article cannot be re-published in any other pages or documents. Copyright is protected by DMCA. All found copies will be reported.
Original source: https://biographytribune.com/who-really-is-internet-troll-uma-kompton-is-she-real-or-fake-her-wiki-net-worth-husband-married-cousin-bio/
Who is Uma Kompton?
Uma Kompton is not actually a real person, but an internet troll who is a made-up personality, probably best known for presenting as a singer and songwriter, being popular for her "By the River" single song.
https://www.instagram.com/p/Big8xZkFkQE/?utm_source=ig_web_copy_link
The truth is that Uma Kompton is a made-up name, assigned to pictures of a real person named Natalya Ulyanina, an identity stolen from the Russian version of Facebook – social media network VK – and then used in creating various fake profiles on other social media networks, primarily Twitter, in order to play pranks, upset and offend other people.
Uma Kompton was active on Twitter, on which 'she' posted offensive comments, often borderline and extreme, as well as starting quarrels in online discussions. It gained huge popularity and media attention before it was shut down, amassing a total of over 50,000 followers. The majority of Uma's comments and post revolved around various profanities; her claims that she is a Kylie Jenner look alike offended quite a large number of people, while her alias Abortion Clinic Queen polarized online quarrels.
In addition, as a singer and musician, the artificial personality also released a studio album entitled "The Trial Of Uma Kompton" which contained singles such as "Down by the River" as well as "Be Like Me"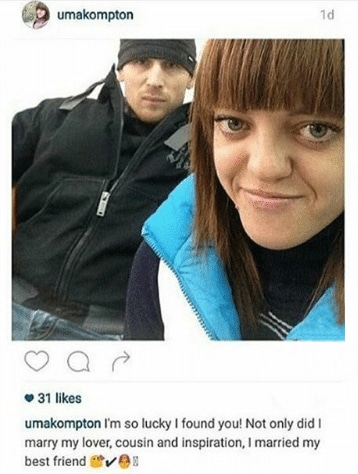 Uma Kompton's Net Worth
According to "sources", Uma Kompton's net worth revolved around the sum, as artificial as 'her' whole made up profile, of $15,000.
What was Uma Kompton's marital status?
As 'she' stated on her Twitter profile, 'she' was married to her cousin.
The real victim of Uma Kompton
The real victim of this whole hoax and masquerade was a Russian woman Natalya Ulyanina and her husband Evgeny. Due to Uma operating in the States, while the Ulyanina family is settled in Russia, Natalya and her husband were completely unaware of Uma Kompton. They eventually found out about this whole venture after people began approaching Natalya to find out some of Uma's personal opinions.