• Debbie Reynolds was a Caucasian actress, singer, film historian, businesswoman, humanitarian, and the mother of Carrie Fisher.
• She was born in 1932 in El Paso, Texas and won the Miss Burbank beauty pageant in 1948.
• She had a lengthy acting career from 1948 to 2015 and had 18 awards and 36 nominations.
• She opened her own dance studio in 1979 and released her self-produced exercise video in 198•
• Her vital statistics were 34-23-35, her height was 5ft 2ins (1.57m) and her weight was 112lbs (51kg) with a dress size of 4, shoe size of 6 and bra size of 32B.

Known for movies
Short Info
| | |
| --- | --- |
| Date Of Birth | April 1, 1932 |
| Died | December 28, 2016, Cedars-Sinai Medical Center, Los Angeles, California, United States |
| Spouse | Richard Hamlett, Harry Karl, Eddie Fisher |
| Mark | Short stature. |
| Fact | In 1969 she followed Doris Day and some of her contemporaries in launching a sitcom bearing her name. When the debut episode included an advertisement for cigarettes, a direct violation of one of her contractual stipulations, she made such a fuss about it that NBC ended up canceling the series. |
| Payments | Earned $150,000 from Bundle of Joy (1956) |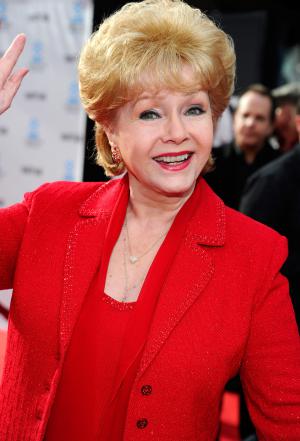 Who was actress Debbie Reynolds?
Born Marie Frances Reynolds under the sign of Aries on the 1st of April 1932, in El Paso, Texas USA, of Scots-Irish and English descent, Debbie was a Caucasian actress, singer, film historian, businesswoman, humanitarian, and the mother of the world-famous actress Carrie Fisher. She is perhaps best known to the world for her significant presence on both the cinema and TV screens in various prestigious and well-performed roles, such as in "Singin' in the Rain", "The Unsinkable Molly Brown" and "In & Out." She had a number of other roles during her lengthy and often lucrative acting career from 1948 until 2015. Debbie passed away on the 28th of December 2016 aged 84, just a day after her daughter succumbed following a heart attack.
Early Life and Education
Debbie was raised in her birthplace by her father Raymond Francis 'Ray' Reynolds, a Southern Pacific Railroad carpenter, and her mother, Maxine 'Minnie' (nee Herman), who did laundry locally so that their family could survive poverty, living in a shack on Magnolia Street in El Paso. Debbie had a two-years-older brother named William. What helped Debbie's family persist through this part of their lives was the fact that they were devout followers of the Nazarene church. In 1939, when Debbie was only seven years old, her family had saved enough to move to Burbank in California, where she attended Burbank High School, and in 1948 won the Miss Burbank beauty pageant. In spite of her popularity, it was revealed by her high school friend that she didn't date too much in high school, stating: 'They never found her attractive in school. She was cute, but sort of tomboyish, and as her family never had any money to speak of, she never dressed well or drove a car. I think during all the years in school, she was invited to only one dance.' On this subject, Debbie herself stated: 'When I started, I didn't even know how to dress. I wore dungarees and a shirt. I had no money, no taste and no training.'
Her Beginning
Upon winning the said beauty pageant, Marie was instantly noticed and contacted by Warner Bros, and soon nicknamed 'Debbie' by Jack L. Warner himself. She was actually supposed to go to either MGM or Warner Bros, but the talent scouts that attended the contest agreed on a coin toss, and it ended in favor of Warner Bros. Thus, Debbie stayed there for two years, appearing in various musicals until the movie company stopped producing them.
Career
Although she first hit the screen in 1948 in an uncredited role in "June Bride", her official debut appearance was as Maureen O'Grady in "The Daughter of Rosie O'Grady." Her first vocal performance was the song "I Wanna Be Loved by You" in "Three Little Words" in 1950., after which she left Warner Bros and joined MGM, where she would obtain the most significant role of her life, as Kathy Selden in "Singin' in the Rain" in 1952. Her fame then skyrocketed, and she overnight became a highly sought-after actress, resulting in one of the longest acting careers to date. Over the course of the next ten years, Debbie appeared in 21 films, oftentimes in a major role, then in eight more roles prior to 1970, including her very significant lead role performance in "The Unsinkable Molly Brown." Her TV series debut was in "Pat Paulsen's Half a Comedy Hour", after which through the early '70s she had her own series, entitled "The Debbie Reynolds Show." She had an eight-year-long break in between 1973 and 1981, but then had over 20 more roles up to 2000, including featuring in "Will & Grace" from 1999 to 2006.
Career Post-2000
Although Debbie was 68 years old in 2000, she still then had more roles than many Hollywood actors. She started out with three in 2000, following by three more in 2001. Additionally, she was a voice actress in "Rugrats" from 2000 to 2002. In between 2003 to 2007, she voiced Nana Possible in "Kim Possible," then to Mrs. Wilson in "Family Guy" in 2008, and to Granny Squirrel in "The Penguins of Madagascar", while concurrently starring in a short movie entitled "In the Picture". After that, she starred in "Behind the Candelabra" in 2013, and her final role was voicing in "The 7D" in 2015, at which point she was 83 years old. She was finally featured with her daughter in a documentary about her life in 2016.
Her Awards
With one of the most impressive acting careers recorded, Debbie Reynolds' name is behind a total of 18 awards and 36 nominations. It's important to note that she won all of her Walk of Fame, Screen Actors Guild, Savannah Film Festival, Satellite, Photoplay and Palm Springs International Film Festival awards, which is a total of seven. She was nominated for the Golden Globe award a total of five times, but never won one. That said, she won both of her American Comedy Awards, Costume Designers Guild Awards, Golden Apple Awards, Golden Boot Awards, Hasty Pudding Theatricals, Lone Star Film & Television Awards and National Board of Review nominations. In 2016, she was rewarded with an Humanitarian Award by the Academy.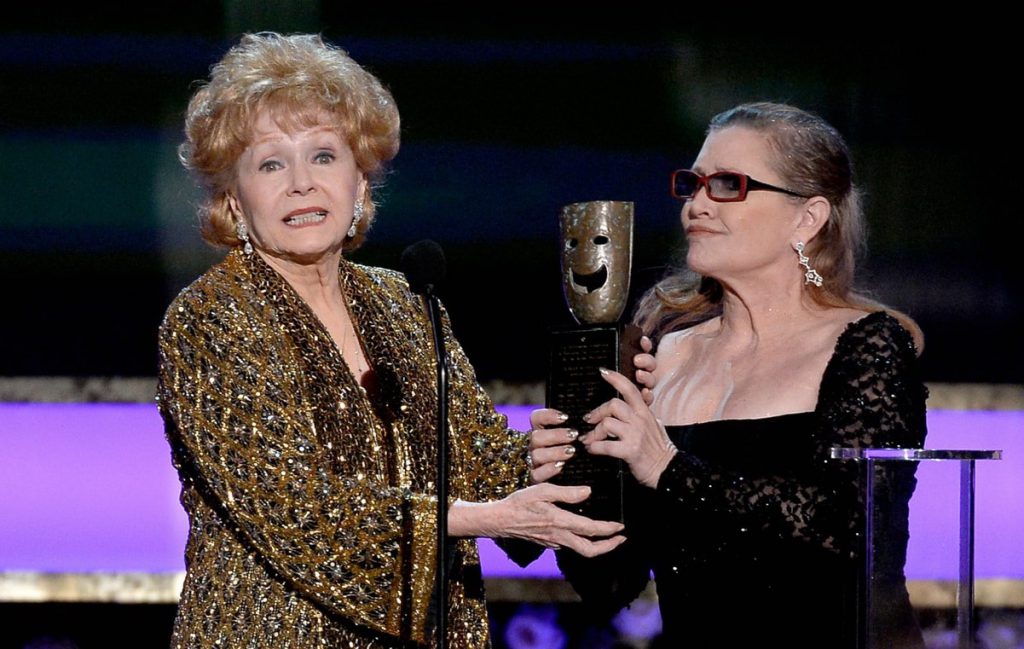 An Entrepreneur
Debbie opened her own dance studio in North Hollywood in 1979, and released her self-produced exercise video entitled "Do It Debbie's Way!" in 1983. Additionally, she bought the Clarion Hotel and Casino in Las Vegas in 1992, which she later renamed to "The Debbie Reynolds Hollywood Hotel." However, this turned out to be a poor investment, and the famous actress declared bankruptcy in 1997. She began responding to reader queries for "Globe" magazine, instead of Ivana Trump in 2010.
Love Life
Debbie had three marriages, firstly to singer Eddie Fisher in 1955, which produced Debbie's first and most famous child, Carrie Fisher in October 1956, and then son Todd Emmanuel Fisher in February 1958. She divorced Eddie in 1959 when she found out he had an affair with Elizabeth Taylor, a scandal at the time which lost Eddie his television show. In 1960, Debbie married millionaire businessman Harry Karl, but his bad habits such as heavy gambling and spending saw Debbie filing for divorce in 1973. In 1984 she married for the third time, to Richard Hamlett – a real-estate developer, but they divorced under unexplained circumstances in 1996, and she never married again.
Have a wonderful holiday.My kids are only 1/2 Jewish so we just light four candles. Enjoy the blessings of the season pic.twitter.com/yD57C6To6h

— Debbie Reynolds (@DebbieReynolds1) December 21, 2014
Her Death
On the 23rd of December 2016, Carrie Fisher suffered a medical emergency on her flight to Los Angeles and was given instant medical attention, after which she was taken into intensive care. However, she didn't manage to recover, and unfortunately passed away four days later at the age of 60. The next day, news of her death apparently caused Debbie to suffer a severe stroke, at which point she was admitted into Cedars-Sinai Medical Center in Los Angeles. She was pronounced dead in the afternoon on that same day at the age of 84, the cause of death being intracerebral hemorrhage with hypertension.
What is Debbie Reynolds' Net Worth?
Have you ever wondered how rich Debbie Reynolds is, as of mid-2018? According to various authoritative sources, it has been estimated that the current total of Debbie's accumulated wealth is over $85 million, largely aided by her near-uncountable successes in the entertainment industry, with the greatest contributions coming from her most prominent performances, such as the one in "Singin' in the Rain."
Body Measurements
In the 1960s, Debbie Reynolds was considered one of the most attractive actresses alive. Back then, her vital statistics were 34-23-35, her height was 5ft 2ins (1.57m) and her weight was 112lbs (51kg). Additionally, her dress size was 4, her shoe size was 6 and her bra size was 32B, while her body shape was generally considered hourglass, and she had golden hair with bright green eyes.
General Info
| | |
| --- | --- |
| Full Name | Debbie Reynolds |
| Date Of Birth | April 1, 1932 |
| Died | December 28, 2016, Cedars-Sinai Medical Center, Los Angeles, California, United States |
| Height | 1.57 m |
| Profession | Actor, Dancer, Singer |
| Education | John Burroughs High School |
| Nationality | American |
Family
| | |
| --- | --- |
| Spouse | Richard Hamlett, Harry Karl, Eddie Fisher |
| Children | Carrie Fisher, Todd Fisher |
| Parents | Maxine Harmon, Raymond Francis Reynolds |
Accomplishments
| | |
| --- | --- |
| Awards | Screen Actors Guild Life Achievement Award, Jean Hersholt Humanitarian Award, Outer Critics Circle Award for Outstanding Actress in a Musical, Satellite Award for Best Supporting Actress – Comedy or Musical, Costume Designers Guild Award for President's Award |
| Nominations | Academy Award for Best Actress, Golden Globe Award for Best Actress – Motion Picture – Musical or Comedy, Tony Award for Best Lead Actress in a Musical, Primetime Emmy Award for Outstanding Guest Actress - Comedy Series, Golden Globe Award for Best Performance by an Actress in a Television Serie... |
| Movies | Singin' in the Rain, The Unsinkable Molly Brown, Tammy and the Bachelor, How the West Was Won, Behind the Candelabra, Charlotte's Web, The Singing Nun, One for the Money, The Tender Trap, These Old Broads, Bundle of Joy, In & Out, Return to Halloweentown, Three Little Words, Goodbye Charlie, Two Wee... |
| TV Shows | Rugrats, Jennifer Slept Here, Madame's Place, Aloha Paradise, The Debbie Reynolds Show |
Social profile links
Marks
| # | Marks / Signs |
| --- | --- |
| 1 | Strong sultry voice. |
| 2 | Short stature. |
| 3 | Most of her roles contain musical performances. |
Salary
Quotes
| # | Quote |
| --- | --- |
| 1 | [on the announcement that daughter Carrie Fisher is in Star Wars: The Force Awakens (2015)] She's very excited about it . . . she's been on a diet ever since, because you know they have to be up to par, so she looks terrific, she's lost 40 pounds. |
| 2 | [on Carrie Fisher] People used to call her "Debbie Reynolds' daughter," now they call me "Princess Leia's mother!" |
| 3 | I only had radio growing up, so I loved going to the movies. I always had a thing for a fairy-tale ending. |
| 4 | [on the death of Tony Curtis] Nobody had a better time than Tony. He loved the ladies. He loved art. He loved this business more than anything. He was a great looking guy, handsome. We were all very close friends when we were young, a long, long time ago. But he had a wonderful life. He had a full life. He was a great, marvellous actor. |
| 5 | I do 20 minutes every time the refrigerator door opens and the light comes on. |
| 6 | Daddy had got us rooms in a motel until he could find us a house. There were not a lot of places available for a young family on our budget. Daddy went around to dozens of places. Nobody wanted kids. Finally, he found one in the hills south of Glendale. As usual, the landlady asked if he had kids. "Yep,' he replied. "A boy and a girl". "Well, whatta you going to do about them?" she wanted to know, implying that she didn't allow children. "I'm gonna take 'em out and drown them in the Los Angeles River, and come back tomorrow". That was my father--ask a silly question and just wait. She must have had the same sense of humor--we moved in the next day. |
| 7 | [asked what her favorite film is] I think one of my favorite films is Dark Victory (1939) with Bette Davis. Why? She was so wonderful in that film. And . . . maybe I just want a good cry once in a while without having to go through a divorce. |
| 8 | I stopped making movies because I don't like taking my clothes off. Maybe it's realism but, in my opinion, it's utter filth. |
| 9 | Singin' in the Rain (1952) and childbirth were the two hardest things I ever had to do in my life. |
Facts
| # | Fact |
| --- | --- |
| 1 | Despite being three years apart, both Reynolds and Jane Powell celebrate their own birthdays, every April 1 of each year. |
| 2 | As of 2016 she is the 8th earliest surviving recipient of a Best Actress Oscar nomination, tied with Julie Andrews and behind only Olivia de Havilland, Leslie Caron, Carroll Baker, Joanne Woodward, Shirley MacLaine, Doris Day, and a tied Piper Laurie and Sophia Loren. She was nominated in 1964 for The Unsinkable Molly Brown (1964). |
| 3 | Mother-in-law of Catherine Hickland. |
| 4 | Grandmother of Billie Lourd. |
| 5 | Is one of 26 actresses to have received an Academy Award nomination for their performance in a musical; hers being The Unsinkable Molly Brown (1964). The others, in chronological order, are: Bessie Love (The Broadway Melody (1929)), Grace Moore (One Night of Love (1934)), Jean Hagen (Singin' in the Rain (1952)), Marjorie Rambeau (Torch Song (1953)), Dorothy Dandridge (Carmen Jones (1954)), Deborah Kerr (The King and I (1956)), Rita Moreno (West Side Story (1961)), Gladys Cooper (My Fair Lady (1964)), Julie Andrews (Mary Poppins (1964), The Sound of Music (1965), and Victor Victoria (1982)), Peggy Wood (The Sound of Music (1965)), Carol Channing (Thoroughly Modern Millie (1967)), Kay Medford (Funny Girl (1968)), Barbra Streisand (Funny Girl (1968)), Liza Minnelli (Cabaret (1972)), Ronee Blakley (Nashville (1975)), Lily Tomlin (Nashville (1975)), Ann-Margret (Tommy (1975)), Lesley Ann Warren (Victor Victoria (1982)), Amy Irving (Yentl (1983)), Nicole Kidman (Moulin Rouge! (2001)), Queen Latifah (Chicago (2002)), Catherine Zeta-Jones (Chicago (2002)), Renée Zellweger (Chicago (2002)), Jennifer Hudson (Dreamgirls (2006)), Penelope Cruz (Nine (2009)), Anne Hathaway (Les Misérables (2012)), and Meryl Streep (Into the Woods (2014)). |
| 6 | Her singing of "I Want To Be Loved By You", in the film Three Little Words (1950), was dubbed by Helen Kane. |
| 7 | She has English, some Scottish and German, and distant French, ancestry. |
| 8 | She reconciled with old nemesis Elizabeth Taylor to work on the made-for-TV movie These Old Broads (2001), written by Debbie's daughter, Carrie Fisher, with Taylor, Shirley MacLaine and Joan Collins. Debbie and Taylor were friends until the late 1950s when Debbie's then-husband, Eddie Fisher, began having an affair with Liz, then left Debbie and married Taylor. When they began working on "These Old Broads" together, Taylor told Debbie, "I owe you a lot". Debbie said, "I just got a lump in my throat when she said that". |
| 9 | In the process of relocating her museum to Pigeon Forge, Tennessee. A new Hollywood Motion Picture Museum is being constructed there by Debbie and her children Carrie Fisher and Todd Fisher. It opened in April 2005. [July 2004] |
| 10 | Was a Girl Scout. |
| 11 | Friends with Jane Powell; they share the same birthday. |
| 12 | Secondary school studies in Burbank. |
| 13 | Played the English horn in college. |
| 14 | One of the few actresses to have danced with both Fred Astaire and Gene Kelly on screen. Other actresses who have done this include: Judy Garland, Cyd Charisse, Vera-Ellen, Rita Hayworth and Leslie Caron. |
| 15 | Campaigned for the role of Doris Mann in Postcards from the Edge (1990), but Shirley MacLaine was cast instead. |
| 16 | She dedicated the Holland-America Line cruise ship the MS Veendam. [January 1996] |
| 17 | In 1964 she went into the hospital business, purchasing Oceanside Hospital in Oceanside, CA, for $1,000,000 with plans to turn it into a profitable business venture. |
| 18 | Her father entered her in a beauty pageant once when she was very young. She wore a bathing suit that her mother had mended that morning and a pair of her sister's high heels. |
| 19 | Close friends with Hugh O'Brian. Serenaded O'Brien and his bride, Virginia, at their wedding on June 25, 2006. |
| 20 | Although she wanted to be in show business, the Reynolds' family church, the Nazarene, forbade acting. However, Reynolds' father saw her talent and gave his support, seeing it as a means of paying her college costs. Her mother then gave her support knowing that there would be no "evil" going on in her movies. She mother knew her daughter had talent, but didn't understand why it was happening to her own daughter. |
| 21 | Her first appearance on Will & Grace (1998) was in the episode entitled "The Unsinkable Mommy Adler", a play on the title of the movie The Unsinkable Molly Brown (1964). She played both title roles. |
| 22 | President of The Thalians, an organization for the treatment of mental health at Cedars Sinai in Los Angeles. Ruta Lee is the chairman. Both have been actively involved in building this celebrity run organization for over 30 years. |
| 23 | Is portrayed by Judith Jones in Liz: The Elizabeth Taylor Story (1995). |
| 24 | In 1969 she followed Doris Day and some of her contemporaries in launching a sitcom bearing her name. When the debut episode included an advertisement for cigarettes, a direct violation of one of her contractual stipulations, she made such a fuss about it that NBC ended up canceling the series. |
| 25 | Is a Majority Member in California. |
| 26 | She was awarded a Star on the Hollywood Walk of Fame at 6654 Hollywood Boulevard in Hollywood, California on January 13, 1997. |
| 27 | Had planned to go into the education field (teaching physical education) before she won the Miss Burbank contest. |
| 28 | Was a member of the International Order of Job's Daughters. Is a past honored Queen of Bethel No. 97, Burbank, California. |
| 29 | In one of her guest appearances on Will & Grace (1998), she enters a room humming a bit of "Good Morning", which was a song she sang in her most famous musical, Singin' in the Rain (1952). |
| 30 | Made her Broadway debut in 1973 in the revival of "Irene". Although the reviews for the show itself were mixed, hers were all raves and she wound up with a Tony Award nomination the following year for Best Actress in a Musical. The production ultimately ran some 20 months. In 1976, she appeared in a one-woman, short-run (10 days - 14 performances) review named "Debbie!" at the Minskoff Theatre. Her only other Broadway appearance to date came when she succeeded Lauren Bacall in "Woman of the Year" in 1983. |
| 31 | Opened the Hollywood Motion Picture Collection near the Kodak Theatre. The collection, which was collected and preserved primarily by Reynolds herself, features over 3,000 costumes including Carmen Miranda's turbans, a pair of Judy Garland's ruby slippers from The Wizard of Oz (1939), John Wayne's guns and Marilyn Monroe's windswept dress from The Seven Year Itch (1955). [April 2002] |
| 32 | At one particularly low point in her career, she confessed to literally living in her car, a Cadillac. |
| 33 | Considers herself a "movie-oholic" and has an extensive collection of memorabilia, with over 4,000 costumes from the silent screen period to the 1970s. She has been known to gather posters from her collection of 3,000 and drive to homes of actor pals for autographs. In the 1990s she turned her collection into a Las Vegas movie museum, but had to shut it down in 1997 because of financial problems. Recently she has looked into the possibility of opening up a hall of fame museum in Hollywood near Grauman's Chinese Theatre. |
| 34 | In 1975 she sold the Beverly Hills mansion she had lived in with Harry Karl. The house was reputed to be worth over $1,000,000. The buyer was Jim Randall, an industrialist who made aircraft rivets. When he married Marisa Berenson, the wedding was held in the redecorated home and his best man was his friend George Hamilton. |
| 35 | She made her first appearance at the Hollywood Collectors & Celebrities Show on April 6th and 7th, 2002, at Beverly Garland's Holiday Inn in North Hollywood, California. |
| 36 | Ex-mother-in-law of Paul Simon. |
| 37 | Won the 1948 Miss Burbank contest and was offered a screen test by Warner Bros. the day after her win. She initially entered the contest because everyone who entered received a silk scarf, blouse and free lunch. |
| 38 | In 1984, with friends like Shelley Winters and Terry Moore, she made a rather restrained exercise video for "women of a certain age". |
| 39 | She appeared as Dan's mother, fresh out of the mental ward, during an episode of the sitcom Roseanne (1988). When she later appeared on Roseanne Barr's talk show, she revealed that during the filming of that episode, while she and Roseanne were wrestling in the back yard, Roseanne, quite unknowingly, accidentally broke one of her ribs. |
| 40 | Mother of Carrie Fisher and Todd Fisher. |
| 41 | Filed for Chapter 11 bankruptcy protection for her Las Vegas hotel. [July 1997] |
Pictures
Movies
Actress
| Title | Year | Status | Character |
| --- | --- | --- | --- |
| The 7D | 2015 | TV Series | Great-Great-Grandmommers Whimsical |
| Behind the Candelabra | 2013 | TV Movie | Frances Liberace |
| In the Picture | 2012 | Short | Aunt Lilith |
| One for the Money | 2012 | | Grandma Mazur |
| The Penguins of Madagascar | 2010 | TV Series | Granny Squirrel |
| Light of Olympia | 2008 | | Queen (voice) |
| Family Guy | 2008 | TV Series | Mrs. Wilson |
| Kim Possible | 2003-2007 | TV Series | Nana Possible |
| Lolo's Cafe | 2006 | TV Movie | Mrs. Atkins (voice) |
| Return to Halloweentown | 2006 | TV Movie | Agatha Cromwell |
| Will & Grace | 1999-2006 | TV Series | Bobbi Adler |
| Halloweentown High | 2004 | TV Movie | Aggie Cromwell |
| Rugrats | 2000-2002 | TV Series | Lulu Pickles / Lulu Johnston |
| First Monday | 2002 | TV Series | Katherine Seldes |
| Generation Gap | 2002 | TV Movie | |
| Touched by an Angel | 2001 | TV Series | Betty Poplovich |
| Halloweentown II: Kalabar's Revenge | 2001 | TV Movie | Aggie Cromwell |
| These Old Broads | 2001 | TV Movie | Piper Grayson |
| Rugrats: Acorn Nuts & Diapey Butts | 2000 | TV Movie | Lulu Johnson (voice) |
| Virtual Mom | 2000 | TV Movie | Gwen |
| Rugrats in Paris: The Movie | 2000 | | Lulu Pickles (voice) |
| A Gift of Love: The Daniel Huffman Story | 1999 | TV Movie | Shirlee Allison |
| The Christmas Wish | 1998 | TV Movie | Ruth |
| Halloweentown | 1998 | TV Movie | Aggie Cromwell |
| Rudolph the Red-Nosed Reindeer: The Movie | 1998 | | Mrs. Claus / Mitzi - Rudolph's Mother / Mrs. Prancer - School Teacher (voice) |
| Zack and Reba | 1998 | | Beulah Blanton |
| In & Out | 1997 | | Berniece Brackett |
| Roseanne | 1997 | TV Series | Audrey Conner |
| Mother | 1996/II | | Beatrice Henderson |
| Wings | 1994 | TV Series | Deedee Chappel |
| Heaven & Earth | 1993 | | Eugenia |
| The Bodyguard | 1992 | | Debbie Reynolds |
| Battling for Baby | 1992 | TV Movie | Helen |
| The Golden Girls | 1991 | TV Series | Truby |
| Kiki's Delivery Service | 1989 | | Madame (English version, voice) |
| Perry Mason: The Case of the Musical Murder | 1989 | TV Movie | Amanda Cody |
| Sadie and Son | 1987 | TV Movie | Sadie |
| Hotel | 1986 | TV Series | Barbara Farrell |
| Jennifer Slept Here | 1983 | TV Series | Alice Farrell |
| The Love Boat | 1980-1983 | TV Series | Sheila Evans / Doris Talbot |
| Alice | 1982 | TV Series | Felicia Blake |
| Madame's Place | 1982 | TV Series | Miss Debbie Reynolds |
| Aloha Paradise | 1981 | TV Series | Sydney Chase |
| Charlotte's Web | 1973 | | Charlotte (voice) |
| What's the Matter with Helen? | 1971 | | Adelle Bruckner aka Adelle Stuart |
| The Debbie Reynolds Show | 1969-1970 | TV Series | Debbie Thompson |
| Pat Paulsen's Half a Comedy Hour | 1970 | TV Series | Machine Gun Reynolds |
| How Sweet It Is! | 1968 | | Jenny Henderson |
| Divorce American Style | 1967 | | Barbara Harmon |
| The Singing Nun | 1966 | | Sister Ann |
| Goodbye Charlie | 1964 | | Charlie Sorel / Virginia Mason |
| The Unsinkable Molly Brown | 1964 | | Molly Brown |
| Mary, Mary | 1963 | | Mary McKellaway |
| My Six Loves | 1963 | | Janice Courtney |
| How the West Was Won | 1962 | | Lilith Prescott |
| The Second Time Around | 1961 | | Lucretia 'Lu' Rogers |
| The Pleasure of His Company | 1961 | | Jessica Poole |
| Pepe | 1960 | | Debbie Reynolds |
| The Rat Race | 1960 | | Peggy Brown |
| The Gazebo | 1959 | | Nell Nash |
| It Started with a Kiss | 1959 | | Maggie Putnam |
| Say One for Me | 1959 | | Holly LeMaise aka Conroy |
| The Mating Game | 1959 | | Mariette Larkin |
| This Happy Feeling | 1958 | | Janet Blake |
| Tammy and the Bachelor | 1957 | | Tammy |
| Bundle of Joy | 1956 | | Polly Parish |
| The Catered Affair | 1956 | | Jane Hurley |
| Meet Me in Las Vegas | 1956 | | Debbie Reynolds (uncredited) |
| The Tender Trap | 1955 | | Julie Gillis |
| Hit the Deck | 1955 | | Carol Pace |
| Athena | 1954 | | Minerva Mulvain |
| Susan Slept Here | 1954 | | Susan Beaurgard Landis |
| Give a Girl a Break | 1953 | | Suzy Doolittle |
| The Affairs of Dobie Gillis | 1953 | | Pansy Hammer |
| I Love Melvin | 1953 | | Judy Schneider / Judy LeRoy |
| Skirts Ahoy! | 1952 | | Debbie Reynolds (uncredited) |
| Singin' in the Rain | 1952 | | Kathy Selden |
| Mr. Imperium | 1951 | | Gwen |
| Two Weeks with Love | 1950 | | Melba Robinson |
| Three Little Words | 1950 | | Helen Kane |
| The Daughter of Rosie O'Grady | 1950 | | Maureen O'Grady |
| June Bride | 1948 | | Boo's Girlfriend at Wedding (uncredited) |
Soundtrack
| Title | Year | Status | Character |
| --- | --- | --- | --- |
| Mike & Mike | 2014 | TV Series performer - 1 episode | |
| The Neighbors | 2012 | TV Series performer - 1 episode | |
| The Oprah Winfrey Show | 2011 | TV Series performer - 1 episode | |
| Wishful Drinking | 2010 | TV Movie documentary performer: "Tammy" | |
| The Haunted World of El Superbeasto | 2009 | Video performer: "Tammy" | |
| The Boys: The Sherman Brothers' Story | 2009 | Documentary performer: "Deep In The Dark Charlotte's Lullaby", "Mother Earth And Father Time" | |
| Hollywood Singing and Dancing: A Musical Treasure | 2008 | TV Movie documentary performer: "Good Morning", "Singin' in the Rain" - uncredited | |
| These Old Broads | 2001 | TV Movie performer: "Boy Crazy", "Fascinating Rhythm", "Get Happy", "What a Life" | |
| Rudolph the Red-Nosed Reindeer: The Movie | 1998 | performer: "What About His Nose", "Rudolph The Red-Nosed Reindeer" | |
| The Roseanne Show | 1998 | TV Series performer - 1 episode | |
| Why Do Fools Fall in Love | 1998 | performer: "Tammy" | |
| Fear and Loathing in Las Vegas | 1998 | performer: "Tammy" | |
| The Big Lebowski | 1998 | performer: "Tammy" | |
| Roseanne | 1997 | TV Series performer - 1 episode | |
| Wedding Bell Blues | 1996 | performer: "Tammy" | |
| That's Entertainment! III | 1994 | Documentary performer: "You Are My Lucky Star" 1935, "A Lady Loves" 1953 - uncredited | |
| The Long Day Closes | 1992 | performer: "Tammy" | |
| MGM: When the Lion Roars | 1992 | TV Mini-Series documentary performer - 1 episode | |
| The Wonder Years | 1990 | TV Series performer - 1 episode | |
| Somebody or The Rise and Fall of Philosophy | 1989 | Short performer: "You Are My Lucky Star" | |
| Great Performances | 1985 | TV Series performer - 1 episode | |
| The 50th Annual Academy Awards | 1978 | TV Special performer: "Look How Far We've Come" | |
| The Sonny and Cher Show | 1977 | TV Series performer - 1 episode | |
| That's Entertainment, Part II | 1976 | Documentary performer: "Good Morning" 1939 - uncredited | |
| That's Entertainment! | 1974 | performer: "Singin' in the Rain" 1929, "Aba Daba Honeymoon" 1914, "I Wanna Be Loved by You" 1928, "Hallelujah" 1927 - uncredited | |
| Charlotte's Web | 1973 | performer: "Chin Up", "We've Got Lots In Common", "Deep In the Dark", "Mother Earth and Father Time" | |
| The 44th Annual Academy Awards | 1972 | TV Special performer: "The Age of Not Believing" | |
| What's the Matter with Helen? | 1971 | performer: "Did You Ever See a Dream Walking?", "Goody, Goody", "Bye Bye Blackbird" | |
| The Unsinkable Molly Brown | 1964 | performer: "I AIN'T DOWN YET", "I'LL NEVER SAY NO", "BELLY UP TO THE BAR, BOYS" - uncredited | |
| My Six Loves | 1963 | performer: "It's a Darn Good Thing" | |
| How the West Was Won | 1962 | performer: "Home in the Meadow" 1962, "Raise a Ruckus" 1962, "Wait For the Hoedown" 1962 fragment, "What Was Your Name in The States?" 1962 | |
| The Gazebo | 1959 | performer: "Something Called Love" | |
| Say One for Me | 1959 | performer: "Say One for Me", "You Can't Love 'Em All", "The Girl Most Likely to Succeed", "Chico's Choo Choo" | |
| The Mating Game | 1959 | performer: "The Mating Game" | |
| The 30th Annual Academy Awards | 1958 | TV Special performer: "Tammy" | |
| Tammy and the Bachelor | 1957 | performer: "Tammy" | |
| Hit the Deck | 1955 | performer: "A Kiss or Two" 1927, "Why, Oh Why?" 1927, "Ciribiribin" 1898, "Join the Navy" 1927, "Loo-Loo" 1927, "Hallelujah" 1927 - uncredited | |
| Athena | 1954 | performer: "I Never Felt Better" | |
| Give a Girl a Break | 1953 | performer: "Applause, Applause", "In our United State", "Give a Girl a Break" | |
| The Affairs of Dobie Gillis | 1953 | performer: "You Can't Do Wrong Doin' Right", "All I Do Is Dream of You", "Believe Me If All Those Endearing Young Charms" - uncredited | |
| I Love Melvin | 1953 | performer: "A Lady Loves", "Saturday Afternoon Before the Game", "We Have Never Met, As Yet", "Where Did You Learn To Dance" | |
| Skirts Ahoy! | 1952 | performer: "Oh, By Jingo" - uncredited | |
| Singin' in the Rain | 1952 | performer: "All I Do Is Dream of You" 1934, "Good Morning" 1939, "Singin in the Rain in A-Flat" 1929, "You Are My Lucky Star" 1935, "Main Title" uncredited, "Would You? End Title" uncredited | |
| Two Weeks with Love | 1950 | performer: "Aba Daba Honeymoon", "Row, Row, Row", "That's How I Need You" - uncredited | |
| Three Little Words | 1950 | performer: "I Wanna Be Loved by You" | |
Writer
| Title | Year | Status | Character |
| --- | --- | --- | --- |
| Do It Debbie's Way | 1983 | Video | |
Producer
| Title | Year | Status | Character |
| --- | --- | --- | --- |
| Movie Memories with Debbie Reynolds | 1991 | TV Series executive producer | |
Thanks
| Title | Year | Status | Character |
| --- | --- | --- | --- |
| The Malibu Beach Vampires | 1991 | special thanks | |
Self
| Title | Year | Status | Character |
| --- | --- | --- | --- |
| The Rosie O'Donnell Show | 1996-2002 | TV Series | Herself - Guest |
| Cinerama Adventure | 2002 | Documentary | Herself |
| American Masters | 2002 | TV Series documentary | Herself |
| Michael Jackson: 30th Anniversary Celebration | 2001 | TV Special documentary | Herself |
| Hollywood Squares | 1998-2001 | TV Series | Herself |
| The Making of 'Rugrats in Paris' | 2000 | Video documentary | Herself |
| Biography | 1995-2000 | TV Series documentary | Herself |
| Keepers of the Frame | 1999 | Documentary | Herself |
| The Roseanne Show | 1998 | TV Series | Herself - Guest |
| Fear and Loathing in Las Vegas | 1998 | | Herself (voice) |
| E! True Hollywood Story | 1998 | TV Series documentary | Herself |
| Intimate Portrait | 1998 | TV Series documentary | Herself |
| The Daily Show | 1996-1997 | TV Series | Herself - Guest |
| The 69th Annual Academy Awards | 1997 | TV Special | Herself - Presenter: Best Original Musical or Comedy Score |
| The 11th Annual American Comedy Awards | 1997 | TV Special | Herself - Winner: Lifetime Achievement Award in Comedy |
| 20th Century-Fox: The First 50 Years | 1997 | TV Movie documentary | Herself |
| The 54th Annual Golden Globe Awards | 1997 | TV Special | Herself - Nominated: Best Actress in a Motion Picture - Comedy / Musical |
| Late Show with David Letterman | 1997 | TV Series | Herself - Guest |
| Showbiz Today | 1997 | TV Series | Herself |
| The Tonight Show with Jay Leno | 1993-1997 | TV Series | Herself - Guest |
| The Real Las Vegas | 1996 | TV Series documentary | Herself |
| Wedding Bell Blues | 1996 | | Herself |
| Carrie on Hollywood | 1995 | TV Series documentary | Herself |
| Carrie Fisher: The Hollywood Family | 1995 | TV Special | Herself |
| This Is Your Life | 1993-1995 | TV Series documentary | Herself |
| Late Night with Conan O'Brien | 1995 | TV Series | Herself - Guest |
| That's Entertainment III: Behind the Screen | 1994 | Video documentary | Herself |
| That's Entertainment! III | 1994 | Documentary | Herself - Co-Host / Narrator |
| Modern Marvels | 1994 | TV Series documentary | Herself |
| Jack L. Warner: The Last Mogul | 1993 | Documentary | Herself |
| Legend to Legend Night: A Celebrity Cavalcade | 1993 | TV Special | Herself |
| Macy's Thanksgiving Day Parade | 1993 | TV Movie | Herself |
| Vicki! | 1993 | TV Series | Herself |
| The 37th Annual Thalians Ball | 1992 | TV Movie | Herself - Host |
| One on One with John Tesh | 1992 | TV Series | Herself - Guest |
| MGM: When the Lion Roars | 1992 | TV Mini-Series documentary | Herself |
| Stars and Stripes: Hollywood and World War II | 1991 | TV Movie documentary | Herself |
| Larry King TNT Extra 2 | 1991 | TV Movie | Herself |
| Bob Hope & Friends: Making New Memories | 1991 | TV Special | Herself |
| Movie Memories with Debbie Reynolds | 1991 | TV Series | Herself - Host (1991) |
| The 35th Annual Thalians Gala | 1990 | TV Movie | Herself - Host |
| Live with Kelly and Michael | 1988-1989 | TV Series | Herself - Guest |
| The New Hollywood Squares | 1986-1988 | TV Series | Herself / Herself - Guest |
| The 33th Annual Thalians Ball | 1988 | TV Movie | Herself - Host |
| The 5th Annual American Cinema Awards | 1988 | TV Special | Herself |
| Couples Do It Debbie's Way | 1988 | Video | Herself |
| Late Night with David Letterman | 1987 | TV Series | Herself - Guest |
| Win, Lose or Draw | 1987 | TV Series | Herself |
| Happy 100th Birthday, Hollywood | 1987 | TV Special documentary | Herself |
| The 58th Annual Academy Awards | 1986 | TV Special | Herself - Co-Presenter: Best Original Score and Best Original Song |
| Bob Hope's Happy Birthday Homecoming (London Royal Gala) | 1985 | TV Movie | Herself - Performer |
| Great Performances | 1985 | TV Series | Herself |
| AFI Life Achievement Award: A Tribute to Gene Kelly | 1985 | TV Special documentary | Herself |
| Breakaway | 1984 | TV Series | Herself - Guest |
| The Tonight Show Starring Johnny Carson | 1963-1984 | TV Series | Herself - Guest / Herself / Herself - Guest Host |
| Do It Debbie's Way | 1983 | Video | Herself |
| The New Battlestars | 1982-1983 | TV Series | Herself |
| Hour Magazine | 1981-1983 | TV Series | Herself |
| Circus of the Stars #7 | 1982 | TV Special documentary | Herself - Co-Ringmaster |
| Tom Cottle: Up Close | 1982 | TV Series | Herself |
| Broadway Plays Washington on Kennedy Center Tonight | 1982 | TV Movie | Herself |
| Women I Love: Beautiful But Funny | 1982 | TV Movie | Herself |
| Barbara Mandrell and the Mandrell Sisters | 1981 | TV Series | Herself |
| All-Star Salute to Mother's Day | 1981 | TV Special | Herself |
| Tomorrow Coast to Coast | 1981 | TV Series | Herself |
| AFI Life Achievement Award: A Tribute to Fred Astaire | 1981 | TV Movie documentary | Herself (uncredited) |
| A Tribute to the Jukebox Award Winners | 1980 | TV Movie | Herself - Host |
| The Hollywood Squares | 1970-1980 | TV Series | Herself |
| The 37th Annual Golden Globe Awards | 1980 | TV Special | Herself - Host |
| Dinah! | 1975-1979 | TV Series | Herself - Guest |
| Bob Hope's Cavalcade of Comedy | 1979 | TV Movie | Herself |
| The 50th Annual Academy Awards | 1978 | TV Special | Herself - Performer |
| Leapin' Lizards, It's Liberace! | 1978 | TV Movie | Herself |
| The Sonny and Cher Show | 1976-1977 | TV Series | Herself / Various Characters |
| Donahue | 1977 | TV Series | Herself - Guest |
| The Mike Douglas Show | 1971-1976 | TV Series | Herself - Actress / Herself - Vocalist / Herself - Guest |
| The Dick Cavett Show | 1976 | TV Series | Herself - Guest |
| Busby Berkeley | 1974 | Documentary | Herself |
| Just One More Time | 1974 | Short | Herself (uncredited) |
| ABC Late Night | 1974 | TV Series | Herself |
| The Perry Como Sunshine Show | 1974 | TV Movie | Herself |
| The 46th Annual Academy Awards | 1974 | TV Special | Herself - Presenter: Best Original Song Score or / an Adaptation |
| That's Entertainment! | 1974 | | Herself - Co-Host / Narrator / Clip from 'Singin' in the Rain' |
| The 27th Annual Tony Awards | 1973 | TV Special | Herself - Nominated: Best Actress in a Musical |
| The Wacky World of Jonathan Winters | 1972-1973 | TV Series | Herself |
| Dean Martin Presents: The Bobby Darin Amusement Co. | 1972 | TV Series | Herself |
| The 44th Annual Academy Awards | 1972 | TV Special | Herself - Performer |
| The ABC Comedy Hour | 1972 | TV Series | Herself |
| Laugh-In | 1969-1972 | TV Series | Herself - Guest Performer |
| The Bob Hope Show | 1967-1971 | TV Series | Herself - Guest |
| The David Frost Show | 1971 | TV Series | Herself - Guest |
| The Glen Campbell Goodtime Hour | 1971 | TV Series | Herself |
| The Pearl Bailey Show | 1971 | TV Series | Herself - Singer |
| The Dean Martin Show | 1971 | TV Series | Herself - Guest |
| The Carol Burnett Show | 1970 | TV Series | Herself - Guest |
| This Is Tom Jones | 1970 | TV Series documentary | Herself |
| The Movie Game | 1970 | TV Series | Herself |
| The Dick Cavett Show | 1970 | TV Series | Herself - Guest |
| The Merv Griffin Show | 1970 | TV Series | Herself - Guest |
| The 27th Annual Golden Globes Awards | 1970 | TV Special | Herself - Nominated: Best Actress in a TV-Series-Comedy / Musical |
| The Linkletter Show | 1970 | TV Series | Herself |
| Bracken's World | 1969 | TV Series | Herself |
| Debbie Reynolds and the Sound of Children | 1969 | TV Movie | Herself |
| The Andy Williams Show | 1969 | TV Series | Herself - Guest |
| The Joey Bishop Show | 1967-1969 | TV Series | Herself - Guest |
| The Kraft Music Hall | 1969 | TV Series | Herself |
| ...And Debbie Makes Six | 1968 | TV Special | Herself - Host |
| Go!!! | 1967 | TV Movie | Herself - Host |
| The 38th Annual Academy Awards | 1966 | TV Special | Herself - Co-Presenter: Best Art Direction-Set Decoration |
| The Ed Sullivan Show | 1953-1966 | TV Series | Herself / Herself - Singer / Herself - Cameo |
| The 37th Annual Academy Awards | 1965 | TV Special | Herself - Nominated: Best Actress in a Leading Role & Presenter: Best Substantially Original Score and Best Scoring of Music Adaptation or Treatment |
| The Hollywood Palace | 1965 | TV Series | Herself - Sketch Actor |
| The Hollywood Deb Stars of 1965 | 1965 | TV Movie | Herself |
| The Story of a Dress | 1964 | Documentary short | Herself |
| The 36th Annual Academy Awards | 1964 | TV Special | Herself - Presenter: Documentary Awards |
| What's My Line? | 1954-1964 | TV Series | Herself - Mystery Guest / Herself - Guest Panelist / Herself - Mystery Guest #2 |
| The Andy Williams Show | 1962 | TV Series | Herself - Guest |
| Here's Hollywood | 1960-1962 | TV Series | Herself - Guest |
| The 34th Annual Academy Awards | 1962 | TV Special | Herself - Presenter: Best Original Song |
| The DuPont Show of the Week | 1961 | TV Series | Herself |
| What About Linda? | 1961 | TV Special | Herself |
| This Is Your Life | 1960 | TV Series | Herself |
| A Date with Debbie | 1960 | TV Movie | Herself - Host |
| Hedda Hopper's Hollywood | 1960 | TV Movie documentary | Herself |
| The Jack Paar Tonight Show | 1959 | TV Series | Herself |
| The Steve Allen Plymouth Show | 1959 | TV Series | Herself - Recipient |
| A Visit with Debbie Reynolds | 1959 | Documentary short | Herself |
| The Eddie Fisher Show | 1957-1958 | TV Series | Herself |
| The 30th Annual Academy Awards | 1958 | TV Special | Herself - Performer |
| New American Bandstand 1965 | 1957 | TV Series | Herself |
| A Private Little Party for a Few Chums | 1957 | TV Movie documentary | Herself |
| Atlantic City Holiday | 1956 | TV Movie | Herself |
| The 28th Annual Academy Awards | 1956 | TV Special | Herself - Audience Member |
| Person to Person | 1956 | TV Series documentary | Herself |
| Ford Star Jubilee | 1955 | TV Series | Herself |
| The Colgate Comedy Hour | 1955 | TV Series | Herself - Awards Presenter |
| I've Got a Secret | 1955 | TV Series | Herself - Guest |
| MGM Parade | 1955 | TV Series | Herself / Julie Gillis |
| Dateline: Disneyland | 1955 | TV Special documentary | Herself |
| The George Gobel Show | 1954 | TV Series | Herself |
| Light's Diamond Jubilee | 1954 | TV Movie documentary | Herself |
| A Star Is Born World Premiere | 1954 | TV Short | Herself |
| Challenge the Wilderness | 1951 | Documentary short | Narrator (uncredited) |
| Broadway: Beyond the Golden Age | 2016 | Documentary post-production | Herself |
| Rip Rip Hooray! | 2016 | Documentary | Herself |
| Bright Lights: Starring Carrie Fisher and Debbie Reynolds | 2016 | Documentary | Herself |
| The Slippers | 2016 | Documentary | Herself |
| Tab Hunter Confidential | 2015 | Documentary | Herself |
| The 21st Annual Screen Actors Guild Awards | 2015 | TV Special | Herself - Life Achievement Award Recipient |
| Entertainment Tonight | 2007-2014 | TV Series | Herself |
| Making Behind the Candelabra Show | 2013 | TV Movie documentary | Herself |
| The Late Late Show with Craig Ferguson | 2005-2013 | TV Series | Herself - Guest |
| Committed | 2012/I | Documentary | Herself |
| The Last Days of Cinerama | 2012 | Documentary short | Herself |
| Carol Channing: Larger Than Life | 2012 | Documentary | Herself |
| Tony Curtis: Driven to Stardom | 2011 | Documentary | Herself |
| Breakfast | 2011 | TV Series | Herself - Guest |
| Hollywood Treasure | 2011 | TV Series | Herself |
| Lifestyle Magazine | 2011 | TV Series documentary | Herself |
| The Oprah Winfrey Show | 2011 | TV Series | Herself - Guest |
| These Amazing Shadows | 2011 | Documentary | Herself |
| The Talk | 2011 | TV Series | Herself |
| Loose Women | 2010 | TV Series | Herself |
| The One Show | 2010 | TV Series | Herself |
| RuPaul's Drag Race | 2010 | TV Series | Herself - Guest Judge |
| Kiki's Delivery Service: Creating 'Kiki's Delivery Service' | 2010 | Video documentary short | Herself |
| Kiki's Delivery Service: Flying with Kiki & Beyond | 2010 | Video documentary short | Herself |
| Kiki's Delivery Service: The Producer's Perspective: Collaborating with Miyazaki | 2010 | Video documentary short | Herself |
| Hollywood Singing & Dancing: A Musical History - 1960's | 2009 | Video documentary | Herself |
| Hollywood Singing & Dancing: A Musical History - 1970's | 2009 | Video documentary | Herself |
| The Boys: The Sherman Brothers' Story | 2009 | Documentary | Herself |
| Hollywood Singing and Dancing: A Musical History - The 1930s: Dancing Away the Great Depression | 2009 | Video documentary | Herself |
| Hollywood Singing and Dancing: A Musical History - The 1940s: Stars, Stripes and Singing | 2009 | Video documentary | Herself |
| Hollywood Singing and Dancing: A Musical History - The 1950s: The Golden Era of the Musical | 2009 | Video documentary | Herself |
| The Bonnie Hunt Show | 2009 | TV Series | Herself - Guest |
| Frank in the Fifties | 2008 | Video short | Herself |
| The Jill & Tony Curtis Story | 2008 | Documentary | Herself |
| Secret Talents of the Stars | 2008 | TV Series | Herself - Judge |
| Hollywood Singing and Dancing: A Musical History | 2008 | Video documentary | Herself |
| Hollywood Singing and Dancing: A Musical Treasure | 2008 | TV Movie documentary | Herself |
| Hollywood Singing and Dancing: A Musical History - The 1920s: The Dawn of the Hollywood Musical | 2008 | Video documentary | Herself |
| Mr. Warmth: The Don Rickles Project | 2007 | Documentary | Herself / Peggy Brown |
| AFI's 100 Years... 100 Movies: 10th Anniversary Edition | 2007 | TV Movie documentary | Herself |
| The Brothers Warner | 2007 | TV Movie documentary | Herself - Actor |
| My Music: Movie Songs | 2007 | TV Movie | Herself |
| In the Cutz | 2006 | TV Series | Herself - Guest |
| Bert's Family Feud | 2006 | TV Series | Herself |
| Stadium of Fire: 25th Anniversary | 2005 | TV Movie | Herself |
| Larry King Live | 2001-2005 | TV Series | Herself - Guest |
| Pryor Offenses | 2004 | TV Movie | Herself |
| Ellen: The Ellen DeGeneres Show | 2004 | TV Series | Herself - Guest |
| Debbie Reynolds: 'Connie and Carla' | 2004 | Video documentary short | Herself |
| AFI's 100 Years... 100 Songs: America's Greatest Music in the Movies | 2004 | TV Movie documentary | Herself |
| Magic Moments: The Best of 50's Pop | 2004 | TV Movie documentary | Herself |
| Connie and Carla | 2004 | | Herself (Special Appearance) |
| Tracey Ullman in the Trailer Tales | 2003 | TV Movie | Herself |
| Bravo Profiles | 2003 | TV Series documentary | Herself |
| Conversations from the Edge with Carrie Fisher | 2003 | TV Series | Herself |
| Behind the Microphone: Kiki's Delivery Service | 2003 | Video documentary short | Madame |
| What a Glorious Feeling: The Making of 'Singin' in the Rain' | 2002 | Video documentary short | Herself - Host |
| Private Screenings | 2002 | TV Series | Herself |
Archive Footage
| Title | Year | Status | Character |
| --- | --- | --- | --- |
| Inside Edition | 2014 | TV Series documentary | Herself |
| Elizabeth Taylor: A Tribute | 2011 | TV Movie documentary | Herself |
| Wishful Drinking | 2010 | TV Movie documentary | Herself |
| Moguls & Movie Stars: A History of Hollywood | 2010 | TV Mini-Series documentary | Herself |
| House of Harrington | 2008 | Documentary short | |
| Disney Channel Holiday | 2005 | Video | Nana Possible |
| Cleopatra: The Film That Changed Hollywood | 2001 | TV Movie documentary | Herself |
| Hollywood Remembers | 2000 | TV Series documentary | |
| Omnibus | 2000 | TV Series documentary | |
| E! True Hollywood Story | 1998 | TV Series documentary | Herself |
| The Making of 'How the West Was Won' | 1998 | Video documentary short | Herself |
| Off the Menu: The Last Days of Chasen's | 1997 | Documentary | Herself (with Eddie Fisher) (uncredited) |
| American Masters | 1997 | TV Series documentary | Herself |
| The Best of the Don Lane Show | 1994 | TV Movie | Herself |
| Hollywood Out-takes and Rare Footage | 1983 | Documentary | Herself (uncredited) |
| Hollywood: The Gift of Laughter | 1982 | TV Movie documentary | Actress - 'The Unsinkable Molly Brown' (uncredited) |
| Good Old Days Part II | 1978 | TV Special | Herself |
| Bob Hope's World of Comedy | 1976 | TV Movie | Herself |
| America at the Movies | 1976 | Documentary | Lily Prescott (uncredited) |
| That's Entertainment, Part II | 1976 | Documentary | Clip from 'Singin' in the Rain' |
| Texaco Presents: A Quarter Century of Bob Hope on Television | 1975 | TV Special | Herself |
| Fred Astaire Salutes the Fox Musicals | 1974 | TV Movie | Herself |
| The Dick Cavett Show | 1971 | TV Series | Herself |
| Pat Paulsen's Half a Comedy Hour | 1970 | TV Series | Machine Gun Reynolds |
| The Hollywood Palace | 1970 | TV Series | Herself |
| Mondo Hollywood | 1967 | Documentary | Herself (uncredited) |
| The Ed Sullivan Show | 1964 | TV Series | Herself - Dancer |
| Hollywood and the Stars | 1964 | TV Series | Herself |
| Hollywood: The Great Stars | 1963 | TV Movie documentary | Herself (uncredited) |
| Hollywood Without Make-Up | 1963 | Documentary | Herself |
| MGM Parade | 1955 | TV Series | Julie Gillis |
| The Metro-Goldwyn-Mayer Story | 1951 | Documentary | |
Awards
Won Awards
| Year | Award | Ceremony | Nomination | Movie |
| --- | --- | --- | --- | --- |
| 2016 | Jean Hersholt Humanitarian Award | Academy Awards, USA | | |
| 2015 | Life Achievement Award | Screen Actors Guild Awards | | |
| 2005 | President's Award | Costume Designers Guild Awards | | For her collection and conservation of classic Hollywood costumes. |
| 2005 | Golden Boot | Golden Boot Awards | | |
| 2002 | Lifetime Achievement Award | Savannah Film Festival | | |
| 1999 | Lifetime Achievement Award | Palm Springs International Film Festival | | |
| 1998 | Special Award | Lone Star Film & Television Awards | Texas Legend | |
| 1997 | Lifetime Achievement Award in Comedy | American Comedy Awards, USA | | |
| 1997 | Golden Satellite Award | Satellite Awards | Best Actress in a Supporting Role in a Motion Picture, Comedy or Musical | Mother (1996) |
| 1997 | Star on the Walk of Fame | Walk of Fame | Motion Picture | On 13 January 1997. At 6654 Hollywood Blvd. |
| 1996 | Lifetime Achievement Award in Comedy | American Comedy Awards, USA | | |
| 1969 | Most Popular Female Star | Photoplay Awards | | |
| 1960 | Sour Apple | Golden Apple Awards | Least Cooperative Actress | |
| 1959 | Most Popular Female Star | Photoplay Awards | | |
| 1956 | NBR Award | National Board of Review, USA | Best Supporting Actress | The Catered Affair (1956) |
| 1955 | Woman of the Year | Hasty Pudding Theatricals, USA | | |
| 1954 | Golden Apple | Golden Apple Awards | Most Cooperative Actress | |
Nominated Awards
| Year | Award | Ceremony | Nomination | Movie |
| --- | --- | --- | --- | --- |
| 2013 | Gold Derby TV Award | Gold Derby Awards | TV Movie/Mini Supporting Actress | Behind the Candelabra (2013) |
| 2006 | OFTA Television Award | Online Film & Television Association | Best Guest Actress in a Comedy Series | Will & Grace (1998) |
| 2001 | Video Premiere Award | DVD Exclusive Awards | Best Supporting Actress | Zack and Reba (1998) |
| 2000 | Primetime Emmy | Primetime Emmy Awards | Outstanding Guest Actress in a Comedy Series | Will & Grace (1998) |
| 2000 | Daytime Emmy | Daytime Emmy Awards | Outstanding Performer in a Children's Special | A Gift of Love: The Daniel Huffman Story (1999) |
| 2000 | OFTA Television Award | Online Film & Television Association | Best Guest Actress in a Comedy Series | Will & Grace (1998) |
| 1999 | OFTA Television Award | Online Film & Television Association | Best Guest Actress in a Comedy Series | Will & Grace (1998) |
| 1998 | Blockbuster Entertainment Award | Blockbuster Entertainment Awards | Favorite Supporting Actress - Comedy | In & Out (1997) |
| 1997 | Golden Globe | Golden Globes, USA | Best Performance by an Actress in a Motion Picture - Comedy or Musical | Mother (1996) |
| 1997 | OFTA Film Award | Online Film & Television Association | Best Actress | Mother (1996) |
| 1997 | OFTA Film Award | Online Film & Television Association | Best Comedy/Musical Actress | Mother (1996) |
| 1997 | OFTA Television Award | Online Film & Television Association | Best Guest Actress in a Comedy Series | Roseanne (1988) |
| 1970 | Golden Globe | Golden Globes, USA | Best TV Actress - Comedy or Musical | The Debbie Reynolds Show (1969) |
| 1968 | Golden Laurel | Laurel Awards | Female Star | 13th place. |
| 1967 | Golden Laurel | Laurel Awards | Female Star | 6th place. |
| 1965 | Oscar | Academy Awards, USA | Best Actress in a Leading Role | The Unsinkable Molly Brown (1964) |
| 1965 | Golden Globe | Golden Globes, USA | Best Actress - Comedy or Musical | The Unsinkable Molly Brown (1964) |
| 1964 | Golden Laurel | Laurel Awards | Top Female Star | 4th place. |
| 1963 | Golden Laurel | Laurel Awards | Top Female Star | 5th place. |
| 1962 | Golden Laurel | Laurel Awards | Top Female Star | 7th place. |
| 1962 | Golden Laurel | Laurel Awards | Top Female Comedy Performance | The Second Time Around (1961) |
| 1961 | Golden Laurel | Laurel Awards | Top Female Star | 4th place. |
| 1959 | Golden Laurel | Laurel Awards | Top Female Star | 4th place. |
| 1958 | Golden Laurel | Laurel Awards | Top Female Star | 10th place. |
| 1957 | Golden Globe | Golden Globes, USA | Best Actress - Comedy or Musical | Bundle of Joy (1956) |
| 1951 | Golden Globe | Golden Globes, USA | Most Promising Newcomer | Three Little Words (1950) |
2nd Place Awards
| Year | Award | Ceremony | Nomination | Movie |
| --- | --- | --- | --- | --- |
| 1966 | Golden Laurel | Laurel Awards | Musical Performance, Female | The Singing Nun (1966) |
| 1965 | Golden Laurel | Laurel Awards | Female Star | |
| 1965 | Golden Laurel | Laurel Awards | Musical Performance, Female | The Unsinkable Molly Brown (1964) |
| 1959 | Golden Laurel | Laurel Awards | Top Female Comedy Performance | The Mating Game (1959) |
| 1958 | Golden Laurel | Laurel Awards | Top Female Comedy Performance | Tammy and the Bachelor (1957) |
3rd Place Awards
| Year | Award | Ceremony | Nomination | Movie |
| --- | --- | --- | --- | --- |
| 1968 | Golden Laurel | Laurel Awards | Female Comedy Performance | Divorce American Style (1967) |
| 1966 | Golden Laurel | Laurel Awards | Female Star | |
| 1963 | Golden Laurel | Laurel Awards | Top Female Comedy Performance | My Six Loves (1963) |
| 1960 | Golden Laurel | Laurel Awards | Top Female Star | |
| 1960 | Golden Laurel | Laurel Awards | Top Female Comedy Performance | It Started with a Kiss (1959) |
| 1960 | Golden Laurel | Laurel Awards | Top Female Musical Performance | Say One for Me (1959) |
Source:
IMDb
,
Wikipedia