Jacqueline MacInnes Wood, a Canadian actress who joined the CBS soap opera "The Bold and the Beautiful" — "B&B" in 2008, will soon stop playing Stephanie "Steffy" Forrester, at least for a while. This sister show to "The Young and the Restless" premiered in 1987, and has had parallel storylines and cross-overs with its older counterpart, the CBS soap opera which debuted in 1973.
That said, Jacqueline's departure has concerned some fans as it isn't considered a reasonable career move, as she recently received two Daytime Emmy Awards, in 2019 and 2021, for Outstanding Lead Actress in a Drama Series, having been nominated many times. She found her calling three years after moving aged 18 from her home town of Windsor to Toronto, both in Ontario, to pursue acting. Jacqueline fitted right in when cast as the adult version of the insufferable, wealthy and arrogant heiress of the super-couple, Ridge Forrester and Taylor Hayes.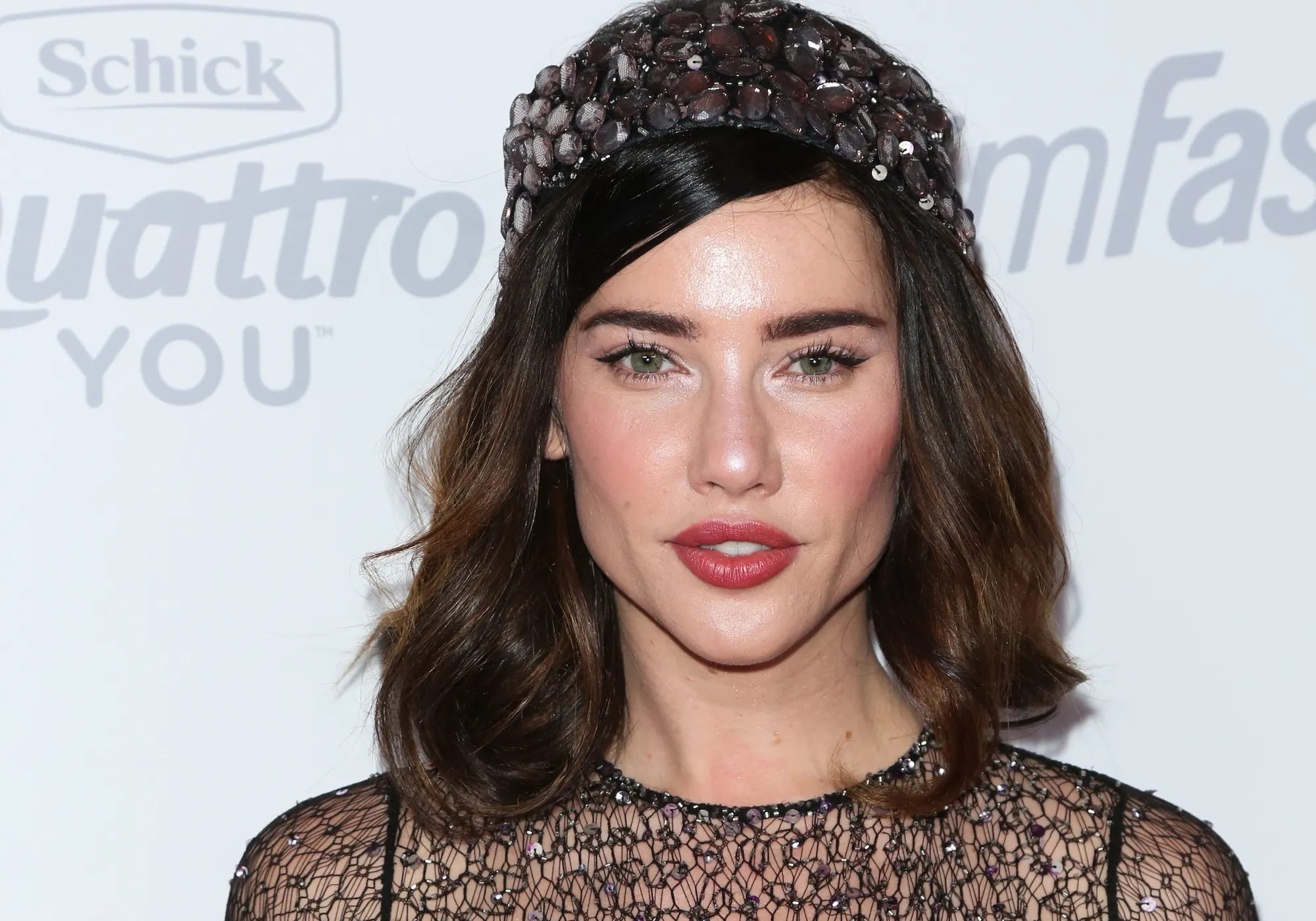 Viewers loved watching 'the resident diva, the provocative trendsetter, the maddeningly complicated sex bomb, and the strong-willed bitch-nasty vixen,' all names the media had used to describe Steffy. Jacqueline loved playing the character because she was her opposite, allowing her to enjoy the actions of the emotionally-starved model, socialite, and businesswoman as an alter ego. However, loyal viewers know that this isn't Jacqueline's first exit from the soap opera, and that she's taken breaks and declined to sign the contract even when offered large sums, and this seems to be yet another instance. Here's the scoop.
Jacqueline is becoming a mother again
Jacqueline has played Steffy Forrester for a decade and a half, but announced that she would pause her "The Bold and the Beautiful" role in late 2023 or early 2024. However, to the relief of many viewers, she clarified that the absence would be temporary and perhaps even go unnoticed. Jacqueline departed because she, perhaps accidentally, revealed that she was pregnant with her fourth child in April of this year.
She stated that the producers, writers, and directors had done their best to conceal her growing belly in the show. Consequently, she would film for as long as possible as her character has a central spot in the storylines this year. A silver lining in the situation is that she had three sons between 2019 and 2022 while being a CBS soap opera regular, a fact that went under the radar of many viewers thanks to the experience of the show's producers. Therefore, we assume the same will happen again, meaning that Jacqueline will return as Steffy when her newborn no longer requires constant attention.
She left her role in the past
Jacqueline took time off for the first time in 2010, when she was cast as Olivia Castle in the 2011 "Final Destination 5" movie, playing 'a smart-mouthed beauty who wears glasses caught in spine-chilling, stomach-turning situations.' Jacqueline filmed several episodes in advance, and the writers accommodated her commitment by focusing on other characters, so the audience barely detected her disappearance. Interestingly, Jacqueline learned about her first nomination for the Daytime Emmy Award on that movie set, rather than the one where she earned it.
Jacqueline MacInnes Wood (Steffy) starred in "Final Destination 5" as Olivia Castle #BoldandBeautiful pic.twitter.com/pBDHY0YLxl

— Bold & The Beautiful (@BandB_CBS) August 19, 2015
Contrarily, viewers missed Jacqueline dearly the next time, and her departure sparked online petitions for her return. News circulated in May 2013 that she would take another break, and reports that 'she decided it was the right time to go, despite producers throwing much money at her to get her to stay' worried everyone. The show's representative confirmed that she had, again, filmed some episodes and that they wouldn't recast her role – Jacqueline played Steffy in a few episodes between July and December. However, the TV show removed Jacqueline's name from the credits in February of the following year, and she confirmed in October that she needed to be in complete accord with the producers regarding contractual obligations and filming schedules. Consequently, she was also removed from opening credits.
Jacqueline used that time to promote her suspense thriller movie, "Her Husband's Betrayal," which premiered in 2013, and starred in one "Anger Management" TV show episode alongside actor Charlie Sheen in 2014. Moreover, she hosted the eight-episode TV series on E!, "Party On," starting in December 2013.
Jacqueline returned to "B&B" in 2015
Although her last statement said that she wouldn't return, something unusual happened. Rumors circulated in December 2014 that Jacqueline would appear in a few episodes again in January 2015. She later explained that she wanted to do other things, but Brad Bell, the show's executive producer and head writer, and the son of the show's co-creators, sent her a text message with an idea for a new storyline. She was excited about its potential, and suddenly felt ready to return. Jacqueline signed a contract with the production company in April, and starred in the episode aired on 26 May 2015.
She has three children
Some fans may need to learn that Jacqueline is currently a mother of three, which is easily missed because she adjusted her filming schedule around her late gestation periods and births. Moreover, she primarily announced the additions to her family using her social media profiles, not through prominent media publications, except for the third one.
Jacqueline married Elan Ruspoli, a talent agent for Creative Artists Agency (CAA), in July 2018 after becoming engaged in November 2017. They fell in love as early as December 2016, but made their relationship official in the summer of 2017. Elan is a director, filmmaker, and producer who matriculated from Beverly Hills High School before studying at the University of Southern California. The couple welcomed their first son, Rise Harlen Ruspoli, on 4 March 2019. On 21 February 2021, Jacqueline announced the birth of their second son, Lenix Ruspoli. Finally, after announcing the pregnancy exclusively to People magazine in November 2021, Jacqueline shared on Instagram that she gave birth to the couple's third son, Brando Elion Ruspoli, on 24 May 2022.
Jacqueline is expecting her fourth child
Jacqueline and her husband admitted that they always wanted to have large families with the right person, because they were only children in theirs. Therefore, they were ecstatic that their dreams were coming true. Her husband's name, Elan, means vigorousness, energy, enthusiasm, or style. Thus, they gave their first son a unique moniker, Rise, to signify 'the simplicity of moving forward, because they looked to their son as an uplifting force towards positive change and a better world.' According to some, Lenix is also an uncommon name, for children with a pioneering spirit and natural-born leadership qualities. Based on comments from Kenyan residents online, it means 'people of intelligence' in the Bantu language. Brando is an Italian variation of Brand that means 'fiery torch or sword,' which is notable because Elan's parents are Italian.
Their name choices are undoubtedly important because Jacqueline announced on 17 April this year that she was expecting a fourth child with Elan. She joined the episode of CBS' "The Talk" talk show primarily to celebrate that the soap opera would soon premiere its 9,000th episode, but, perhaps unintentionally, explained that she 'couldn't party hard during her recent birthday trip to Las Vegas, Nevada, because she was pregnant again.' When she realized it, Jacqueline exclaimed, 'I feel like every time I'm here, I'm always announcing that I'm pregnant!' Jacqueline then explained that she only wanted to eat and sleep, but was enthusiastic about partying when she wasn't pregnant. Hence, she sensed her pregnancy before the test confirmed it.
Her pregnancy was concealed
Without her announcement, it would be nearly impossible for the show's viewers to notice Jacqueline's pregnancy while watching Steffy on the screen. Those with a fine eye for detail could spot the producers' clever tricks to hide Jacqueline's growing tummy. She had blankets covering her body during hot summer days and intimate scenes. Also, she wore tailored dresses that made her waist slimmer, or drew attention away from her stomach. Fans speculate that Steffy got bangs in recent episodes, since a new hairstyle is an excellent distraction. Jacqueline also recently admitted that she tries to keep her hands in her pockets to hide her belly, as talking with her hands and turning makes it visible. The directors also instruct her to stand behind objects such as tables for easier cover.
While Steffy's storylines currently show no indication of reducing screen time, the producers will have two options once Jacqueline takes her maternity leave. The first is cleverly writing and integrating her scenes to last until she returns. They are likely asking Steffy to stay longer on set so that they can film as many love scenes with her on-screen husband, Finn Forrester, whom she began dating in 2020 and married in August 2021.
If the show's writers go in another direction, they may abandon or delay some storylines until Jacqueline returns to work. Since she has been pregnant three times in the last few years and is far from the first actress in that predicament, the team of writers has an elaborate, well-tested manual.
Jacqueline will film a bit more
One of the primary problems is that Steffy's scenes in the show recently became more important and captivating, making her absence challenging to hide.
Fans know that Sheila Carter, who turned out to be Finn's biological mother, shot Steffy and Finn and staged the execution as a robbery. Steffy visited her in prison and told her that her son never cared about her and that their newborn son, Hayes Finnegan, would never learn Sheila's name or liking. Writers hinted that Sheila would escape prison, and Steffy would be her first target, presumably for kidnapping. Being on the run will allow Steffy to remain off-screen yet never leave viewers' minds. That would allow her friends to defend or rescue her from her wicked mother-in-law.
Recent episodes showed that Finn survived, but barely; he was in a coma and nursed back to health by his Li, who he knew as his mother. Despite her murderous rampage, Finn grew closer to Sheila after waking up, yet he swore that he loved Steffy. In contrast, Steffy wasn't aware that Finn survived and went to Paris with Kelly Spencer, her daughter with Liam Spencer, and Hayes during the grieving process. She wanted a separation, perhaps even a divorce when she learned that Finn was alive, and had rekindled his relationship with Sheila.
Another trip to another country with her children could explain Jacqueline's absence from "The Bold and the Beautiful" storyline. The writers may again focus on the love triangle between her, her ex-husband Liam, and Hope, his current wife, especially because Hope recently hooked up with Thomas, Steffy's older brother, after he left his fiancé, Zoe Buckingham at the altar for her. Liam recently vowed to do everything in his power to protect Steffy, Hayes, and Kelly from Finn and Sheila, so his efforts would keep Steffy's likeness relevant even if she isn't there.