Xabi Alonso is a retired Spanish footballer, renowned for his exceptional midfield play. He gained prominence for his roles at top clubs such as Real Madrid, Liverpool, and Bayern Munich, contributing to multiple league titles and Champions League victories.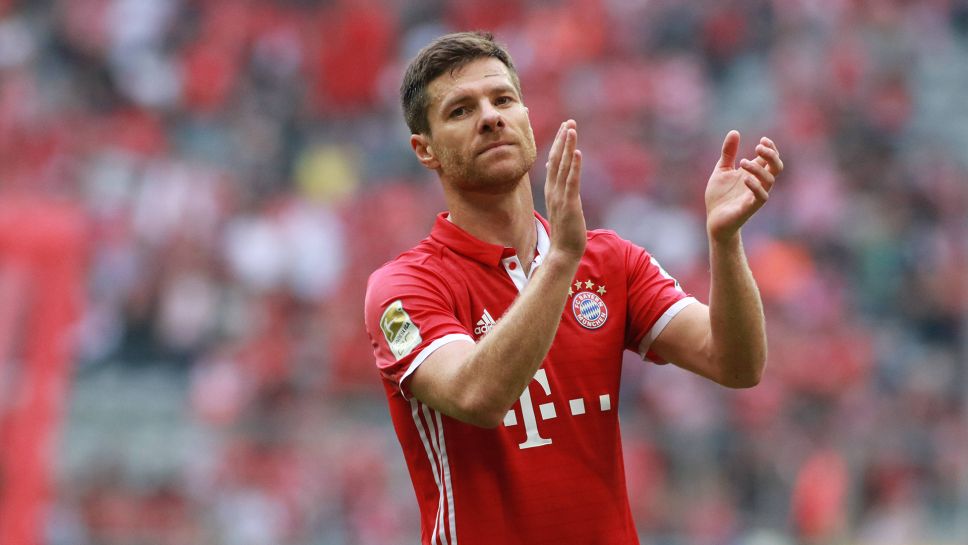 Xabi Alonso Wiki: Age, Childhood, and Education
Xabier Alonso Olano was born on 25 November 1981, in Tolosa, Spain, the son of Isabel Olano and Periko Alonso, and has an older brother, Mikel. His father was a football player and won La Liga with Real Sociedad and Barcelona. Xabi spent his first six years in Barcelona before moving to San Sebastian. He fell in love with football there, playing the game with Mikel Arteta, who is now Arsenal F.C. coach. As he got older, he adopted the passing play style and honed his skills at CE Sabadell and later Antiguoko, where he began his youth career. Eventually, he entered the youth team of Real Sociedad, marking the start of his career.
Career Beginnings
He swiftly advanced through the youth ranks to reach their reserve squad. At 18 years old, he marked his entry into the senior team during a Copa del Rey game against Logroñés. However, he was left out of the team for the remainder of the season, but seeking further development, he was loaned to Eibar in the Segunda División. Amid managerial changes at Real Sociedad, Alonso's talent stood out. Notably, at just 20, he was entrusted with captaincy by manager John Toshack, steering the team from relegation woes to a 14th-place finish, sparking Real Sociedad's revival.
Toshack's focused training honed Alonso's touch and control skills. The team found stability in 2001-02, ending 13th in the league. With 30 appearances and three goals, Alonso's consistent presence fortified the squad. Despite managerial shifts, he remained a key player under Raynald Denoueix. The 2002-03 season was a pinnacle, with Sociedad clinching second place and their first UEFA Champions League qualification in years. Alonso's prowess earned him the Best Spanish Player award, and a role in Spain's national team. His debut in April 2003 impressed Iñaki Sáez, highlighting his remarkable passing and football intelligence.
During the 2003-04 season, Real Sociedad experienced a mix of ups and downs. Xabi stood out in European games, helping the team qualify for the Champions League knockout phase. However, the team's struggles in managing the increased workload resulted in a disappointing 15th-place finish in La Liga. As the season concluded, Alonso thought of leaving the club due to these challenges. However, an offer from Real Madrid wasn't enough for the club, and he stayed.
Alonso's focus shifted to representing Spain at UEFA Euro 2004, where his exceptional passing skills drew notice. Around this time, his childhood friend Mikel Arteta joined Real Sociedad, hoping to partner with Alonso in midfield. Unfortunately, Alonso's discontent with the club became noticeable, as he was absent from pre-season friendlies. This only hinted at an impending move, which materialized when Real Sociedad announced a £10.7 million deal with Liverpool in August 2004.
Rise to Prominence
Under the guidance of manager Rafael Benítez, he seamlessly integrated into the team that already had a few Spanish players on the roster, with Alonso alongside Luis García from Barcelona, ushering in a new era at Anfield. Under Benítez, the team underwent a transformation, with a complete squad overhaul and a shift in tactics. Benítez's initial signings, the technically adept Spaniards, introduced a fresh approach emphasizing skill. Alonso's Premier League debut against Bolton showcased his passing finesse, though Liverpool lost 1–0. In a game against Fulham, his substitution turned the tide as Liverpool rallied from 2–0 down to win 4–2. Alonso's impact was evident, and he notched his first goal with a free kick.
He continued with a great performance, scoring at Anfield against Arsenal, contributing to a 2-1 victory. The ovation from the stands only boosted his confidence in playing in England. However, one thing was missing, a partnership with Steven Gerrard in the midfield. First, the latter was sidelined, and then Alonso, so they had little to no playing time together on the field at first.
He was sidelined for three months following a duel with Chelsea's Frank Lampard. Xabi returned to the Champions League berth, despite not being fully fit. In the quarter-final against Juventus, he contributed to the team's overall victory. Xabi and Liverpool reached the finals eventually, where they faced Milan.
Alonso's debut season came down to a momentous event in the form of the Champions League final. Liverpool was knocked down in the first half with three goals in their net. However, this only set the stage for an even more interesting second half. They scored two quick goals and followed by a penalty. Xabi took the ball, but Milan's skilled goalkeeper Dida saved the initial attempt. Nevertheless, the ball rebounded back to him, and this time he didn't make a mistake and evened the result. Liverpool went on to win the final on penalties, and Xabi has said that this was the best moment in his career. It became known as the miracle of Istanbul.
Following the Champions League final victory, Alonso remained a consistent presence in Liverpool's first team during the 2005-06 season, avoiding the injuries that had plagued his debut season. The arrival of Peter Crouch sparked debates about changes to the team's tactics, but Crouch clarified that Alonso's passing prowess, alongside Gerrard, would define Liverpool's style of play. Although facing competition from Mohamed Sissoko, Alonso's role was secured due to Gerrard's injuries and Benítez's tactical preferences. Despite featuring in all of Liverpool's Champions League matches, their previous dominance waned, evident in their loss to Benfica in the knockout stage.
A remarkable FA Cup tie against Luton Town on 7 January 2006 saw Alonso's instrumental assistance in a 5-3 comeback win, highlighted by his stunning goals from long distances. Notably, one of his strikes resulted in a fortunate windfall for a fan who bet on Alonso's long-range prowess. An ankle injury raised doubts about his participation in the FA Cup final, but he contributed to Liverpool's victory against West Ham United, securing his first FA Cup winners' medal.
On this day in 2009, Liverpool's golden trio was broken apart 💔

Xabi Alonso signed with Real Madrid, dramatically changing the fortunes of both clubs. pic.twitter.com/AE0jVrlKjU

— GOAL (@goal) August 5, 2021
From 2006 to 2009, Alonso continued to make significant contributions. He notably scored a remarkable goal from his own half against Newcastle United, showcasing his long-range abilities. His commitment to Liverpool was reaffirmed by a five-year contract extension, however, injuries and competition for his place emerged, yet Alonso's importance to the team remained consistent. His inclusion in Liverpool's five-man midfield was vital, with his ability to change games and dismantle opposition defenses. Despite transfer speculations, Alonso's loyalty to Liverpool prevailed, and he became a driving force in the team's successes.
Alonso's form remained strong as he contributed key performances, including a vital goal against Chelsea. Statistical records reflected his impact, with him becoming the first Premier League player to complete 1,000 successful passes in a season. His final goal for Liverpool came in a 1-3 away win against Hull City.
Real Madrid, Bayern Munich, and Further Success
In the 2009-10 season, Alonso made a high-profile move to Real Madrid for £30 million. Despite speculation that he didn't want to leave Liverpool, he was given the number 22 jersey and played as a holding midfielder. He scored his first goal for Real Madrid in a 6-2 victory over Villarreal, and he became an integral part of the squad under manager Manuel Pellegrini, featuring in most Champions League and La Liga matches. Real Madrid finished with a club-record 96 points in La Liga, but still fell short of Barcelona by three points. Alonso's consistent performance earned him recognition, being selected as part of the La Liga team of the season by Marca and ESPN Soccernet.
The 2010-11 season welcomed new manager José Mourinho and saw Alonso wearing the number 14 jersey. Despite not scoring any goals, he played a vital role as Real Madrid won the Copa del Rey.
Alonso's third season (2011-12) brought his 100th official game for Real Madrid, and he scored important goals, including one against Barcelona in the Supercopa de España; this season marked his first La Liga title win.
The pinnacle of his Real Madrid career came in the 2013-14 season. He signed a contract extension until 2016 and played a crucial role in Real Madrid's Champions League campaign. Despite missing the final due to suspension, Alonso's contributions helped Real Madrid defeat Bayern Munich and Atlético Madrid, earning him his second Champions League winners' medal.
In August 2014, Alonso joined Bayern Munich on a two-year deal; he made an impactful debut in a 1-1 draw against Schalke 04. Alonso showcased his passing prowess by breaking the Bundesliga record for completed passes in a game, with 196 against FC Köln. His first goal for Bayern came on 18 October 2014, a free kick in a 6-0 victory over Werder Bremen.
Alonso's Champions League journey continued with Bayern. In his 100th appearance, he was sent off against Shakhtar Donetsk, missing the return leg, which Bayern won 7-0. He scored another crucial free-kick goal against Porto in the quarter-finals, aiding Bayern's advancement to the semi-finals. Despite his contributions, Alonso missed penalties in the DFB-Pokal semi-final against Borussia Dortmund and the DFL-Supercup against VfL Wolfsburg.
His impact led to a contract extension in December 2015 until 2017. In March 2017, Alonso announced his retirement from football, culminating his successful career. In his final professional game alongside Bayern captain Philipp Lahm, he played a pivotal role in a 4-1 victory over Freiburg, marking his 79th Bundesliga match.
National Career
In addition to his poignant club career, Alonso has won a number of awards and trophies with the Spanish national team.
Xabi Alonso's international career took a significant turn in the UEFA European Championship 2008, playing a vital role as a substitute for Spain. Notably, he captained the team in a group stage match against Greece, delivering a standout performance that earned him the Man of the Match award. Although he didn't secure a regular starting position due to Spain's strong squad, Alonso's role was still vital for the team. Spain emerged as the champions of Euro 2008, marking an historic moment for Alonso.
The 2010 FIFA World Cup in South Africa became a defining moment in Xabi Alonso's international career. He started every match for Spain, forming a crucial midfield trio with Sergio Busquets and Xavi. The final against the Netherlands saw a moment of controversy when Alonso was subjected to a forceful tackle. Despite the physical setback, he played through pain for over an hour, contributing to Spain's historic victory and their first-ever World Cup triumph.
Continuing his impressive international journey, Alonso's participation in Euro 2012 marked a significant milestone, as he played his 100th match for Spain at the tournament. His contributions included scoring two goals in the quarter-final match against France, and Spain went on to secure their second consecutive European Championship title, with Alonso adding another major international trophy to his collection.
The 2014 FIFA World Cup in Brazil brought both anticipation and disappointment for Alonso and Spain. While he continued to play a crucial role, contributing with a penalty goal in the opening match against the Netherlands, Spain suffered unexpected defeats and was eliminated at the group stage. This prompted his national career retirement.
Bayer Leverkusen Manager
In June 2019, Xabi Alonso became the manager of Real Sociedad B in Segunda División B, leading the team to promotion to Segunda División in his second season. This was the team's first season in Segunda since the '61-'62 season. His prominent work at Real Sociedad B led him to a stint with Bayer Leverkusen, in October 2022, achieving a 4–0 debut win and guiding the team to the UEFA Europa League semi-finals. Alonso's commitment led to a contract extension until 2026, solidifying his role in the club's future.
Net Worth
According to authoritative sources, Xabi Alonso's net worth is estimated at $20 million, as of mid-2023.
Personal Life
Xabi Alonso has been married to Nagore Aranburu since 2009, with whom he has three children.