Who is Angelique Boyer?
Angelique is a Mexican-French actress known particularly for her work in telenovelas. She gained fame for her roles in popular television series such as "Rebelde", "Teresa", "Abismo de Pasión", and "Tres Veces Ana", among others, and has received several awards for her performances in various telenovelas.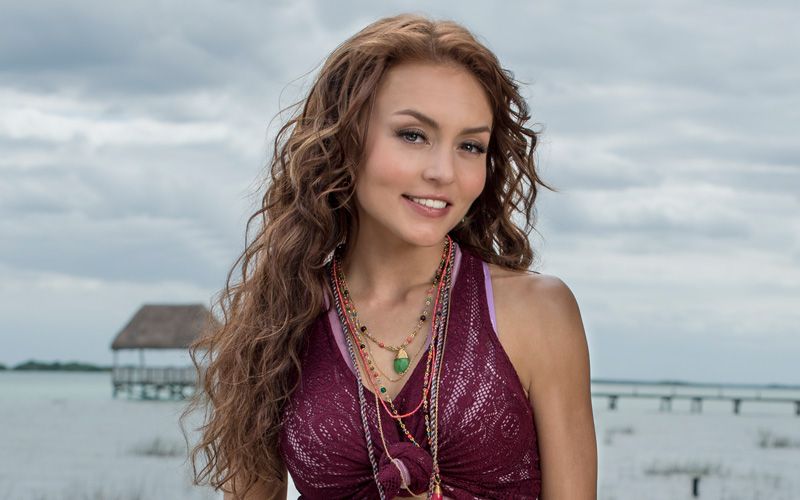 Wiki: Age, Childhood, and Education
Angelique Monique-Paulette Boyer Rousseau was born on 4 July 1988, in Saint-Claude, Jura, France, to parents Sylvie Rousseau (French) and Patrick Boyer (Mexican); she has one sibling, Arnaud Boyer. The family moved to Mexico when Angelique was two years old, where she attended the Centro de Educación Artística, a renowned school where she developed her acting skills, and later became a celebrated actress in Mexican telenovelas.
Career Beginnings
Angelique started her acting career in 2001 at the age of 13, with a special appearance in the TV show "María Belén". Three years later, she made another on-screen appearance, as Anette Elizalde in the series "Corazones al Límite". However, her breakthrough role came later, when she gained widespread recognition for her performance in the popular telenovela "Rebelde" in 2004, Angelique taking on the role of Victoria "Vico" Paz Millán in this hit Mexican telenovela. The series revolves around the lives of students at the prestigious Elite Way School, where Angelique's character, Vico, is a rebellious and mischievous student.
"Rebelde" was a huge success, attracting a massive fanbase not only in Mexico but also internationally. The series became a cultural phenomenon, and catapulted its main stars, including Anahí, Dulce María, Alfonso Herrera, Maite Perroni, Christopher Uckermann, and of course, Angelique Boyer, to stardom. The show's immense popularity only helped Angelique reach early stardom in her career, Boyer continuing to make her mark in the world of telenovelas with various projects.
In 2007, she appeared in the TV series "Objetos Perdidos" as Miss Fitzgerald. Then in the same year, she took on the role of Margarita Villaseñor in the telenovela "Muchachitas Como Tú" as a recurring character. From 2008 to 2009, Angelique portrayed Sandra "Sandy" Hierro Jiménez in the telenovela "Alma De Hierro, co-starring Blanca Guerra, Alejandro Camacho, and Adamari López.
Angelique then took on an even more significant role, as she played three different characters – Ángela Villareal, Jimena Villareal, and Estrella Villareal – in the telenovela "Corazón Salvaje" from 2009 to 2010. She starred alongside Aracely Arámbula, Eduardo Yáñez, and Cristián de la Fuente in this tale of love, revenge, and destiny set in the early 20th century, and based on the classic novel of the same name by Caridad Bravo Adams.
Rise to Stardom
In 2010, Angelique Boyer finally landed  lead role, in the telenovela "Teresa", portraying the titular character, Teresa Chávez Aguirre de De la Barrera, which marked a significant turning point in her career.
"Teresa" follows the story of a beautiful and ambitious young woman from a poor background who is determined to rise above her circumstances and achieve a life of wealth and luxury. She manipulates and uses the people around her, including her love interests, to achieve her goals. As the series progresses, the consequences of her actions and deceit catch up with her, leading to a dramatic and emotional storyline.
The telenovela was a massive success and received widespread acclaim from both the audience and critics. It featured a talented cast, and in addition to Angelique, starred Aarón Díaz as Arturo de la Barrera, Sebastián Rulli as Mariano Sánchez Suárez, and Ana Brenda Contreras as Aurora Alcázar.
In 2012, Angelique Boyer continued her ascent to stardom by taking on another main role in the telenovela "Abismo de Pasión", portraying Elisa Castañón Bouvier, a strong and spirited young woman who falls deeply in love with Damián Arango, played by David Zepeda. However, their love faces numerous obstacles, including family feuds and hidden truths that threaten to tear them apart.
The telenovela's stellar cast also included actors such as Mark Tacher, Sabine Moussier, and Cesar Évora. Angelique's exceptional performance as Elisa showcased her versatility as an actress. "Abismo de Pasión" was a massive success, garnering high ratings and critical acclaim. The series further cemented Angelique's reputation as a lead actress, solidifying her status as one of the most prominent stars in the telenovela industry, drawing in an even larger fanbase and increasing her popularity both in Mexico and abroad.
#Encuesta (Primera ronda)#MejorPareja
– ¿Qué pareja de ficción te gustó más?
MG Angelique Boyer y Sebstián Rulli (Lo que la vida me robó)
RT Ana Brenda Contreras y Jorge Salinas (La que no podía amar) pic.twitter.com/DnF8SHLlMz

— La encuesta (@Laencuesta4) May 13, 2020
From 2013 to 2014, Angelique Boyer continued to shine with her lead role as Montserrat Mendonza Giacinti in the telenovela "Lo Que La Vida Me Robó, a gripping tale of love, betrayal, and redemption. Montserrat is a woman torn between her family's expectations and her heart's desires, and finds herself entangled in a complex love triangle involving Alejandro Almonte, portrayed by Sebastián Rulli, and José Luis Álvarez, played by Luis Roberto Guzmán.
The telenovela's success reaffirmed Angelique Boyer's position as one of Mexico's top leading actresses, with her remarkable portrayal of Montserrat earning her widespread acclaim and accolades.
From 2016 to 2017, Angelique once again impressed audiences with her exceptional acting skills in the telenovela "Tres Veces Ana", in which she portrayed three identical triplets: Ana Lucía Hernández, Ana Laura, and Ana Leticia Álvarez del Castillo, in the thrilling story of sisters separated at birth, each leading drastically different lives. Angelique's portrayal of the distinct personalities of the triplets displayed her talents as an actress, garnering admiration from fans and critics alike, starring in a talented ensemble that included Sebastián Rulli as Santiago Sánchez-Gallardo, David Zepeda as Mariano Sánchez Suárez, Pedro Moreno as Iñaki Arango, and Ramiro Fumazoni as Ramiro Sánchez Suárez.
Continuing her remarkable career in Mexican telenovelas, Angelique Boyer starred alongside esteemed actors in various productions. From 2018 to 2019, she portrayed Lucía Borges Duarte de Carvajal in "Amar a Muerte", a gripping drama involving reincarnation, love, and revenge. The series also featured stars such as Michel Brown and Alejandro Nones.
In 2020 and 2021, Angelique was cast as Elisa Cantú Robles in "Imperio de Mentiras"; the telenovela delves into a tale of deceit, secrets, and the thirst for power. The main cast included Andrés Palacios and Leticia Calderón.
In 2021, she portrayed Renata Sánchez Vidal in "Vencer el Pasado", a telenovela exploring the complexities of love, redemption and forgiveness. Her co-stars included Arantza Ruiz and Emilio Osorio, bringing life to a heartwarming and emotional storyline.
In 2022, Angelique made a guest appearance as Renata Sánchez Vidal in "Vencer La Ausencia", further adding depth to the character's journey alongside Jade Fraser and Emilio Beltrán, then the following year she took on the challenging double role in "El Amor Invincible" as Marena Ramos and Leona Bravo; her co-stars included David Zepeda and Cynthia Klitbo.
Net Worth
According to authoritative sources, Angelique Boyer's net worth is estimated at $6 million, as of mid- 2023.
Personal Life, Marriage, Husband, Children
Angelique Boyer has been in a relationship with her frequent co-star Sebastian Oscar Rulli since 2014. The couple doesn't have children, and Angelique has lately told the press that with every passing day, she is more determined not to have children.
Appearance and Body Measurements
Angelique Boyer has dark brown hair though she often knows to dye her hair blonde or black, and she has green eyes. She stands at a height of 5ft 5ins (1.65m), weighs approximately 110 lbs (50kgs), with vital statistics of 31-24-34, bra size 36C.