Katie McGrath
Born on 24th October 1983 in Ashford, County Wicklow, Ireland, Katie McGrath is an actress who first gained recognition thanks to her portrayal of Morgana Pendragon. Other famous characters of the brunette's are Saskia of "Secret Bridesmaids Business", and Lucy Westenra in "Dracula".
Katie's father, Paul, works in I.T, whereas her mother Mary works in the Irish fashion industry. Katie's two brothers, Sean and Rory, are an online media manager and post-production producer respectively. After studying an International Baccalaureate at St. Andrew's College, Katie graduated from Trinity College with a history degree.
At 5ft 6in (168cm) tall and weighing just 130lbs (59kgs), Katie's enviable figure and striking blue eyes have made her a hot commodity in the entertainment industry. According to online sources, the actress's diet is mainly made up of good fats, fruits, and plenty of vegetables and nuts, but no dairy. In a 2021 interview, the "Supergirl" star also shared that she loved exercising, finding it helpful for her mental health and self-care.
Notable Roles
A little-known fact about Katie's origin story is that the Irishwoman first worked in Image magazine, and hoped to make a career for herself in fashion journalism. While working as a wardrobe assistant on the set of "The Tudors", she was advised to try acting and sent headshots to Irish agents.
It didn't take long for the first projects to come; from an appearance in the 2007 TV movie "Damage" to a starring role in "La Marea", Katie's work ethic and talent set her apart from her peers. In 2008, she had roles in the TV films "Freakdog" and "Eden" and was cast as Morgana Pendragon in "Merlin", which would change the course of her career forever.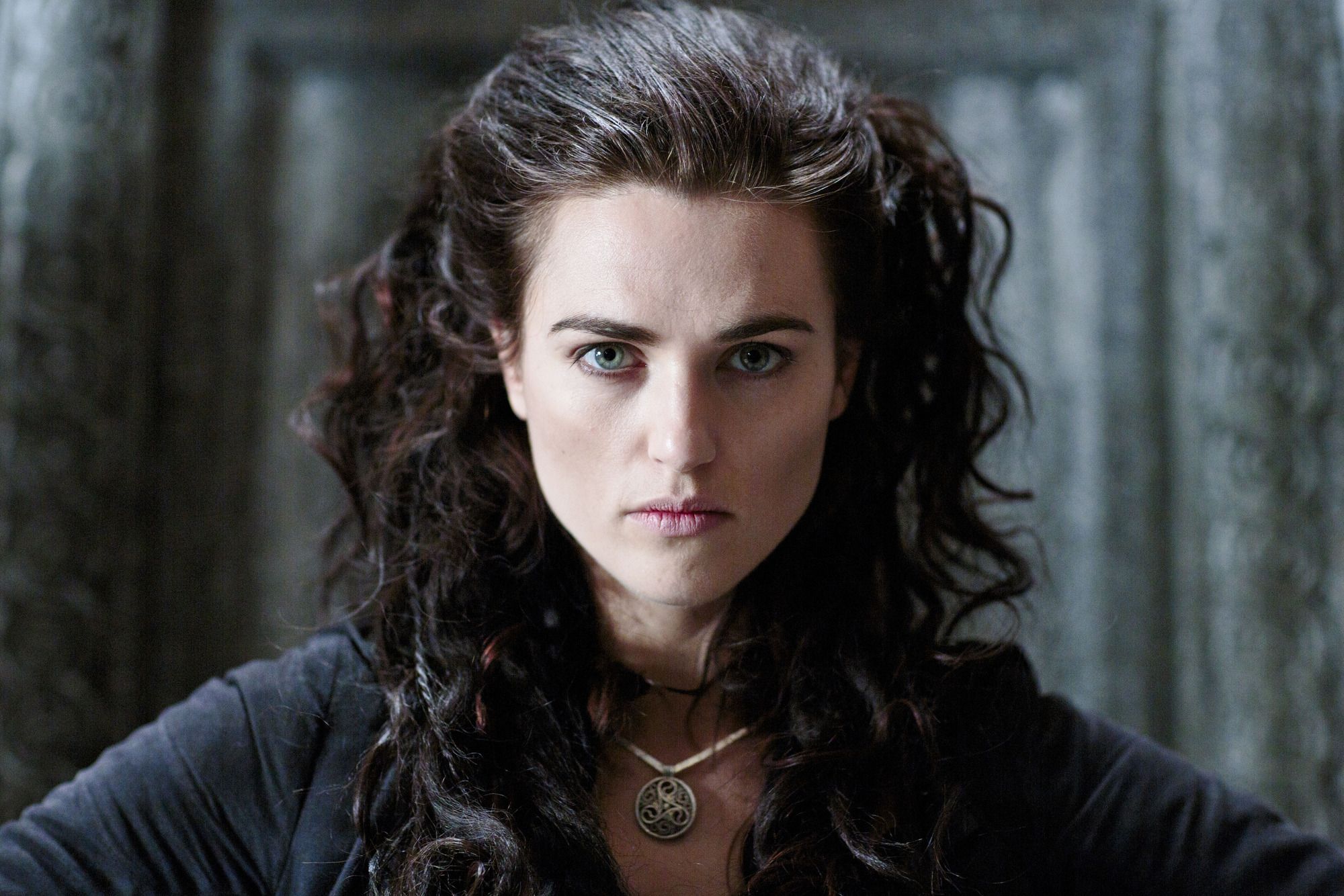 In seasons one and two of the show, Morgana was portrayed as a kind and loyal friend. Things began going downhill for the character when she dabbled in black magic for the first time and was exiled from Camelot; viewers were shocked to see her become a powerful sorceress who used her powers to wreak havoc on the townsfolk even after being exiled.
In 2009, Katie also landed a starring role in "The Queen", playing Princess Margaret in the Channel 4 docudrama that explored Queen Elizabeth II's fascinating life. The actress was briefly reunited with her on-screen "Merlin" sister Emilia Fox, who played Elizabeth II. The following year, Katie played Lady Furness in "W.E.", an Edward VIII biopic that was Madonna's directorial debut. Katie's role was an important one, as Lady Furness introduced the king – her former lover – to Wallis Simpson.
2011 was also a plentiful year for work, as Katie starred in the comedy-drama Hallmark movie "A Princess for Christmas" opposite Roger Moore. Much of the shooting was done in Romania, meaning that Katie had to put other projects on hold; however, later in the year she did voiceover work for the Irish animated short film "Through the Storm" (original title "Trid an Stoirm") and played Oriane Congost in "Labyrinth".
While playing Lucy Westenra in the 2013 horror-drama series "Dracula", Katie was reunited with Jonathan Rhys Meyers, her "Tudors" co-star and close friend. In the 1897 Bram Stoker novel, Lucy was described as a demure blonde woman waiting for the right man to come along and marry her. The wealthy socialite, who was Count Dracula's first English victim, was eventually killed by Van Helsing; however, Katie's portrayal of Lucy was an especially controversial one, as this time, the character was bisexual and harbored secret feelings for her best friend.
Katie McGrath in Jurassic World

Photo credit:
Original photo from Jurassic World,
Edited by me 🙂 pic.twitter.com/oMn1VlhX1z

— Nimueh Thread (@Nimueh_Thread) July 22, 2015
Being cast as Zara Young in "Jurassic World" saw Katie work with Hollywood icons such as Chris Pratt and Bryce Dallas Howard. Zara was Claire's personal assistant and met a grisly fate after being devoured by a mosasaurus; although Katie didn't get much screentime during the movie, "Jurassic World" was a huge blockbuster which brought in over $1.6 billion at the box office.
In 2016, Katie had a leading role in season one of "Slasher", an anthology horror series created by Aaron Martin that was acquired by Netflix for its second season. Sarah's parents were murdered on Halloween 1988; at the time, her mother was pregnant, and the killer was arrested holding the newborn baby in his arms. When Sarah and her husband returned to her birthplace decades later, a series of copycat murders took place shortly afterwards.
Another notable role of Katie's is that of Lena Luthor in "Supergirl". After joining the cast in season two, Lena soon became a series regular until the end of the show in 2021. The fictional comic book character has also been played by actresses Denise Gossett and Cassidy Freeman; Katie's version is generally regarded as the best one thanks to the popularity of the show.
One of Katie's last big projects was a starring role in "Secret Bridesmaids' Business". The Seven Network series had a talented ensemble including Georgina Haig and Abbie Cornish. Katie played Saskia, a loyal and intelligent lawyer with a big secret.
Personal Life
Over the years, there's been some confusion regarding Katie's personal life, due to her playing lesbian or bisexual characters. The Irishwoman was also linked to Jonathan Rhys Meyers in the mid-2000s, but the unfounded rumors were never proven to be true.
Katie is currently rumored to be in a long-term relationship with her "Merlin" co-star Colin Morgan. As both actors stay away from social media, their romance has yet to be confirmed or denied after years of speculation. Nevertheless, some media outlets claim that Katie and Colin became engaged in 2016, after dating for six years.
Although the chemistry between Katie and Colin in their "Merlin" interviews and at red-carpet events is undeniable, Colin has also been photographed at multiple events with other women. Katie also said in a more recent interview that she viewed Colin as a brother; for now, it's safe to assume that the actress is single until she herself states otherwise.
As of 2023, Katie's estimated net worth is $5 million, thanks to her acting career. For now, the brunette has no other revenue streams that we know of.