Who is Lucy Punch?
Lucy is a British actress, born on 30 December 1977, in London, England. She started her acting career in 1998, and has since appeared in a variety of films and television shows. Some of her notable works include roles in films such as "Hot Fuzz", "Bad Teacher", and "Dinner for Schmucks". In addition, she's also appeared in popular television series such as "New Girl" and "Into the Woods". Punch is known for her comedic timing, often playing quirky or eccentric characters.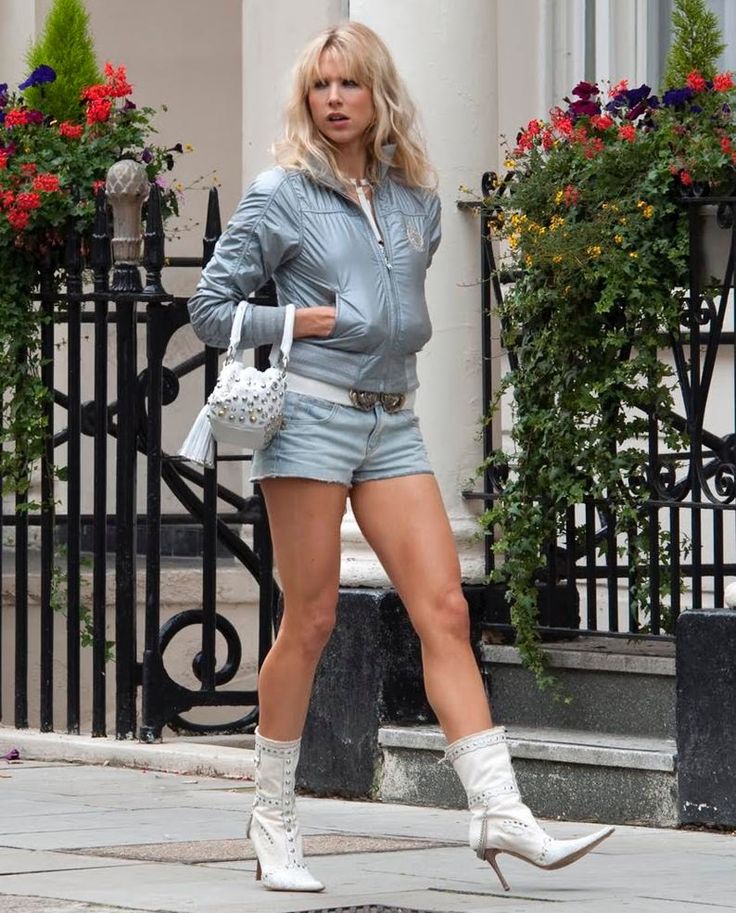 Early Life and Education
Lucy was born to Johanna and Michael Punch and has an older brother named Thomas. Lucy attended Godolphin and Latymer School in Hammersmith, and went on to study History at University College, London. However, her passion for acting led her to leave university and enroll at the London Academy of Music and Dramatic Art (LAMDA).
Roles in Movies
Lucy made her film debut in a 2000 TV adaptation of "Cinderella", and in the following years, she had supporting roles in movies such as "Greenfingers" (2000), "Goodbye, Mr Steadman" (2001), and "Second Nature" (2003).
However, it was her role in the 2004 fantasy comedy musical "Ella Enchanted" that brought her to the attention of a wider audience. The movie starred Anne Hathaway as a young woman who is enchanted to be obedient, but has to hide it from her stepfamily to avoid being exploited – Lucy played the role of Ella's cruel step sister, Hattie.
Three years later, Lucy appeared in "Hot Fuzz", a British action-comedy directed by Edgar Wright, playing the role of Eve Draper, one of the residents of the fictional village of Sandford. The film was a commercial success, and received positive reviews from critics. Also in 2007, Lucy had a role in the comedy "St. Trinian's", directed by Oliver Parker and Barnaby Thompson.
In 2010, Lucy appeared alongside Steve Carell and Paul Rudd in the comedy "Dinner for Schmucks", directed by Jay Roach and which follows a corporate executive who ends up befriending a sketchy IRS worker. Lucy played the role of Darla, the obsessive and crazy ex-girlfriend of Paul Rudd's character, Tim, with her performance praised for its comedic timing and physical comedy.
Happy Birthday to Lucy Punch@LucyPunch #LucyPunch #Actress
About: https://t.co/X9ilQN1LEe pic.twitter.com/X2nvVQYo1t

— Celebrity Born (@CelebrityBorn) December 30, 2017
Lucy also appeared in Woody Allen's comedy-drama "You Will Meet a Tall Dark Stranger" (2010), playing the wife to Antony Hopkins' character. The film was warmly received by the critics and also showcased Lucy's vocal abilities, as she got to perform two songs in the movie.
In the following years, Lucy had roles in comedy films such as "Bad Teacher" (2011), "Stand Up Guys" (2012), and "She's Funny That Way" (2014).
Another notable role for Lucy was in the 2014 fantasy adventure comedy "Into the Wood", directed by Rob Marshall, and which also starred Meryl Streep, Anna Kendrick, and Chris Pine. The movie centers on a witch who sends a poor couple on a quest to procure magical items to reverse the curse she put on their family. Despite the star-studded cast, the movie received mixed reviews, however, the actors' performances, including Lucy's, were unanimously praised.
In 2017, she starred in the queer comedy "You, Me and Him", written and directed by Daisy Aitkens. Most recently, in 2022, she had a supporting role in the crime comedy "Confess, Fletch", which stars John Hamm as a murder suspect trying to prove his innocence.
Roles in TV Series
In addition to her film roles, Lucy has had a successful career in television, appearing in a variety of series, most notably sitomcs. One of Lucy's early television roles was in "The New Adventures of Robin Hood" (1998), in which she made her acting debut with an episodic role. In the following years, she had minor roles in other British series, such as "Renford Rejects" (1999), "Let Them Eat Cake" (1999), and "Doc Martin" (2004.)
In 2006 and 2007, Lucy starred in the short-lived CBS sitcom "The Class", which follows a group of 27-year-old childhood friends who reunite after more than a decade.
Three years later, Lucy played the role of Deena Pilgrim in the pilot episode of "Powers", a series based on the eponymous comic book series. Although the show wasn't picked up for production, Lucy's performance was well-received.
In 2012 and 2013, Lucy starred in the Fox comedy series "Ben and Kate", created by Dana Fox and directed by Jake Kasdan. It revolves around a pair of odd-couple siblings and their friends. Lucy's role as BJ Harrison is one of the main characters of the series, a bartender who works with Kate and is her best friend. She's portrayed as self-centered, irresponsible, and somewhat clueless about how to behave in certain social situations. Although "Ben and Kate" received positive reviews from critics, it was canceled after one season due to low ratings.
Lucy also guest starred in two episodes of the popular American sitcom "New Girl" in 2016, playing the role of Genevieve, a love interest for Jake Johnson's character, Nick.
From 2018 through 2019, she had the role of Esme Squalor in the Netflix hit show "A Series of Unfortunate Events", based on the eponymous book series written by Lemony Snicket (real name Daniel Handler). The series consists of three seasons, released between 2017 and 2019. It follows the tragic tale of the Baudelaire orphans, Klaus, Violet, and Sunny – whose evil guardian Count Olaf desperately tried to get his hands on their inheritance. Lucy's character was introduced in the second season; she is a wealthy and fashionable woman who becomes the Baudelaire orphans' new guardian. However, it soon becomes clear that she has ulterior motives and is in cahoots with Count Olaf. Lucy Punch's portrayal of Esmé Squalor was well-received by both fans and critics, bringing a perfect blend of humor, absurdity, and villainy to the character, making her one of the most memorable characters in the series.
More recently, in 2021, she voiced Kate Middleton in the controversial animated series "The Prince", which aired on HBO and offers a satirical look at the British royal family.
One of Lucy's most notable TV roles was in the British comedy-drama "Motherland", which has been airing since 2016. The series navigates the reality of middle-class motherhood, looking at the less idillic sides of parenting. Lucy plays one of the lead roles of Amanda, a wealthy and snobbish mother who is the queen bee of the school gate. Her performance is considered to be one of the highlights of the series, and adds a layer of depth to what could have been a one-dimensional character.
Love Life and Relationships
Lucy has always been quite private about her personal life and has rarely discussed her relationships in public. However, it's known that she was in a long-term relationship with English actor James D'Arcy; the couple dated for several years in the early 2000s but eventually parted ways.
In 2015, she gave birth to her son, Rex. In subsequent interviews, she referred to raising the child with her partner, but whom she hasn't publicly named.
Net Worth
As of September 2023, Lucy's net worth has been estimated to be close to $3 million, having earned her wealth through her successful acting career, appearing in both film and television projects. Lucy continues to be a sought-after actress and is set to appear in several upcoming projects.