Who is Carolina Gaitan?
Carolina is a Colombian actress and singer, probably best known for her role as Catalina Santana in the TV series "Sin Senos No Hay Paraíso", in addition to several other roles shes had so far in her career.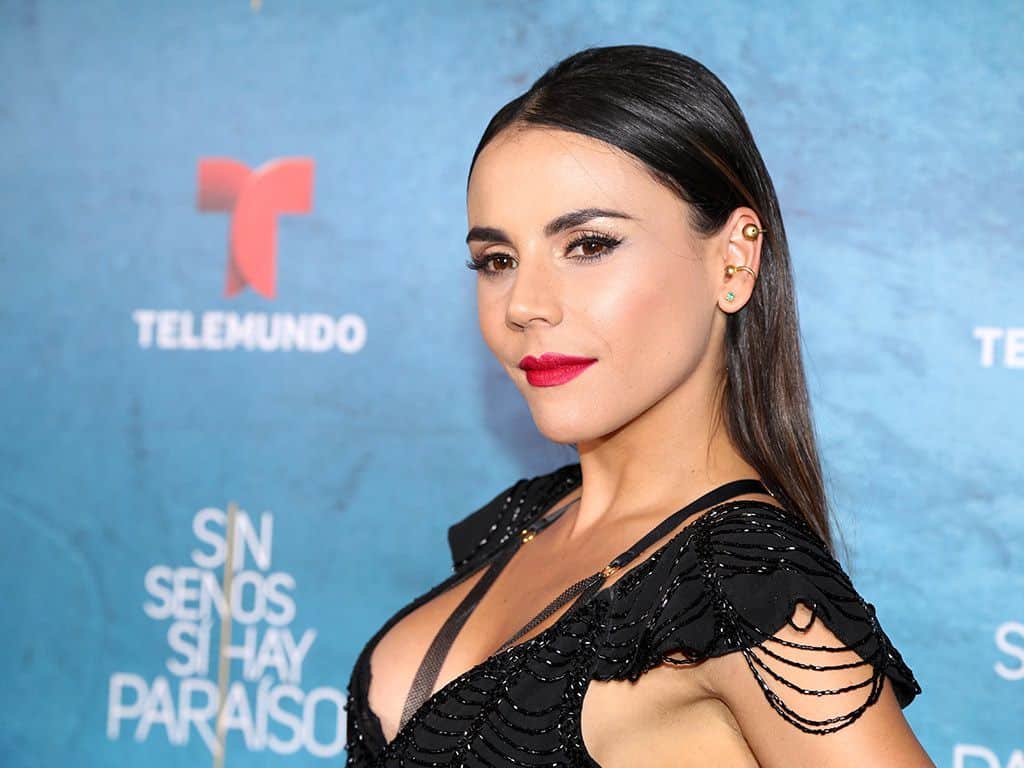 Carolina Gaitán Wiki: Age, Childhood, and Education
Carolina del Pilar Gaitán Lozano was born on 4 April 1984 in Villavicencio, Colombia. According to sources, Carolina's father is a commercial pilot, while her mother was a private pilot. She grew up in Llano in a big family of five children surrounded by domestic animals.
According to reports, she finished high school in Colombia, and then moved to New York, where she studied at the Lee Strasberg Theater and Film Institute.
Career Beginnings
Carolina started her career as a singer before pursuing an acting career. She joined the band Escarcha with which she won the Colombian talent show "Popstars: Colombia".
She made her acting debut in 2005 as Yuli Salcedo in the series "Vuelo 1503". Continuing her foray, she appeared in "Así es la vida" (2007), portraying Sussana in the episode entitled "Enamorando a mi esposo", and in the same year she appeared in "Zona Rosa" as Sara Bautista.
In 2008, she took on the role Valentina, featured in the episode "Laura, La Encubridora" of "Mujeres Asesinas".
Rise to Stardom
In 2009, Carolina Gaitán achieved a breakthrough by securing her first major role in the series, "Gabriela, giros del destino", playing the lead role of Gabriela Rueda. The show's plot revolves around Gabriela's life and the twists of fate that shape her journey, highlighting her experiences and challenges as she navigates various circumstances, co-starring Andres Toro, John Alex Toro, and Carolina Sepulveda.
Continuing her successful trajectory, Carolina Gaitán assumed the lead role of Catalina Bernabeu in the TV series "Isa TK+", which ran from 2009 to 2010, and follows the life of Isa, a teenage girl who moves to a new city and navigates the challenges of a new school while pursuing her dreams. Catalina is Isa's best friend, providing support and camaraderie throughout the series. Alongside Carolina Gaitán, main stars such as María Gabriela de Faría and Reinaldo Zavarce contributed to the show's popularity by portraying Isa and Alex, respectively.
In 2010, Carolina Gaitán played Valeria in "La Diosa Coronada". The show's narrative revolves around the captivating story of Valeria, who becomes entangled in a world of deceit, power struggles, and passion. The series featured main stars such as Carolina Gómez and Andrés Sandoval.
In 2011, Carolina Gaitán appeared in "Flor Salvaje" as Alicia, a recurring role in the series. The plot follows the life of Amanda, a woman who faces adversities and challenges while navigating her way through a tough environment. The main stars of included Mónica Spear and Roberto Manrique.
In 2013, Carolina Gaitán took on the lead role of Ana Belén Páez Argüello in "Alias el Mexicano". The series revolves around the life of notorious drug lord "El Mexicano", and features main stars such as Diego Cadavid and Carolina Guerra.
From 2015 to 2016, she played Nelly Calle in the lead role of "Hermanitas Calle". This series follows the journey of the Calle sisters in the music industry, and stars Carolina Gaitán alongside Yuri Vargas as Fabiola Calle.
In 2015, Carolina Gaitán appeared in the acclaimed series "Narcos", taking on the role of Marta Ochoa in two episodes, sharing the screen with the show's main stars Wagner Moura and Boyd Holbrook. The series focuses on the rise and fall of the Medellín drug cartel.
From 2015 to 2016, Carolina Gaitán played Lola Calvo in "Celia". The show revolves around the life of Cuban singer Celia Cruz. Carolina Gaitán's portrayal of Lola Calvo, a significant figure in Celia's life, added depth to the narrative. The main star in "Celia" is Jeimy Osorio, who portrays the titular character.
From 2016 to 2019, Carolina Gaitán achieved remarkable success through her portrayal of Catalina Marín Santana in the TV series "Sin senos sí hay paraíso". Her role as Catalina catapulted her into the spotlight, and significantly advanced her career.
The series centers around the life of Catalina Marín Santana, a strong and determined young woman who navigates the dangerous world of drug trafficking in her pursuit of a better life for her family. The show follows Catalina's journey as she becomes entangled in a web of crime, love, and survival, facing numerous challenges and adversaries along the way. Carolina Gaitán's performance as Catalina received widespread acclaim, alongside co-stars of the series including Carmen Villalobos as Catalina Santana (Catalina Marín's mother), Catherine Siachoque as Hilda Santana (Catalina Marín's aunt), and Fabián Ríos as Albeiro Marín (Catalina Marín's father).
Las sorpresas siguen con @GreatestShowman 🎩🎪🎟🤗 … Aquí les dejo la versión acústica de #AsíSoy q grabé hace unos días con @CGaitanOficial y @HectorTrejo 😜 espero q les guste tanto como a nosotros 💜 @FoxMexico https://t.co/QYWwC0szIv

— Maite Perroni B. (@maiteperroni) December 30, 2017
Carolina Gaitán's success as Catalina further propelled her career, establishing her as a prominent figure in the entertainment industry, bringing her recognition within the industry, but also earning her a dedicated fan base.
In 2017, Carolina Gaitán showcased her singing talents in the movie "The Greatest Showman" as a background singer, although uncredited.
Her significant success came in 2021, when she lent her voice to the character Pepa Madrigal in the film "Encanto", contributing to both the English and Spanish versions of the movie which tells the story of the Madrigal family, each possessing magical powers except for Mirabel. As the family's house, "Encanto", loses its magic, Mirabel sets out to save the day. Carolina's role as the voice of Pepa Madrigal marked a significant achievement in her career.
Carolina Gaitán received award nominations for her collaborative performance in the song "We Don't Talk About Bruno" along with her co-stars Stephanie Beatriz, Adassa, Diane Guerrero, Mauro Castillo and Rhenzy Feliz. The nominations included categories such as "International Song of the Year" at the Brit Awards, and "Record of the Year" and "Best Collaboration" at the Gold Derby Music Awards.
To speak further of her accomplishments, in 2022, Carolina Gaitán starred as Camila, also known as "Cams", in the TV series "Juanpis González – The Series". The show revolves around the country's most pampered man who faces a challenging trial set by his grandfather to inherit the family fortune. Throughout this journey, he discovers what he considers his calling: politics, albeit with unconventional and sometimes unlawful methods. The series features stars such as Alejandro Riaño and Jairo Camargo.
In 2023, Carolina starred alongside Allan Hawco and Sebastian Eslava in the film "Quicksand", which follows a married couple on the brink of divorce, who find themselves ensnared in a life-threatening situation while hiking through a Colombian rainforest. Trapped in quicksand, they confront the harsh challenges of the jungle and must join forces to ensure their survival.
She is currently working on several projects, including the films "8 Confessions in Los Angeles" and the TV series "Second Chances", among others.
Music Career
In addition to her acting endeavors, Carolina Gaitán has ventured further into the world of music, releasing two EPs, "La Gaita", and "De Colombia" in 2018 and 2021 respectively. Some of her most notable songs include Qué No Se Dice de Mi", "Miedo", "El Primer Beso", "Embrujo" (2021) featuring Mariana Gómez, and "Igual" with Nico Legreti, among others.
Net Worth
According to authoritative sources, Carolina Gaitán's net worth is estimated at $6 million, as of mid-2023.
Personal Life, Married, Husband, Children
Carolina Gaitán has been married to Nicolas Moreno since 11 April 2015. There is no information if the couple has children or not.
Appearance and Body Measurements
Carolina Gaitán has black hair and brown eyes. She stands at a height of 5ft 7ins (1.7m), weighs approximately 120lbs (55kgs), with vital statistics of 29-24-31, and bra size 34A.