Who is Will Gao?
With a fresh and promising presence in the industry, according to critics, Will Gao is already making waves with his compelling performances and infectious enthusiasm. As he takes his first steps in the world of acting, his dedication and potential are turning heads and leaving audiences eager to see what incredible roles and experiences lie ahead. He rose to prominence playing Tao Xu in the romantic drama series "Heartstopper", which aired on Netflix. The show gained huge success among teenagers, and earned numerous praise and accolades.
Get ready to be captivated by the exciting journey of this emerging talent, as he brings new energy and creativity to the world of entertainment. Let's learn more about Will Gao and his newfound fame.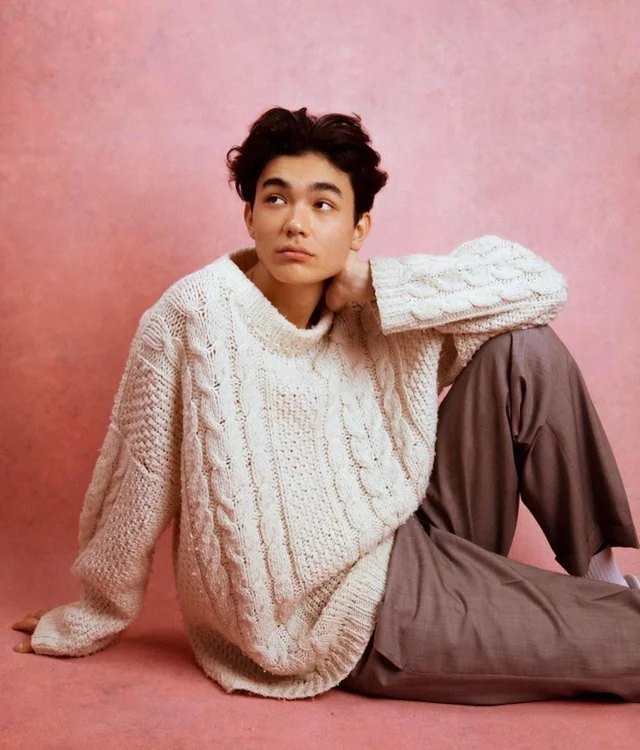 Early life, family, and education
Born William Gao under the zodiac sign of Pisces on 20 February 2003, in South Croydon London, England, he holds British nationality and comes from a family of English and Chinese descent. Will's mother moved from China to England in her twenties, where she met Will's father, whose name hasn't been revealed. Because she goes by the name Liping Hardy Gao, it is assumed that Will's mother married a guy with the surname Hardy, and Will has a sister named Olivia Hardy, with whom he performs in the band Wasia Project. They have a younger brother whose identity hasn't been revealed.
When it comes to Will's educational background, he attended the private boy's Trinity School, a day school, where he completed A Levels in Music, Drama and Chinese in 2022. In 2019, Will joined the National Youth Theatre.
Entry into acting
After he watched the play "The Great Wave" by Francis Turnly, Will realized that himself was been represented on stage, and decided that he wanted to be an actor so he could represent characters in which people would recognize themselves.
He made his acting debut playing on the stage of the National Youth Theatre, and his first movie appearance was in the 2021 short movie "Crescendo". However, with his first television role, Will managed to accomplish what took many actors years to achieve – making an indelible impact on viewers. He was cast to play Tao Xu in the critically acclaimed series "Heartstopper", which besides fame earned him the Children's & Family Emmy Award nomination for Outstanding Supporting Performance in a Preschool, Children's or Young Teen Program.
Heartstopper stars Joe Locke, Yasmin Finney, and Will Gao tastetest French snacks pic.twitter.com/Jdm4MB3ao0

— Netflix (@netflix) August 5, 2023
"Heartstopper" tells the story of Charlie Spring and Nick Nelson, two students from the fictional Truham Grammar School in the heart of Britain, who meet and fall in love. Furthermore, the show delves into the complicated web of friendships and relationships within their group, a colorful tapestry in which many people identify as LGBTQ+ (Lesbian, Gay, Bisexual, Transgender, Queer, Plus).
Based on the graphic novel and web-comic series by Alice Oseman, the series had 23 award nominations, including two for the British Academy of Film and Television Arts (BAFTA) Award, and 14 wins. Will was seen in all 16 episodes which aired in 2022 and 2023.
Will's character, Tao, is one of Charlie's best friends, known for his large collection of beanies. His personality is very likable as he's extremely protective of his friends and funny, however, he suffers from low self-esteem.
According to critics, this remarkable newcomer, who recently made his debut in a television series, has swiftly become a household name, thanks to an electrifying performance that has left audiences in awe. Will's completed the filming of his newest projects, and to give you a sneak peek, he will play Edward in the horror thriller "Sunrise", directed by Andrew Baird. His co-stars are Guy Pearce, Olwen Fouere and Ale Pettyfer. The movie is set to be released in late 2023.
Wasia Project
As mentioned, Will and his sister, Olivia, are the founders of the musical group called Wasia. The duo explained the name of the group as a 'fusion of White and Asian culture'. Both Will and Olivia are very talented when it comes to music; he's a classically trained pianist, while his sister plays the violin using the Suzuki method.
Wasia Project released their debut song, "why don't you love me", followed by their Extended Play (EP), "How Can I Pretend", in 2019. Their song, "Ur So Pretty" was included on the soundtrack of the second season of "Heartstopper".
Love life and relationships, Is he gay?
While there's been speculation about his sexuality, it's essential to note that there's no substantial evidence to definitively determine Will's sexual orientation. He's maintained a level of privacy when it comes to this aspect of his personal life, and hasn't spoken about any man or woman he's been with.
Although he was romantically linked to his co-star from "Heartstoppers", Yasmin Finney, who played Will's character girlfriend, Elle, it seems that this was just an on-screen match-up, since neither Will nor Yasmin have spoken about these assumptions.
As of October 2023, it seems that Will is single. We visited his Instagram account, which by the way, is being followed by over two million people, to check if there's any post that could reveal his relationship status, however, we didn't have much luck. There are only 10 posts, mostly related to his work.
Age, height, and net worth
Will is 20 years old, and according to critics, this talented youngster is just at the beginning of a  great acting and musical career. Many of his fans (mostly female) said that Will is quite a good-looking young man. He has black hair and dark brown eyes, and if you have wondered how tall Will is, he stands at a height of 6ft 2ins (1.91m).
Fun fact: In the graphic novel series "Heartstopper", the character of Tao is the shortest of all of his friends, standing at 5ft 5ins (1.65m), however, in the series, Tao is the tallest of the boys.
Thanks to his talent and hard work, Will is making a good living for himself. According to sources as of October 2023, his net worth has been estimated at over $500,000.