Who is Jason Earles?
Jason is an American actor and comedian, perhaps best known for his role as Jackson Stewart in the Disney Channel TV series "Hannah Montana", in addition to many other projects on which he's worked in his career.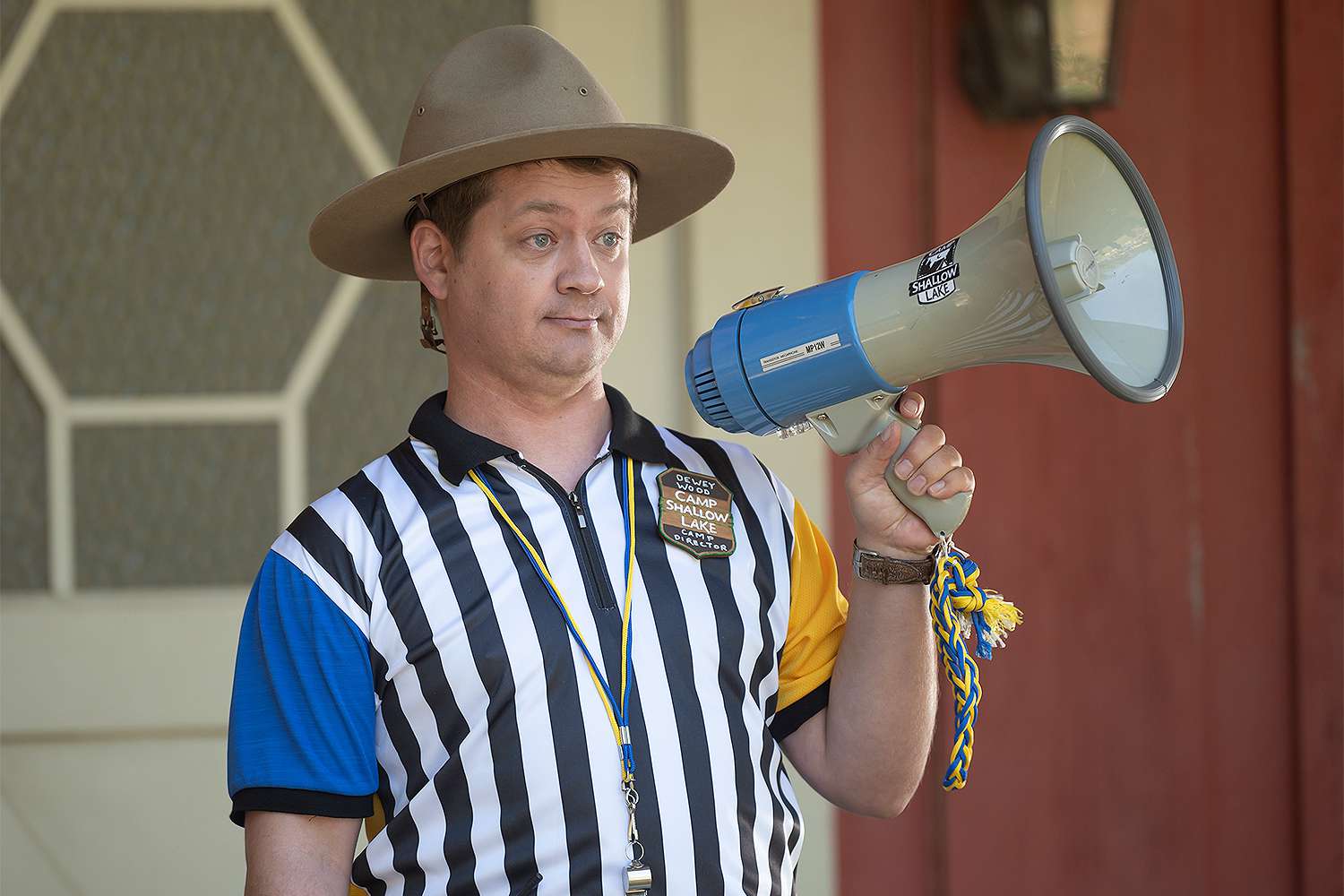 Jason Earles Wiki: Age, Childhood, and Education
Jason Daniel Earles was born on 26 April 1977, in San Diego, California USA. The family moved to Ohio and later Washington State during his childhood, eventually settling in Oregon, where he attended Glencoe High School in Hillsboro. Following matriculation, he moved to Billings, Montana, and enrolled at Rocky Mountain College, graduating with his degree in theatre arts in 2000.
Career Beginnings
In the early 2000s, Jason Earles started his career with minor roles in TV series. He appeared as the "Swirley kid" in a 2003 episode of "MADtv", and the same year portrayed "Kyle" in the episode of "The Shield" entitled "Breakpoint".
In 2004, Jason Earles appeared as "Goran the Invincible" in the episode entitled "Still Winning" of the CBS sitcom "Still Standing", portraying a nerdy card gamer who was friends with the character Brian Miller. The show revolved around the daily life and challenges of the Miller family in Chicago.
The same year, he portrayed Thomas Gates in the film "National Treasure". The movie stars Nicolas Cage as Benjamin Franklin Gates, an historian and treasure hunter, as he searches for hidden treasure linked to the founding of the United States.
Rise to Stardom
From 2006 to 2011, Jason Earles gained significant recognition and stardom through his portrayal of Jackson Stewart in the popular Disney Channel TV series "Hannah Montana". As a main cast member in all 98 episodes, Earles' role as the comedic older brother of Miley Stewart (played by Miley Cyrus), was pivotal to the show's success.
In the series, Jackson Stewart is depicted as an eccentric and often bumbling character, providing comedic relief with his goofy antics and endearing interactions with his family and friends. The on-screen chemistry between Jason Earles and Miley Cyrus, along with other stars including Mitchell Musso, Billy Ray Cyrus and Emily Osment, among others only helped the popularity of the show.
In 2009 Jason portrayed Jackson Stewart in the film "Hannah Montana: The Movie", which focused on Miley Stewart's struggles to balance her dual life as a pop star and a regular teenager.
HANNAH MONTANA – "Hannah Montana" stars Jason Earles as "Jackson Stewart," Emily Osment as "Lilly Truscott" and "Lola…

Posted by Tvklan on Tuesday, October 2, 2012
The same year, Jason Earles contributed his voice talents to the "Air Buddies" film.
In 2009, he lent his voice to the character Spudnick in the direct-to-video film "Space Buddies". The movie follows the adventurous journey of a group of puppies who accidentally end up in space.
Continued Success
Jason Earles next secured another notable and long-running role, in the Disney XD TV series "Kickin' It", in which he played Rudy Gillespie. He starred in 83 episodes of the critically acclaimed series, which further improved his career. The series centered around a group of misfit martial arts students who train at the Bobby Wasabi Martial Arts Academy. Jason Earles' character, Rudy, is a former martial arts prodigy who now runs the academy. He brings a mix of unconventional teaching methods and humor to his role as their instructor. Earles starred alongside Leo Howard, Dylan Riley Snyder, Mateo Arias, Olivia Holt, and Alex Christian Jones.
In 2013, he returned to "Air Buddies" franchise, in the film "Super Buddies" as Jack Schaeffer. The movie centers around a group of puppies with superpowers who team up to prevent an evil force from taking over the world.
Jason Earles continued his career with various projects – from 2016 to 2018, he appeared as Chuck in the web series "WTH: Welcome to Howler", starring alongside a cast that included Ambyr Childers and Alex Weed. The series follows a group of friends navigating life in their quirky small town.
In 2017, Earles lent his voice to the character Curt Spookman in the animated series "Vampirina", in the episode entitled "Little Terror/Super Natural", alongside main voice actors Isabella Crovetti and Lauren Graham. The show revolves around a young vampire, and her adventures as the new kid in town.
The same year, he starred as Todd in the television film "Linda from HR", alongside Lauren Graham. The film's plot centers around Linda, an HR employee who impulsively decides to completely change her life, leading to unexpected consequences.
In a new episode of a Disney Channel show called Just Roll With It, Jason Earles guest stars as Hollywood manager Skeeter Swindel who convinces Blair to become a pop star with a secret identity, named Shayna Pennsylvania…. pic.twitter.com/5V0vZI8sc7

— out of context hannah montana (@OCHannahMontana) October 24, 2020
In 2019, Earles took on the role of Angel in the series "Mood Swings", starring alongside a cast that included Christina DeRosa and Eric Nenninger; he appeared in eight episodes of the show, which humorously explores the ups and downs of relationships and modern family life.
In recent years, Jason Earles has maintained his presence in the television industry with notable TV roles. In 2020, he appeared in the TV series "Just Roll With It" as Skeeter Swindell, in the episode entitled "Shayna Pennsylvania", joining main cast members Tobie Windham, Suzi Barrett, Ramon Reed and Kaylin Hayman. The unique show combines a traditional family sitcom with improvisational comedy, allowing actors to break the fourth wall and interact with the audience.
In 2022, he made a guest appearance in the Disney+ series "High School Musical: The Musical: The Series", portraying Dewey Wood in the third season of the show. The series is a mockumentary-style musical drama that follows a group of students as they stage a production of "High School Musical" at their school, East High.
Jason Earles is currently working on the upcoming film "Second Chances", in which he'll portray Taco Tom. The movie revolves around down-and-out former teen star Nick Stone (Ryan Ochoa), who is reluctantly brought to a wake by his sister Disney (Destiny Ochoa) and his now mega-star ex-girlfriend Kayla (Amber Frank). As they attend the wake, unexpected trouble arises, setting them on an unexpected journey.
Directed by David H. Venghaus Jr., the film's script is a collaborative effort between Ryan Ochoa, Steve Weinberger, and David H. Venghaus Jr.
Net Worth
According to authoritative sources, Jason Earles's net worth is estimated at close to $8 million as of mid-2023.
Personal Life, Married, Wife, Children
Jason Earles was married to Jennifer from January 2002 until May 2013. The couple met while at Rocky Mountain College; they didn't have children. Since 2017, he's been married to Katie Drysen. The couple lives in Toluca Lake, don't have children, but have adopted two cats, Timmy and Presley.
Jason is a blue belt in Brazilian jiu-jitsu.
Jason Earles Body Measurements
Jason Earles has light brown hair and blue eyes. He's known for his short stature, standing at 5ft 6ins (1.68m), while he weighs approximately 140lbs. His vital statistics are unknown.