Who is Penny Hardaway?
A former professional basketball player, today head coach of the Memphis Tigers, Penny Hardaway is indeed a remarkable figure in the world of sports, known not only for his exceptional basketball skills but his legacy goes beyond his achievements as a player and coach. He stands as a role model and mentor for young athletes, inspiring them not only to excel in sports but also to be positive, contributing members of society. His dedication to his community and commitment to nurturing the next generation of athletes make him a true icon in the world of sports.
Penny Hardaway's story is one of perseverance and overcoming adversity. He faced challenges in his career, including injuries, but continued to work hard and excel. This resilience is a valuable lesson for young athletes, teaching them that setbacks are a part of the journey, and with determination, they can overcome them. Let's explore why Penny Hardaway is seen as such a positive influence on aspiring athletes.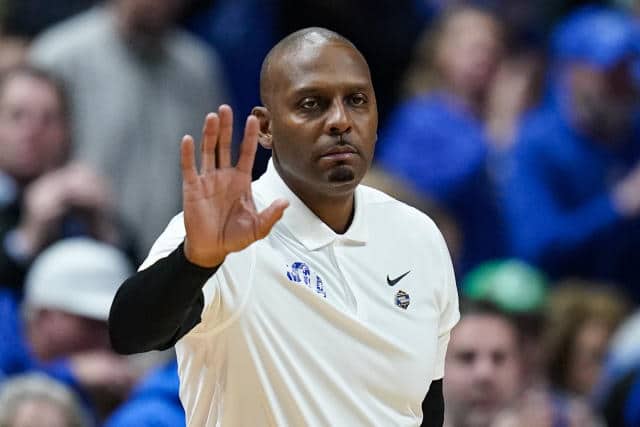 Early life, family, and education
Born Anfernee Deon Hardaway under the zodiac sign of Cancer on 18 July 1971, which makes him today aged 52 as of September 2023, he's a native of Memphis, Tennessee USA, holds American nationality and his ethnicity is African-American. Penny was raised by his grandmother, Louise, and his nickname is a result of Louise's calling him 'Pretty', which with a southern drawl sounded like 'Penny'. He grew up in a challenging environment, but basketball provided him with an escape from the difficulties he faced.
Penny attended Treadwell High School in Memphis, where he quickly gained recognition for his exceptional basketball skills. He was a star player for the Treadwell Golden Wildcats and earned All-American honors during his high school career. His success on the court led to scholarship offers from several colleges.
Upon matriculating in 1989, Penny enrolled at the University of Memphis, formerly known as Memphis State University. During his college years, he played for the Memphis Tigers basketball team, and his standout performances earned him national attention. He was a key player in the team's success, and helped lead them to the National Collegiate Athletic Association (NCAA) Tournament.
Penny graduated with a BA degree in 1993.
NBA Career
Penny Hardaway then declared for the National Basketball Association (NBA) Draft in 1993, and was selected as the third overall pick by the Golden State Warriors, however, he was immediately traded to the Orlando Magic, where he would achieve most of his fame and success in the NBA.
Olympic Memory: Penny Hardaway [96]

Unbreakable bonds ⛓️1996 Olympic gold medalist Anfernee "Penny" Hardaway reminisces on the Atlanta GamesNotes on the 1996 Team: https://bit.ly/1996OlyMen🇺🇸 #OlympicGames

Posted by USA Basketball on Monday, August 3, 2020
Penny quickly became one of the league's most exciting players during his time with the Magic. He formed a dynamic duo with Shaquille O'Neal, and the team reached the NBA Finals in 1995. In the following year, Penny played on the US Olympic Games Basketball Team, with him and the team winning the gold medal. Penny was a four-time NBA All-Star during his time in Orlando. He stayed with the team until 1999.
Penny's later career was hampered by injuries, particularly knee injuries, which limited his time on court in subsequent years. He went on to play for several NBA teams, including the Phoenix Suns (1999-2004), New York Knicks (2004-2006), and Miami Heat (2007), but his prime years were largely with the Magic. Penny still enjoyed a successful career as a professional basketball player in the NBA. He was a versatile and talented point guard whose skills on the court earned him respect and admiration from fans and fellow players alike.
Career as a coach
After retiring as a player, Penny remained involved in basketball, venturing into coaching in 2011 when he took over from Desmond Merriweather, who was a coach for the Lester Middle School. Desmond was undergoing treatment for cancer, and since the two were close friends, Penny replaced him. Penny's goal was to have each of his players graduate from college, so he instituted a mandatory tutoring program.
Penny became the head coach of the University of Memphis men's basketball team in 2018, as such, aiming to mentor young athletes and help them develop both as basketball players and as individuals. His commitment to the sport and his ability to relate to young players make him an ideal mentor for aspiring basketball stars.
Memphis Media Day with Coach Penny Hardaway. @GoTigers247 @Memphis_MBB pic.twitter.com/4aWXpxgJoG

— LEON DEVON TAYLOR (@Leontaylor1983) March 7, 2023
As a coach at Memphis, Penny has emphasized the importance of education for his players, encouraging them to excel academically, and so prepare for life beyond basketball. This focus on education underscores the importance of well-rounded development for young athletes. Under his leadership, the Memphis Tigers went to the National Invitation Tournament (NIT) in 2018. Penny also secured the number one recruiting class in the country, with players such as Boogie Ellis, D.J. Jeffries, and James Wiseman, among others.
Off-Court Activities
Throughout his career, Penny Hardaway has also been known for his philanthropic efforts, particularly in the Memphis community. He worked on various charitable initiatives and youth development programs, demonstrating his commitment to giving back.
Penny Hardaway's impact on the game of basketball, both as a player and a coach, as well as his dedication to his community, has made him a highly respected figure in the world of sports. According to many, he demonstrates that success in sports is not just about skill, but also about integrity, discipline, and teamwork.
Perhaps you didn't know that Penny tried his hand as an actor, playing in the 1994 movie "Blue Chips", starring opposite Shaquille O'Neal and Nick Nolte. He also made an appearance in the Nike advertising campaign, 'Lil Penny', with Chris Rock, who voiced Penny's alter ego puppet.
Love life and relationships
Penny's love life has been the subject of various rumors, but what we do know is that he was in a long-term relationship with his high school girlfriend, Latarsha McCray, who's the mother of his two daughters, Layla and LaTanfernee, born in 1992 and 1995.
After Penny and Latarsha broke up, he dated Nikki Ward, who gave birth to their son Jayden in 1999. Jayden followed in his father's footsteps and currently plays as guard for the Memphis Tigers. Penny's second son, Ashton, came from his relationship with a girl known as Dionne.
As of September 2023, Penny is married to Mary McDonnell, about whom nothing is known.
How rich is Penny Hardaway? Net worth
According to sources, in his 16-season career, Penny made over $120 million. He's the owner of a beauty salon and barbershop in Memphis, and also a turf business based in Miami, Florida. As of September 2023, Penny has a net worth estimated at over $70 million.