Who is Riley Curry?
Riley is the daughter of National Basketball Association (NBA) basketball player Stephen Curry and his wife Ayesha Curry. She's gained widespread attention for her adorable and charismatic appearances during her father's post-game press conferences.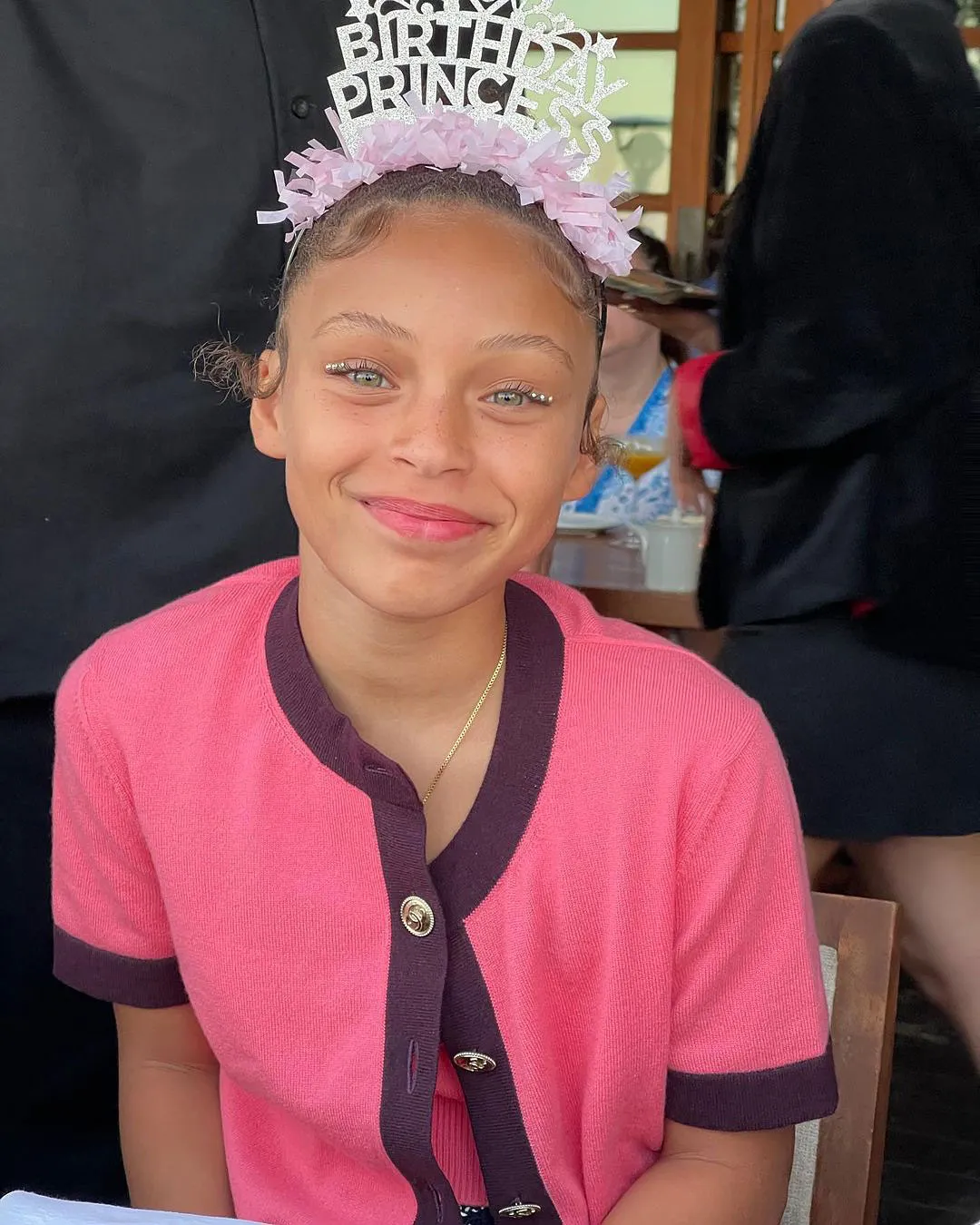 Wiki: Age, Childhood, and Education
Riley Elizabeth Curry was born on 19 July 2012 in Charlotte, North Carolina USA. Her heritage is a mix of Afro-Jamaican, Chinese-Jamaican, mixed-Polish, and African-American through her parents' sides, the oldest child of her celebrity parents, accompanied by a sister named Ryan (born on July 10, 2015), and a brother named Canon (July 2, 2018). Riley comes from a family deeply rooted in basketball, with her grandfather Dell Curry having played professionally, and her uncle Seth Curry currently playing for the Portland Trail Blazers.
Her journey into fame began early, as Riley captured worldwide attention at just two years old when she joined her father during post-game press conferences in May 2015. Her irresistible charm and playful behavior stole the spotlight, leaving an impression on basketball enthusiasts globally.
Riley's small screen presence started at the age of 4, as she starred with her family in the first episode of the TLC series "Playhouse Masters" on 23 August 2016. In 2021, she appeared in the American cooking show "Selena + Chef", and also made appearances in "Say Yes to the Dress" and "Entertainment Tonight" in the same year. Riley continues to amuse audiences on her mother's YouTube channel, Ayesha Curry, which has amassed over 550,000 subscribers.
While Riley's early appearances received mixed reactions, some critiquing her presence in serious press conferences, she remained herself, sharing her love for being in the spotlight. Her father Stephen expressed a touch of remorse for introducing her to the limelight at a tender age, aiming for her to succeed without arrogance.
Recently, Riley graced events such as the ESPY Awards, showing her growing presence on the red carpet. Her affinity for sports, especially volleyball, shines through, as does her budding culinary prowess. A memorable moment occurred on 23 April 2023, when she and her father demonstrated a special handshake after the Golden State Warriors triumphed over the Sacramento Kings in the NBA playoffs. Ayesha Curry marked Riley's 11th birthday with heartwarming Instagram posts, sharing their close bond with fans all over the world. At the age of 11, she clearly still has a long way to go in life.
Riley Curry's Father, Steph Curry Short Bio
Wardell Stephen Curry II was born on 14 March 1988, in Akron, Ohio USA. He is an American basketball legend, known for his incredible skills and impact on the sport. As a professional player for the Golden State Warriors in the NBA, Curry has left an indelible mark by transforming the game's dynamics, encouraging more three-point shots; he's acclaimed as one of the greatest shooters and players in history.
Coming from a basketball lineage, Curry is the son of former NBA player Dell Curry and the older brother of Seth Curry, a current NBA player. He excelled at college basketball for the Davidson Wildcats, where he set scoring records and received accolades, including being twice named conference player of the year.
Selected by the Warriors as the seventh overall pick in the 2009 NBA draft, Curry's journey encountered challenges in his early NBA years. However, his determination and unique skills soon propelled him to prominence. In the 2014-15 season, Curry secured his first league MVP award, leading the Warriors to their first championship in decades.
In the following season, Curry made history as the first player to win MVP with a unanimous vote, while also leading the league in scoring with remarkable shooting percentages. The Warriors achieved a record-breaking 73 wins in a season, reaching the 2016 NBA Finals. Although they lost to the Cleveland Cavaliers, overall Curry and the Warriors displayed unparalleled dominance.
Another one in the books ✔️

Stephen Curry passes Neil Johnston for third most made free throws in franchise history pic.twitter.com/n44BklFrIS

— Golden State Warriors (@warriors) March 21, 2023
Curry's legacy continued as he helped guide the Warriors to consecutive championships in 2017 and 2018. Although the Warriors stumbled in 2019, losing to the Toronto Raptors in the Finals, Curry's influence remained undiminished. He secured his fourth championship in 2022, being named Finals MVP for the first time.
A testament to his shooting prowess, Curry set numerous records for three-pointers made in regular seasons, culminating in surpassing Ray Allen's career record in 2021. His partnership with teammate Klay Thompson earned them the nickname "Splash Brothers", as hey shattered records for combined three-pointers made in multiple NBA seasons.
Stephen Curry's impact extends beyond the basketball court, as he's actively engaged in philanthropic endeavors that reflect his commitment to positive change.
In 2012, Curry started a charitable fund by pledging to donate three insecticide-treated mosquito nets to the United Nations Foundation's Nothing But Nets campaign for every three-pointer he made. This initiative aimed to combat malaria, a cause that resonated with him through his college teammate Bryant Barr. Curry's involvement culminated in a White House visit in 2015, where he addressed dignitaries as part of President Barack Obama's launch of the President's Malaria Initiative strategy for 2015–2020.
In 2015, Curry utilized his platform to honor the memory of "Deah Shaddy Barakat", a victim of the Chapel Hill shooting. Wearing sneakers bearing Deah's name, Curry acknowledged his connection to basketball and his admiration for Curry. The gesture, inspired by Deah's affinity for Curry and his jersey number, showcased Curry's willingness to make personal connections beyond the sport.
Notably, after his historic 2015–16 season and MVP award win, Curry's generosity was once again on display. He donated his prize—a 2016 Kia Sorento—to the East Oakland Youth Development Center, an organization supporting local youth in the vicinity of Oracle Arena.
In December 2018, Curry found himself amid a media storm after playfully questioning the authenticity of the Moon landing on a podcast. This led to an unexpected partnership with NASA, culminating in signature shoes created in collaboration with Under Armour. The proceeds from the sale of these shoes, worn by Curry during a game and subsequently auctioned on eBay, were dedicated to STEM education initiatives, reflecting Curry's commitment to education and exploration.
In 2019, Curry's philanthropic efforts took a major stride, as he and his wife launched the Eat. Learn. Play. Foundation in Oakland, California. Focused on ending childhood hunger, enhancing access to quality education, and providing safe spaces for children to engage in physical activities, the foundation embodies Curry's dedication to improving the lives of young people.
Steph Curry and Riley's mother Ayesha have been married since 2011. They met at a church in Charlotte when they were teenagers.
According to sources, Steph Curry's net worth is estimated at $160 million, as of mid-2023.