Kali Muscle is a 48-year-old American bodybuilder, model, YouTuber and actor, probably best known for his eponymous YouTube channel, on which he's attracted an audience of 3.6 million subscribers, and his TikTok account, thekalimuscle, which has amassed 7.2 million followers. He rose to prominence in the media when he had a heart attack in November 2021, which brought attention to the dangers of eating like a professional bodybuilder, and using performance-enhancing drugs (PEDs), which he recently admitted to. Thankfully, he recovered following an emergency surgical operation, and shifted his focus to becoming a fruitarian.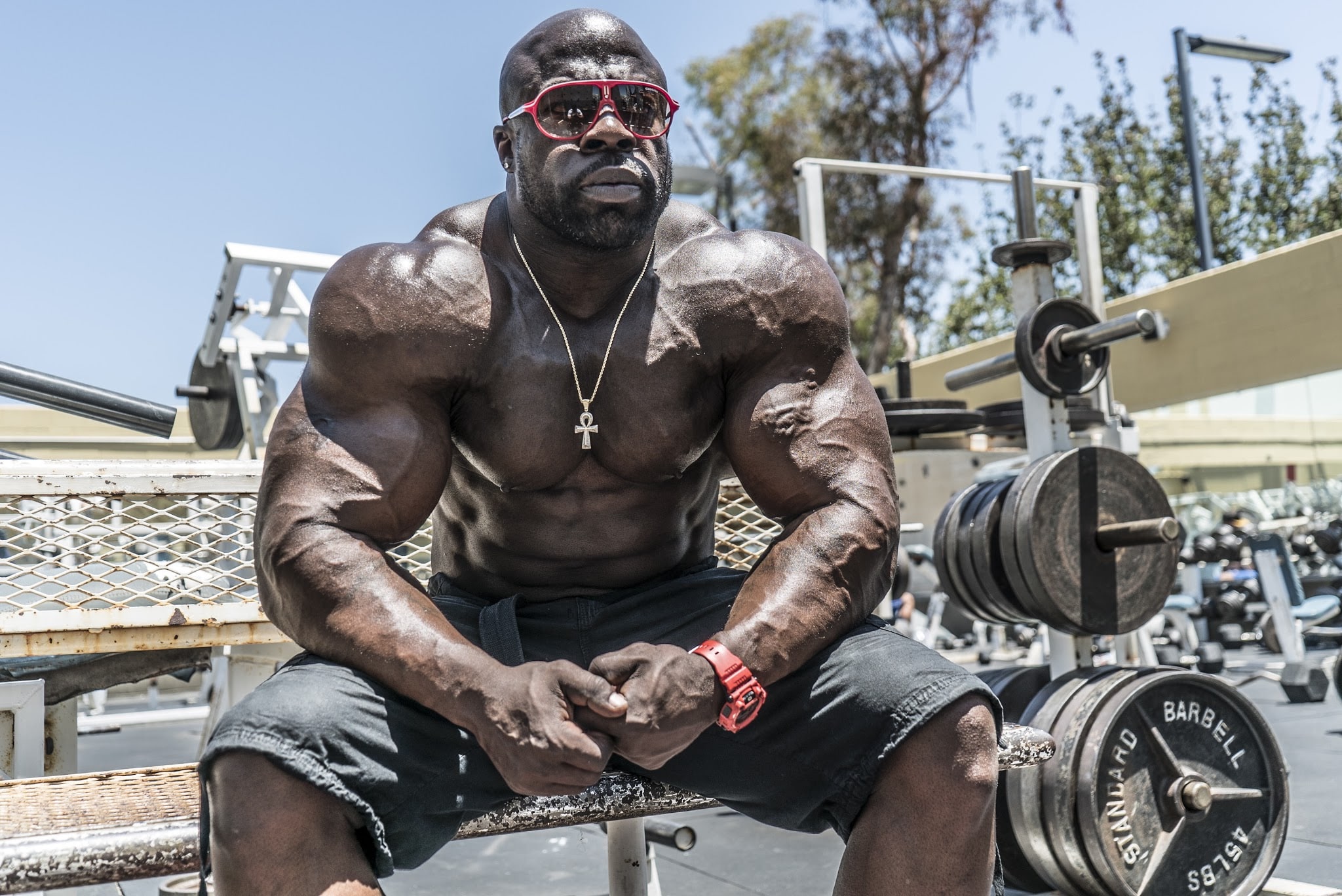 Early life and education
Chuck Kirkendall was born on 18 February 1975, in Oakland, California USA. He had a troubled childhood because his biological father wasn't present, so his mother raised him with a stepfather. Kali had three siblings, but said that his stepfather treated him unfairly, making him feel like the black sheep of the family. Kali also grew up in a crime-ridden area, and said in his YouTube video, Monster: The Kali Muscle Story, that he got his first gun in elementary school.
As an adolescent, he found solace in sports: he played basketball, wrestled, spent time in the gym, and even ran track in middle and high school. Kali Muscle matriculated from Castlemont High School in Oakland, and he found his first job as a teenager at a local 24 Hour Nautilus, later renamed to the current business name, 24 Hour Fitness.
However, his favorite sport was American Football, as he'd dominant speed and size, and was excellent at wrestling and tackling. That didn't go unnoticed, and Kali was awarded a linebacker scholarship to Fresno State University, California, where he later played as a running back.
Sadly, things dramatically changed shortly before he got there. In his senior year of high school, Kali's older brother died in an accidental self-shooting when he 'was messing around with a gun,' according to what he told SanJose.com in 2014. Consequently, Kali carried grief in his heart and quickly began making the wrong moves. In his second year of university, he fell on hard times financially, became homeless, and started hanging out with bad crowds.
Source of career
Kali observed criminals making money illegally, and out of desperation resorted to robbery to earn money. He was arrested in 2001 on robbery charges and pleaded guilty, knowing that he couldn't afford a lawyer. Kali received 11 years in California's San Quentin State Prison – began lifting weights from day one. Unsurprisingly, he had little choice regarding his diet, so Kali ate cans of tuna, Top Ramen, Dunkin' Sticks, and honey bars to get some carbs and minimal proteins. Although his diet was far from ideal, Kali said that he found comfort and purpose in bodybuilding.
In an unexpected turn of events, San Quentin State Prison officials decided to ban and remove weights in 1997, citing the increase in their use as weapons by inmates. Kali explained that the prison guards also feared that some inmates were getting too big and difficult to handle, adding that inmates gathered in the yard and began throwing oranges at officials, to no avail.
Kali wasn't dissuaded and found workarounds; he demonstrated what he did in his YouTube videos, Prison Cell Workout, Leg Workout In A Prison Cell, and Biceps and Triceps Prison Workout, uploaded in 2013 and 2015. He mentions using things in his cell, including the bed and the bench, and lifting full garbage bags and water bottles. When others were present, Kali would utilize people's body weight for extra resistance. For example, inmates would lean their bodies onto his palms for chest presses or sit on his shoulders for squats. Kali said that his determination irked correctional officers, and that he was once sent to solitary confinement as punishment.
Going back to prison
Fortune smiled on Kali after seven years in prison, as he was released early. Sadly, instead of using the opportunity to rebrand himself, he struggled to find his footing as an ex-con, started making money as a pimp and a drug dealer, and was quickly rearrested. He learned his lesson before being released in 2009 or 2010, and committed to bodybuilding this time. He remarked on that, 'Being in prison wasn't worthwhile. It was a complete waste of time, but it made me appreciate my freedom. I'm labeled an ex-con, but that doesn't mean that I can't be successful.'
Career
Kali Muscle came to prominence in August 2012 by appearing in an advertisement entitled "Bodybuilder Directing Traffic" for GEICO, a car insurance company. He appeared in the middle of the street and began directing traffic while posing his shredded physique. Some people admired his body, while others were happy to avoid crashing into him, showing the importance of having car insurance. Advertisements for Comcast, Old Navy, Snickers, and Taco Bell followed, which brought attention to his attempts to become an actor, bodybuilder, and model, which started in 2008.
Acting and modeling
On 10 April 2008, during his time on the street, Kali created his YouTube channel intending to teach viewers how to exercise without access to a gym. About two years later, when he completed his prison term, Kali moved to Los Angeles to find work in the entertainment industry. Within two weeks of the move, he was cast in the Matthew McConaughey-directed music video for Jamey Johnson, a country singer based in Nashville, Tennessee.
Almost simultaneously, Kali began auditioning for roles in television series and movies. He landed the role of a solder in the TV movie "Wonder Woman" in 2011, alongside Pedro Pascal, Cary Elwes and Adrianne Palicki. NBC canceled the TV movie, but in September 2011, Kali appeared in the music video for the viral song "Sexy and I Know It" by LMFAO. Furthermore, he appeared in two regular films, "Crispus Attucks: Today Was a Good Day" and "Internal Behaviors Part 2: The Regurgitation," and another made-for-TV movie, "The Dog Who Saved the Holidays", all in 2012.
Kali briefly starred in "Raising Hope" and "Maury" TV series in 2014 and, more recently, appeared in movies such as "The Taker" in 2016, "Anabolic Life" in 2017, and "Bullet Ride" in 2020. His fans could also see him in three music videos in 2015, two of which were his, for songs "We Pumpin" featuring CT Fletcher and "Get Big", and one for "These Walls," the song by the well-known rapper Kendrick Lamar.
Kali Muscle: Guest Star on "Raising Hope"

Kali Muscle guest stars tonight on "Raising Hope" 9:30/830c Fox. Set your television now, so you don't forget. For the stick up the ass fitness people, it's a comedy so you may not want to watch. (lmfao)#raisinghope #fox #comedy #actor #superstar #hollywoodlovemuscles

Posted by Kali Muscle on Friday, January 31, 2014
YouTube and other endeavors
Kali Muscle developed his YouTube channel in the early 2010s. He uploaded motivational videos, discussed nutrition, and demonstrated workouts for building muscle and functional strength. Kali reiterated that inmates primarily work out of necessity, as they had to fight. On that note, he said people shouldn't rely on protein powders,, but instead consume proper meals. As his career grew, he incorporated skits and mukbang-style videos in which he eats large amounts of food in front of the camera.
Behind the scenes, Kali developed his brand. He promoted his autobiography, "Xcon to Icon: The Kali Muscle Story," published independently on 9 March 2015. He started a supplement company, Hyphy Life, with a flagship product named Hyphy Mud by Kali Muscle. Hyphy Mud is a pre-workout stimulant that enhances motivation and strength. Kali also filmed a music video, "HYPHY MUD," in June 2013, featuring YouTubers and bodybuilders Hodgetwins promoting its release. Kali also attempted to become a professional bodybuilder, and won several minor competitions, most notably the title of Mr. California in 2012.
Heart attack
Kali's career was on the upswing, so no one could have predicted that he would upload a video entitled I ALMOST LOST MY LIFE on 7 November 2021. In nine minutes, Kali spoke from the bed of a Los Angeles hospital, informing his followers that he'd had a heart attack, and that an emergency surgical operation saved his life. He told his fans to 'ensure that they are caring for their health, which he has been telling them for years, but that God used him as an example this time.' He added that he has twins, and must survive for them.
It turned out that Kali had some heart problems, but thought that the pain resulted from heartburn or acid reflux. Things worsened when he felt those symptoms after waking up from a nap;. moreover, Kali had suffered from related but minor issues throughout his life, including migraines and swollen feet, but didn't understand why. After the operation, the doctor informed him that his left main coronary artery had a complete blockage. What was even scarier is that a professional bodybuilder and winner of the most prestigious title of Mr. Olympia, Shawn Rhoden, died from a heart attack the day before aged 46, the same age as Kali. Another high-profile bodybuilder, George Peterson, died at 37 on 6 October 2021, also from a heart attack, two days before the Mr. Olympia competition.
Kali Muscle had a heart attack. Everyone send @KaliMuscle well wishes pic.twitter.com/Mgsf5VFILr

— Pharaoh R. El-Aton (@PharaohSaidThat) November 7, 2021
Changing his goals
Kali stayed true to his promise, and turned his life around. EssentiallySports reported that Kali began fighting the supplement industry, pointing out the substances that might pose a health risk, such as whey protein extracts, sunflower oil, citric acid, and meat. Moreover, he admitted using steroids and supplements in his video, WHY I ALMOST LOST MY LIFE | Finally Telling the Truth, and would cease to do so.
Kali reiterated that his fans shouldn't emulate bodybuilders, only use them for inspiration, and that they shouldn't compete because 'bodybuilders are f*cking test dummies who get big and look good, but are unhealthy,' according to FitnessVolt.com. Kali also said that he'd always been health conscious and would stop using performance-enhancing drugs at least three months out of every year. He pointed out that other athletes must use drugs non-stop, chasing impossible goals. Kali, already a businessman, also noted that some Mr. Olympia winners reported spending millions on drugs, food, diet, and rehabilitation, but took a mere US$400,000 reward.
Kali promptly started selling some of his supercars, and created a web series on learning to eat healthy foods in moderation. He also started posting more vlogs and pondering life, such as whether buying clothes or collecting cars is a waste of money. Even more importantly, Kali became more charitable, gifting clothes to homeless people, items to his friends and family, and some cars, including the 2022 Ford Shelby GT500 and 2022 Hellcat Jailbreak, to lucky fans. In January 2022, Kali worked out for the first time after his heart attack, and was open about his body dysmorphia as he downsized significantly.
Diversifying content, recovery
Besides demonstrating healthier workouts better suited for natural bodybuilders, Kali returned to car-related content, began making more comedy skits, discussed his passions, and started trying new diets, the most notable being his watermelon-only 30-day body detox challenge. He also got new veneers made of diamond, attended the TheFitExpo LA 2022, and had a brief scare when he felt chest pain in August 2022. Kali then filmed videos such as HOW TO GET FIT & LIVE A HEALTHY LIFE, and Grocery Shopping to Stay Healthy to help his followers. He admitted that he always thinks about dying and wants to be there for his children, so he ate only salmon and spinach after the surgery, and tried to eradicate his bad habits.
In March 2023, he announced that he'd purchased a house during the recession, and was moving despite the risks the soaring prices caused. Additionally, he'd purchased a cookie business to expand his income sources. A month later, he revealed that he would switch to eating fruits in most of his meals, hoping to switch to a fruit-only diet one day. He showed some exotic meals and drinks that he'd never previously heard of or tried, including jackfruit, kiwano, mamey sapote, and rambutan. Moreover, Kali tested intermittent fasting, eating one meal a day, eating only watermelon for 32 days, and the anti-aging program popularized by YouTuber Bryan Johnson.
He also visited a chiropractor, began experimenting with stem cells to repair his heart, donating blood as a health hack, and planned to try a 21-day water-only fast. Sadly, Kali suffered indigestion and dehydration after a beach workout about 25 days into his watermelon-only challenge. He described the experience, 'It was scarier than the heart attack. For the first time in my life, I felt absolutely helpless with no energy. I felt my life leaving me; all I could think about was tabloids reporting my death.' Thankfully, after eating other fruit and drinking water on his ride home, everything returned to normal, and he wrote it off as exhaustion.
Wife Helena Kirkendall
Kali Muscle started dating Helena Vladisavljević, from Croatia, around 2016. Helena has an Instagram account, @helvlad, on which she's amassed a following of 30,000. She is a stay-at-home mother to their twins, Kali Muscle Kirkendall II and Brooke Taylor Kirkendall, born on 25 December 2019. Helena also manages the family YouTube channel, Hyphy TV, which has over 76,000 followers, and was initially called Hyphy Family.
Helena revealed that she met Kali at a fitness expo, as she was also a fitness enthusiast. She said that she didn't know about Kali until about a year before they met, and that she thought that he 'was psychotic and so huge' when her ex-boyfriend showed her a video of him working out. Kali said that his previous relationship was ending, and that her blue eyes captivated him. Helena almost immediately felt that they were meant to be together. On 14 December 2022, Kali uploaded a video entitled I GOT MARRIED TO MY BEST FRIEND FOR A LIFETIME! to announce that he had married.
Ex-wife Dvyne Beverly
Kali Muscle had a prominent relationship and marriage with the R&B singer-songwriter and founder of a record label and a make-up line, Dvyne Beverly, from 2007 to 2016. Based on the deleted YouTube video posted by Kali, entitled Be Careful, they tied the knot in or around 2010, in which he blamed Dvyne for wanting to live a lavish lifestyle that cost him more than he wanted to spend; moreover, he accused her of stealing money from his bank account. Dvyne defended herself then and claimed on her Twitter, @Dvyne_, that she used her money to support his goals and was lied to and cheated on in response. She also vowed to prove people doubting her wrong, saying that Kali wouldn't be the man that he became without her money.
Physical characteristics
Kali Muscle has black hair that he shaves and dark brown eyes, is 5ft 10ins (1.78m) tall, and weighs about 180lbs (80kgs) after a health scare and a drastic lifestyle change. He revealed that he weighed roughly 230lbs (104.5kgs) during his time in prison, and fluctuated between 220lbs (100kgs) and 250lbs (113.5kgs) for the majority of his YouTube career. He has a bodybuilder physique: broad shoulders, wide back, and massive arms, chest, and back muscles.
Net worth
Kali Muscle has a net worth conservatively estimated at $5 million. He owns the supplement company Hyphy Life, recently bought a house, and has been buying and selling expensive cars for nearly a decade. Moreover, he's been open about his love for lavish-looking designer and tailored clothes. According to Kali's SocialBlade.com profile, he earns between $7,000 and $115,000 monthly in late 2023, making as much as $1.4 million in the last year.