• Colombe Jacobsen-Derstine is a retired actress and chef.
• She achieved stardom as a teenager with the role of Julie in the film "D2: The Mighty Ducks" (1994), and its sequel "D3: The Mighty Ducks".
• She runs her own website and cooking blog, Colombe du jour.
• She is married and has two children.
• She has a net worth of $500,000.
 
Who is Colombe Jacobsen-Derstine?
Before we reveal to you the whereabouts of Colombe Jacobsen-Derstine, let's first make a short introduction, for those who aren't quite familiar with the name. Colombe Jacobsen Derstine is a retired actress, and chef, who achieved stardom as a teenager with the role of Julie in the film "D2: The Mighty Ducks" (1994), and its sequel "D3: The Mighty Ducks".
Where is Colombe Jacobsen-Derstine Now?
Colombe made her last on-screen appearance in 2014 in the adventure comedy-drama film "Chef", written, directed and starring Jon Favreau, with Robert Downey Jr. and Scarlett Johansson.
How Colombe Jacobsen-Derstine went from Julie 'The Cat' to star chef (by @stephapstein) https://t.co/rhPp0MNvvQ pic.twitter.com/Nu0F6gbSGX

— SI NHL (@SI_NHL) July 9, 2016
Since then, she has pursued her second love, cooking; she lives in New York City, and works as a chef. She also runs her own website and cooking blog, Colombe du jour.
Colombe Jacobsen-Derstine Wiki: Age, Childhood, and Education
Colombe Jacobsen-Derstine was born on the 21st December 1977, in Chicago, Illinois USA; unfortunately, Colombe is a rather private person, and as a result, there's no much information about her parents, such as their names and professions, nor whether she has any siblings or not.
When it comes to her education, after finishing high school, Colombe enrolled at Sarah Lawrence College in Bronxville, New York, and later attended the Natural Gourmet School in New York.
Career Beginnings and Rise to Prominence
Colombe made her acting debut in 1993, with the role of Becky in the fantasy comedy film "Rookie of the Year", starring Thomas Ian Nicholas, Gary Busey and Albert Hall. The following year, young Colombe was chosen for the part of Julie in the sequel to the highly-popular "The Mighty Ducks" from 1992, entitled "D2: The Mighty Ducks" (1994), and later reprised the role in the third installment "D3: The Mighty Ducks".
The films became extremely popular along with its cast, including Colombe. However, she decided to focus on her education before continuing with acting.
It was only in 2002 that she made her next on-screen appearance, this time as Hailey in the action comedy film "Men in Black II", with Tommy Lee Jones and Will Smith in the lead roles. The same year, she appeared in the romantic drama film "Moonlight Mile", starring Susan Sarandon, Jake Gyllenhaal and Dustin Hoffman, while in 2003 she starred in the drama horror film "Searching for Haizmann".
From the mid- 2000s, her acting career began declining, and she had only a couple of minor roles, including as Nadia in the film "Descent" in 2007 and as Lisa in the film "Chef".
Colombe Jacobsen-Derstine
Since launching her career, Colombe has become a famed actress, and although she has retired from acting, her career as a chef has also contributed to her wealth. So, have you ever wondered how rich Colombe Jacobsen-Derstine is, as of mid- 2019? Well, according to authoritative sources, Colombe's net worth is estimated at $500,000, which would seem likely to increase in the upcoming years.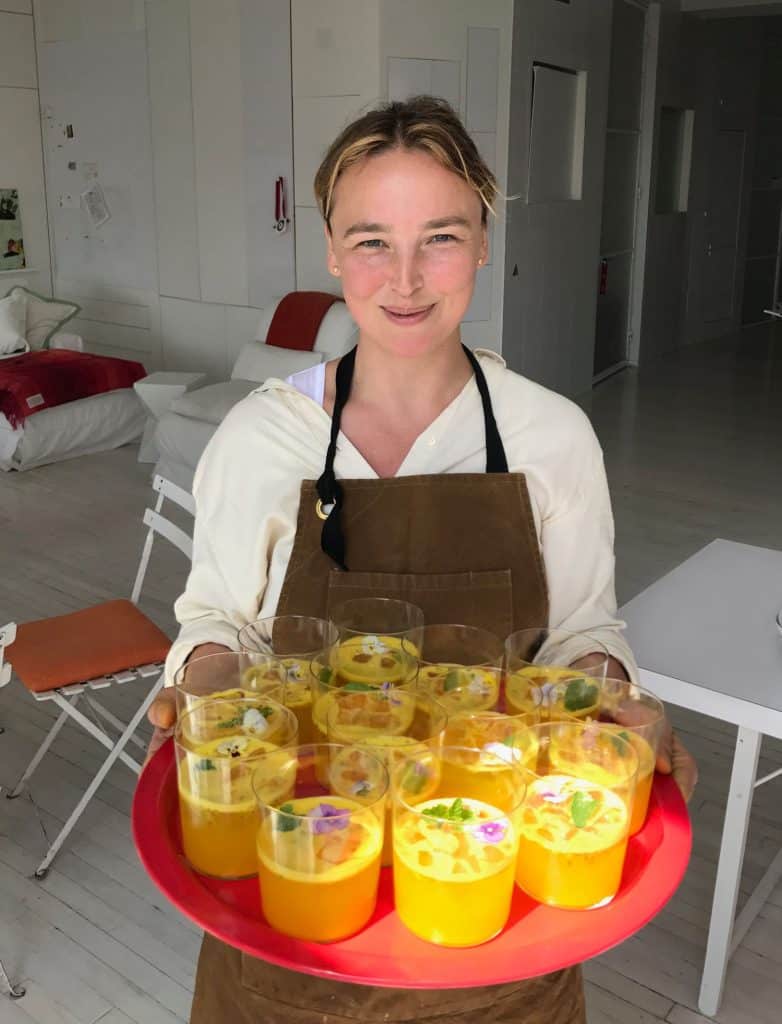 Colombe Jacobsen-Derstine Personal Life, Marriage, Children
What do you know about the personal life of this prominent actress and chef? Well, Colombe isn't one of those celebrities who tend to share all the information about their personal life; in fact, she is quite the opposite of that and has hidden all the major information about herself from the media. However, when you are as popular as she is, it gets hard to keep everything to yourself, so we've discovered some facts about this successful actress and chef.
Colombe is a married woman and her husband is Jeffrey Lefleur. The couple has two children, a son Xander Lefleur, and a daughter Delphine. Unfortunately, she hasn't said when they married, but that it was a private ceremony with only family and close friends in attendance.
Colombe Jacobsen-Derstine Social Media Presence
Over the years, Colombe has built a decent fan base on social media platforms, especially on Instagram and Twitter, used to promote her career, but also to share some events from her personal life.
You can find Colombe on Facebook as well, however, she is most active on Instagram.
So, if you aren't already a fan of this prominent actress and chef, then this is a perfect opportunity for you to become one, just skip over to her official pages, and see what she is up to next, both personally and professionally.
Colombe Jacobsen Height and Appearance
Colombe is not a model, but her looks have also helped her in her career; if you wondered, she stands at 5ft 6ins, which is equal to 1.68m, but her weight and vital statistics remain unknown at the time. She has blonde hair and her eyes are blue. She is in her fifth decade, and still looks stunning, don't you agree?