Gail Bean is an American actress, who has been making significant strides in the entertainment industry with her exceptional talent and captivating performances. Her transformation from a small-town girl to a rising Hollywood star is both inspiring and remarkable. While she initially garnered attention for her starring role in "Unexpected," her true breakthrough came with her portrayal of Wanda Bell in the acclaimed series "Snowfall."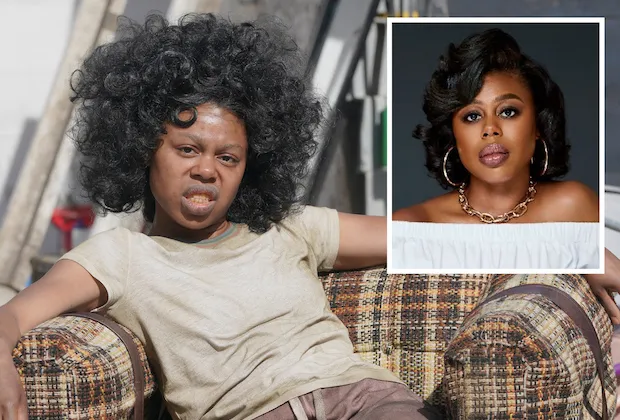 Early Life and Education
Born Gail Mitchell on 27 November 1997, in St. Louis, Missouri, soon afterwards, her family relocated to Arizona, and was three when they eventually settled in Stone Mountain, Atlanta, Georgia. As the youngest and the only daughter among six siblings, she has always felt the need to prove herself. However, her parents encouraged and taught her to have faith in herself and her capabilities. Her upbringing was deeply rooted in spirituality and a positive mindset.
Grew up as a tomboy with an overactive imagination
The young Gail embraced her tomboy side, often participating in outdoor activities that her brothers enjoyed, even though fear sometimes got the better of her. Despite her adventurous spirit, she described herself as a 'cautious daredevil,' constantly aware of potential risks, and meticulously planning every move for it to make sense. For instance, learning how to ride a bike took her what felt like an eternity, because she was always apprehensive about falling off. Similarly, she had a fear of swimming, concerned that the water might go over her head and lead to drowning. Even riding rollercoasters posed a challenge, as she harbored a fear that they might veer off the tracks, resulting in a tragic outcome. She's aware it may be a tad extreme, but her imagination has consistently operated at full throttle.
Shifting ambitions
Her plan for her life was straightforward: matriculate from Stephenson High School and pursue a college education while chasing her dream of becoming a cheerleader, with a particular ambition to don the iconic Dallas Cowboys cheerleader uniform. It was a vision that brimmed with excitement and glamour, however, fate had other plans for her, as she stumbled upon a startling revelation. Word on the street was that these cheerleaders received a paltry $50 per game – while the accuracy of this claim remained unverified, it planted a seed of doubt in Gail's mind, and it was enough to make her reconsider the path she had envisioned.
During her senior year in high school, Gail's life took an unexpected turn thanks to the persuasive powers of her theatre teacher, who opened her mind to a whole new world of possibilities. Suddenly, her path seemed destined for a different direction—one that involved getting paid for something she found incredibly enjoyable: acting. As a result, she never considered applying for college, and instead set her sights on the bright lights of Los Angeles.
However, her mother, a high school teacher, held a different perspective. She insisted that education should be part of the equation, urging Gail to pursue a degree that would lead to practical employment opportunities. With some reluctance, Gail found herself at Valdosta State University, embracing the life of a traditional student. It was a far cry from her dreams of the Hollywood stage, but she decided to give it her all. College life saw her delving into a surprising double major—Accounting and Finance—resulting in her graduation with a Bachelor's Degree in Accounting. It turned out that she had a talent for numbers, finance and business, a revelation she takes great pride in; she also studied abroad at a university in Germany. Yet, college was more than just academics for Gail. She actively participated in campus life, joining the sorority Delta Sigma Theta, and participating in competitive cheerleading.
Took A Leap of Faith
After graduating, Gail had a heart-to-heart talk with her mother, explaining that she had complied with her mother's wishes to obtain a college degree, and it was time for her to pursue her own passion for acting. She then enrolled at AIU to study film production, acquiring the knowledge she deemed necessary, but didn't complete her degree – Gail had initially benefited from Georgia's HOPE scholarship for her education, however, this time AIU came at a high cost, and she found herself needing to take out student loans, a prospect she wasn't enthusiastic about.
Her decision to move to L.A. and dive headfirst into her career was met with resistance from her mother, who was concerned about Gail's lack of prior experience in L.A., and the absence of a concrete plan; nevertheless, Gail was determined, firmly believing that she would figure it all out in the end, and indeed she did. Ten years later, she brought her mom to a red carpet event for the sixth-season premiere of her TV series.
Gail's father, Stump Mitchell, had always been incredibly supportive of her. At one point, he even suggested to her mother that she should quit her job and accompany Gail to L.A., however, Gail dismissed this idea entirely. Stump, who had experienced humble beginnings and grappled with poverty, had always nurtured ambitious dreams himself. His personal experiences made him empathetic to Gail's aspirations. Through relentless hard work, he carved out a successful career in the NFL that spanned several years, before transitioning into coaching. At the time, he served as the running backs coach for the Arizona Cardinals. As a testament to his support, he not only bought Gail a car but also personally drove her all the way to L.A.
Dropped by her first agent
In 2013, Gail had an agent before moving to L.A., however, upon sharing her plans, the agent unexpectedly dropped her, citing the example of her own daughter's failed experience in L.A. Gail, perplexed by this decision, asserted that she wasn't spoiled but was determined to pursue her goals. Consequently, Gail sought and found another agent.
Career
She adopted the screen name Gail Bean, drawing inspiration from her high school nickname, "Bean." Upon her arrival in L.A., she found herself juggling multiple jobs, including working at a sneaker store, a boutique, and a sports bar, all to sustain herself while continuously auditioning for acting roles. She understood that until she secured a full-time acting job, having a source of income was essential, given that she had bills to pay.
Hailed as one of Sundance Breakout Stars in 2015
"Unexpected" is an independent film that Gail Bean booked that made her realize that her career was finally poised to take off. She portrays Jasmine, an African-American student from a humble background who forges an improbable friendship with her high school teacher, played by Cobie Smulders – together, they grapple with the challenges of unexpected pregnancies. While the actress had amassed considerable experience in short films, it was Kris Swanberg's heartwarming drama, based on a true story, that provided Gail her first significant breakthrough in the world of feature films. The movie premiered at the prestigious Sundance Film Festival in 2015, catapulting her into the spotlight and setting the stage for her promising career in the industry.
Hollywood is always on the lookout for emerging talents, and Gail received high praise for her lead role. TheWrap even named her one of the top 10 Sundance Breakout Stars for her performance. Gail explained that the role didn't pay much, but she had a strong feeling that it would be a game-changer for her career.
"Snowfall"
The American crime drama TV series "Snowfall," which premiered in 2017 on the FX channel, unfolds in L.A. during the tumultuous years of the 1980s. The show centers on the devastating effects of the first crack epidemic on the city and weaves together the interconnected stories of various characters. One such character is Wanda Bell, portrayed by Gail Bean, whose life took a tragic turn when she became addicted to crack, leading her to a life of homelessness. Wanda faced an uphill battle to overcome her addiction, taking on odd jobs and striving to stay clean. Gail initially joined the series as a recurring cast member in season two, before becoming a main cast member in season six.
"P-Valley"
Starz cable network's captivating American drama series, "P-Valley," drew inspiration from its creator Katori Hall's acclaimed play titled "Pussy Valley." The narrative delves into the intricate lives of diverse individuals employed at The Pynk, an alluring strip club set in the fictional town of Chucalissa, Mississippi.
In 2018, Gail Bean auditioned for the pilot episode and progressed through multiple rounds, including director and producer sessions. They were enthusiastic about casting her in the project, but unfortunately, the network didn't want her. Surprisingly, this rejection turned out to be a blessing in disguise. Gail knew she could act, but she didn't feel a connection to the character they wanted her to portray at that time.
The series made its debut in 2020, earning critical acclaim, particularly for its portrayal of Black women strippers, and was quickly secured a second season after just a few episodes had aired. In 2021, when she was offered a role in season two, the network had no objections, and Gail was overjoyed to be part of the project in any capacity. Initially unaware that her role would involve dancing, she went so far as to purchase a pole just in case. She now portrays the new dancer at The Pynk, going by the name Roulette, and is determined to do whatever it takes to earn money. Her character is set to shake things up in the P-Valley universe.
Juggling roles
In a surprising twist, as season four of "Snowfall" drew to a close, the producers received word that Gail had been offered a role in "P-Valley." Initially, they informed her that she couldn't commit to both projects, nd faced with a challenging decision, Gail ultimately chose "P-Valley," recognizing it as an opportunity for personal growth as an actress. However, the showrunners quickly reached out, conveying their inability to let go of her character, Wanda. Negotiations proved to be far from simple or easy, but in the end, Gail managed to strike a delicate balance and took on both roles. She affirmed her commitment, vowing to give her absolute best, dedicating 110% to both projects.
Personal Life
Gail Bean has someone special in her life, although she hasn't disclosed his identity to the public. She's only revealed that he attended Tucker High in DeKalb County, Georgia, while she went to high school in the same county, but they never crossed paths. They also attended the same college, where he played football and she was a cheerleader, yet fate never brought them together. It wasn't until the pandemic struck that their paths finally converged. Atlanta wasn't under lockdown, and they both attended a party. Throughout the rest of the party, they got to know each other better, and Gail found him handsome and charming, particularly drawn to his smile, which she considers the most attractive quality in a man. They instantly clicked, and it didn't take long for him to ask her to move in with him.
However, she had reservations about fully committing to the relationship due to her past experiences with long-distance relationships, knowing they didn't work out. Despite her initial hesitation, they ended up moving in together within just a month. During the pandemic, Gail found herself at home more often, while he had a busy travel schedule due to his work. When Gail started filming for "P-Valley," her schedule became equally demanding, leaving them with little time together. It seemed that the only moments they shared were when they went to sleep, but somehow, it still worked. They did manage to carve out time for vacations, allowing them to reconnect amidst their hectic lives.
Gail admired her partner's down-to-earth nature and the fact that he didn't seek the limelight. Perhaps this explains why, when scrolling through her Instagram profile, one would primarily find posts centered around her work, with occasional glimpses into her family and friends. Notably, there were no obvious pictures of her significant other. However, it's evident that their relationship is still going strong but they are not married. Gail openly discussed having a partner in interviews conducted in mid-2023, such as in "The Cool Soror Podcast" and Revolt's "Black Girl Stuff."
Appearance
Gail Bean stands at a height of 5ft 3ins (1.61 meters), boasting a slender and well-toned physique that accentuates her natural grace. Her glossy black hair beautifully complements her deep brown eyes. Although her weight remains undisclosed, it's clear that she maintains a healthy and fit appearance.
She has "one percent" tattooed onto her finger. Her acting coach shared with the entire class that only one percent of people who chase their dreams actually make it. However, in that moment, it felt as though her coach was speaking directly to her, affirming that she was part of that one percent. This conviction is why she chose to have it tattooed as a constant reminder.
Net worth
As a rising superstar in the entertainment industry, Gail Bean has garnered significant attention, not only for her remarkable talent but also for her growing financial success. While exact figures can vary based on different sources and factors, Gail Bean's estimated net worth falls is close to $1 million, reflecting her increasing prominence and potential earnings from her burgeoning career in film and television, demonstrating her promising trajectory.
From artistry to entrepreneurship
Gail possesses a deep passion for artistic expression, wearing the hats of writer, actor and producer. In addition to her creative pursuits, she's authored a poetry book entitled "Live On."
Beyond her dedication to the arts, she is equally committed to cultivating diverse income streams. Amid the pandemic, she co-founded Snowball Queens LLC with her sister-in-law, a venture that took flight in 2021. Moreover, she is the proprietor of Mitchells Are Born Winners Productions, not only as a home for her own talent, but also as a platform for scriptwriting and other creative endeavors.
Giving back
She has a strong commitment to giving back and reinvesting her time and expertise in the community. To fulfill this, she founded "Dream Above the Influence," a non-profit organization dedicated to nurturing the aspirations of Black youth. Her mission revolves around empowering them to explore their dreams and passions while ensuring they have access to every opportunity they deserve. She aims to help these young individuals develop a profound appreciation for the richness of their Black culture. The organization annually awards the "All Of My Love" scholarship to 22 high school seniors in Atlanta, alongside various community outreach programs.
And this @pviff pic.twitter.com/vN4E8StGv4

— BIG BEAN (@Gail_BeAN) November 5, 2022
A promising future
As for what the future holds for Gail Bean, it's evident that her star will continue to shine. Discussions are underway for a spin-off series of "Snowfall," in which Gail is set to reprise her role as Wanda. Additionally, she is part of an upcoming feature film on Netflix entitled "The Piano Lessons," based on a play by August Wilson, set in Pittsburgh in the wake of the Great Depression, and at the heart of the story lies an heirloom, the piano. Exciting things lie ahead for Gail, and her fans are eagerly anticipating what's to come.
Gail Bean's dedication to her craft and ability to take on diverse roles or complex characters has endeared her to both critics and audiences. Despite her success, she always tries to be her authentic self because she believes that this is how she can survive not just in this industry but also in this world.