It's usually not easy for young actors to find a place in the entertainment business, but regardless of that, Mason Dye has slowly been finding his way up in the industry since his acting debut in 2013. With appearances in the TV series "Teen Wolf", the movie "Flowers In The Attic", and most recently playing the role of the villain athlete Jason Carver in the incredibly popular Netflix series "Stranger Things", the 29-year-old Mason is everywhere, and for very good reasons.
So what will be the next steps in Mason's career, and what else has he done besides his most well-known roles? Keep reading to find out all about him!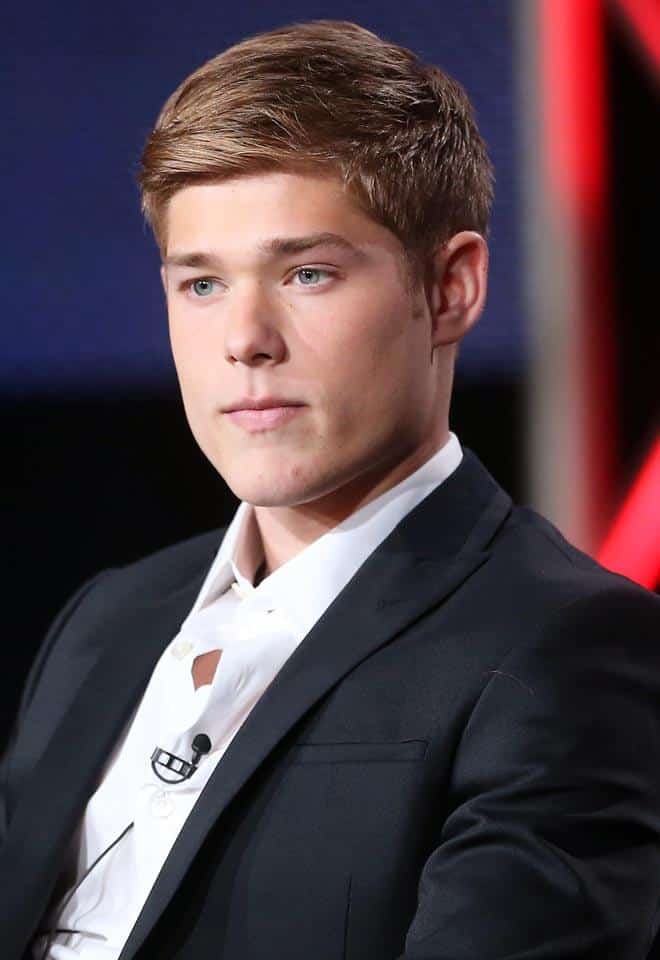 Early Life & Family
Hailing from Shawnee, Oklahoma USA, Mason Dye was born on 15 July 1995 as the middle child of Damon and Liz Dye. He has an older brother named Preston, and a younger sister named Taylor, the singer/songwriter and musician, known for being part of Maddie & Tae, a country music duo formed in 2014. Despite the link Mason has with music through his sister, it's unclear whether the rest of his family is involved with the entertainment business as well.
Other than that, Mason is an uncle, as his brother Preston is a father of three, while Taylor welcomed her first daughter in 2023.
While not much is known about Mason's early education, in 2014 he told Bustle that he played basketball during high school, and was planning on using that talent to go to college, until an injury left him unable to keep playing.
On his way to figure out another way to afford his studies, Mason gave acting a try in his teens. This eventually turned out so well for him in the acting business, that he forgot his plans to go to college, to make more space to explore his talents. In that same interview, Mason confessed his growing interest in the cinematographic arts, including directing and producing.
Debut on TV & Film
The first time we saw Mason Dye displying his acting talents to the world was in the web short "Secret Diary of an American Cheerleader 2: The Fierce One", followed next by the children's movie "Adventures of Bailey: A Night in Cowtown", both released in early 2013.
In the past 24 hours I have learned that the dude who played jason 1) made wonderfully deranged jason/eddie posts and 2) played christopher in the lifetime television for women adaptation of flowers in the attic.

ily grace but im afraid i must become a mason dye stan account now pic.twitter.com/a8JYfAhIU4

— cat ✨ (@catalystcomett) August 31, 2022
Despite having small roles for a start, in 2014 he starred as Christopher 'Chris' Dollanganger in the made-for-TV movie "Flowers In The Attic", named after the 1979 novel of the same name by V.C. Andrews. The movies saw him sharing the stage with the likes of Kiernan Shipka and Ellen Burstyn. In 2016 he was replaced in his role as Chris in the spin-off "Petals on the Wind" by actor Wyatt Nash.
Also in that year, Mason appeared in the music video of "Shut Up and Fish", performed by his sister's Taylor group Maddie & Tae, along with playing a minor character named Tyler in the mockumentary "Review", and appearing as a supporting actor in the popular drama series "Teen Wolf" as Garrett, as one of the biggest antagonists of the fourth season.
Some of the other best-known characters played by Mason in his early career include Damon from the TV drama "Finding Carter", as Tom in the police-themed show "Bosch", on top of starring in the 2016 movies "Vanished" and "Natural Selection".
Path In "Stranger Things"
Despite appearing in several other productions from the 2010s, Mason's role in "Stranger Things" has so far been his most well-known to date. To play the jock Jason Carver, Mason had to go through three months-long auditions, but his excitement at finally getting a role in one of his favorite series faded in one day due to his nerves, as Mason confessed in an interview with the "Steve Varley Show".
Despite describing the experience of joining a long-time established cast as 'terrifying', Mason made some friends on set, and also got to share the stage with his long-time friend Caleb Reginald McLaughlin, who played the role of Lucas Sinclair in the show.
Nonetheless, the most challenging part of playing Jason Carver was getting into the bully headspace which sets the character apart. Just as Mason admitted in an interview with Showbiz Cheat Sheet, his real-life self isn't even comfortable with raising his voice, so the act of embodying such a realistic villain as Jason was the hardest for him.
As for now, it's unknown what other projects Mason has in mind for his acting career, but it's clear that his participation in "Stranger Things" was very positive for his career, and did wonders for his popularity.
Romantic Life & Social Media
While Mason Dye has a preference for keeping many details about his personal life in secrecy, we've found out a thing or two about his romantic life. So far, the only romantic partner Mason whom we know is Carmen Joiner, a business consultant and sales executive based in Atlanta.
It's unclear for how long the pair have been together or other details about their love story, but they only started showing traces of their relationship on social media in mid-2021.
Besides showing his relationship on his Instagram from time to time, Mason uses his social media to share tidbits about his travels, projects, and family time pics, and connect with his fans. To this day, Mason's biggest social media following is on Instagram, on which he's close to reaching 500,000 followers.
Net Worth, Height & Physical Appearance
According to some estimations online, Mason Dye has a net worth of $500,000, coming from his career as an actor. While other reports point out his fortune at over $1 million and a lot more, it's safe to assume that his career is still on the rise and isn't as profitable yet. With that being said, it's expected that as Mason keeps getting stellar roles on TV and films, his fortune will increase as well.
Mason is 5ft 8ins (1.73m) tall and weighs around 154lbs (70kgs). His hair is blond-brownish and his eyes are green. He modifies his hairstyle depending on the role he's playing, yet the pics on his social media show him sporting a small beard and short hair.