Just a simple reminder that article is created and owned only by biographytribune.com. Article cannot be re-published in any other pages or documents. Copyright is protected by DMCA. All found copies will be reported.
Original source: https://biographytribune.com/who-is-barack-obamas-sister-maya-soetoro-ng-her-bio-net-worth-religion-family-dating-childhood/
Who is Maya Soetoro Ng?
Born Maya Kasandra Soetoro on the 15th August 1970, in Jakarta, Indonesia, she is a Faculty Specialist and Director of Community Outreach and Global Learning at the Spark M. Matsunaga Institute for Peace & Conflict Resolution, within the University of Hawaii at Manoa. However, she is perhaps better known to the world as the maternal half-sister of the former President of the USA Barack Obama.
Maya Soetoro Ng Bio: Childhood, Family, and Education
The daughter of Ann Dunham and her second husband, Lolo Soetoro, an Indonesian and a native of the island Java, Maya grew up partly in Indonesia, and in Hawaii next to her step-brother Barack Obama, though, when her parents divorced, she went with her mother to live in Indonesia. She went to Jakarta International School for three years, between 1981 and 1984, while Barack in Hawaii was enrolled in the private Punahou School in Honolulu, Hawaii, from which she matriculated in 1988. After that, she enrolled at Barnard College of Columbia University, graduating with a BA degree  then with an MA in secondary language studies, and an MA in Secondary Education from New York University. Her educational years didn't end there, as Maya completed her PhD in international comparative education at the University of Hawai'i at Manoa in 2006.
Career Beginnings
Maya started her career as a high school history teacher at La Pietra: Hawaii School for Girls, and the Education Laboratory School, both located in the Hawaiin capital of Honolulu, holding the position between 1996 and 2000, after which Maya started looking for a more notable position, and became an Assistant Professor at the Institute for Teacher Education at the University of Hawaii College of Education.
However, Maya always look for new experiences, so then joined the University of Hawaii at Manoa, the Spark M. Matsunaga Institute for Peace & Conflict Resolution based in the College of Social Sciences, conducting courses on Peace Education; the History of Peace Movements; and Leadership for Social Change. Maya is also focused on the internships for graduates that have chosen Peace Studies as their major or minor, and is also a co-ordinator for the Institute's community and global service learning programs.
Rise to Prominence
It was in the second half of the 2000s that May became prominent, mostly because of her engagement in Barack Obama's presidential campaigns. She was a part of the 2008 Democratic National Convention, talking about her childhood with Barack. She became even more popular in 2012 when she spoke briefly about the Obama administration's accomplishments, at the 2012 Democratic National Convention in Charlotte, North Carolina, along with First Lady Michelle Obama's older brother, Craig Robinson, a retired Oregon State University men's basketball team head coach. Since then, Maya has frequently used opportunities to speak about her brother and his efforts.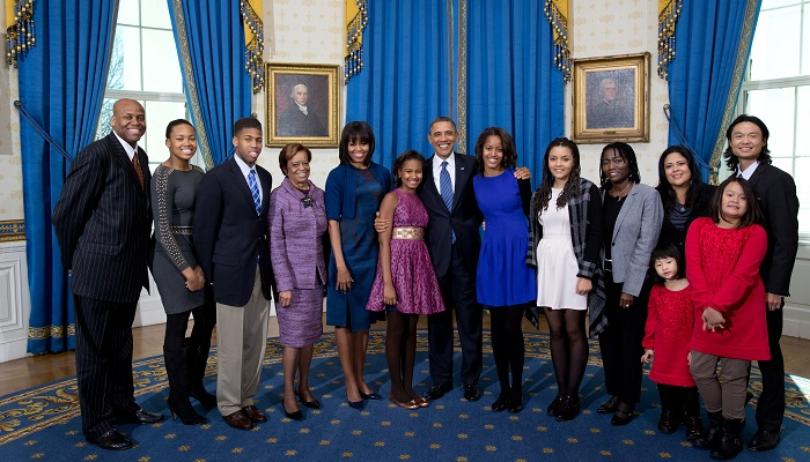 Written Work
Maya is also an accomplished author, having published several books, including the children's book "Ladder to the Moon", and "Mixed: Portraits of Multicultural Kids", for which she wrote the foreword.
Do You Know How Rich Maya Soetoro Ng Is?
Have you ever wondered how rich Maya Soetoro Ng is, as of mid- 2018? Well, according to authoritative sources, it has been estimated that Maya's net worth is as high as $500,000. Pretty decent don't you think? She has held a rather notable position at a prestigious University, and undoubtedly, if she continues her career as successfully as she has done so far, Maya's wealth will continue to increase.
Maya Soetoro Ng Personal Life, Husband, Children, Religion
When it comes to her personal life, Maya has been quite open about the ups and downs that happen to her. She has been married to Konrad Ng, of Malaysian Chinese ancestry, born in Burlington, Ontario Canada, since 2003, who is an assistant professor at the University of Hawaii's Academy of Creative Media. The couple have two daughters, Suhaila and Savita. When it comes to her religion, Maya talks about herself as philosophically Buddhist. She is fluent in Bahasa Indonesian and Spanish, in addition to English. Although living far apart, Maya and her brother Barack have always maintained a close bond and have tried to celebrate holidays together, including this year's birthdays.
Internet Presence
Maya hasn't been active on social media platforms, preferring to remain private in her personal life, although perhaps disappointing her fans.
Maya Soetoro Ng Brother, Barack Obama
Now that we have covered all the major details about Maya, let's now share some information about her famous brother, Barack Obama.
Born Barack Hussein Obama II on the 4th August 1981, in Honolulu, Hawaii, he is the son of Barack Obama Sr, and his second wife, Ann Dunham. He was the first President of the USA to have African ancestry, and the first one to be born outside the mainland's 48 states. He obtained degrees from Occidental College, Columbia University, and Harvard Law School. Before he became involved in politics, Barack was a civil rights attorney, and later became a professor at the University of Chicago Law School. His first foray into politics happened in the late '90s, and serving as the US Senator from Illinois from 2005 to 2008, before he became the 44th US President. His inauguration was held on the 20th January 2009 and he held his post until 20th January 2017. Barack Obama's wealth is estimated at $40 million. He is married to Michelle, with whom he has two children.