In a recent update that has left fans disheartened, Monza, a prominent figure in the street racing community, shared unfortunate news regarding his non-participation in the filming for the upcoming season of "Street Outlaws: No Prep Kings" reality television show. This unexpected turn of events has dealt a blow to his team's aspirations, leaving them to regroup and contemplate their next steps.
Background on "Street Outlaws"
"Street Outlaws" is an adrenaline-pumping, automotive-themed reality TV series that has captured the hearts of car enthusiasts and fans of high-speed racing. It dives into the exhilarating world of illegal street racing, where talented drivers and their souped-up machines go head-to-head in heart-stopping contests on public roads. The show first hit the small screen on 10 June 2013, when it premiered on the Discovery Channel, and quickly gained a devoted following, thanks to its high-octane action and raw intensity. It continued to gain interest over the years and spawned spin-off series such as "Street Outlaws: No Prep Kings," which became a monstrous hit as well. Monza, one of the original cast members, captivated the audience with his enigmatic personality and cool performance in every race.
Get to know Monza
Monza's early days
Growing up in Oklahoma, Jerry "Monza" Johnston developed a deep fascination with motorsports, and at just 14 years old, he embarked on his racing journey beginning with motocross. Drawn to the thrill of street racing and fueled by his competitive spirit, he also embraced the underground world of this sometimes illicit and therefore much more dangerous form of racing the moment he acquired his driving license, sometime in the mid-'80s. He gained a reputation as a fearless and skilled driver on the Oklahoma City streets.
By 2006, Monza's racing career took a significant leap forward when he got into class racing behind the wheel of a Ford Mustang equipped with a powerful Chevy motor. His skills were undeniable, as he secured a championship title in his debut year. Remarkably, he triumphed once again the following year, solidifying his position as a force to be reckoned with on the track.
It is also worth noting that Monza actively pursued opportunities to enhance his automotive knowledge. By working at several auto shops, he gained hands-on experience and technical expertise as a mechanic, skills which played a crucial role in his success in car racing.
The birth of a nickname
Monza's distinctive nickname has an entertaining origin. One night, while enjoying a drive-in outing on 39th Street in OKC, Shawn "Murder Nova" Ellington, a fellow street racer and cast member of "Street Outlaws," playfully struggled to recall Monza's name due to inebriation. In a comical twist, Shawn began referring to him as "Monza", drawing inspiration from the car Monza used to race in his younger years and his username, "Monzilla," on a website for car racing enthusiasts called Midwest Street Cars. The name caught on among the other drivers, and Monza embraced it with good humor. He even found amusement in the occasional mix-up, sharing how someone would approach him and say, 'Hey Mazda, I'm your biggest fan.' His nickname has become synonymous with his racing identity.
The practicality behind the braid
When picturing Monza, fans often recall the towering 6ft 4in racer with a beard and a distinctive braid. While it may seem like a fashion statement, the braid serves a practical purpose – it ensures easy management while putting on or removing his helmet for races, a functional choice that allows him to focus on the track without his hair getting in the way.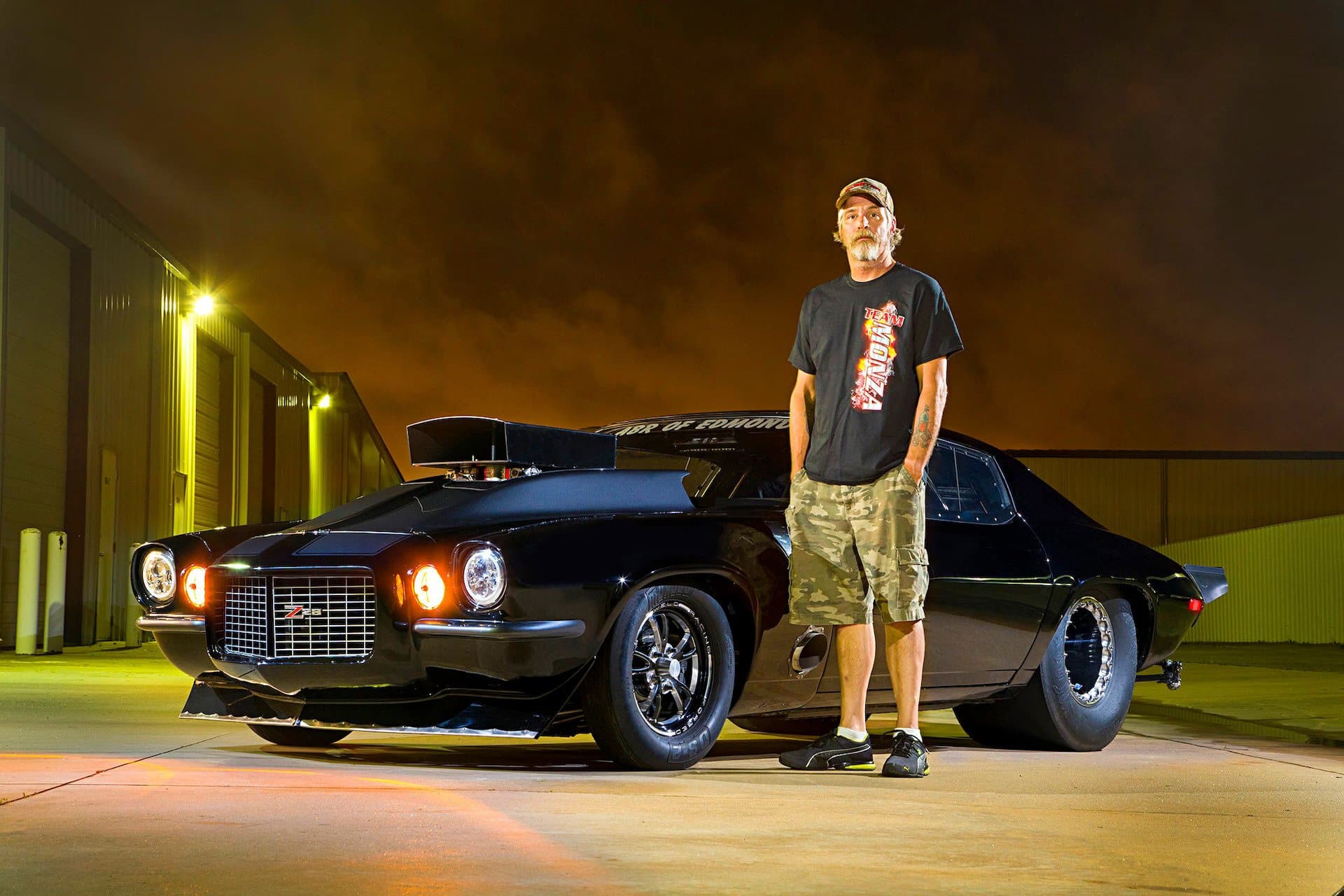 Monza's quiet demeanor
Known for his limited speech and serious demeanor, Monza has piqued the curiosity of fans, prompting questions about his true personality, and whether his reserved nature is a result of shyness or a deliberate choice. In a candid moment during one of his vlogs, Monza opened up and shed light on the reasons behind his quiet nature, revealing the underlying factors that contribute to it.
During high-stakes race nights, Monza's primary focus is on his car. While his fellow racers may be seen enjoying themselves and engaging in lively conversations, Monza's mind is consumed with the intricate details of his car's performance. The intensity of the racing environment weighs on him, and the pressure to deliver optimal results takes precedence over idle chatter.
That said, behind the quiet exterior lies a man full of life and enthusiasm. Monza assures his fans that once they get to know him, there will never be a dull moment in his presence. While he may not be the most vocal or expressive on the show, his true character reveals itself outside the racing arena.
Monza's Journey on "Street Outlaws": Victories, challenges, and resilience
When "Street Outlaws" premiered in 2013, Monza was introduced to the viewing public along with his 1972 Camaro nicknamed the "Sinister Split Bumper." His journey in the show has been filled with challenges, victories, and rivalries. As part of the 405 crew, he competed against fellow racers on the OKC "List" of the top ten fastest street racers, aiming to climb the ranks by challenging higher-ranked opponents. Through strategic car modifications, a calculated approach to races, and tireless dedication, Monza worked his way up, proving his mettle on the streets and becoming a fan favorite. His consistent performances and thrilling races established him as a key figure on the show.
Monza's iconic ride
For Monza, the 1970 to 1973 Camaro Rally Sport has always held a special place in his heart as his dream car. However, in his younger days, financial constraints prevented him from acquiring this coveted vehicle, so it wasn't until later in life that he obtained one from Joe "Dominator" Woods. Although it started as a mere bare hull, Monza and his team transformed it into a formidable race car, that would become known as the "Sinister Split Bumper."
As Monza competed against increasingly faster cars, he realized the need to harness more power and enhance the vehicle's performance. To achieve this, his team made a critical decision to transition from using Nitrous to twin turbos. This marked a significant shift in their approach, as Monza had to delve into the complexities of mastering the advanced technology associated with turbocharging. They did everything they could to ensure that the "Sinister Split Bumper" boasted nothing less than the best of the best in every aspect.
Monza's crash and comeback
Monza has encountered his fair share of challenges throughout his career,  including a crash that tested his resilience both on and off the track. It occurred in 2018 during a race against Chuck Seitsinger, known as the driver of the "Death Trap," a 1989 Ford Fox Body Mustang. The intense battle saw Monza lose control of his 1972 Camaro Rally Sport Split Bumper, resulting in a harrowing accident that left fans and fellow racers holding their breath. The car jumped sideways, crashed into the curb, and barrel-rolled multiple times, leaving a trail of destruction in its wake. Fortunately, in a testament to the safety measures employed in his vehicle, Monza emerged devoid of even a single scratch. The incident served as a stark reminder of the risks inherent in the world of street racing, and the importance of prioritizing safety above all else. Despite the setback, his resilience shone through, as his team repaired his car to exactly as it was prior to the crash, and he made a triumphant return to the track.
Monza joined "Street Outlaws: No Prep King"
The "No Prep Kings" spin-off series takes the excitement of street racing to the track, but removes the advantages of prepared surfaces, and forces racers to confront the raw and unyielding conditions. Unlike traditional drag racing events, no-prep racing eliminated the use of traction-enhancing compounds. This creates an unpredictable environment where traction is scarce, and the drivers must rely solely on their skills and vehicle set-ups to navigate the course.
As a skilled street racer, Monza took on the challenge of no-prep racing, and quickly demonstrated his prowess on an unprepared track. With his technical expertise and experience, he strategically modified his signature silver Chevrolet Camaro, the "Sinister Split Bumper," to adapt to the ever-changing track condition.
Monza launched his YouTube Channel
In January 2021, renowned street racer Monza made a notable move into the world of YouTube by launching his own channel – Monza 405 Motorsports. This exciting platform aimed to provide fans with exclusive behind-the-scenes glimpses into Monza's racing endeavors, and the meticulous work carried out by his dedicated team. His goal is to showcase the immense time and effort invested in optimizing their cars' performance.
Monza's channel wasn't confined to the racing scene alone. He expressed his intention to offer a more personal perspective by sharing insights into his shop, his home, and even his sprawling five-acre ranch. This allowed fans to explore various facets of Monza's life beyond the racetrack, and get to know the man behind the wheel.
The response to Monza's YouTube venture was remarkable. Within just a year of vlogging, his captivating videos garnered an impressive viewership of nearly two million, and the numbers had doubled by 2023. This enthusiastic reception demonstrated the strong connection between Monza and his fans, as they eagerly embraced the opportunity to witness the untold stories and unseen aspects of his racing journey.
Monza's disappointing exit from the show
Monza's announcement via his Facebook post on 31 May 2023 revealed that his team will not be able to compete in the "No Prep Kings" race this year, due to unforeseen circumstances. Despite having a car for the upcoming races, they had to withdraw from the event because of financial constraints; they simply didn't have the budget for it. Many lauded his decision, no matter how difficult or unpopular it may be, as he accepted the reality of his situation. Those who closely follow the racing scene are aware of how expensive it is to build and maintain a car that's competitive enough, and bring it to every race meeting.
Naturally, many of his fans flocked to his social media page to further ask him about this. A few days later, in typical Monza fashion, he addressed all the issues that cropped up with only a few words, without elaborating on any of them. First off, he said that he was not financially broke. Next, he stated that he had a contract offer but had declined. This confused his fans considering he'd been in the series since the start, and seemed to have enjoyed being part of it, and had them wondering why. Most of the guys in the show, if not all of them, sell merchandise online and during the events, and fans thought that they made loads of money from it. Monza said that not everyone sells $25,000 worth of merchandise at each event. While at times, their merchandise sales were considered good, he couldn't rely on those to cover the expenses for his trips.
Monza was annoyed by some of the comments when he wrote, 'Yes some people should just stfu!!!' There were those who just couldn't fathom why someone would give it all up and so Monza clarified that he was capable of making decisions on his own.
A calmer Monza, through a video posted on 6 June 2023 on his YouTube channel, explained that their departure from the show was primarily a result of contract disagreements. Apparently, the network still wanted him on the show, but only offered him so much, not that he was asking for an increase in pay – the truth was that he was given a pay cut, which meant losing approximately two-thirds of the funding required to participate in racing events.
What's next for Monza
Monza now finds himself in a phase of regrouping and reevaluating his options. While his desire to race in "No Prep Kings" remains strong, the substantial reduction in pay has prompted him to reconsider his strategy. He had so many plans for the year, which included building a new car, hiring a tuner, and expanding his team to handle the demands of racing and ensure competitiveness. He said that the job was too much for him and his son to do things on their own.
The lack of funding posed a challenge in realizing his goals. At 56 years old, he said that he had to put money aside for the future and not spend it all, so he had to figure out how to achieve things without going broke in the process. With his commitment and dedication to his craft, he would surely find the best path forward.
His replies to some of the comments on his Facebook posts gave his fans an insight into how he was dealing with what happened. Monza assured one worried fan that he had no complaints, as he'd lived the dream for more than a decade. He also said that he will be fine, as he has a lot of assets. Racing and filming for a show was exhausting and time-consuming, so some thought that leaving the show might be a good thing. Monza had said that he wasn't getting any younger and perhaps it was time for him to enjoy life a bit more.
If money was a problem, a supportive fan suggested giving the crowdfunding platform Go Fund Me a try, or something similar, as many people would give money just so that he could continue to race in the "No Prep Kings" events. Monza simply said that his team didn't work that way. As if to remind everyone, he stated that this is his job, and so he needs to make money out of it:  'I'm not claiming I'm any better than anybody, but I have been there for 11 years helping build the Street Outlaw brand,' and continued, ' I feel like I shouldn't have to spend my savings to go follow it around.' He'd have to shell out $150,000 to achieve that, reiterating that he was fine with his decision, as he accepted that some things weren't meant to be.
Check the tape! 🗣
Big Chief 🆚 Team Monza 405

📺 #StreetOutlaws
🗓 Mondays at 8p on @Discovery & @discoveryplus
📲 https://t.co/EcBRHpvrg7 pic.twitter.com/plANDrceKX

— Street Outlaws (@StreetOutlaws) February 1, 2022
Ready and roaring to go
Monza excitedly shares via his Facebook page, 'When one door closes another one opens!!' as his team is already in talks with several tracks, and setting up dates for appearances. By mid-July, they would be ready. He mentioned in his vlog that prior to his split with "Street Outlaws," he had a car but it hadn't been tested yet. Even if it was done, he didn't want to leave the chassis shop and go straight to the racetrack without checking it out. He is a hands-on guy and prefers to inspect every nut and bolt. With his life on the line, Monza wants his hands on everything in his car. His new ride was unveiled in May, a Chevelle with the nickname "Bad Attitude."
Some are still hoping to see him in the original series if being on the hit spin-off series is no longer possible, but Monza revealed that a new season hasn't been picked up at this time. Reality stars who no longer appear in shows usually fade to obscurity, but fans of Monza need not worry, because they can still see him compete through various racing events or get a glimpse into his life, cars, and passion for racing through his YouTube channel.