At 22 years old, Iris Law is one of the rising stars in the fashion industry. Not only that, she is the daughter of A-list actor Jude Law from his marriage to actress and fashion designer Sadie Frost. At a young age, Iris has appeared for numerous luxury brands in advertorials featuring some of the most expensive apparel in the world. Her life has been firmly within this world since she was a young age, and the support of her celebrity parents made it easier for her to assume her current career.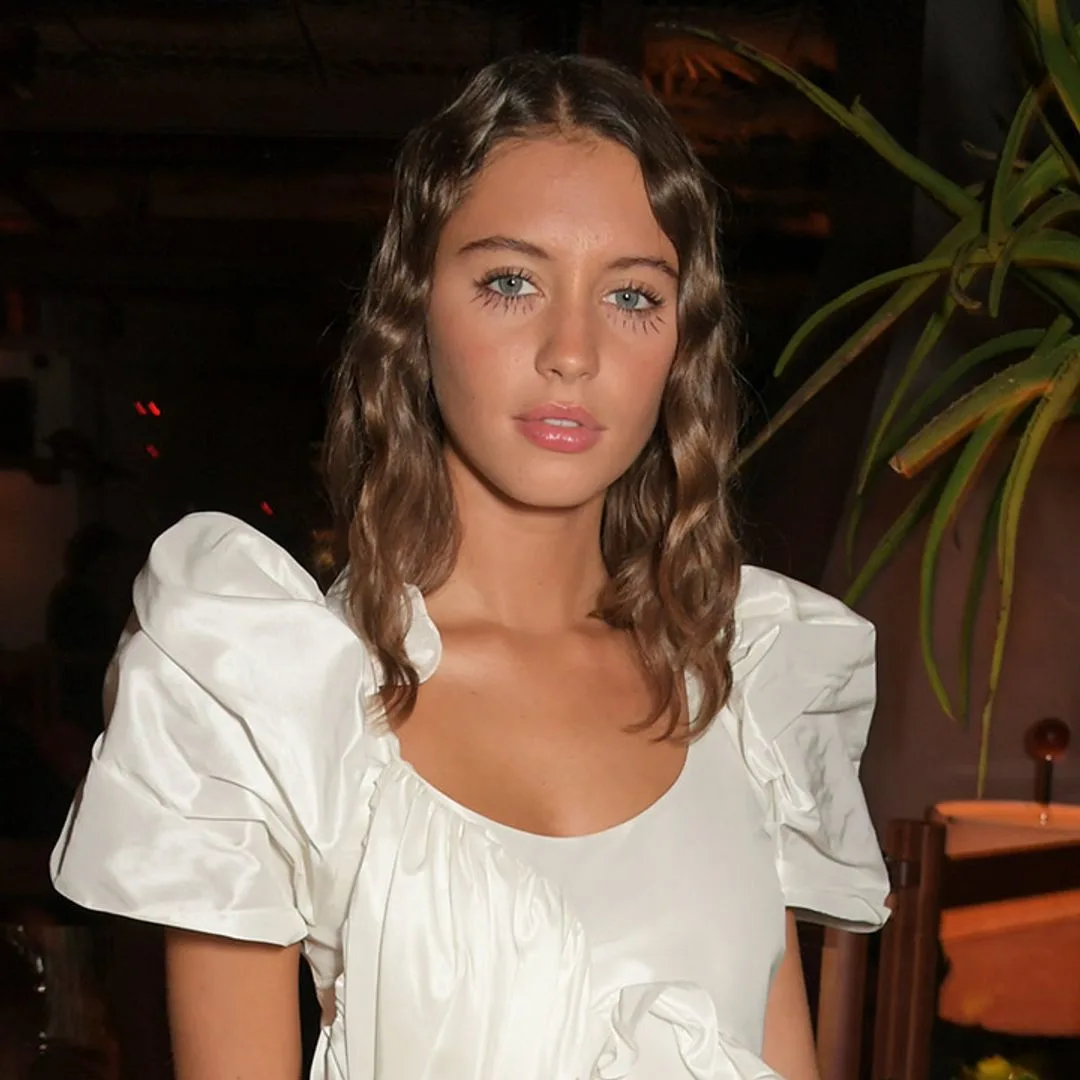 A Childhood in Fashion
Iris grew up in the fashion industry because of her mother's involvement. Following the end of her parent's production company, Natural Nylon, Sadie began her foray into fashion by establishing the label FrostFrench, named after her and her business partner Jemima French, launching the company in 1999, a year before Iris' birth. As such, most of her childhood was spent exposed to the inner workings of the industry. It was a natural transition for her to pursue a career as a model, and she had the looks to back it up.
In fact, one of her earliest projects in fashion started with her mother. As a toddler, she was featured in one of the editorials in the magazine Vogue. While she wasn't forced into the career, as she grew older, she eventually made the choice to take modeling seriously.
Iris Law's Modeling Career
Her first project as a professional was for the brand Illustrated People, doing a photoshoot to promote its products. She quickly gained attention after her project, gaining an agent who helped her land a contract with the British luxury brand Burberry. She was chosen by the company's chief creative officer, fashion designer Christopher Bailey, and became the face of their beauty campaign in 2015.
A year later, Italian high-fashion clothing brand Miu Miu signed her up to appear in one of their resort-themed look-books, a subsidiary of the brand Prada. Other big names began rolling in, including Marc Jacobs, Versace, Calvin Klein and Lacoste. The demand for her work soared, and she often found herself representing a brand for a season or campaign.
Iris Law wear #MiuMiuAutomne20 for @VogueSpain, as portrayed by Liz Collins and styled by Cathy Kasterine.#MiuMiuGirls#MiuMiuEditorials

Posted by Miu Miu on Saturday, October 3, 2020
In 2020, she made her catwalk debut during the A/W fashion show as a part of the Miu Miu line; this would be the start of many similar projects. She was also the face of the Fendi campaign that promoted their Peekaboo bag. Around this time, she had become an icon for teen fashion, being featured in numerous publications. A year later, French luxury brand Dior signed her up to become one of their ambassadors.
In 2023, Iris debuted as one of the Victoria's Secret models on their New York City catwalk show; alongside her is Kate Moss' daughter, Lila Moss. Both of them have been praised as the future of the modeling industry, and the next generation to represent Victoria's Secret. The two are close friends, since their parents have known each other for a long time.
Apart from her work with Victoria's Secret, she's been traveling the world, appearing on catwalks for numerous brands. She was spotted in Berlin for the Saint Laurent fashion show and was also at the London Wireless Festival. Traveling around Europe and the UK is normal for someone who's in high demand in the fashion industry. She also often appears at film festivals and awards shows to support her family. In all of her appearances, media outlets have praised her fashion sense, and the eye-catching looks she carries when she's in public.
Iris is signed under WME-IMG management, and her agent is Curtis Brown. One of her latest photoshoots was for the cover of the pop culture magazine V.
Iris Law for V Magazine (V144 issue) photographed by Inez and Vinoodh pic.twitter.com/vbqbgqiR8e

— linda (@itgirlenergy) August 26, 2023
Other Projects
Aside from modeling, Iris Law has dabbled in her father's industry, making her first acting appearance in the television miniseries "Pistol". As the name implies, the show follows the story of the band Sex Pistols and their rise to fame. In the show, she portrayed Susan Lucas, better known under the moniker "Soo Catwoman." She was one of the prominent figures of the punk movement during the 1970s, defined by her trademark Catwoman haircut, in which she looked like she had the ears of a cat – Iris had to shave her head for the role. Pistols has been her only acting credit so far, as she's shown no sign of pursuing anything else after that performance.
Behind the Scenes: Height, Net Worth, Personal Life, and More
Iris stands at 5ft 3ins (1.62m), which is unusual in the fashion industry when going by traditional standards. However, luxury brands have been known to break the standard from time to time, and Iris' background, experience, and connections all helped push her career to its current state.
According to several sources, Iris' net worth lies as high as $14.5 million. The majority of her wealth has come from high-valued contracts in the fashion industry, and her consistent work as a model since she was 15 years old.
She has two brothers and five half-siblings, as her parents married others later on; most of her siblings are pursuing acting careers. One of the biggest influences in her life has been her godmother, Kate Moss, one of the figures who defined the supermodel era during the 1990s and 2000s.
Iris still continues to study; she completed a GSCE, meaning that her school life was non-traditional as she had to balance work with her academics. She looks to be pursuing a similar background to her mother, and has begun studying a textiles course at London University, Central Saint Martins. Graduating would give her an alternative to pursue a fashion design career later on, if she wanted to.
According to her, fashion is something that she's always loved since she was young. She loves the idea of the versatility a good fashion sense can bring to a person. As a model, she also has to get used to different styles and looks, as she's always changing to represent a brand.
Being exposed to the fashion industry at a young age also means that she has a strong online following. She has over 700,000 followers on Instagram, on which she posts regularly. While she was known earlier for her brown hair color, she later switched to a short blonde style. Shorter hair allows her to adjust to different hairstyles when needed.